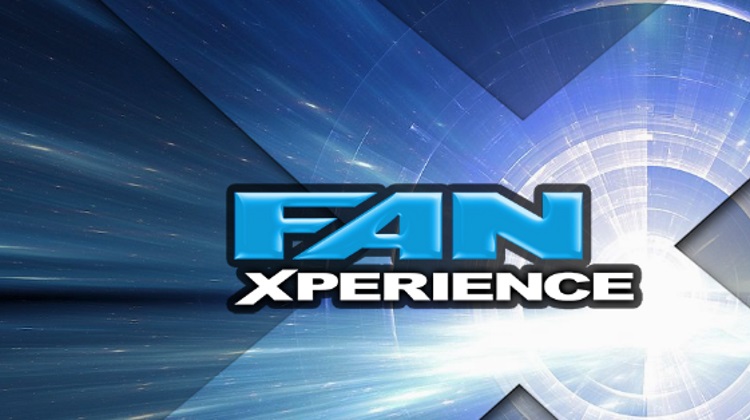 Suffering from withdrawals from my first Comic Con, I've waited with bated breath for the next nerdy event, FanXperience, the "ultimate fan experience" for those consumed by their love of entertainment including everything from movies to comic books. The inaugural FanX™ in April 2014 had more than 100,000 attendees making it the third largest comic con in the United States, the most attended convention in the state of Utah and the largest comic con in North America per capita. FanX will take place at the Salt Palace Convention Center on  January 29-31 2015.
Tickets are currently 50% off, so I'd hurry and get on that. With limited tickets available and a promising guest list, they are sure to sell out. It's also a thoughtful Giftmas present for your geeky friends and family.
FanX will be more awesome than ever, here's why:
 1. FanX will be exclusive
Remember how crowded Comic Con was?  120,000 people, and they were all in my way. Whether it was sharing the ladies room mirror with a trio of Weeping Angels or dodging Spidermans, there were a lot of people.  FanX is limiting tickets to around 50,000.  They are anticipated to sell out around Christmas, so you might want to secure your tickets (and bathroom mirror space) very soon.
2.  FanX is all about technology
Dan Farr Productions is utilizing advanced technology in the official wristbands, which will be mailed out early, which will take  the place of pre-registering.  " We are utilizing RFID technology to fast track registration and access to the show. We are opening up the halls, getting everyone in before going through registration. Our goal is to eliminate the long lines usually associated with these kind of events. This is part of our shift towards a more exclusive and intimate experience that defines FanX™." stated Bryan Brandenburg,  Salt Lake Comic Con Co-Founder and Chief Marketing Officer. I don't know what RFID technology is, but it sounds cool and I want it.
  3. Celebrity Premiere Packages 
If you didn't get enough quality time with your favorite celebrity during Comic Con, do not worry. Celebrity Premiere Packages will include autographs, photo ops and reserved seating for celebrity panels. Keep your eyes peeled, they will be on sale very soon.
4.  FanX will lure celebrities from Sundance Film Festival 
FanX will be riding the fleecy coattails of Sundance Film Festival. "We have observed the excitement generated around the Sundance Film Festival but realized that the fans had little opportunity to interact on a personal level with the filmmakers and actors in town to promote their projects," said Dan Farr, Salt Lake Comic Con Founder and Show Producer.  "Although many of the planned celebrity guests for FanX™ may not currently have projects in the film festival, we expect in time that overlap will grow to where celebrities and film makers will include participating in FanX™ as part of their Sundance promotional agenda engaging in panels, photo ops and autograph signings."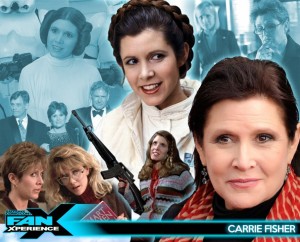 5. Carrie Fisher
She's Princess Leia Organa in the original Star Wars trilogy, a legacy that has been preserved for more than three decades.  Carrie Fisher is a multi-talented actress, novelist, screenwriter and performance artist. Throughout her 35-year career, Carrie has displayed her versatile skill set by acting in a wide range of roles on television and the big screen, including her part as Marie in When Harry Met Sally…, guest appearances on Sex in the City, Frasier, Smallville, 30 Rock and recurring voice work on Family Guy.  Carrie will reprise her role as Princess Leia in 2015 for Star Wars: Episode VII – The Force Awakens.
6. Christopher Lloyd
7. Morena Baccarin

Morena Baccarin is a Brazilian-American actress best known for her role as Inara Serra in the sci-fi cult series Firefly and its companion film, Serenity.
After landing her big role as Inara in the early 2000s, Morena provided the voice of Black Canary for the animated Justice League TV series in 2005, had guest appearances on programs like The O.C., How I Met Your Mother, Numb3rs, The Mentalist and The Good Wife, and held recurring roles on Stargate SG-1 and Heartland.
In 2009, Morena appeared in a lead role as the mysterious leader of the Visitors on ABC's alien drama Vand was nominated for a Primetime Emmy in 2013 for her portrayal of Jessica Brody on Homeland. Most recently, she joined the cast of FOX's Batman origin series, Gotham, as Dr. Leslie Thompkins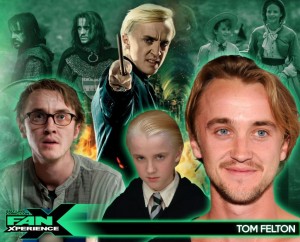 8. Tom Felton

Thomas Andrew "Tom" Felton is an English actor and singer. He is best known for playing the role of Draco Malfoy in the Harry Potter film series, the film adaptations of the best-selling Harry Potter novels by author J.K. Rowling, for which he auditioned at age twelve.
9. Ralph Macchio
10. Felicia Day

Felicia Day is a professional actress who has appeared in numerous mainstream television shows and films, most recently guest starring on the CW show Supernatural, and completing a two-season arc on the SyFy series Eureka.
However, Felicia is best known for her work in the web video world, behind and in front of the camera. She co-starred in Joss Whedon's Internet musical Dr. Horrible's Sing-Along Blog, which was ranked in the "Top 10 Best TV of 2008" by Time Magazine, Entertainment Weekly and People Magazine and won an Emmy in 2009. She also created and stars in the hit web series The Guild, which has won numerous awards for web video excellence, most recently garnering a PGA nomination for best web series in 2011. She retained all intellectual property for her series, and has since expanded the brand into numerous merchandizing opportunities, including a hit comic book series with Dark Horse Comics.
Her production company Knights of Good produced the innovative web series Dragon Age in conjunction with EA/Bioware in 2011. Her new company, Geek & Sundry is currently producing a slate of seven shows, including The Flog which is hosted by Felicia. The new channel, called Geek and Sundry is part of YouTube's new premium content initiative. Since launching in April 2012, the channel has garnered over 300,000 subscribers and 18 million views.
If you want to know more about what to expect from FanX 2015, check out all over coverage from FanX 2014 here:
Welcome: https://www.theutahreview.com/notes-from-fanx-2014-welcome/
Heroes: https://www.theutahreview.com/notes-fanx-2014-heroes/
Larpers: https://www.theutahreview.com/notes-fanx-2014-larpers-behold-ex-machina-films-story/
Wrap-up: https://www.theutahreview.com/notes-fanx-2014-wrap/