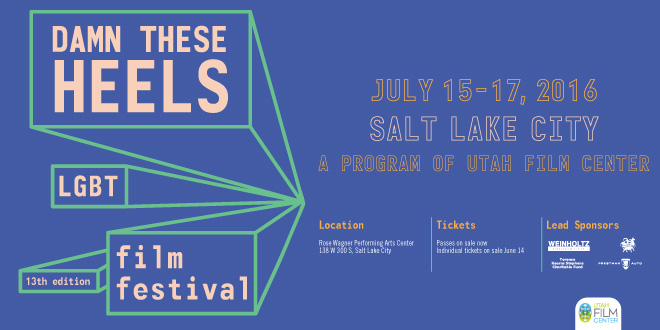 The record large slate of international films for the 13th annual Damn These Heels LGBT Film Festival which will be presented by the Utah Film Center suggests a multi-layered, life-spanning, coming-of-age theme not just in the documentaries and narratives being presented but also in the sophisticated and artistic depth of LGBT cinema, the long-game opportunity for achieving social justice across the spectrum, and in the Utah Film Center's renaissance after the fire in late March which destroyed its offices.
The films defy conventional genres and the comfort of complacency, potentially touching emotions and nerves among all members of the community, regardless of their sexual identities. There is an uncompromising candor — even sometimes brutish realism – in many of the stories, which will engender many different reactions but also will invigorate the spirit to carry the good fight forward, to discover love and find beauty in the most unexpected places, and to share a passion for thrilling cinematic storytelling.
"Our focus is not just selecting films that would be illuminating and interesting to the LGBT community but also to the entire community," Patrick Hubley, artistic director, says. "The pool of available films continues to grow, as our discussions also continue to evolve about these issues. Furthermore, we are able to raise the bar in terms of quality consistently from year to year. We are especially proud of the international representation in our festival this year."
It is notable that Damn These Heels marks the return to community programming for the center staff, which took a month-long hiatus in June. They are in the process of moving into new headquarters on the 11th floor of the Broadway Media building in downtown Salt Lake City.
As The Utah Review noted this spring, "Having encompassed nearly the center's lifespan, Damn These Heels signifies UFC's customary sensitivity for programming in how it reflects the most current pulse on the most prominent issues concerning social and political awareness."
There are 21 films and a shorts program (the festival's first featuring six films in an open call submission; July 16, 5 p.m.), which will be screened in various theaters at the Rose Wagner Center for Performing Arts during Damn These Heels, which runs July 15-17. Many of the films, some of which have garnered numerous awards at film festivals around the globe, are receiving their Utah premieres. The Utah Review had the opportunity to screen many of the films on the slate.
On July 13, Dionne Warwick and Academy Award-winning director Ellen Goosenberg Kent will participate in an evening program (7:30 p.m.) at the Rose Wagner Theatre, as part of a benefit to support the festival. Audiences will see film clips chronicling the singer's career which is part of a forthcoming episode being produced for PBS's American Masters series. Following the conversation moderated by KUER RadioWest host Doug Fabrizio, Warwick, accompanied by a pianist, will perform a couple of her greatest hits.
Three documentaries comprise the nightly marquee screenings. The opening night screening on July 15 (8 p.m.) will feature Southwest Of Salem: The Story of the San Antonio Four (2016, Deborah Esquenazi), a justifiably alarming eye-opener that starts in the last vestiges of the Satanic ritual panic more than two decades ago and continues as lawyers and other activists work tirelessly to exonerate and prove the innocence of individuals who were prosecuted without confirming evidence. In San Antonio, four women were convicted of a brutal sexual assault of two young girls in a process that, as the film explains, was plainly a modern witchcraft trial reminiscent of Salem.
The film does not play up gratuitously the emotional reverberations or downright absurdities of a legal system that robbed four innocent women of their most important formative years. The pacing and deliberated unfolding of the facts lead to the right audience reaction – a simmering furor that boils over into full-blown anger about a system that remains inherently racist and discriminatory. Elizabeth Ramirez, Cassandra Rivera and Anna Vasquez, along with one of their lawyers, Mike Ware, will be present for a post-screening Q&A.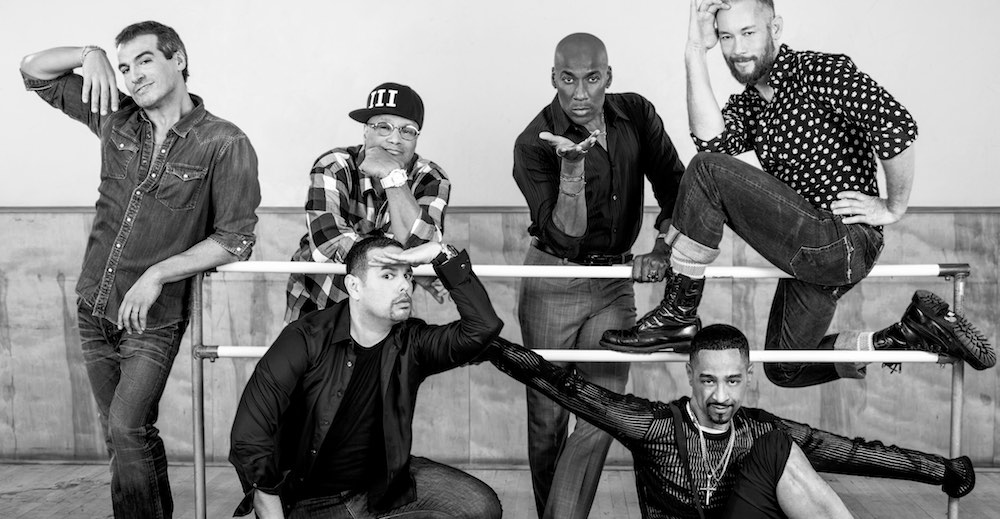 The July 16 centerpiece screening (7 p.m.) will feature Kiki (2016, Sweden, Sara Jordenö), a documentary that premiered at Sundance this year and focuses on the do-it-yourself Kiki scene in New York City which is coordinated by LGBTQ youth. The film has been described as the contemporary version of the 1990 Paris Is Burning documentary.
"As underground and DIY as the kiki scene might be, it's still highly organized, and part of what "Kiki" expresses is this community organization as a strategy for survival," Indiewire's Katie Walsh wrote in a January review. "The struggle is real, and it's hard to imagine how they keep pushing that boulder up the hill — being fully themselves in the face of so much hardship — but they are tough, and united." Gia Marie Love, a community activist and member of the underground Ballroom and Kiki Scene, will join the audience as well for a post-screening Q&A.
The closing night screening (7:30 p.m.) will feature Strike a Pose (2016, Ester Gould and Reijer Zwaan), which chronicles the recollections of dancers from Madonna's Blond Ambition tour and the controversial Truth or Dare film in the early 1990s. The documentary satisfies the curiosities of Madonna's most ardent fans and despite some uneven moments, especially in the final third of the film, Strike A Pose emphasizes the ephemeral phenomenon surrounding newfound fame. Naturally talented and impeccably trained performers, most of the dancers struggled with the challenges of celebrity status and the desire for privacy and discretion in coping with personal crises. And, even as much as we learn about their tour experiences and the impact on LGBT pop culture, the film offers somewhat limited portraits of the dancers. Two of the film's subjects — Kevin Alexander Stea and Luis Camancho — will be present for a post-film Q&A moderated by Troy Williams, Equality Utah executive director.
The festival's narrative films are strongly recommended, cosmopolitan in theme even as they are set in locations that might seem forgettable or quotidian. However, films such as Jonathan (2016, Germany, Piotr J. Lewandowski) emerge as unforgettable works of storytelling. The acting in Jonathan (July 17, 10 a.m.) is outstanding – the main character being a young German farmer who is tasked with overseeing the farm's operation while caring for his father who is in the rapidly advancing stages of cancer. Jonathan aspires to different pursuits but he also is loyal, diligent and forever dutiful to his father and the farm. When the father's boyhood friend appears, Jonathan's worldview is shaken vigorously, as he discovers more about his father and learns about what unconditional love really means. Jonathan offers a story arc that is not commonly found in LGBT cinema and the artistic result is deeply moving.
While Summertime (La Belle Saison, 2015, France, Catherine Corsini) also is set on a farm (in the sparsely populated Limousin in southern France), a similar theme is developed even as the story arc and character contours are different. The film (July 17, 5 p.m.) starts in 1971, when Delphine moves to Paris and joins political militants and feminists who protest for equality and reproductive rights. She meets Carole, a Spanish teacher, and both fall in love. Delphine is drawn immediately to Carole's attention.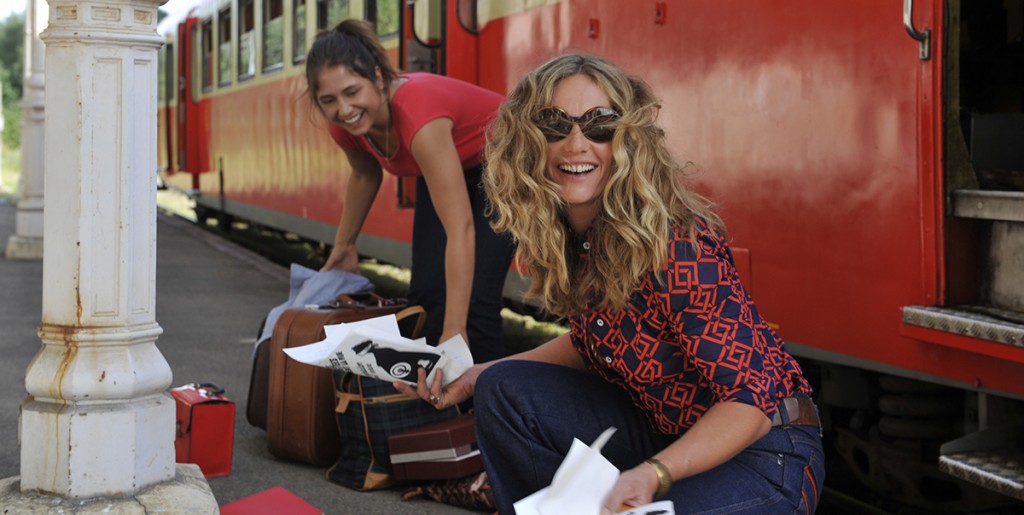 In Limousin, Delphine's lover from the local town left her, acknowledging that it would be impossible for them to live publicly as lovers in the rural community. Delphine feels fully liberated in Paris but must return home when her father suffers a debilitating stroke. Carole follows Delphine to the countryside but the relationship endures the realities of farm life far removed from the social idealism of the political upheaval in cosmopolitan Paris.
Other narratives layer the tensions of honest sexual expressions of identity with the even more difficult circumstances of economic disadvantages and how they impinge on self-destructive risks and the opportunity to make sensible life choices. Set in rural Pennsylvania, Awol (2016, Deb Shoval) is a tight, well-acted realistic story (July 16, 7:15 p.m.) about a young woman, a skilled mechanic, who hesitates about joining the U.S. Army while falling in love with a married woman with two children.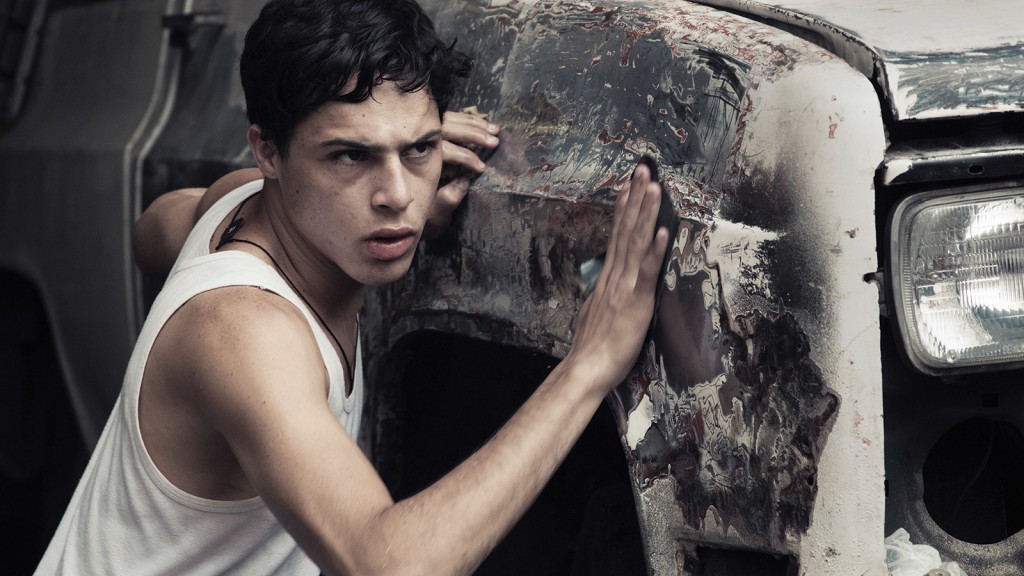 One of the festival's most impressive fictional films is From Afar (Desde Allá, 2015, Venezuela/Mexico, Lorenzo Vigas), a standout entry from a wave of new Latin American filmmakers who do not pull punches in bold treatments. Vigas's first feature-length film, From Afar (July 17, 3:15 p.m.), is set in Caracas and focuses on a wealthy middle-aged loner who brings in young men from the streets and pays them money to fulfill his voyeuristic desires.
He doesn't engage in direct sexual contact until a 17-year-old man enters the picture, opening the channels to the audience to observe closely the ramifications of the failed Venezuelan experiment in Chavez socialism along with the universal tussle of undeniable desire and repressive conformity. Stark and terse, the film bristles in surprising ways, even as the relationship is cast in unsentimental and persistently aloof terms. Vigas won the Golden Lion award at last year's Venice Film Festival.
Having won festival awards in Toronto, Miami, San Diego and Melbourne, Australia, Closet Monster (2015, Canada, Stephen Dunn) is a pleasantly surprising and fresh interpretation of the typical teen anxieties about sexual awkwardness. What makes this particular coming-of-age film (July 16, 9:15 p.m.) so compelling is how the father's unflinching homophobia reminds us that there is much room to go in cultivating enlightened attitudes about sexuality. The quirky element of a talking hamster, voiced by Isabella Rosselini, works especially well in a film that echoes just enough traces of Donnie Darko.
From France, Being 17 (Quand On a 17 Ans, 2016, France, André Téchiné) is a straightforward story about two teen boys – one, a bully; the other, his victim – whose relationship changes when both boys are forced to live in the same house when the one boy's mother becomes seriously ill. The film (July 16, 9:45 p.m.) is written by Céline Sciamma, the director of Girlhood, an outstanding film that captures emotional realism in an authentic adolescent's voice, which was screened at Utah Film Center's inaugural TiltShift Film Festival for teens in 2015. The combination of Téchiné and Sciamma guarantees that Being 17 rises to the standards set by Girlhood.
Transgender rights and stories have become an integral part of the Damn These Heels and this year's entries include the dynamic documentary Major! (2015, Annalise Ophelian), a richly detailed historical account of the work of Major Griffin-Gracy, one of the pioneering transgender activists who has worked continuously for more than 45 years on behalf of trans women of color. It is precisely documentaries such as Major! (July 16, 2:15 p.m.) which are proving to be long-term valuable accounts of the history of the struggle for rights covering all portions of the LGBTQ spectrum.
The most impressive aspect of Griffin-Gracy's portrait is the indefatigable spirit she brings to the movement, never letting the problems of age or health issues compromise her resolve to see the campaign until the end. The film has taken Best Documentary honors at this year's Qfest New Jersey and Wicked Queer Festival in Boston.
Three other documentaries highlighting transgender issues are just as compelling. Out Run (2016, Leo Chiang and Johnny Symons) highlights this year's successful campaign by transgender hair stylists and beauty pageant contestants in the world's only LGBT political party to elect Geraldine Roman, the first transgender member of the Philippine national congress. Roman (July 17, 3 p.m.) won her election in May to the Bataan congressional district in a landslide vote – a remarkable political achievement in a country where the conservative Catholicism of many leaders keeps a strong thumbprint on the issues of marriage, abortion and other social issues.
Like the other documentaries, The Pearl (2015, Jessica Dimmock and Christopher LaMarca) turns to voices not typically presented in LGBT cinema, much less other platforms. The film (July 17, 10:15 a.m.) focuses on four middle-aged transgender women who live in the logging towns of the Pacific Northwest region. Much of the film focuses on their experiences in making the transition.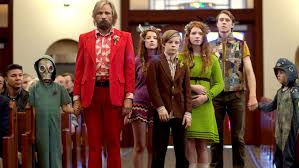 Since 2008, documentary filmmaker and photographer Timothy Greenfield-Sanders has produced a series of short documentaries highlighting portraits of individuals in various themed lists. Premiering at various festivals such as Sundance and on major television series including PBS's American Masters series, the films have included two volumes of The Black List, The Latino List, The Boomer List, The Women's List and The Out List.
His latest is The Trans List (July 16, 4:30 p.m.), highlighting portraits and interviews with 11 personalities including Laverne Cox and Caitlyn Jenner as well as trans men such as Shane Ortega, the U.S. Army Sergeant who was forced to wear a female dress uniform to an official Pentagon ceremony.
Another documentary standout is Oriented (2015, Israel/UK/Norway, Jake Witzenfeld), which follows three gay Palestinians who not only articulate their sexual identities but also the issues of their own status in Israel, where roughly one out of every five citizens is Arab. Yet even as they are Hebrew-fluent citizens of Israel – with passports and full enfranchisement rights – they are confounded rightfully by issues of tolerance not only connected to their sexuality but also to their allegiances to fellow Arab citizens and the hopes of resolving the statehood issue for Palestinians.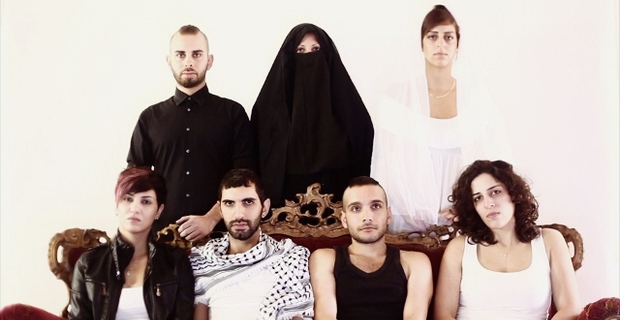 The film (July 16, 12:15 p.m.) is drenched with irony in the words of all three men, who are, frankly, more politically astute and informed than many of the counterparts elsewhere. While audiences see the vibrant Tel Aviv scene, they also glimpse scenes of openness in Amman, Jordan – a potent statement refuting conventional perceptions about Arab culture as a restrictive, backward or intolerant monolith.
There are films for every aesthetic flavor, both in narrative and documentary treatments. Me Myself and I (Io e Lei, 2015, Italy, Maria Sole Tognazzi) is a thoroughly entertaining film about Marina, a former actress, and Federica, an architect) whose five-year relationship has reached an acute point of tension and confrontation. Marina's effusive open personality (July 16, noon) contrasts sharply with the sometimes icy Federica's strenuous desire to be as discreet and private as possible about their relationship.
In the case of Loev (2015, India, Sudhanshu Saria), the character development is richer, more complex with two men who have known each other for a long time and unquestionably admire each other but remain awkward about how and whether they should consummate their physical desires during a weekend trip. Set in Mumbai, the film (July 16, 9:30 p.m.) is exceptional not because of a story line that might be common in an American counterpart but precisely because of its location where even the idea of sexual conduct between two people of the same sex is not only a cultural taboo but also illegal according to the nation's supreme court.
The transposed letters in the film's title epitomize the difficult emotional challenge both men stumble enormously with – the courage or the affirmation to say publicly the simple yet profound phrase of "I love you." The film won the audience award at this year's Tel Aviv International LGBT Film Festival.
There are equally enjoyable confections of cinema. A fantasy comedy defined by solid acting and an excellent mood-setting score, Set the Thames on Fire (2015, United Kingdom, Ben Charles Edwards) is about two young men on an adventure that occasionally seems (July 15, 10:30 p.m.) like what Charles Dickens might have written in the dystopian fantasy genre that is popular creative ground for many today. Hunky Dory (2016, Michael Curtis Johnson), which premiered at Slamdance this year, is a charming take on today's dysfunctional family (July 17, 1 p.m.) not to be confused with an earlier film of the same title that starred Minnie Driver and featured glam rock as well.
Three documentaries are perfect for cinephiles — well-researched testimonials to the dynamic personalities who have made Hollywood history so fascinating and significant in cultural legacies. They include The Slippers (2016, Morgan White), the ideal confection for fans of The Wizard of Oz and the colorful story about how Dorothy's ruby slippers anchored the pop cultural pantheon of Hollywood memorabilia enthusiasts (July 17, 12:30 p.m.).
Uncle Howard (2016, Aaron Brookner) is a nephew's lovely tribute to Howard Brookner, a documentary-cum-feature filmmaker whose life was cut short by his death from AIDS in his mid-thirties. The film (July 16, 2:30 p.m.), which premiered at Sundance this year, captures Brookner's work, his rise to an outstanding documentary director in profiling the difficult and elusive personalities of William S. Burroughs, one of the best-known Beat literary figures, and Robert Wilson, an avant-garde theatrical producer. Brookner was working on a feature film at the time of his death, which in its post-mortem release did not achieve the critical status of his documentary work.
Classic cinema fans will especially enjoy Women He's Undressed (2015, Australia, Gillian Armstrong), which highlights the life's work of Orry-Kelly (July 16, 10 a.m.), one of Hollywood's most famous costume designers who won three Academy Awards for his work.
Tickets are on sale now via ArtTix and all festival information can be found on the official Damn These Heels Film Festival website.
Damn These Heels is sponsored by Weinholtz Family Foundation, Dancing Llama Foundation, Prestman Auto, Terence Kearns Stephens Charitable Fund, and B.W. Bastian Foundation.