Ochlophobiacs would be well advised to skip the streets of downtown SLC this weekend; you may well encounter the odd crowd. Not only does the 2014 Salt Lake Comic Con come to town tomorrow — but the 39th yearly installment of the Salt Lake Greek Festival also kicks off on Friday, September 5.
In years gone by the Salt Lake City Greek Festival has attracted as many as 50,000 visitors during its weekend celebration. Add to that the 120,000 plus fans expected for Comic Con and downtown should be rocking; bear that in mind if you intend to use public transport too; April's FanX alone managed to set new UTA ridership records.
Entrance to the 2014 Salt Lake City Greek Festival is a measly three bucks (Zions Bank and KUTV2 are offering 2 for 1 admission coupons), but word to the wise, you'll probably want to bring a few more dollars for the stunning array of Greek cuisine on offer. Here's a full run down of what you might expect to see and sample…ready?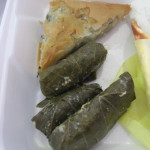 Dolmathes: grapevine leaves stuffed with rice and vegetables, sometimes meat too
Fasolakia: fresh green beans in tomato sauce
Keftedes: baked meatballs with oregano and mint and tomato sauce
Pastitsio: baked pasta dish with a filling of ground meat and a Béchamel sauce top
Souvlaki: chicken or pork marinated in oil, salt, pepper, oregano and lemon then grilled on a skewer
Stifado: beef stew with pearl onions, vinegar, red wine and cinnamon
Spanakopita: spinach, feta cheese, onions, egg and seasoning wrapped in phyllo pastry
Pilafi: fluffy and soft rice that has been boiled in a lemon and chicken bouillon broth
Gyro: sliced meat, tomato, onion, and tzatziki sauce layered on pita bread
Calamari: squid rings and tenticles battered and deep fried
Loukaniko: Greek pork sausage flavored with fennel seeds and orange peel
Lamb: seasoned with garlic, oregano, lemon and oil before being barbecued on a rotating spit over coals
Tyropita: cheese triangle wrapped and baked in a flaky phyllo pastry
Baklava: rich, sweet pastry made of layers of flaky phyllo pastry filled with chopped nuts and sweetened with syrup or honey
Loukoumades: similar to donuts holes, fried balls of dough coated with honey and sprinkled with cinnamon
Melomakarona: cookies soaked in syrup of diluted honey, then sprinkled with crushed walnuts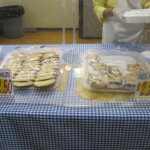 Koulourakia: butter cookies
Kourambiedes: cookies with crushed roasted almonds then generously dusted with powdered sugar
Kataifi: a sweet made of very fine vermicelli-like pastry
Ppasta Flora Tarts: with fresh fruit jam
Galotopita Custard: pudding baked in a flaky phyllo pastry
Amigdalota Almond Cookies: flavored with nutmeg and sprinkled with nuts
Poutika: a moist cake made with cinnamon, wafer crumbs, chopped walnuts, coconut and topped with orange flavored syrup
Flogeres: walnuts, butter and spices baked in a flaky phyllo pastry topped with chocolate syrup
Hungry yet? I thought so. Make sure that wallet or purse is stuffed full of dollars. You don't have to feel guilty if you indulge too much though — just shimmy away with one of the numerous dance presentations you'll find at this celebration of all things Grecian.
The festival showcases a number of traditional Pan-Hellenic dances (practiced throughout Greece with regional variations). You'll probably recognize the popular 'Circle' style dance but also keep your eyes peeled for lesser-known movements such as Kalamatiano, Hassapiko and Tsamiko. "We look forward to hosting our guests each year during the Greek Festival," said Mike Varanakis, festival volunteer. "It's an opportunity for us to share our culture and heritage with the wonderful people of Salt Lake City and beyond."
Remember to build plenty of time into your trip if you intend to ride TRAX (The Old Greek Town stop is a short walk to the festival doors); if you do prefer to drive, its worthy of note the festival offers a valet service right outside the entrance doors.
The Salt Lake Greek Festival is located at Holy Trinity Greek Orthodox Cathedral, 279 S. 300 W., September 5-7.
Hours are:
Friday, 11 a.m. – 11 p.m.
Saturday, 11 a.m. – 11 p.m.
Sunday, 11 a.m. – 8 p.m.