With over 50 restaurants represented at this year's Taste of the Wasatch, there will be much to be devoured in the name of fighting hunger in Utah. Chart your gastronomic path for Sunday's grand tasting as the culinary event of the summer gets set to begin this Sunday, August 6 at 11 a.m. for VIP ticket holders and noon for general admission.
Below, we've listed the entire menu for your dining pleasure. Plus, be on the lookout for special off-menu items at select booths too!
Tickets are available here.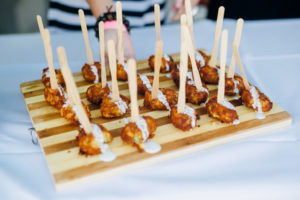 Aerie Restaurant at Snowbird Ski & Summer Resort: Pork meatball, roasted eggplant tomato sauce, aged Parmesan cheese
Avenues Proper: Pork belly tostada with house kimchi
Beehive Cheese: Assortment of  hand-rubbed artisan cheeses
Beltex Meats*: Not Your Average Corn Dog: kettle corn grits, pork confit, apple creme, pickled mustard
Blue Boar Inn: Poached shrimp and kale caesar salad
Cena Ristorante: Spicy lamb sliders; tomato cherry sauce and pickled vegetables
Chabaar Beyond Thai*: Curry puff, curry, rice and kombucha
Chaia Cucina Catering: Spicy chilled roasted Mirasol pepper bisque with goat yogurt and crispy shallot
Chedda Burger*: Cherry tomato jam, Thai peanut sauce, confit porkbelly, cream cheese and arugula on a beef patty
Copper Onion: Smoked eggplant tartlet with an heirloom tomato relish
Deer Valley Resort: Pacific rock fish ceviche; Meyer lemon, fresno chili, fresh cilantro, tequila; white corn tortilla chips
Even Stevens*: Duck or beet pastrami with kraut, mustard seeds and dill
Fire and Slice Pizza: Margherita pizza with basil, sauce, fresh mozzerella, rosemary oil; rosemary and parmesan flat bread with bacon jam or mascarpone spread (mascarpone and jalepeno jelly)
Fireside on Regent: Heirloom tomato and mayonnaise tea sandwiches on sliced Pullman; fire-roasted corn on the cob with chili, lime, and cotija cheese
Franck's: Caramelized Utah peach and Vadouvan emulsion, toasted quinoa, slow-roasted eggplant, pickled shallot, Thai basil
Garage On Beck: Fried Mormon funeral potatoes with holy ranch
Garden Café at Grand America: Shrimp Aguachile carrot juice, cucumber, cilantro; grilled stone fruit toast ricotta, arugula, radishes; assorted pastries
Glitretind at Stein Eriksen Lodge: Fatty shoulder ribs with spicy smoked molasses grilling sauce; Utah corn, peach, pasilla peppers, snow cap beans and feta cheese
GR Kitchen*: Falafel with kafteri sauce
Harbor Seafood and Steak Co.: Scallops and caviar—pan-seared natural Maine scallops, caviar, avocado mash, micro sorrel, yuzu-buzz button buerre blanc
La Caille: Smoked Berkshire pork short ribs with stone fruit and chateau La Caille Enchante glaze
Lake Effect*: Chipotle BBQ beef nacho with charred corn salsa, crumbled cotija, and pickled radish
Martine: Cold duck salad over Bibb lettuce with pickled grapes, Point Reyes blue cheese and walnuts
Meditrina: Chilled buttermilk soup, cucumber, Granny Smith apple, tarragon oil; house chorizo meatballs, spicy tomato sauce
Mountain Town Olive Oil*: Black truffle popcorn made with Butter Olive Oil and Black Truffle Salt; marinated tomato, cucumber, basil with Tuscan Herb Fused Olive Oil and Sicilian Lemon Balsamic
Pallet Bistro: Hamachi with pressed melon salad, local greens and chile verde vinaigrette
Porch: House pimiento cheese, cucumber cup, candied bacon
Provisions: Smoked organic chicken liver mousse, rhubarb compote, farm basil, pistachio, toast
Red Iguana: Smoked brisket tacos with smoked paprika, brown sugar, cayenne, pickled red onion, queso fresco
Riverhorse on Main: Seared 44 farms beef and lobster surf and turf; Alpine iced tea
Saffron Valley: Chicken tikka kebab served with yogurt cucumber raita
Sage's Café: Tempeh lettuce wraps
Solitude Mountain Resort: Utah corn custard, summer fruits, prosciutto
Stoneground Kitchen: Salumi Cotto with pea espuma
The Tin Angel: Angels with Dirty Faces–Medjool date stuffed with gorgonzola picante and wrapped in speck
The Blended Table*: House garlic potato chip with local chicken confit and tart cherries
Tuscany: Fried green tomato BLT with Duroc slab bacon and micro lettuce
Wasatch Brew Pub: Carnitas with slow-roasted Niman Ranch pork, corn tortillas, salsa, guacamole and pico de gallo
Whiskey Street Cocktails and Dining: Dungeness crab tacos with celery root tortillas, grilled Utah peaches, yuzu pickled cucumbers
*denotes a new addition to this year's Taste of the Wasatch line up!
Baker's Dessert Booth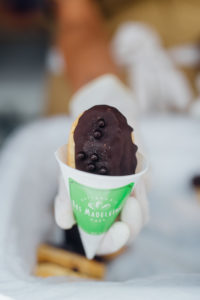 Chocolate covered strawberries
Christina's Cakes: Assorted mini cupcakes
Deer Valley Grocery Café: Moscato wine cake with fresh poached peaches and a hibiscus foam
FAV Bistro*: Coconut chocolate raspberry jelly cake and melt-away cookies
Fillings and Emulsions: Macarons
Les Madeleines: Assorted pastries
Pago Restaurant Group: Smoked chocolate cake with cherry panna cotta, Utah cherries, and candied orange peel
Park City Culinary Institute: Pumpkin cocoa nib whoopee pies
Red Butte Café: Assorted mini tartlets
Stein Eriksen Lodge: Lingonberry almond cakes, pistachio diamants (sugary shortbread cookies), chocolate and raspberry marshmallows and rosemary biscotti
The Tin Angel: House bread pudding with caramel and crème anglaise
Tulie Bakery: Cinnamon hazelnut meringues