During the last couple of decades, humble pub grub has undergone a makeover worthy of something you'd spot on Bravo and immediately lose three IQ points over. Marketing departments the world over have coyly convinced us to hand more and more cash, because now, well, this is a brewpub and this is a dramatically superior experience. Or you may be lucky enough to be eating in one of those most hallowed of places—and I apologize in advance for even uttering it—the gastropub. Yes I know, shoot me now. Eurgh.
Let's face it, even the most chicly reworked pub rarely reaches past "gourmet burger with fancy sauce on top". Maybe there will be shishito peppers in lieu of fries. Perhaps there will be small plates rather than appetizers. And maybe, just maybe, you will have a brief moment of lucidity and existential terror at the $20+ 'pub' food in front of you. This will however quickly pass as you sigh a breath of relief and realize, its all ok, this is a gastropub, this is how pubs work today. Crisis averted.
When I received an email inviting me down to The Annex by Epic Brewing Company, I have to be completely honest, as snarkily-smug as it seems, I wasn't expecting to be blown away. Past reviews of the business were mixed. I've long been a fan of Epic's brews, but general chatter suggested the food was something of an afterthought.
How wrong could I be? The answer is very; something my wife would point out at this point, is not an uncommon event. Enter stage right chef Craig Gerome, responsible for feeding me one of the finest meals I ate in 2014. In a pub. Wait, what?
In truth, calling The Annex under Gerome a pub, would be akin to calling out the Great Pyramid of Giza, as something rather yellow and pointy. The first hint that something unusual was afoot came when the first dish from the re-energized kitchen hit our table. Grilled persimmon was served with compressed pears, muffata cheese, hazelnuts and beet mostarda. Take a look at the picture below and tell me the last time a brewpub served you something quite so dainty as opposed to deep fried.
Gerome is clearly a talented chef, and that's a term I don't wield around as loosely as some folks. He counts stints at Le Bec Fin (Philadelphia) and Spruce (San Francisco) as previous culinary homes, and I'd call his approach one of classic European plated with a dollop of molecular modernism. Less pretentiously: good stuff.
Cod brandade was a perfect expression of this on a single platter. This classic European dish of salt cod and spuds came served in a flaky vol-au-vont shell. Turning things a little on their head was the malt vinegar 'powder'. Via email Gerome later told me: "It was to help bring out some acidity that would have been lost in the potato/salt cod based mixture. Basically it is made by dehydration with maltodextrin and malt vinegar. which is a fairly simple process. It can also be done with baking soda, however, maltodextrin leaves you with more of a 'malty' flavor." You'll find such modern approaches used in careful moderation across the menu.
Poutine is one of the dishes that remains on the menu from the former iteration of The Annex's menu. While Gerome confided it's not his particular cup of tea, it's a customer favorite, and in turn this dish now sees a notable revision. Order Gerome's poutine and you'll find hefty chunks of Niman Ranch beef cheeks. These are cleaned and seasoned in house before taking a visit to the sous vide machine where they meet an Epic golden beer; the result is beautifully tender beef that punctuates a pile of Kennebec French fries, local cheese curds and sumptuous gravy. This north-of-the-border favorite is as good as any in town if not, dare I say it, the best?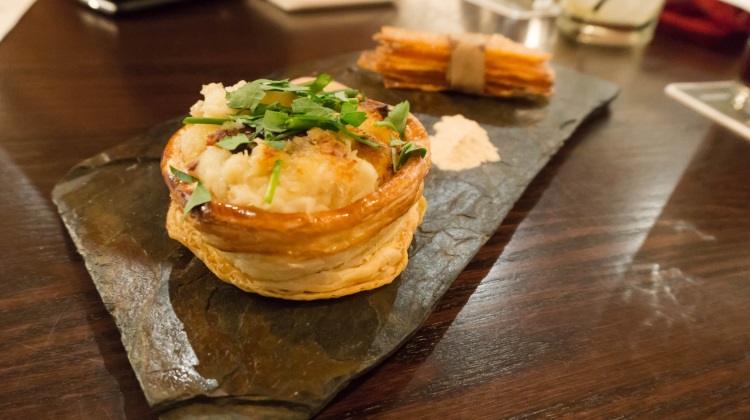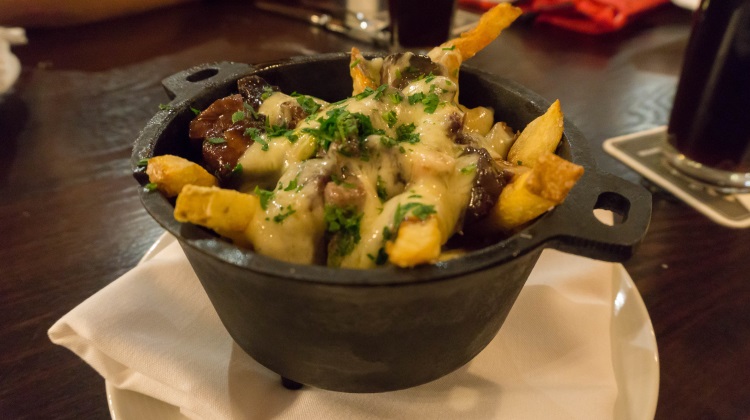 A seasonal Christmas lima bean soup followed but my memory of this was largely erased by what was to come next—and the fact I've never really liked soup since it's all I was allowed as a child when ill. Soup is now punishment food to me.
Bouchot mussels were delivered with a backstory, and unlike Michael Bay, I love a good back story. The shellfish come from Stonington, Maine. Gerome explained he relies on a super secret contact from his former life back east for the supply. Flown in especially for the The Annex, Gerome continued to detail how the rope growing technique coupled with the east coast waters provided for an excellent and unique product.
I couldn't disagree. These plump beauties steamed in Berliner Weiss beer with garlic confit exploded with briny juiciness. If you've given up on mussels due to limp, puny, lifeless encountered all too often—give these a try.
Still reeling from one of the best SLC shellfish dishes of 2014, up next came one of the best Italian dishes. House-made pappardelle "hen egg" pasta was a study in simplicity. Peeky toe crab (also from Stonington), melted leeks, beurre fondue and parmesan cheese where the meager ingredients. A month later I am still stunned by the fact the best Italian food I ate in 2014 was from a brewpub. So much so, lets not call The Annex a pub anymore, this is now a serious restaurant.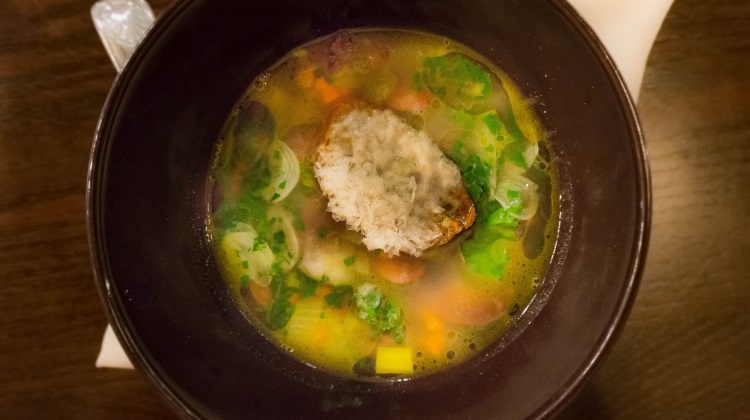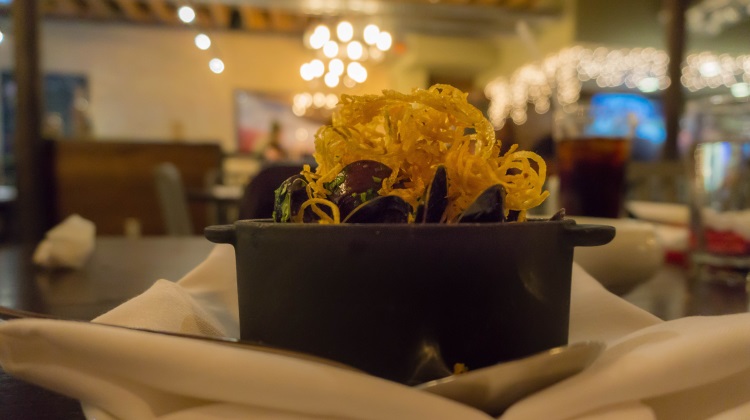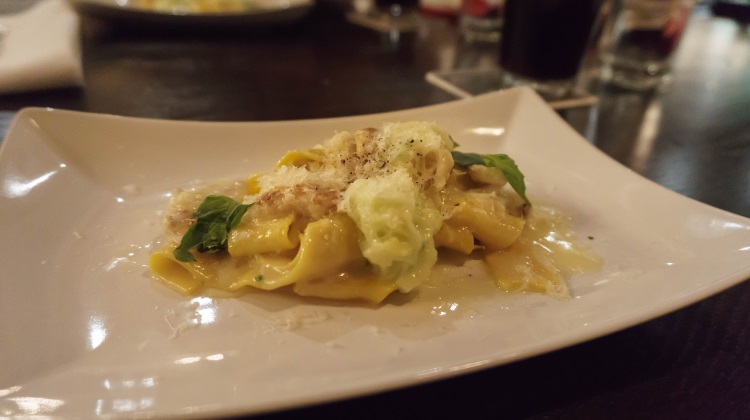 Yet more dishes I could wax lyrical on proceeded to arrive. Lacquered duck breast with glazed quince, lardons, chicories and a currant and duck jus was exemplary. A bavette steak frite was sumptuously rich. I'll spare you the hyperbole except to say, this is real cooking by someone with passion for food, not just a job. It's giddy and refreshing and I'm a fan.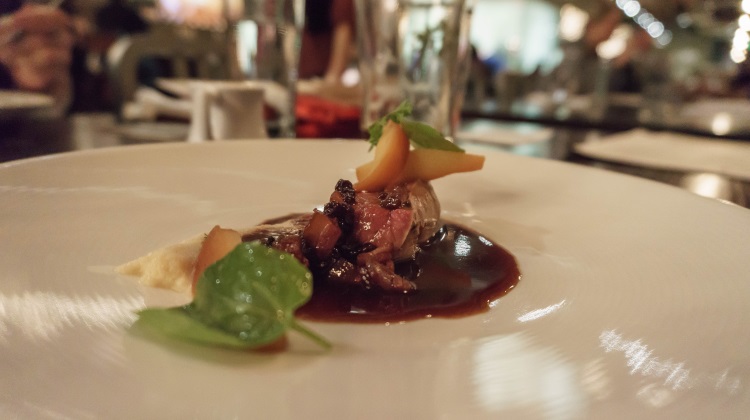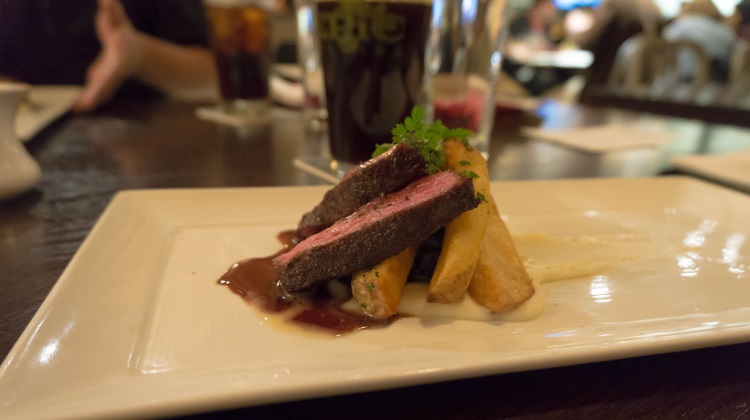 Dinner concluded with a sampling of chocolate bread pudding, chocolate cake and a deconstructed s'more giving one last genteel nod to Gerome's modernism. It also handily showcased another improvement at The Annex. Now that the restaurant has a full club license, the former Zion Curtain has come tumbling down. This means that patrons can now stop by for a drink without dining or order many of Epic's 40+ beers by the taste (2 ounce), pint (16 ounce), bottle (22 ounce). The taste pour makes for perfect pairing options.
For the dessert sampler we took advantage of a 2 ounce pour of the mighty Big Bad Baptist Imperial Stout, which weighs in at a whopping 10.9% ABV. The cost, a measly two bucks. (See the full list below.) Sampling (with caution!) ones way through Epic's roster of beers by the taste could be a fun event in it's own right.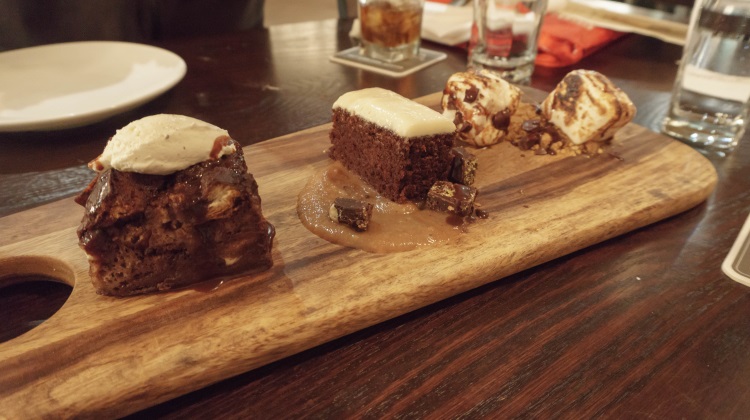 I would of course caution readers that as an invited guest of the restaurant I was hardly dining anonymously. Indeed, the new kitchen was eager to send out their latest highlights. Parts of the operation are still a restaurant in transition. That said, I'd be happy to vouch for any of the dishes the new chef has had a direct hand in, just ask your server, or check out the specials should you visit. This is one to watch in 2015.
1048 East 2100 South #110, Salt Lake City, UT 84106
(801) 742-5490
www.theannexbyepicbrewing.com