While the bomb-throwers—both metaphorical and literal – invariably claim to speak for the locals, most of the locals I've met prefer to speak for themselves. They're old-timers and newcomers, Republicans and Democrats, conservatives and liberals. They're scientists, tribal members, ranchers, and telecommuters, often more than one of the above. Some criticize the federal government, and some work for it. Some do both. … These are the local voices – often quieter, but more thoughtful, more numerous, and ultimately more representative – that need our attention. … It's time we listened. – Michelle Nijhuis, What the Tortoise Taught Me, Red Rock Stories: Three Generations of Writers Speak on Behalf of Utah's Public Lands (2017, Torrey House Press)
The most compelling creative expressions of the Utah Enlightenment neutralize the bomb-throwers, an occasionally daunting challenge in a state that wants to project civility but often gives into the temptations of immovable partisanship and visceral polemics. So far, 2017 has been a good year for original work under the heading of the Utah Enlightenment. It is worthwhile to cite three examples of recent work by Torrey House Press, Plan-B Theatre and the Repertory Dance Theatre which succeed at the challenge of listening to the unfiltered voices of the space, place and people that embody Utah.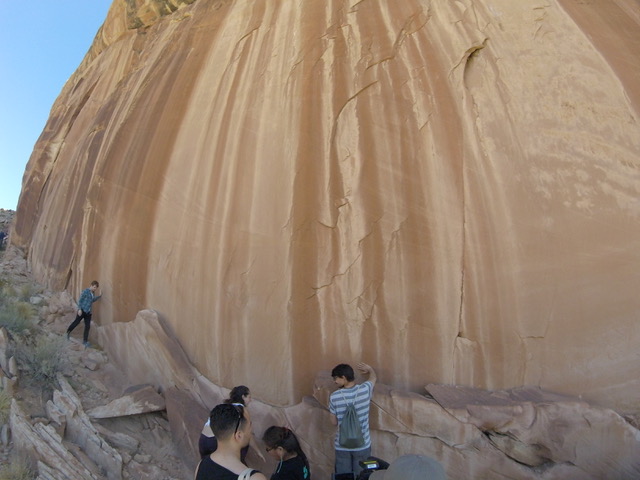 PLAN-B THEATRE'S (IN)DIVISIBLE
Always a solid pillar of worthwhile Utah Enlightenment sensibilities, Plan-B Theatre offered this past June a staged script reading of (in)divisible, a two-act Script-in-Hand Series reading of short plays by 12 Utah playwrights that presents stories which are equal in terms of conservative and liberal perspectives. It was largely a successful experiment, most notably for how it pushed the playwrights to present work that did not seek to disparage, deplore or devalue particular views but to give credible perspectives their due focus, especially outside of the bubbles, algorithms and fake news dynamics of social media.
The challenge is more difficult than it seems at first glance. Social media exchanges following the devastation in Houston from Hurricane Harvey last month, as summarized by USA Today's OnPolitics blog, suggested that even a major natural disaster could not displace the partisan divide. The stream of messages covered everything from climate change's role to the First Lady's shoes as well as criticism about a popular television evangelist's hesitation to take in storm survivors and conservative perspectives about gender roles.
Plan-B wisely steered playwrights away from the temptations to inflect their piece with political jabs or personalities. Thus, each playwright contributed a pair of short plays covering different perspectives, running typically between three and five minutes apiece. Audiences saw 24 plays that gave a remarkably balanced spectrum of thinking on numerous topics, including immigration, racial profiling, crime, immigration, environmental concerns and education.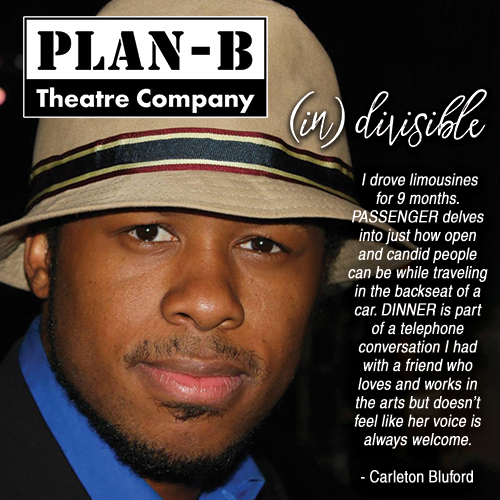 It was apparent that some playwrights were more comfortable in articulating the messier complexities and gray areas of political choices and social perspectives. Carleton Bluford sets a realistic exchange in Passenger between a driver and his passenger who is leaving the airport. The passenger explains why he didn't vote in the last election, which surprises the driver who is eager to show off his skills as an empathetic listener: "Everyone says, 'You have to vote! You talk about action all the time, take action! People died so you could have that vote!' to which I say, 'People died to give me the right to cast my vote yes, in the same system that at one point, considered black people to be three-fifths of a human being; in a system that still views women as lesser. Now I need to take action because you're finally scared? My right as an American is that I have a choice, I can vote, I do not have to. And voting began to feel more and more like me saying regardless of who wins, I agree with this system that has jailed more African Americans than any other, this system that created the ghettos and projects these "scary" black people come from—and honestly, I wholeheartedly don't!'" The driver takes the rant in stride and says, "Sounds like you're just getting started." Both laugh when the passenger says to end the scene, "since we're having that drink."
The scene in Bluford's Dinner is equally compelling, as a stage actor explains why he keeps his conservative views on the down low in the theater. He says it would be okay to dismantle the National Endowment for the Arts for helping to control and balance the federal budget but does not voice this opinion publicly for fear of being blacklisted. He adds that being a conservative in the theater also has exposed him to various perspectives, some of which have changed his views while others have reinforced them. But, he says, "I sometimes wonder if my liberal artistic friends get this same exposure from the other side. I worry that some get trapped in echo-chambers and don't get to really listen to those with the different viewpoint, simply because they lack that exposure to a deeper conservative base."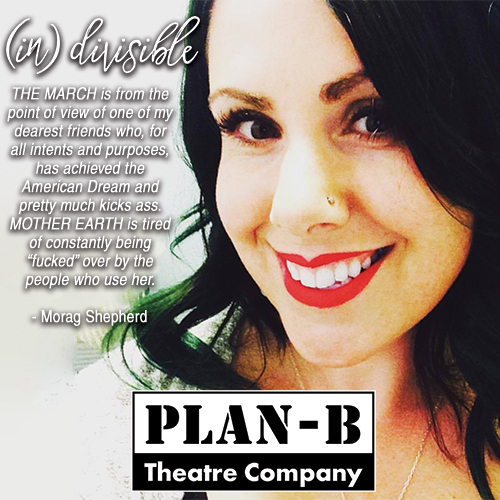 Morag Shepherd is marvelous at casting unfiltered, unapologetic monologues that deliver epiphanies with a knockout jab. In The March, the speaker is a former U.S. Marine who is working on her master's degree and was raised by her stepmother (who made her eat cucumber every day even if it made her gag) and her father (who "took me from my mother – and then let a crazy authority figure completely rule my world"). Her biological mother is from El Salvador, who may have been undocumented. Isabella says today's "liberalist" agenda is no different from the lockstep rules of the religious right in the 1990s:,"So close your eyes and bow your head and say your secular prayer, include all the buzz words so everyone else knows YOU are one of them. The words, 'tolerance, inclusivity, and diversity,' just you know- not diversity of thought, or opinion."
In her counterpoint, Mother Earth, she captures vividly the figurative violation of the planet: "Something is happening. Something's going to happen, and I have no choice about any of it. There's a violence brewing. And it's coming, it's coming from inside me. The dry "situation," has been happening slowly, for about 150 years now. I know, you can tell by my lines, right? Well, it's not polite to stare. And in addition to all the draught-type situations, they've inserted a pipe – and are draining my arteries, trying to mine out all my nutrients. I'm practically a dried-out womb. Pretty soon there will be no more gold, frankincense, myrrh, wise men, or Jesus—and I'll be all dried up, all used up, like a forgotten whore. Sometimes, when men try to grab me … I cut their heads off."
The scenes are never contrived, as playwrights relied often on stories or experiences they encountered. Jennifer Kokai's Janine is about a high school valedictorian who has applied for college financial aid only to discover she is undocumented. The student, whose roots are in the Philippines, also is an avid poet and the shocking discovering about her status has changed how she thinks and communicate her identity: "I mean, I know for me with my poetry, I have to put myself in the really uncomfortable space of standing in front of an audience, with all of my body parts, not all of my body parts, cause I'm not reading nude, but I'm exposed while I read this thing. One of the readings I did at NYU, after I had disclosed that I was undocumented, this person in the audience shouted out, "don't worry, we're not armed." And I was like, I mean what? Your first response to me telling you I was undocumented was to tell me you're not going to shoot me?"
In her companion piece, Mitch, Kokai sets the scene with a Gen-X state government reporter who did not have strong political views in his younger years but who also has seen enough conservative and liberal politicians in charge to become "adamant in the classical liberal perspective and the somewhat libertarian perspective." Mitch is not optimistic, given how he sees politics as overwhelming everyone's lives: "But there really is that sense among people of our generation that what worked for our parents' generation is probably not going to work long term and it's going to be up to the generation after us to pay for whatever's in place and that's frightening in and of itself."
Plan-B's (in)divisible came to fruition as a response to those who wanted to react, respond, and act upon the results of the last presidential election. However, it also functions more than just a snapshot of the current sociopolitical climate. By its history and nature, the United States' political center typically has been more centrist than anything else, even despite recent elections and the expanding visibility of social media.
Plan-B's production may even be a better barometer of serious opinion now than it was in its premiere last June. It is the proper antidote to the easily riled factions of manufactured outrage that unjustifiably have dominated the news cycles over the calmer, more reasoned voices that have emerged especially from both sides of the aisles and from different points along the political spectrum.
TORREY HOUSE PRESS: RED ROCK STORIES AND EDGE OF MORNING
Likewise, more responsibly tempered and informed voices are visible in the public lands issues that are among the most aggressively discussed in Utah. This year, Torrey House Press released two books that amplify, augment and engage conscience and advocacy for public lands and, in particular, the Bears Ears National Monument. Red Rock Stories, edited by Stephen Trimble, is an anthology that exemplifies the staying power and persuasion of literary nonfiction. As previously described in The Utah Review, "it is an exemplar of diversity." The book includes works by current Navajo Poet Laureate Luci Tapahonso and Utah's first poet laureate David Lee; MacArthur Fellow Gary Paul Nabhan and writer‐philosopher Kathleen Dean Moore; former U.S. Secretary of the Interior Bruce Babbitt and former Utah state archaeologist Kevin Jones; millennial essayists Anne Terashima and Brooke Larsen; Ute Mountain Ute tribal councilwoman Lopez‐Whiteskunk; former members of Congress Mark Udall and Karen Shepherd; bestselling essayists David Gessner and Lauret Savoy; recent Utah Bureau of Land Management Director Juan Palma, and award-winning writer-scholars who teach at universities across the country.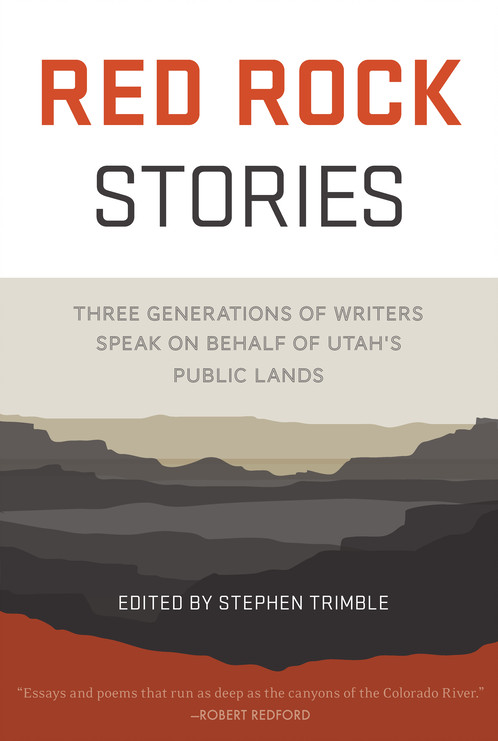 In the foreword, Trimble explains how poets, essayists and scholars could enrich the dialogue and affect the decision-making dynamics in the debate where a "confluence of hostilities and opportunities surfaced in western wildlands." And, as Trimble cites, Red Rock Stories had a worthy predecessor: the 1996 book titled Testimony: Writers of the West Speak on Behalf of Utah Wilderness, a project he worked on with Terry Tempest Williams (Gibbs Smith Publishers).
"We had no idea the [first] book would matter," Trimble writes. Indeed, it did in two significant instances: '[W]hen Senators Bill Bradley (D-NJ) and Russ Feingold (D-WI) successfully led the filibuster that defeated the bill [which would have stripped the provisions of the 1964 Wilderness Act] they read essays from testimony on the floor of the Senate. When President Bill Clinton proclaimed Grand Staircase-Escalante National Monument in 1996, he held up a copy of Testimony and said, 'This made a difference.'"
The literary quality of Red Rock Stories embodies the same capacity as a game-changer. The entries are brief, some barely more than two or three pages. But, their epiphanies are relevant, expansive and strategic. In The Man with a Heart of Stone, Kevin Jones writes about a sandstone monolith in Desolation Canyon covered with petroglyphs: "The man with a heart of stone has adorned the canyon for at least five hundred years, perhaps much longer. How many others has he beckoned, how many others have relinquished the present to vault lightspeeding through time-space as they stood transfixed in the very spot where so long ago an outstanding artist altered this stone in a way that speaks across centuries."
Jones reminds readers that the idea of seeing wilderness as "untouched by humans" as a "very ethnocentric view." Every trace, even the most subtle, reminds of the countless generations of native peoples who lived, worked and engaged with the lands. As he closes, "Where else do traces of the past beckon us to investigate, examine, see? Where else can we stand at the wall of time and learn from a man with a heart of stone? Where else does time stand still?"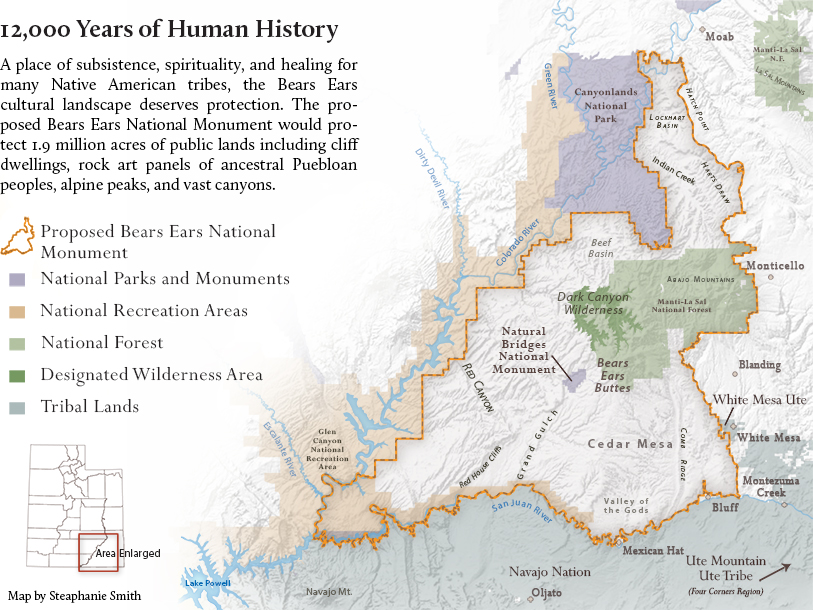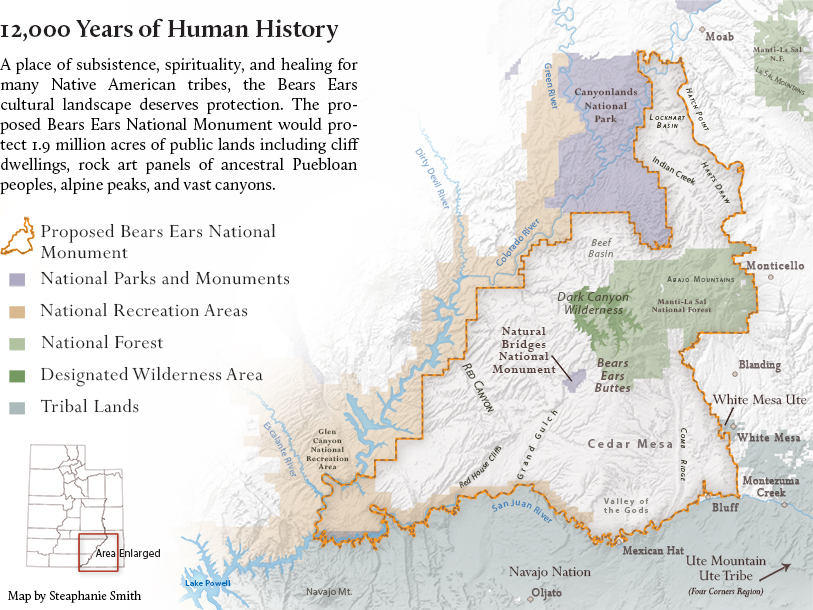 A young Navajo, Alastair Lee Bitsoi, who lives in Brooklyn, New York, writes about Bears Ears and its enduring impact, fortified when he was hired by the Grand Canyon Trust and Utah Diné Bikéyah to tell the stories about the Bears Ears Inter-Tribal Coalition. Bitsoi recalls a road trip from a decade earlier when he learned about the twin buttes towering over Cedar Mesa – what the Navajos call Shash Jaa' or the Bears Ears – and the history of the Navajo headman Manuelito and the ancestral home of his Bit'ahnii clan.
He writes, "Even though I was not driving toward Shash Jaa' during that summer day, I was mesmerized by the Navajo connection. Instead of being attracted to the city life of Salt Lake City and the Mormon experience of Brigham Young University, my mind wondered about what the mountainous knolls, canyons, forests, water, and wildlife of the Manti-La Sal National Forest and surrounding public lands looked and felt like. I could only envision inhaling the fresh air." That sense of connection, he suggests, has strengthened even as he lives and works in the nation's largest city.
Edge of Morning: Native Voices Speak for The Bear Ears, edited by Jacqueline Keeler, is poised for even greater strategic relevance and urgent advocacy. Echoing the watershed character of the Bears Ears national monument campaign, the anthology serves the purpose of filling in significant gaps in American history. It also is a signature piece of the current Native American literary movement.
In a 2016 interview with The Utah Review when the project was in the midst of an eventually successful Kickstarter campaign, Keeler explained, "Native American writers are pushing language in a different way. And this reflects our native culture in which our leaders do not communicate as authoritarian but in a very egalitarian way. Our leaders do not dictate but speak through their mouths. They speak to the hearts and minds of the people, always mindful of their responsibilities to history."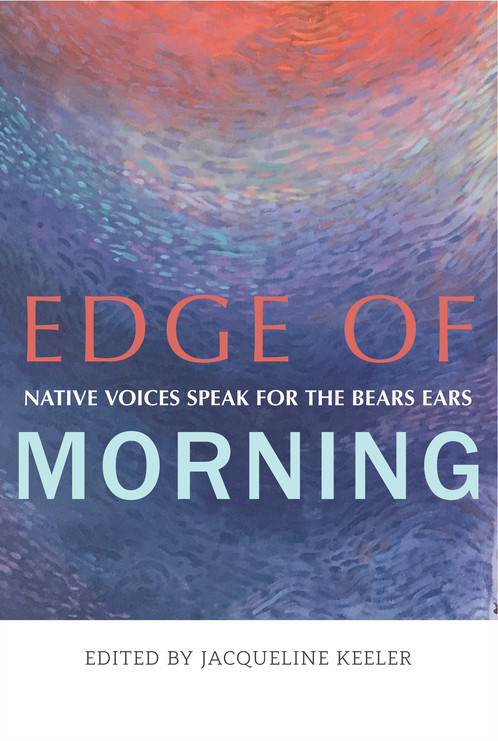 Keeler organized the book into three sections. The first is Origin Stories: Interviews with Bears Ears Inter-tribal Coalition Organizers. The interviews help the readers envision the 360-degree view of the significance of Bears Ears, not only as a nod to historical preservation but also of the consequences of people of losing that connection to the land.
For example, Willie Grayeyes (Diné), chair of the coalition, notes the irreconcilable incongruities for his community, especially among the youth, between the essential human relationship to the land and the economic-driven desires to succeed financially and be able to maximize one's consumer purchasing power. "Those are some of the developments and learned behavior that is destroying the stability of our families, community and our [Navajo] nation. Then again, what also comes into play is making a fast buck-money," Grayeyes says, as Keeler documents the interview. "These are the types of behaviors that are being seen on the Navajo Nation and what we are seeking to do with the Bears Ears National Monument is to stabilize our community and to bring the youth back to the reality of the natural world."
Grayeyes' concerns and hopes are reinforced in the second section, For this Land, For the Diné Bikéyah – The People's Land – Navajo Activists and Academia Speak for Bears Ears. Lloyd Lee writes of the necessity to preserve indigenous traditional knowledge of the land, which the Navajos refer to as Nihi Kéyah. "The land is beyond property or simply a 'reservation.' It frames the world of Native peoples. The land, Nihi Kéyah, is the embodiment of the Diné people's notion of humanity and what it means to live as a human being. The land has energy, power, and provides the necessary support and love for other human beings in other places and spaces around the world."
Lyle Balenquah riffs on the broader theme eloquently in explaining the "spirit of place" in Bears Ears' cultural landscape, which remains in a "relatively pristine condition." He explains, "This area holds the same spirit the Hisat'sinom also witnessed, compelling them to record their expressions of those experiences upon the cliff faces, conveyed through the beauty of their arts and remembered in story, song and prayer. This is the legacy that modern Hopi descendants still carry with them. The connection to this ancestral spirit still resonates in the contemporary culture of Hopi people."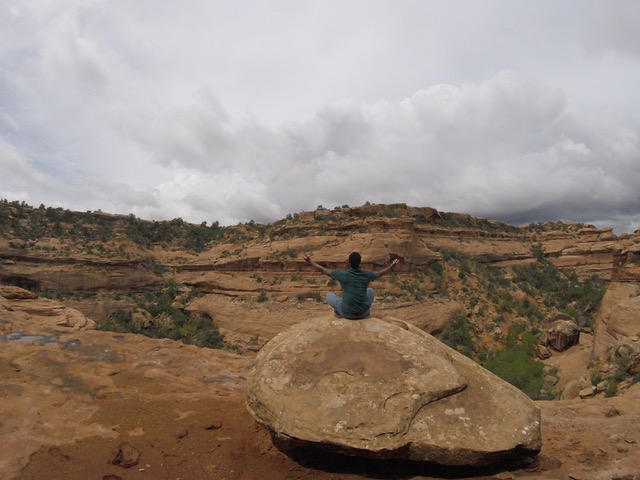 The ritual of spiritual meditation for the Hopi people, Balenquah contends rightfully, is perpetuated through the oral histories which are reinforced by engaging with their ancestral settings. "To walk among the centuries-old homes where generations lived, to hold in their hands the pieces of art created by hands of distant relatives, to sit upon towering buttes and recognize landscapes that are recalled from prayer."
The third section opens this exploration to Native Americans throughout the country and the transforming significance of the Bears Ears fight: In Our Usual and Accustomed Places – Indigenous leaders on Bears Ears and the Fight for Cultural Preservation and Access to Public Lands in the United States.
The entries include works by Ojibway poet Heid E. Erdrich, including We Were The Land's Before We Were: Guidelines for The Treatment of Sacred Object, which was originally published in National Monuments, a 2008 release by Michigan State University Press.
Erdrich's poetry as well as Luci Tapahonso's A Birthday Poem (from the 1997 book Blue Horses Rush In: Poems and Stories) bring to focus the integrity of memory in preserving heritage. Tapahonso writes, "I need to hear a song to reassure me that the distance from Dinetah is not a world away. I know the soft hills, plains, and wind are Diyin also." "Their stories and prayers guide us now. At times, the Holy Ones feared the Diné would succumb to foreign ways. For them, it is truly Hózhó to see us at the Night Way gathered in the smoky cold."
Ida's Song from RDT on Vimeo.
On a broader scale, Edge of Morning is vital in how it introduces a different perspective about the values we should consider in how we preserve the past. Traditional preservationists often focus more on the intact integrity of historic materials for the purposes of authenticity. Edge of Morning shifts that emphasis: What is necessary to sustain the life of these lands and homes where the customs, rituals, arts and language are rightly preserved as tradition in the true sense of the term?
The readings amplify a dramatic shift in thinking. Bears Ears is significant not only for its past but also for what it means now and for the future. To face the risk of forgetting, the past's physical presence takes on an unprecedentedly significant cultural value. The writers, essayists and poets in Edge of Morning emphasize that these places always are alive with the breath and spirit of their ancestors, which transcends a much greater distance than the mere acknowledgment of the physical characteristics of these lands. And, for readers who are not Native Americans, the central question is equally urgent for future preservation projects in non-indigenous places. The whole meaning of sanctuary takes on greater significance and complexities.
REPERTORY DANCE THEATRE'S DANCING THE BEARS EARS
Next month, the Repertory Dance Theatre (RDT) will interpret the thematic questions raised in the aforementioned books with its premiere of Dancing The Bears Ears, a work commissioned by the company and choreographed by Zvi Gotheiner with original music by Scott Killian. Linda Smith, RDT cofounder who also serves as executive and artistic director, says this newest piece arises from seeds planted nearly a quarter of century ago. Indeed, it was Gotheiner, an Israeli choreographer who lives in New York City leading his ZviDance company, who created Erosion for RDT, a 1993 work that led the way for several works that celebrate Utah's geography and the challenges of environmental issues. These have included Centennial Landscape Suite, Glacier, Dancing the Green Map, and Sense of Place.
Gotheiner's latest work will be presented at Sanctuary, the first concert of RDT's 52nd season (Oct. 5-7). No stranger to Utah, Gotheiner, who has nine works in the company's repertoire including five commissions, was a natural choice to take on this challenge. Last season, the company presented Dabke (2012), Gotheiner's full-concert length dance composition inspired by the national dance of Syria and Lebanon that also is an integral aspect of Jordanian and Palestinian cultures as well as Israel and other Middle East countries. The work is inspired by the extraordinary challenges of finding compatible senses of place in a region confounded by violent confrontations about who controls what territorial lands. Dabke is a heartfelt statement to find common ground in overcoming a hostile, volatile climate. In an interview last spring with The Utah Review, he said, "I was born in a kibbutz and I spent my childhood in dirt and I come to Utah amazed at seeing so many magnificent, most profoundly beautiful places that I have seen anywhere."
A month after the Dabke concert, Gotheiner returned to Utah with five of his own dancers to join RDT's dancers, staff and a pair of Navajo guides to visit Bears Ears in preparing to choreograph the new work. Smith, who explains that Red Rock Stories and Edge of Morning were important foundational texts in preparing for the creative process in this project, documented the experiences of this expedition in several RDT blog posts. During the trip, the group visited many sites in the area. Their stops included the Fry Canyon Ruin, the steep switchbacks of Moki Dugway, a kiva at the Cave Tower Ruin, a hike at the Procession Panel and a community gathering in Bluff Utah.
Smith recalls one stop in a blog post:
The Moon House was constructed about 800 years ago. The ruin's namesake is a room with the moon painted on opposite walls. You reach the site by traveling about eight miles on a dirt road then hiking another mile or so to the edge of a canyon. A trail zigzags steeply down an old rockslide to the canyon floor, then the rock slopes ascend to a series of ledges where the Moon House was once home to 25-30 people. The beautifully designed ancient cliff dwellings afforded shelter and protection. The rooms offered privacy and yet encouraged a sense of community.
Gotheiner encouraged the dancers to improvise during a lunch stop on the Bears Ears Mountains. First, a pair of dancers explored a duet of movements and dancers gradually joined their colleagues. As Smith recalls, "Alex [Biegelson, one of the ZviDance company dancers] remembers feeling a pounding energy coming through his legs, through his body, through the group. A circle was formed … a community. There was a kind of group heartbeat in the movement. We all felt it. Suddenly Ida [Yellowman, a Diné guide] anointed Efren [Corado Gracia, one of the RDT company dancers] with dirt and ashes in a kind of Shamanic healing ritual … and we were changed." Smith adds that one of the dancers felt like a child delighted by what he discovered: "The ruins felt safe and I could sense the people who had once lived in this beautiful and peaceful spot."
Smith explains the objective was that it was not just what the dancers would see but also what they would feel. "We didn't think of the piece as being motivated by political ideas and we very quickly knew that we would be investigating the history, culture and anthropology of the place," she adds. Obviously, as she acknowledges, the issue becomes political, especially as people wrestle with the question about who is going to be the steward of the land. But, it also is evident that Dancing The Bears Ears ultimately presents the questions posed in Edge of Morning about how should we preserve a place of sanctuary, whether it is identified by its indigenous or non-indigenous heritage. For example, the new work will be performed with two other pieces: Tower, a work by Andy Noble of Houston's NobleMotion Dance, which pays tribute to the World Trade Center Towers that were destroyed in the 9/11 attacks, and Ghost Ship by Eric Handman.
Smith says it was evident from the first day just how much the dancers from both companies were transformed by the expedition and "the power of nature," as she describes it. And, as with RDT's other works that express the impact of Utah's landscapes, Smith says the latest work will include lesson plans, movement exploration and curriculum inspired by Bears Ears National Monument. RDT's phenomenal success not only in preserving modern dance's history but also in original work for today is based on the company's rigorous multidisciplinary approach that parallels, for example, the dramaturgy so essential to the theatrical stage.
Clips of Improv – Bears Ears from RDT on Vimeo.