The guiding rule for all submissions for Fear No Film at the Utah Arts Festival is simple: all types of stories and treatments are welcome. Naturally, some films are more than edgy treatments. They champion the quirks, oddities, bizarre contours and experimental forms eschewing linear narratives. While the Midnight program may not screen during the intended hour as the title suggests, the three screenings of this year's Midnight titles will take place during the last hour on Thursday, Friday and Saturday during the festival. There are 18 films, representing one-fourth of the total number of titles listed for Fear No Film this year. Many of them have never screened in Utah, even privately. All screenings will take place in the City Library auditorium.
Midnight 1 (June 23, 10 p.m.)
Deadpan, directed by Matt Maule and Tom Stephens, highlights a narrative about Ryan, who is in his mid-twenties but has yet to find career success, as he prepares a weekend getaway at a log cabin for his girlfriend. Ryan is taking pains to make the weekend details as perfect as possible because he intends to propose marriage to Chloe, who already has a successful career as an attorney. The problem is that Ryan thought he had booked the cabin to be alone until he is startled by the presence of a man who also had booked arrangements at the cabin. The man is pleasant enough but Ryan acts without thinking, by hitting the man on his head with a heavy frying pan. The man falls dead on the spot. Ryan panics deciding that he is not going to let this incident ruin his plans so he drags the body out into the woods. The evening appears to be back on track until the arrival of an unexpected visitor.
Another standout animated short from Belgium, Easter Eggs, directed by Nicolas Keppens, is about two friends at a Chinese restaurant which is strangely empty. Viewers will immediately recognize the animation style that made Mike Judge's Beavis and Butthead and King of the Hill very popular, which Keppens admires.
They notice that a cage also is empty with the door still open, as the friends remember that the cage held exotic birds. They hatch a scheme to catch the birds and sell them. The title's Easter Eggs references a Belgium tradition, as the director explains in an artistic statement. "The title 'Easter Eggs' comes from the metaphor I saw in the search for easter eggs on the morning of Easter Sunday," he writes. "In Belgium, children believe that the Easter eggs are left behind by bells from Rome. Children search for all the colorful hidden candy while the parents are looking. This search also only makes sense as long as you believe in it yourself. Afterwards, you are on the other side. This is also applicable to many children's dreams, to become famous, rich, a top foot-ball player or a queen." This film has earned nearly a dozen honors on the European film festival circuit and its Fear No Film screening appears to be the U.S. premiere.
Hubbards, directed by Kevin Ralston, is a fine addition to the nice grouping of comedic narratives in the Fear No Film slate. Ralston, who wrote, directed, edited and acted in the short, has fashioned a truly hilarious piece that feels like a really bad commercial but is so much more. The film won honors as Short Com's Funniest Film in 2021.
Inside is a mesmerizing French short by Yann Chapotel, an exhaustively meticulous composition of digital stop motion animation. It comprises a mosaic of windows, as filmed from the window of the director's residence. He turns the routine of a spectrum of routine life and activities into a wonderfully choreographed cinematic piece of visual art.
Our America, an experimental piece with old school effects and directed by Dean Winkler and Donald Butler, zeroes in on the shortcomings and unfulfilled expectations of American ingenuity and prowess in industry, as catapulted during World War II. The filmmakers incorporate archival educational posters called Our America, which were placed in classrooms across the country. But, more than eight decades later, those lofty ideals and promises landed with a hard thud and widespread disenchantment. This film is a companion to 140 Characters, a short released five years ago about the shortcomings in the promise of digital technology.
Your One and Only, directed by Alice Biletska, centers on a couple whose marriage is barely holding together. Sophie secretly goes for an abortion but when she comes home, her husband is in bed with a mistress. Quickly devising a plot of revenge, she invites the woman to stay for lunch. Biletska, Ukrainian native had focused on art history before switching to filmmaking. A graduate of the American Film Institute conservatory in Los Angeles, this is one of five short film projects she helmed.
Midnight 2 (June 24, 10 p.m.)
Cub Scout, directed by Matt Heder (the brother of filmmaker and actor Jon Heder), offers a curious twist on the coming-of-age trope within the frame of a dark comedy. Normally one would not consider living in the woods alone but in Scout's case (he is 15), it is a more palatable option than anywhere else because in the woods he has sacrificed social contact so that he can cope with his nightmarish secret far away from anyone. However, he becomes nervous when he hears sounds that indicate backpackers are nearby, even though he has set up camp as far as possible from the commonly used hiking trails. It quickly transforms from a story of a young person's survival to the confronting of a supernatural danger. Heder raised more than $30,000 in a Kickstarter campaign last year, one and a half times more than his initial funding target, to complete production.
Belgium has been represented in several Fear No Film programs in previous years, including grand jury prize winning submissions. Dissolution, an animation piece by director Dries Bogaert, is a sharp metaphorical statement about a society which seems placid because of the collective will to conform to strict rules and conventions. The most important rule for these quirky looking pink creatures is the tacitly understood rule of 'Wait your turn in line to the top'. But, this rigid status quo is upset when one of these creatures ignores the society's most important rule.
Jinxed, an Argentinian short directed by Damián Mastroleo, is a clever comedic bit that starts from the idea that a dream's interpretation can have the simplest possible meaning. The one hint about this film is that the director has constructed the film entirely as an appropriation and reassembling of a previous video that is well known and will have audience members exclaiming, "now, I see it."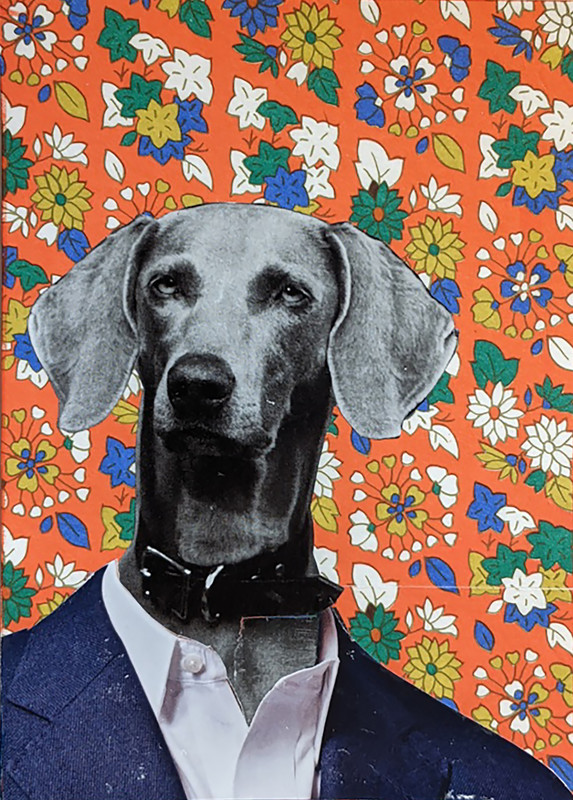 Rob in the Doghouse is right on brand for Fear No Film's Midnight slate. This gem of a post-apocalyptic black comedy features Ryan Dobbs and Mickey Bond. Really, to say too much more in a preview would spoil the generous amounts of absurd humor that spills from this short.
Rusty, a mockumentary directed by Curt Neill, is just the right type of bizarre storytelling in a production that literally was made by the seat of the director's pants. Neill portrays the weird statue artist, who is the subject of a documentary but the production team discovers a shocking controversy about him. "In his artistic statement, Neill explains the provenance of this project: "I shot this short while living with my parents and going through an existential crisis after discovering a very talented friend from Los Angeles (who had recently gone through his very own existential crisis), was also – as fate would have it – living in my small Oregon hometown. We found this weird location, got a few friends to help out (the sound guy had never held a boom mic before in his life), and shot this in four or five hours."
Shore, directed and written by Yvonne Zhang, is an experimental meditative short about a restless Buddhist monk and while he is meditating, a wooden fish breaks and he enters a realm of illusion. He notices a woman who is fishing along the shoreline and she becomes an important guide.
Midnight 3 (June 25, 10 p.m.)
Hunger, a Mexican short directed by Carlos Meléndez, becomes an interesting take about insatiable greed. In a desert village, a boy confronts a well, which has a voracious appetite but on his own he cannot find enough ways to try to satisfy its hunger. The director explains that the film "was influenced by fairy tales and became a tale of magic realism," according to his artistic statement. "An allegory about misery, hunger and the actual state of our civilization. I want to break the barrier of language by making a film with no dialogue that recalls the origins of cinema and the power of telling a story."
From Slovenia, which is making a dynamic debut as a new country inain the Fear No Film catalog, Steakhouse, has a properly suited wince-inducing effect as a remarkable animation piece. Directed by Špela Čadež, the film revolves around a married couple, Franc and Liza, and the husband is anticipating the wonderful steak dinner he is about to prepare. The meat has been marinated for several days and he has heated the pan to time the cooking so it will be ready when his wife comes home from work. The problem arises when her coworkers surprise her with an office party to celebrate her birthday. The overcooked steak is yet another symbol in a dysfunctional marriage.
From Romania, Thank You For Your Teeth deserves major attention without a doubt. Directed by George ve Gänæaard and Horia Cucută, the animated film's storyline is devilishly perfect for the Midnight slate. Delighted by the handsome sum he receives for a lost tooth, courtesy of the tooth fairy, he concocts a scheme to accelerate the process so that he can amass enough money to buy the mountain bike of his dreams. This film has enjoyed long legs on the festival circuit around the world, including the U.S., and has garnered at least eight awards.
From the title alone, The Young and the Lunchless, directed by Lily-Hayes Kaufman and written by Daryn Strauss, is a witty entry for the eccentric Midnight slate. An office worker prepares her favorite turkey sandwich to take in for lunch and places it behind a coworker's tuna fish sandwich. But, that favorite sandwich is gone and no one in the office claims to have seen who took it or if one of them would confess to pilfering her lunch. The ignominy is that now the lunchless staffer must go to the office cafeteria where a $10 credit card minimum is enforced.
They Have Our Best Interests, directed and written by Anthony Primavera, is a dark comedic piece with animation, archival,footage and live action about industrial agriculture, globalization and, well, Chicken McNuggets.
What A Harvest, directed by Austin Rivera Davison and Matt Shapiro, serves up an odd but absorbing narrative. An African American father is hoping that dinner together with his white daughter will help them bond, especially as she spends most of her time playing video games. But, as the routine begins, the daughter only pretends to eat and puts the vegetables he has prepared in her pockets.