A toilet that did not work turned out to be the unexpected inspiration for Sophie Santos when she created her digital painting, Solution 5: Oyster Mushrooms to Combat Oxidized Oil Spill. "I was actually stuck in the nastiest motel when I started working on Solution 5," the Olympus High School student said in an email interview with The Utah Review. "The four of us on that vacation had to share one toilet that didn't work. That led me to use as many tools as I could on my art program to make the piece faster. It really was a learning experience for me."
The painting reflects Santos' interest in mushrooms as a tool for cleaning up polluted environments. "Mushrooms are an untapped resource when resolving the threats pollution poses to humanity's current way of life," she wrote in her artist statement. "They evolved to clean up after early plants on land, but they can help us to clean up after ourselves. They can digest plastics and crude oil, and become a sustainable method to clean up our messes."
The painting is one of 52 artworks in the traveling exhibition highlighting the Utah All-State High School Art Show, which is coordinated by the Springville Museum of Art in conjunction with the Utah Division of Arts and Museums. This is the 50th show, making it among the nation's largest and longest-running student art shows of its kind.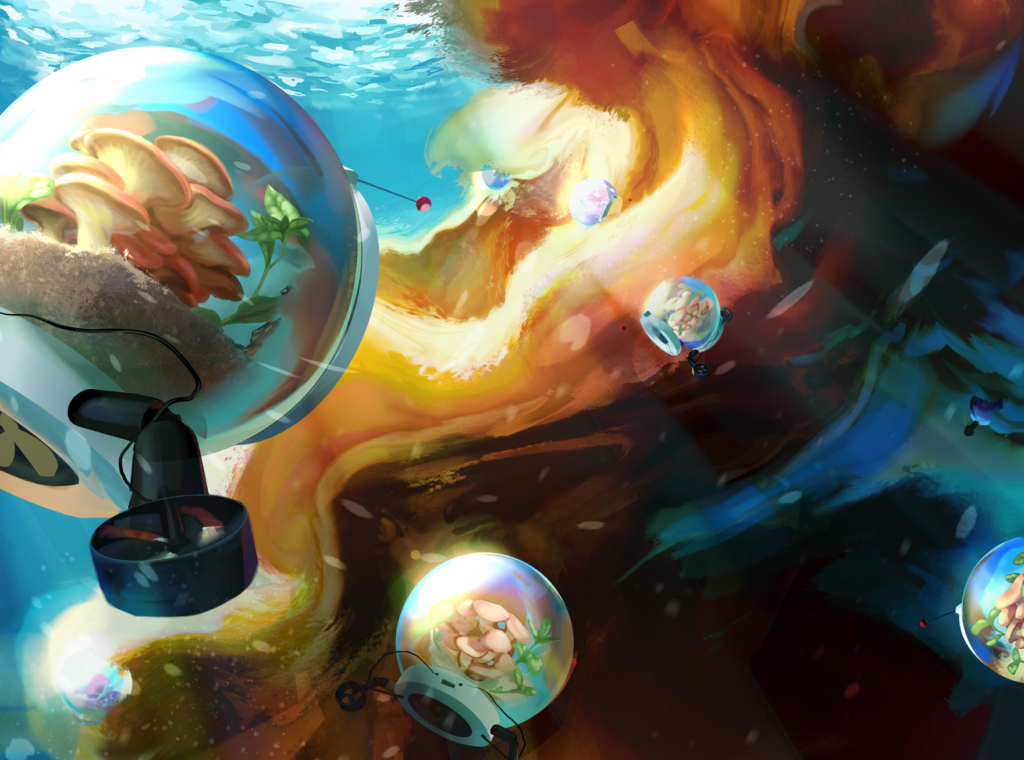 The traveling exhibition of the annual all-state show will be unveiled on the opening day of the Utah Arts Festival (June 23) in The Gallery at Library Square on the fourth floor of The City Library. The event is open to the public.
The Springville Museum has been a major partner in the state's most prominent platform for these young artists. As previously noted in The Utah Review, as Utah's first art museum, Springville's initial collection grew as local high school students purchased paintings and sculpture through an 'Art Queen' festival. Each student paid a penny to vote and the student with the most votes was named queen, with the funds used to purchase art for the museum. High school students led efforts to put on a Parisian-style salon exhibition, beginning in the 1920s and continuing annually each spring. The current version of the show began in 1971.
Santos' work won an Award of Merit and was selected for the traveling exhibition. Santos, who counts artists such as Max Grecke and Marie Krøyer and her husband Peder Severin as inspirational sources, enjoys splash art and concept art in video games. "I definitely want to pursue animation in college, that's for sure," she explains. "One of my favorite things to do is watch cartoons. Taking those animation classes they offer at the GTI (Granite Technical Institute) really solidified animation into my plans. Those classes are amazing. I really look forward to bringing some of my ideas to fruition in college. As for a career, animated movies have always moved me, they're such a powerful way to tell a story, and I'm excited to give that to other people."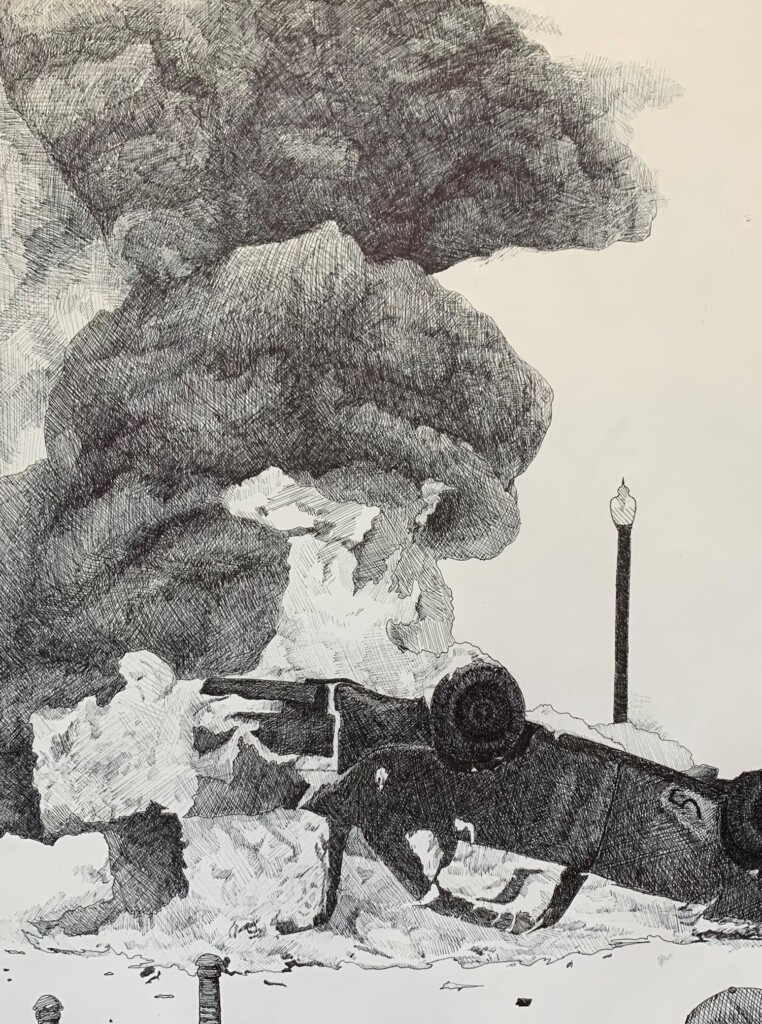 High school art teachers from around the state mentor their student artists through the entire creative process from concept to decisions about framing and presentation. Many works in the all-state show often are edgier than what Utah art audiences might expect from such young artists. Teachers encourage their students to explore their creative voices, especially as many see their work as communicating an idea or belief that is socially relevant to their contemporary perspective. Students are required to articulate their artistic statements. The all-state show often is the student's introduction to what a professional artist's career will entail.
As a Hillcrest High School senior, Connor Nichol created the pen-and-ink drawing May 30, 2020- Chaos for Change, which earned him a Juror's Choice Award. The work references the massive protests in the summer of 2020 in support of the Black Lives Matter movement. In his artist statement, Nichol wrote that the work is a "composite of multiple viewpoints over the summer of 2020, depicting a police vehicle that has been turned over and lit on fire by protesters. Focusing on the relationship between the solid structure of the car and the intangible nature of the smoke, the two elements combine to create an intriguing image commenting on social justice and the harsh path toward true equality."
In an email interview with The Utah Review, Nichol added that "I found the real experience of being in the BLM protest the most impactful. I was able to transfer the emotions that I and others felt into a piece and try to connect with viewers through the deep allowing smoke showing in the image." In order to match the image and emotion as best as he could, he made many renditions before creating the final version, by "using different amounts of detail, composite angles of the images I had, and the size."
Nichol said he credits his family and friends for being a "solid support system" in cultivating his deep appreciation for art. He added that he considers Mark Rothko a major inspiration. "Rothko's deeply emotional pieces resonate a lot with me and have shown me the importance and impact of emotional content in art, at times over visual content," he explained.
Nichol also commented about the positive experiences of his art education at Hillcrest High School. "Being able to receive quality feedback and responses from classmates has helped me to hone my skill and be more creative in my future endeavors," he said. "Having teachers that are open to all content, styles, and mediums of art has been immensely helpful in ensuring that I am able to express my thoughts and emotions to an audience."
As a Ridgeline High School senior, Jessie Evans created the mixed media piece Epiphany, which received as a prize the Lyon Arts Studio Scholarship.
In an email interview with The Utah Review, Evans explained the genesis of the award-winning piece. "I was reading in the New Testament about the profound influence that Jesus Christ had on the people that he was around. I was inspired by the effect of His actions to change others for the good. I wanted to create an artwork, not of Jesus Christ directly, but of one of his followers," the young artist explained. "The astonished look on this disciple's face may have been the result of a large miracle or a small act of kindness shown to him by Christ. The absence of Christ in this particular artwork is symbolic of our day. Though we may not see Christ face-to-face, His influence can still be a source of comfort to those who seek him."
For Evans, creative inspirations are less from other artists than from "music, nature, literature, and personal experiences. Inspiration also comes from my religious beliefs and the beautiful world that God has created." As for the experience of art education, Evans wrote, "High school is a time that many people lose their personal individuality because they try to conform to society to be accepted. Art classes have taught me to forget the expectations and put all my efforts into creating something new and unique to me."
A panel of twelve professional artists and arts administrators carefully reviewed each of the 1,063 entries in order to create this exhibition. The show has a final selection of 335 works, representing 108 Utah high schools.
For more information about all Utah Arts Festival events, visit the UAF website.