Decades from now, when music and culture historians revisit the pandemic to chronicle the impact of the global ground-stop on live performances and how artists managed such an unprecedented set of circumstances, Lyrics Born's (LB) podcast Mobile Homies will be a valuable primary source about how hip hop and rap artists responded with new music and began thinking about what the 'new normal' might look like.
"For the first six months of being stuck at home, it felt really good after ripping and running for two decades with no rest and doing more than a 100 shows every year," LB says in an interview with The Utah Review. An independent artist with Japanese roots, LB adds that "sitting there with a big question mark in the air" meant that it was time to get back to making new music.
It was with Evan Leong, a filmmaker who recently had released Snakehead, a crime drama in 2021 and was also known for his Linsanity documentary about Jeremy Lin which appeared at Sundance nine years ago, who suggested to LB the idea that became the Mobile Homies podcast. "He said let's talk and reconnect to friends who are in the same line of work," LB recalls. It turned out to be the silver lining for everyone who had been isolated.
LB, who always has prized the value of collaborating with others in hip hop and rap, says that before the pandemic, they might run into each other briefly backstage during a tour or when a film was being shot. "Now, we could have deep conversations, which lasted two hours," he says. They ended up diving into all the background stories about the musicians and groups, including what led to the split in Jurassic 5 and the genesis of some of hip-hop's most popular and famous songs.
The podcast was such a success with fans that it solidified the platform for LB and his collaborators to start writing songs, which became tracks for a new album Mobile Homies Season 1, released in April. Some of the collaborators on the album include DJ Cutso, Lateef the Truthspeaker, Con Brio, Galactic, Shing02 and Blackalicious. In addition to a Mobile Homies tour, LB, who has performed and released a prodigious volume of music in the last two decades, also is returning to numerous appearances as a solo artist.
LB will be the headliner to close the opening day on the Utah Arts Festival's Amphitheater Stage on June 23, beginning at 9:30 p.m.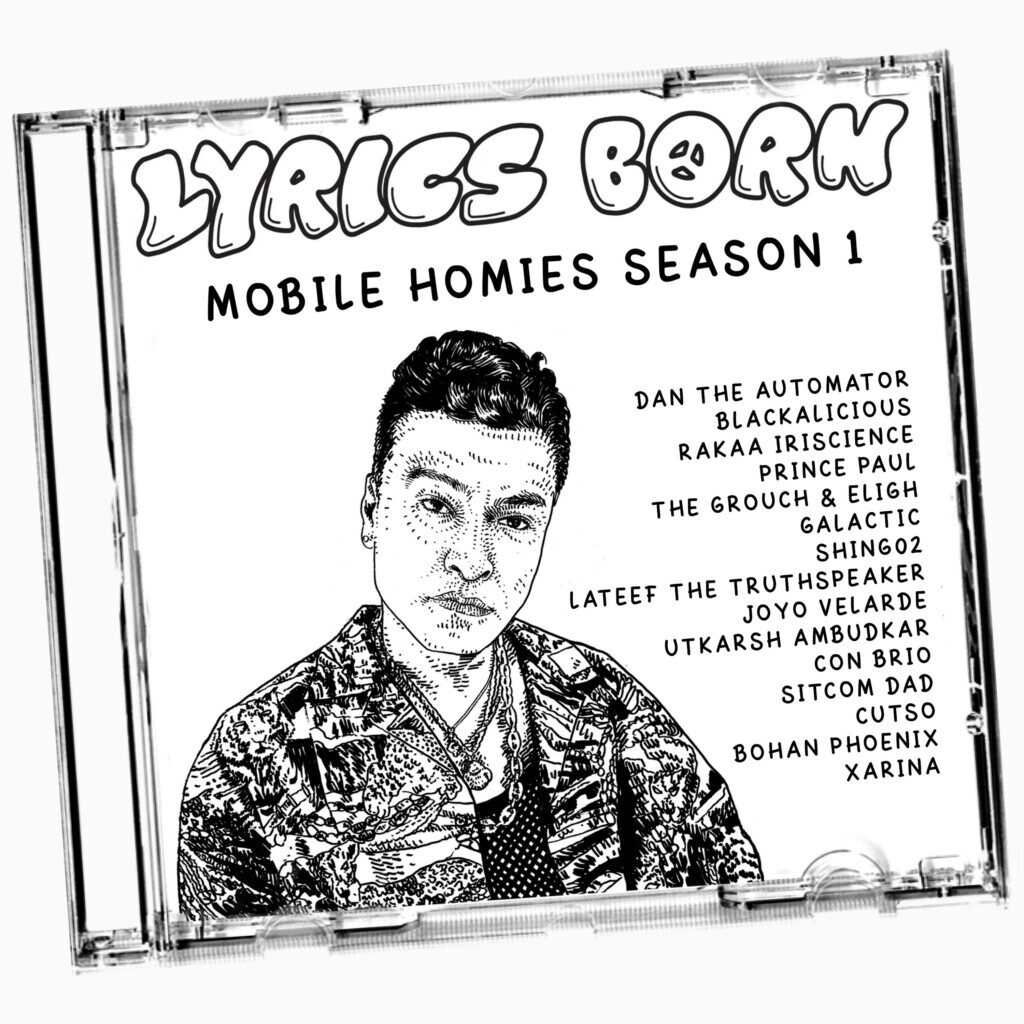 Utahns might be pleasantly surprised to discover that LB spent some of his earliest formative years in Salt Lake City. Born in Tokyo in 1972 (Tsutomu "Tom" Shimura), LB was two years old, when he and his mother moved to SLC so she could work on her graduate degree in Japanese art history at The University of Utah. They lived in SLC until LB was seven, and then they moved to Berkeley in the Bay Area. "I remember it vividly," LB says, "I loved the snow and the fact that, unlike California, Utah had real seasons."
LB's memories are sharp. They lived in a small cottage-style house with one bedroom set off in the back from 200 South in downtown, just before the street rises sharply into a hill leading up to campus. LB even mentions Gepetto's Pizza, which has long been gone, but in the 1970s it was a popular hangout for the campus community, located on 1300 East. He remembers wearing a snowsuit and boots and using cardboard to row down the steep hill, whenever there was a big snowstorm.
LB says he knew early on that he wanted to be an artist of some sort. His mother had taught him the value of appreciating art. His father wrote articles and short stories, which were published in Japanese magazines. When LB moved to Berkeley, it was right at the time when the West Coast hip hop scene was rapidly gaining momentum. He was seven when the Sugar Hill Gang released Rapper's Delight, a phenomenal hit that proved hip hop could generate broad appeal. The appetite for hip hop had spread rapidly northward from southern California, where DJs and party crews were laying the foundations sprouting from funk as well as disco and electronic dance music. This fertilized the landscape for rappers including Eazy-E, Ice T and Too Short.
I realized that I could do this rap," LB says, who adds that "even at a very early age, people were watching me perform in front of an audience." He learned his artistry on his own, save for clarinet lessons he took in the Berkeley schools. "I was surrounded by so much new hip hop that I realized that I didn't need musical training to do it. It continues to be one of the most accessible self-taught mediums that there is. The accessibility of the low barrier of entry really appealed to me," he explains. Indeed, LB encapsulates the magic and beauty of hip hop perfectly, noting how, as he describes it, the music can easily jive with everybody's personal metabolism, appreciating its rawness and discovering naturally its beauty.
Regarding the Mobile Homies project, LB says he loved that the new release represents a depth of collaboration that he always had dreamed of, opening up the challenge for him to become even more versatile as an artist. Each track has a different setting, with vocalists, producers, musicians and DJs. The bonus is that each track is introduced with short interview clips from the podcast, which add wonderful context to the provenance of the song and music.
Lyrics Born's single ANTI epitomizes how the Mobile Homies project is such a precise, relevant, compelling capture of the pandemic times and of the sociopolitical volatility of the moment which occurred simultaneously. Collaborating with DJ Cutso (who is a Filipino American), LB situates ANTI as zeroing in on the surge of anti-Asian acts of hate and violence that have persisted even as the pandemic has ebbed. The proceeds raised from the sale of this single are donated to Stop AAPI Hate. The organization is a national coalition that provides the most comprehensive reports on anti-Asian racism in the U.S. as well as supports programs to bring public awareness and to sensitize communities about the most productive ways of neutralizing racism. 
Ever since his debut album Later That Day dropped in 2003, LB has not let up the pace either in touring around the world or in generating new material for nearly 20 studio albums and various compilations. He is the quintessential independent music creative entrepreneur. He is credited as the first Asian American solo rapper to appear at Coachella and Lollapalozza. He also has more than two dozen soundtrack credits for films. And, he has appeared as an actor in two notable films: Boots Riley's award-winning Sorry To Bother You (2018) and the Netflix feature Always Be My Maybe (2019), directed by Nahnatchka Khan, and starring Ali Wong, Randall Park and Keanu Reeve.
For more information about all Utah Arts Festival performers, see the UAF website.