This year's Utah Arts Festival's Artist Marketplace provides a great overview of how 21st century artists have come into their own careers. While many whose creative passion was evident from their childhood years fortified it with formal training and university art programs, others capitalized on their intensely personal motivations by teaching and training themselves, unfazed by the experimental nature of their trial-and-error approach. And, there are others who had decided about becoming an artist when they were young but took a temporary – and sometimes not-so-temporary – detour to work in a career to build up enough resources so that they eventually could devote all of their time to creating artwork.
Of the 163 artists in this year's show, 65 are appearing for the first time at the festival. There are 56 from Utah and 107 from elsewhere. The list below is just a sampling of the many distinctly personal perspectives visitors will see at the festival, beginning this Thursday at Library Square. The venue will be open Thursday, June 26, through Sunday, June 29, from noon to 11 p.m.
Liz Collins, Nevada City, California, Booth 21
At one point, Collins thought about becoming an architect, but then the University of Colorado graduate who earned her bachelor's degree in fine art decided to pursue the curiously odd perspectives that would come to define work. She started doing serigraphs, or, silkscreen prints before trying her skills in oil pastels and mixed media. Her work portrays the usual buzz and movement of life's routine which are broken up with maps, sheet music and poetry, guaranteeing that her colorful works generate fresh perspectives or contexts on each fresh view. As she notes in her artistic statement, "Travelling the world I have realized how I love to watch people in their every-day activities, whether it be selling chai on the bustling street corner, or riding a bicycle through inconceivable traffic. I love to watch their limbs, their movement, the subtle ways they hold themselves, their feet, their hands. Using maps, or poetry or music, to me, adds an element of surprise as well as a sense of place."
One of the returning award winners to the festival, she also has won several awards at the nationally ranked Sausalito Art Festival and Denver's Cherry Creek Arts Festival.
N.J. Searcy, Amado, Arizona, Booth 163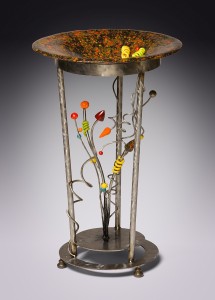 A long-time artisan in jewelry casting, Searcy has moved to doing larger pieces in steel with ceramic or stone elements fabricated in her southeastern Arizona studio. "I enjoy discovering and exploring new materials to use in combination with the steel and love searching for rusted metal treasures to add to tables, dividers and mirrors," she writes in her artistic statement. "Inspiration comes from the forms and colors of the desert and the multiculturalism of the people of the Southwest."
Searcy turns her sketches into welded steel — such as tubing and rods that are bent — or into sheet metal that is cut of formed or even welded pieces created from discarded rusted objects. Before applying the patina, she grounds and sandblasts the welded pieces before sealing and waxing them, including birdbaths which can be used outside provided they are cared for periodically. She makes ceramic bowls for the birdbath and adds sculpted ceramic elements as well. The bowls are glazed at high enough temperatures so they will be durable and withstand changes in the weather.
Scott Hale,  Bozeman, Montana, Booth 106
Hale, whose work celebrates the natural wonders of the American West terrain, explains in his artistic statement, "Many of my paintings are interpretations of places where light, land and water collide in profound moments. Others are my records of settings where there lies understated compositional beauty rather than majestic drama. Relying on a mixture of representational and abstract sensibilities, I am engaged in creating impressions that are equal parts sight and emotion."
Hales' work emphasizes color contrasts that would be evoked in the changing light of day, using effectively strong lines and shapes in his composition that gives his work, done both in oil and pastel, a highly appealing graphic feel.
Marcia Wiley, Seattle, Washington, Booth 87
A marvelous example of how function and aesthetics come together so simply and effectively, Wiley's glassware is as useful for everyday use even with children as it would be for an elegant dinner gathering. Her hand-blown glassware is designed to bring color into sparkling movement when filled with liquids and beverages. Wiley has designed her glassware not to be fragile but to be handled comfortably and easily even in the hands of the clumsy or awkward. While they are considered safe for dishwashers, Wiley recommends that the glassware not be used in microwaves because metals are what make responsible the color-shifting effects in the pieces. This is called dichroic glass, which does not come into contact with the rest of the piece. Wiley's artistic glass is available in sets, such as Northwest Vacation, which includes four pieces (emerald, violet, cobalt blue and blue-purple).
Devin Johnson, Northfield, Minnesota, Booth 64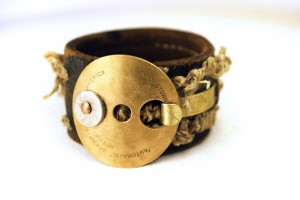 Every piece of jewelry and artistic accessory is made with materials that have been reclaimed and repurposed, including salvaged metal, wire, leather, street signs, keys and other goods. As he explains in his artistic statement, "I strive to tell a story about humanity with every piece I create, and feel any artistic endeavor should be environmentally friendly and sustainable. To me, each material is a unique artifact, and I choose those that are beautiful not only for their colors and textures, but also for their historical and technological significance. I bring these characteristics, which are often mechanical and industrial to the surface, and release the energy of each artifact's past life as I re-work it into the finished piece."
Johnson takes his mission one step further, by training high school students as interns and teaching them how to make jewelry components.
James Randle, Phoenix, Arizona, Booth 24
Randle, a University of Utah graduate with a bachelor of fine arts degree who now lives in Phoenix, counts many influences in his work — Andrew Wyeth, Winslow Homer and Edward Hopper — but the closest and perhaps strongest influences is Randle's dad, Kirk, also a University of Utah graduate whose landscape paintings are known for their portrayals of country homesteads, impressionist landscapes, desert vistas and Native American subjects. However, the younger Randle works from photographs and sketches of urban and industrial scenes as a starting point for his paintings, which focus primarily on man-made objects and elements as opposed to those of nature which figure prominently in his father's work.
"My paintings have always been a very personal response to the places I have lived and or traveled to," James said in an interview last year with The Selective Echo. "Having this personal experience allows me to gain a personal perspective that allows me to represent places or objects that may not be perceived as interesting or beautiful. I feel that each place I paint has a specific feel that I like to represent through color and light. To be more specific I traditionally start with color for the underpainting – for example, starting with a cool green for NYC or a bright red for Southern California. The viewer may not see this at first, but I feel as if it sets the tone and the feel for the region."
Robert Hall, Lehi, Utah, Booth 4
Hall, who was trained as an engineer, admits that it has both helped and hindered his work as an artistic photographer. As he explains in his artistic statement, it has been "helpful because there's no better training for developing a repeatable process, quite helpful in photography, but a hindrance when it comes to the creative side. That's why I've liked using alternative processes and film types like infrared, hand coloring and lith printing, these are tools that help me be creative."
Following the approach of Ansel Adams and Edward Weston, Hall uses large-format cameras and then contact prints the negatives — usually in 8×10 and 12×20 format — before printing the images by hand with platinum, palladium, silver and gold. Indeed, the finished work has a distinguished archival look. As an engineer, he has taken enthusiastically to using infrared film in his work. "Art helps us see with new eyes what we knew was there but never really recognized," Hall explains in his artistic statement. "I photograph not to record or document but rather, to capture and hold, just for a moment, the essence of something greater that exists within a scene."
Casey and Deborah Bridges, Nevada, California,  Booth 158
A mother-and-son team of artists, they work in various media — stone, clay, bronze and cement — as sculptors, along with two-dimensional work in encaustic painting, which involves beeswax and extensive use of color. The designs are inspired by deities of Eastern religions, spiritual philosophies and faith, most particularly ancient visages from temple carvings. The sculptures, made from cast stone and light weight aggregates, are designed to age quickly, which the artists believe adds the appropriate accentuating character to these sculptures. In fact, the artists encourage patrons to place their sculptures in gardens or propped up against trees and other elements such as tree stumps or mounds of dirt. Collectors also can facilitate the growth of moss on their pieces by blending moss with buttermilk, placing the mixture on selected spots of the sculpture, and then keeping the area moist. The sculptures also are cast with fiber reinforced cement — the same composite of acrylics, color, alkaline resistant fiber, sand and cement used in commercial high-rise buildings to withstand extreme variations in temperature and weather.