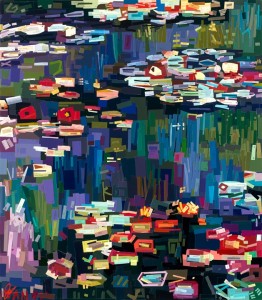 Many artists at the Utah Arts Festival's Artists Marketplace are increasingly finding that any material, which might have been discarded previously or considered an afterthought, is worth converting into appealing art forms. Jennifer Lashbrook from Dallas, who won this year's People's Choice Award in the Artist Marketplace, creates portraits from paint swatches she gathers from a local hardware store. She then meticulously cuts each piece to create a surface resembling a puzzle. She recently agreed to a Q&A interview with The Utah Review. 
TUR: How have you used art media forms in helping to create an holistic body of artistic work that searches for a more complete expression of your own innermost and most powerful states of emotion, inspiration, contemplation, and self-identity?
JL: I find the collecting and sorting of my medium meditative. There is so much preparation that goes into each piece. My unique medium creates a holistic body of work.
TUR: What is your training as an artist? Who do you consider your most significant influences and inspirations? Do these influences shift as you progress both in your work and life?
JL: I began painting when I was 10 years old. I studied art through out high school and received a BFA from the University of North Texas. I have been working professionally for the last 10 years and full-time for the last year. My mother, a seamstress and fashion designer, is a huge inspiration as well as artists, Close, Dali, Rauchenberg, and Richter. The more variety of artwork I see, the more inspired I become.
TUR: Do you work full-time exclusively as an artist? Or, how do you augment your work as an artist?
JL: Yes I work full-time as an artist. I travel the country doing art festivals.
TUR: Do you find it easy or difficult to start new work? And, typically, how do you prepare yourself to handle both the creative and physical demands of creating your art?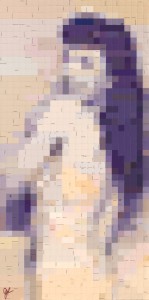 JL: I love starting new pieces, but every time I start I get intimidated. I work non-stop and the physical demands of traveling and setting up festivals is great, especially when doing it by yourself. I absolutely love what I do and am so humbled to be making a living selling my art.
TUR: With regard to participating in the Utah Arts Festival, please share your feelings about being a part of this enterprise? Have you been in other festivals and do you plan to explore other festival venues?
JL: I am very excited to be participating in the Utah Arts Festival. I have heard great things about the show from my art colleagues. I participate in festivals around the country and enjoy traveling and showing my work to new audiences.