Not just a re-engineered concept of a traditional do-it-yourself culture of arts and craft, the 'maker' movement has catapulted to new ways of seeing how art equals technology, even in lifting mundane consumer products to aesthetically mesmerizing possibilities. Thanks to members of Salt Lake City's EnjiGo Makerspace Foundation, this year's Utah Arts Festival's patrons will experience directly how digital tools can be used to create art in traditional media.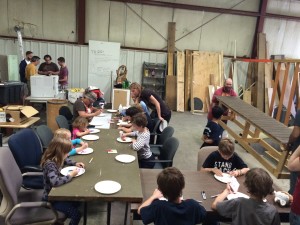 The 'maker' movement is growing exponentially around the world. Website vendor marketplaces for makers such as Etsy have expanded significantly, along with others such as German-based DaWanda, ezebee.com in Switzerland, iCraft in Canada, and Artfire in the Unites States. For a Dutch design fair, a woman featured utensils, cups and plates – some as old as 500 years — that she re-created from a museum collection. She used Augmented Reality to embed each object with its own design history and worked to turn the 3-D scans in 3-D prints.
"The maker movement rebukes corporate culture, a backlash against the mass production of goods, inexpensive and otherwise," says Ian King, one of the EnjiGo artists. "It's empowering for consumers who have been taught to replace something instead of fixing it. In the makerspace, you can see a particular need and then find or make the particular tool to fix what is broken or, even better, to improve upon something that is not broke in the first place."
The EnjiGo Foundation, which helps coordinate access to fabrication and artisan tools along with specific areas of expertise and training, has emerged as an incubator for the local maker community, which may have as many as 1,000 enthusiasts currently. Formed in 2013, EnjiGo brought together two previous organizations in the local maker movement – MakeSLC and Robot Fanatics. Membership opportunities start as low as $50 and the foundation has collaborated with Standard Supply Electronics, a South Salt Lake firm which has been in business since 1929, in finding space for its development in the maker community.
Even better, the creative possibilities seem limitless, especially as manufacturing tools, which once were priced at six figures now can be made readily accessible to individuals at a fraction of the cost – near or even under $1,000 – and with the same precision and performance impact of its earlier more expensive counterpart, according to Jesse Gomez. Take note of 3-D printers, including some low-end devices especially suited for children's creative needs, that retail for as little as $400.
In a recent issue of Makezine, Joseph Bowers, a local member of the maker community, was featured with a detailed explanation of how he built a "seven-foot tall, fully animated, chicken walker costume using mainly insulation foam, spray paint, and printer paper." With most of the materials available on hand in scrap quantities or what he found discarded in dumpsters, Bowers spent just $3 in snowboard bindings he found at a thrift store.
For the festival, EnjiGo will have available a pair of 'Drawbots' for its 'Pixels to Paint' exhibit. In its simplest form, it is a basic bot that mixes standard drawing materials with weighted motors and elements that vibrate in order to generate lines, circles and any other drawing element, depending upon the pressure that is applied. Drawbots require practically no experience of electronics. Some are battery operated and, for example, Italian artist Lorezno Bravi made a simple 'Drawbot' out of nothing more than felt tip markers, a bit of self-adhesive Velcro and a milk frother.
More specifically, EnjiGo is fashioning 'Drawbots' by starting from a simple, low cost, open source CNC milling machine kit that is used for plastics, woods and metals. The kits allow users to add their own electronics and the corresponding pulleys, belts and M3 hardware. Transforming the kits into devices that will be able to draw on spaces of six feet by three feet, EnjiGo makers are adding their own enhancements such as putting in beefier motor upgrades and significantly improved stepper motor drivers. Visitors will be able to draw on canvas and paper using one of the two 'drawbots' throughout the festival.
Gomez says the aim of 'Pixels to Paint' is to demonstrate that the final product is not just the art piece generated but also of the experience of participating directly in its creation. The 'Drawbots' will also allow different styles to be used such as pointillism and various shape line drawing options. "We'll even invite visitors to tweet us what they like to see – a sort of speed drawing exercise," Gomez adds.
King will be leading two laser cutting demonstrations (June 27 and 29, 6 p.m.) in which participants will make lanterns from cardboard and paper and will be able to customize designs using Illustrator along with templates of patterns and design elements which will be available.
For kids, Engijo will conduct two electronic art lab sessions (June 26 and 28, 2 p.m.) using the 'Makey Makey' kit, a Kickstarter funded project which was invented by Jay Silver and Eric Rosenbaum through the Massachusetts Institute of Technology Media Lab's Lifelong Kindergarten program with the manufacturing prototype made by SparkFun. Kids will be able to turn bananas into playable piano keys, Gomez explains. Some have even used the kit to play Mario on Play-Doh, and others have loaded up Gmail or Facebook so that users could send messages on a customized alphabet-soup keyboard.
While many people might make chocolate confections from readily available molds, EnjiGo will give participants the opportunity to make their own reusable molds and test them out on site (June 27 and 29, 2 p.m.). The workshop will have on hand a small vacuum form machine and hotplate for visitors to use.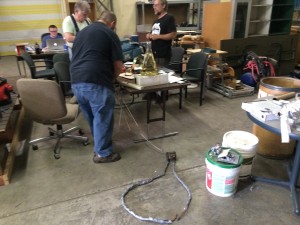 Another vacuum form workshop – Art from Plastic (June 27, 28, and 29, 4 p.m.) – will give users the chance to make 3-D forms – including masks, costume accessories, cellphone stands, and candy molds – from Sculpey polymer clay.
Finally, going simple no-tech, Engijo members will demonstrate how to make fabric sheets from duct tape – Duct Tape Tailor (June 26 and 28, 6 p.m.) – which then can be transformed into wallets, purses, handbags, or other accessories. One participant even made a waterproof bag for rafting at a previous session, Gomez adds.
All of the demonstrations will be held in a large space at the northeast corner of The Leonardo museum on the festival campus.
Videos below show EngiGo members testing out components for the Drawbots: