There are some who suggest that boundaries are disappearing in a society more focused on globalization. They argue that boundaries certainly have become more permeable, perhaps even disappearing. However, boundaries — physical and symbolic, visible or invisible — always are stubborn despite what some narratives might suggest. The fences, lines and edges of boundaries are generally hidden, often stirred to be confronted in somewhat unpredictable and unexpected circumstances. Sometimes, they emerge on a grand national scale and others, in the most intimate, emotionally charged moments of epiphany.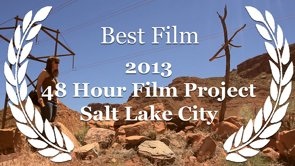 With 'Boundaries' as the coalescing theme for the 12th annual Fear No Film program of this year's Utah Arts Festival, Topher Horman, coordinator, has curated a brilliant series of short films that validate fully the event as an international film festival of outstanding quality.
Chosen with the counsel of a deeply experienced jury, the slate of 65 short films culled from nearly 500 submissions is filled with narratives that will awaken many hidden strains and pulses of how we perceive and think about boundaries. The selection process was unprecedentedly rigorous. There are a record 37 films from outside the United States, including two each from Turkey and Serbia. Of the 12 Utah films selected, seven were invited for the Utah Short Film of The Year competition and three of the remaining five came from students in one of the nation's most outstanding youth media programs, Spy Hop Productions.
Two major Fear No Film prize winners are back: Kevin Meul from Belgium, who won the grand jury prize in 2012 with 'The Extraordinary Life of Rocky' and Torben Bernhard, Marissa Lila, and Travis Low who won Utah Short Film of The Year in 2013 with  'Boomtown.'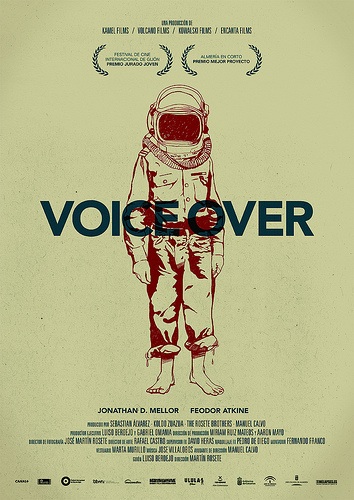 The overwhelming majority of selections comprises fictional narratives, while the number of documentaries and animation pieces is the smallest of recent years. However, the examples of documentaries and animation which have been selected — most notably, 'Owned' and 'Transmormon' in the Utah short film of the year competition — are among the strongest that have ever been screened at Fear No Film.
There are miniature cinematic riches in every category. From Spain, Martín Rosete's 'Voice Over,' a metaphorical treatment of personal fears that includes a stunning underwater scene, is one of the most widely acclaimed selections of the international film festival circuit. From Belgium, Kevin Meul's 'Cadet,' about a teen track athlete whose father is doping him with performance-enhancing drugs without his knowledge, won the Belgian Press Award for Best National Short Film at the Brussels Film Festival. An Iranian-born director, Anahita Ghazvinizadeh has become internationally known with 'Needle,' in which a young teenage woman's desire to have her ears pierced leads to a furious quarrel between her parents. The film earned the Cinefondation Award at Cannes last year and it received a Silver Hugo Award at the Chicago International Film Festival.
The mini-documentary format gets first-class treatment in numerous ways. Two Utah films — 'Transmormon,' by OHO Media in conjunction with KUER's VideoWest project and 'The Woman Inside Me,' by Spy Hop Productions — deal with transgender individuals in dramatically different emotional contexts. In 'Modou Modou,' a film from Spain by director Virginia Manchado, the plight of African immigrants working in Europe and who are striving to gain respect in their economic livelihood, is explored effectively in a compact format.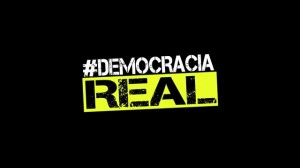 Other fictional entries provide substantive realistic takes. In 'Meaning of Life,' Yannis Zafeiriou wrote a fictional treatment based on responses he collected from nearly 100 friends and colleagues. In 'Apple Pickers,' Nick Douglas' take on cultural, lifestyle and foodie poseurs is sharp in its mocking critique, as it is in Chedey Reyes' '#Democracia Real,' which shows how social movement protesters in a park — sound familiar? — cannot even agree upon the protocol for the simplest form of democratic activity.
As in previous years, several selections function exclusively as music or video art pieces. Germany's Thomas Stellmach creates a quickly engrossing video composition by animating abstract ink drawings in 'Virtuoso Virtual.' Among many of Stellmach's awards is the 1997 Academy Award for best animated short ('Quest'). Ken Glaser, who records under the name Glaserbeam, has a smart video for one of his songs 'It Doesn't Make Sense.' Jeffrey Blake Palmer's rollicking video treatment of WeGovernWe's single 'Mulligan's Island' has won several major awards including a jury prize at this year's Los Angeles International Film Fest.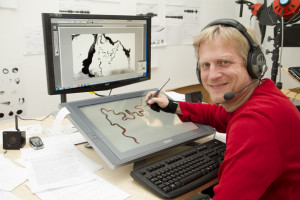 And, as in previous years, the animated films – even those being screened in Fear No Film's second exclusive programs for children in the festival's Art Yard – pay just as much attention to story development as they do to meticulous technique. The stop-motion films are just as compelling and engaging as those representing the most polished forms of computer-generated imagery and effects.
There are two programs for children this year, that have been curated for specific age groups: 3-7, and 8 and up. It is worth noting that the program for the older children includes a nice sample of story treatments that respects seriously the intelligent young viewer even as he or she is delighted by what is presented on the screen.
Gwyneth Christoffel of Canada, whose award-winning animation short 'A Recipe For Love,' charmed audiences last year, is back with 'A Purrfect Pair,' which convinces viewers why cats and dogs can get along. Drew Goldsmith's stop-motion animation piece 'Regione Caecorum: "In The Land Of The Blind," challenges Erasmus' classic contention, turning upside down our conventional thinking about who really is disabled.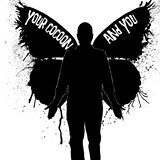 As customary, a festival jury of film-making and media industry peers along with audience members will make selections for various awards, including the Grand Jury Prize, the Utah Short Film of the Year, and the Fear No Filmmaker Award.
Last year, many of the screenings had standing-room only attendance in the City Library Auditorium, and this year should be no exception. The Utah Short Film of The Year competition drew record crowds on each of the three evening screenings.
This year, audience members will see quite a few films that were supported by crowd funding platforms. Films were made on a wide range of budget. Jeff Gladstone's 'One Little Accident Away,' was made for $13, while 'Voice Over,' was made for more than $100,000.
Viewers also should take careful note of Horman's sequencing in each program that takes the audience on a journey that plainly is inspired by the concept of origins in seven variations. The categories for this year's Fear No Film lineup are:
Your Boundaries: Explore ways of seeing limits.
The Way You See Others: Envision how you see people around you.
Relationships: Examine the confining roles we often play within our relationships.
Societal Boundaries: Identify the boundaries of who we are as a nation.
Artistic Boundaries: Discover how film makers can push and stretch boundaries.
Global Boundaries: Investigate how universal truths are constantly shifting, yet somehow managing to stay the same.
Historical Boundaries: Explore the limits that we all share as humans, from "traditions" that we can't quite shake, to hypothetical next steps, as a species.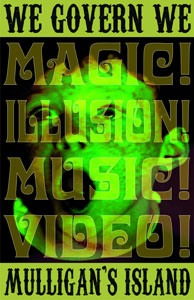 Festival screenings for all seven categories, which last approximately an hour, will begin on the first day of the festival (June 26) and continue through the last day on June 29. Showings occur every two hours. All screenings with the exception of the kids programs are screened in the City Library auditorium.
Entries for the Utah Short Film of the Year competition, with a running time of approximately 85 minutes, will be screened June 26, 27 and 28 at 8 p.m. For more information about screening times and the schedule of when short films will be aired, go here.
Horman advises that many of the screenings will include films with mature content so parental guidance is strongly advised.