When the gates open on June 26 to Utah's largest arts and cultural gathering in its central downtown location, festival visitors will see as many new faces as familiar ones in every single venue and event.
There are familiar and new faces everywhere. For example, the artist marketplace will have 163 artists including 56 from Utah and 65 who are appearing for the first time at the festival.
There are new collaborations including the Intermountain Acoustic Music Association, which is bringing its annual songwriter academy and the finals of the Susanne Millsaps Performing Songwriter Showcase competition to the festival for the first time. Saturday, June 28 has been designated as IAMA day, featuring folk, bluegrass, Irish, Celtic and acoustic music on various stages, capped by headliner appearances by John McCutcheon, the legendary folksinger and instrumentalist who has followed in the vein of Pete Seeger and Woody Guthrie, and the Mountain Heart band.
The locally based EnjiGo Foundation is coordinating a series of demonstrations and workshops which show how the partnership of art and digital tools is propelling the "maker" movement so that consumers easily can become creators.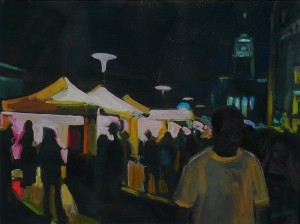 The festival's annual exhibition in the Gallery at Library Square features local artist Karen Horne who has painted a series of paintings of familiar Salt Lake City venues, shown at various times of the year and at different hours of the day. The 'Night and Day: Karen Horne paints the changing light of Salt Lake City' exhibition documents the city's changing view with paintings, ranging from the late 1990s to the most recent times, that include scenes from the Utah Arts Festival, the 9th and 9th neighborhood, Abravanel Hall, Liberty Park and other familiar central city venues. Jay Mace will present his work in a show called "Responding to Change: Capturing the Transitions from Winter to Spring," which will be seen in the Art at the Main Gallery in the City Library's Urban Room.
A record 65 interactive workshops throughout various festival venues will be held. Among them will be two sessions with Horne who will guide participants on how colors can be used to enhance and influence other hues and tones in art. Participants will be able to create their own "color worlds" for representing different times of day in their work, by focusing on developing atmospheric palettes.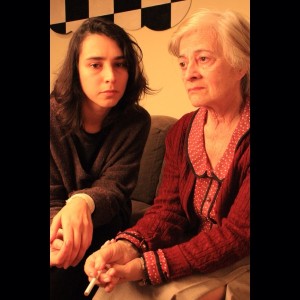 The Leonardo museum also will serve as a festival venue, providing a full schedule of public demonstrations, art workshops and entertainment in the Leo Café. Ten local artists also will participate in CollaborART – art's form of the scientific process of empirical investigation and rigorous peer review. Artists, who normally work alone, instead will work in pairs to create new works that incorporate their responses to each other's sense of style and aesthetics. Visitors will have the opportunity to see these collaborations continue to take shape throughout the festival.
In its 12th year, the Fear No Film shorts festival will include seven categories of screenings, the annual Utah Short Film of the Year competition, and offerings of short programs of animation and live-action films for children three and up as well as those for children eight and older in the Art Yard.
The Literary Arts venue, along with its team and individual poetry slam competitions and the Wasatch IronPen competition, will present more than a dozen workshops. Among them are workshops in creating comic books, featuring the return of the popular artist-author husband-and-wife team of Paul Guinan and Anina Bennett, the creators behind the science fiction comic book 'Heartbreakers,' as well as the illustrated hard cover publications 'Boilerplate: History's Mechanical Marvel,' which is being adapted into a film, and 'Frank Reade: Adventures in the Age of Invention.'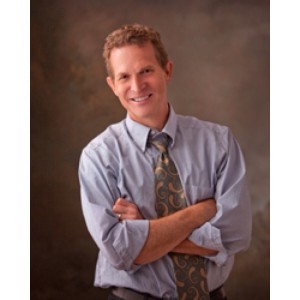 Lance Larsen, Utah's poet laureate who has published four collections including the most recent Genius Loci, will read selections of his work and lead a workshop. A Brigham Young University professor, he has received numerous awards including a Pushcart Prize and a fellowship from the National Endowment for the Arts.
Poetry slams always are a big festival draw. This year more than 40 will compete in the individual event while the team competition promises to be an unprecedented blockbuster with National Poetry Slam champions Slam NUBA returning, along with teams from Boise, Las Vegas, Denver and Phoenix which will join three Utah teams – Salt City Slam, St. George and The Voiceboxers from Sugar House.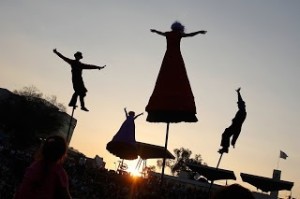 The Australian-based dance and theatre company Strange Fruit will perform nightly, with performers executing choreography while perched on 15-foot fiberglass poles. The group will perform each day at 6 p.m. and 8 p.m. near The Round venue.
Music headliners represent some of the most widely respected names in the national touring scene, particularly those who are transcending many traditional musical genres and boundaries. They include musicians from blues, rock, Americana roots, Dixieland jazz, world fusion, pan-global fusion and funk. In addition, two world premieres have been commissioned for jazz and chamber music.
The Street Theater venue once again will feature The Bboy Federation, a freestyle group combining elements of b-boy and street choreography.
The Urban Arts Yard will house Spy Hop Productions which will have several activities including Top Secret Animation project. At Fatcap, visitors can select lids which then will be turned into custom hats by local artists, for a nominal price. Visitors also will be invited to add their own mark in the "100 Artists 1 Image" by painting a piece of a 20-foot puzzle mural. On the Interactive Graffiti Wall, festival goers can watch artists create an ever-morphing image while graffiti artists of all levels can also add sprays of color to the sculpture of Salt Lake City artist Christopher Kelly.
The annual Mayor's Artists Awards will be presented Friday, June 27, at 8 p.m. on the Festival Stage. This year's recipients include Ken Baxter (visual arts), known widely for his plein-aire paintings and for his service in teaching young Utah artists; Ashley Anderson (performing arts), a choreographer who directs "loveDANCEmore" community dance events using the resources of Ashley Anderson Dances (a registered 501c3); the Utah Humanities Council Book Festival (literary arts), the only statewide book festival which includes, as part of a six-week schedule in the early fall, celebrated local, regional, national and international authors, along with children's programming, poetry slamming, films, music and discussions with authors; Craig Miller (service to the arts as an individual), the former state's folk arts coordinator who continues to work with arts groups and ethnic communities to produce festivals, concerts, publications and radio programs that help make diverse cultures accessible to the general public, and Artists of Utah, a major gathering point for arts and culture that includes the monthly digital magazine 15 Bytes and 35×35, a recurring exhibition spotlighting emerging Utah talent as well as Utah's 15, a program that highlights the state's most influential artists.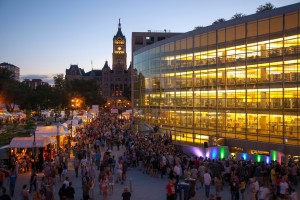 The extended weather forecast calls for festival days to be sunny and warm, and total attendance could easily top 90,000 during the festival, which runs from Thursday, June 26, through Sunday, June 29. All events will be at the City Library Square and Washington Square as well as activities in The City Library and The Leonardo.
And, to keep a good handle on this enormous cultural undertaking, the public can download the new 2014 Utah Arts Festival iPhone and GooglePlay App, which allows individuals to create personalized schedules, search artist listings and find by day and stage performance listings, as well as view information about food and beverage, art for kids and all acts of art in progress throughout the Festival. Perhaps most importantly, the app will allow festival patrons to cast their votes for visual artists and local musicians as part of the festival's People's Choice Awards. Users also will be able to share Festival experiences across multiple social networks using the ART FAN Cam.
As always, festival organizers, led by executive director Lisa Sewell, remain savvy to keeping the event as affordable as possible, ensuring the events are comfortably tailored for festival guests' pocketbooks and wallets and for those increasingly concerned about how individual actions have an impact upon maintaining an ecologically friendly and sustainable environment.
ARTISTS MARKETPLACE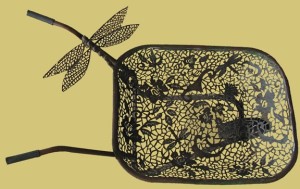 As customary, this year's artist marketplace will not disappoint in diversity, featuring everything from pottery in both serious and whimsical forms, rich hand-made and hand-woven fibers, jewelry in glass and metal forms, oil paintings in serious and comical representations, scenic watercolors, clever toys and photography in exceptionally executed prints and originals. Returning Award winners for 2014 include mixed media artists NJ Searcy (Amado, Ariz.) and Liz Collins (Nevada City, Calif.); drawing/pastel artist Scott Hale (Bozeman, Mont.); painter James Randle (Phoenix, Ariz.); metalwork artist Kelly Phipps (Hood River, Ore.); photographer Robert Hall (Lehi); Glass artist Marcia Wiley (Seattle Wash.); jeweler Devin Johnson (Northfield, Minn.); and sculptor Casey Bridges (Nevada City, Calif.). 
MUSIC COMMISSIONS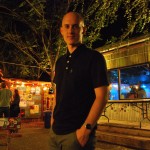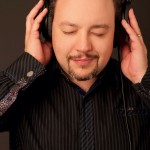 Two musical works will be premiered during the festival: a jazz commission, a program which started in 2008, and the chamber music commission, which was established in 2006 and is sponsored by the Mandel Foundation. 'Jura' by Patrick Buie, who performs and records with many local ensembles and composes for and performs with the Patrick Buie Project, will be presented Friday, June 27, at 8:30 p.m. on the Festival Stage. 'Hell's Kitchen,' a chamber orchestral piece by Rob Paterson, named Composer of The Year at Carnegie Hall from the Classical Recording Foundation in 2011 and whose work The Book of Goddesses was named one of the Top 10 favorite pieces of the year by NPR's Best Music of 2012 will be premiered Saturday, June 28, at 4 p.m. in the City Library Auditorium. The program also will feature contemporary works including 'Northern Flicker' by Mathew Rosenblum; 'Fortuna Sephio Nos' by Kamran Ince; 'Amputate IV' by  Timothy Beyer (for Violin & Tape), and 'Astral Projection' by Christian Asplund. 
DANCE
The festival also commissioned a new dance piece from Ballet West's Christopher Ruud, 'Drum,' a piece in three movements set to Japanese drums, which will be followed by a three-movement set to Vivaldi's "Four Seasons" that questions a world without autumn named "Without Fall" and "Mobile" — a ballet choreographed by Ruud's father Tomm which has been performed at Stuttgart Ballet, Ballet West and Joffrey Ballet Co.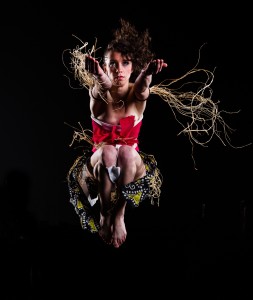 Several of Utah's best-known dance companies will take the stage during the festival. The Ririe-Woodbury Dance Company performs at Friday, June 27, on the Festival Stage at 6 p.m. featuring excerpts from several major works that were performed during the just completed 50th anniversary season, including 'Gravitate,' 'States Rendered,' In Crisi' and 'Construct.'  Performers of The University of Utah Tanner Dance Program Children's Dance Theater will present on Saturday, June 28, at 4:30 p.m. on the Festival Stage 'The Three Questions," a story of a young prince Hui Kang who takes a momentous journey to prove he is worthy to become China's Emperor. The Repertory Dance Theatre will present several of its most popular works from its most recent season on Sunday, June 29, at 6:30 p.m. on the Festival Stage. These include repertory pieces by Michio Ito, Susan Hadley, Marina Harris and Joanie Smith. Among the works include dance pieces with clever titles such as 'Green Jello,' 'Tico Tico' and 'Cake Walk,' along with the company's showcase piece based on the classical warhorse by Maurice Ravel, 'Bolero,' and teen performers in a piece designed for the festival. Salt Lake City's Samba Fogo, always a huge draw at the festival, brings it sizzling carnival program of fire dances, capoeira artistry and athletic movement on Sunday, June 29, at 9:45 p.m. on the Festival Stage.
MUSIC AND PERFORMERS' HIGHLIGHTS
On opening night, the festival quickly gathers momentum with Ana Popovic, a blues-rock guitarist who grew up in Belgrade listening to classic blues in her family home and is now a consistent presence on top of national and international charts for blues music (Thursday, June 26, 9:55 p.m., Amphitheater Stage). The festival's music offerings run through every imaginable segment of the music spectrum  from Angelique Kidjo's pan-global grooves (Friday, June 27, 9:45 p.m., Festival Stage) to three performances by Portland's MarchFourth Marching Band and their high-stepping stilt-acrobatics (Saturday, June 28, 7:30 p.m., festival grounds; Sunday, June 29, 7:30 p.m., The Round, and 9:45 p.m., Amphitheater Stage)and  to Mountain Heart's energetic live performance and superlative musicianship, capping a weekend of extensive acoustic music performances (Saturday, June 28, 9:50 p.m., Festival Stage). Patrons will be treated to the hugely popular blend hot jazz, ragtime and blues of Blair Crimmins & The Hookers (Friday, June 27, 8:30 p.m., Amphitheater Stage), the fusion roots music of Harper and Midwest Kind (five performances at various venues on Saturday and Sunday, June 28 and 29), as well as the old school blues of Cee Cee James (Thursday, June 26, 8:30 p.m., Amphitheater Stage) and the psychedelic vintage rock of Chris Robinson Brotherhood (Friday, June 27, 8:30 p.m., Amphitheater Stage). Josiel Perez's AC Jazz Project will electrify festival crowds (Saturday, June 29, 9:45 p.m., Park Stage) with Timba music, which has grown furiously popular since the 1990s by combining  rumba with funk and other dance music styles, and will feature easily  the world's best known Cuban jazz and dance band musicians. For Americana music, Vince & Mindi bring award winning harmonies and rich vocals to the Garden Stage (Saturday, June 28, 7:15 p.m.). McCutcheon's performance will help cap the IAMA day, along with introducing to the public for the first time the winner of the Susanne Millsaps Performing Songwriter Showcase competition (Saturday, June 28, 9 p.m., Festival Stage).
OTHER FESTIVAL HIGHLIGHTS
LOCAL MUSIC: More than 75 local musicians, bands and ensembles will be seen on the festival's eight performing stages, including the Art Yard, which is the home for kids' arts and entertainment activities. Among the highlighted performers will be The Hollering Pines (Friday, June 27, 9:05 p.m., Park Stage), an Americana roots group with original songs; Terrence Hansen (Saturday, June 28, 8:30 p.m., Park Stage), a guitarist with Richie Vazquez on bass and Shaun Thomas on drums, with the ensemble featuring an original blend of rock, jazz, blues, and Latin grooves, and The Ladies in Red (Sunday, June 29, 5 p.m., Festival Stage), a University of Utah piano performance ensemble that takes music education to kids throughout the city and surrounding region. Other local music artists include Zodiac Empire (Sunday, June 29, 2:30 p.m., Park Stage), a high-driving pop-rock band, and Wasatch Jazz Project (Sunday, June 29, 8:15 p.m.), an ensemble that runs the jazz genre gamut from swing to big band and to contemporary.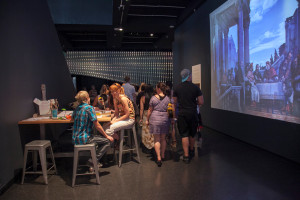 THE LEONARDO: After a rousing success last year at its first turn as a Utah Arts Festival venue, The Leonardo museum returns with a new series of workshops at the Art Lab, as well as free, public interactive in which participants can build simple musculoskeletal systems and observe digital painting and sculpting in animation, along with the previously mentioned CollaborART event. The Salt Bistro Patio at the Leo Café also is one of the festival's eight musical performing venues. Among the performers will be musicians representing folk and bluegrass genres from the Intermountain Acoustic Music Association, which will be the festival's daylong feature on June 28. Other acts during the festival will include music from pop, rock, jazz, Celtic, and world traditions.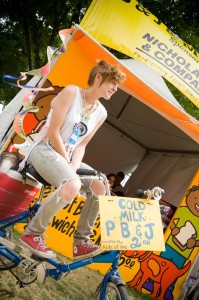 ART YARD: The venue, which will be open every day for children during the festival until 9 p.m., carries the playful theme of 'Kids Run The Range.' A number of area organizations will be on hand to help kids create collaborative art installations such as Old MacDonald's cow. Summerhays Music Center Instrument Petting Zoo returns as well as Art Access which will help kids make residents for their SciArt installation of homes on Utah's open range, including a beehive, an anthill and spider webs. Patrons will be able to create paper decals with the Utah Museum of Contemporary Art while Tracy Aviary will present activities with feathered friends. Pop-up stories about the landscape and your own farm animal will be possible, courtesy of the Utah Museum of Fine Arts.
Along with the two series of children's Fear No Film screenings, which will run continuously, performances on the kids' stage will feature groups such as  Rock Paper Scissors, JT Hilton, DJ Rob, Flint and Steel and others.
FEAR NO FILM:
Sixty-five independent short films from directors across the country and the world will mark the 12th annual Fear No Film offerings, rich in innovative treatments of seven conceptualizations of 'boundaries,' including artistic, global, historical, societal, relationships, 'your' boundaries and those in the 'way you see others.' Seven films will compete in the 2014 Utah Short Film of the Year Competition. The lineup includes 12 films from Utah, 16 from other states in the nation and 37 from 16 countries. There were a record number submissions — nearly 500 — for this year's slate, which includes some of the strongest fictional narrative treatments in the event's history. Several films have already won numerous international film festival awards.
CULINARY ARTS:  Several new wrinkles have been added. A chef's competition, based on the popular 'Chopped' show on the Food Network, will take place with qualifying rounds on Thursday, June 26, and Friday, June 27, and the finals on Saturday, June 28, at the Garden Stage. There will be local food samplings as well as offerings of dishes prepared by student chefs from The Art Institute of Salt Lake City. Back for a seventh year, small plate gourmet offerings once again will be available at the festival's Epicuriosity Tent, designed by Robert 'Sully' Sullivan of Utah Food Services and prepared by student chefs. Uinta Brewing Company will offer tastings of its Crooked Line craft beers for sale. Eighteen other culinary vendors will provide a wide variety of foods during the festival.
TICKET INFORMATION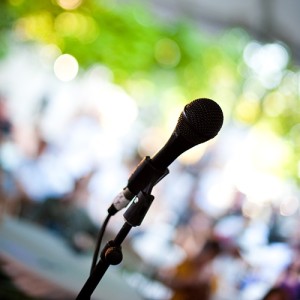 Festival gates open at noon and close at 11 p.m. each day. Adult admission on Thursday is $10; $12 for Friday through Sunday. Lunchtime specials are available on Thursday and Friday only from noon to 3 p.m., and for only $6. Children 12 and under are free. Seniors 65 and above are $6. A four-day pass is only $35. For details and more information visit uaf.org. Follow the Utah Arts Festival on Facebook and Twitter @utahartsfest. Join the conversation at #artfansunite.
And, look to The Utah Review and to the Utah Arts Festival website throughout the next week for multiple daily features and announcements about festival events.