Japanese taiko drums, a collection of frying pans, mixing bowls and blenders, and a small Scottish island called Jura might appear to be a curious, even odd list. However these have become inspirational elements for this year's world premiere commissions in chamber music, jazz, and dance at the Utah Arts Festival. The trio of artists is continuing to build the festival's legacy commitment to bringing new compositions of creative expression into the 21st century repertoire.
The festival's commission program is sponsored by The Mandel Foundation.
Rob Paterson, 'Hell's Kitchen,' Saturday, June 28, 4 p.m., City Library Auditorium
Paterson has written that he has no "fixed allegiance to a system" when he is composing. Indeed, his musical output reflects his holistic focus on "having a mature, convincing artistic intent." He can be as comfortable with rock 'n' roll, jazz, and electronic as he can be with Bach, Beethoven, Cage, John Adams, Xenakis and others.
A percussionist who is well-known for developing and perfecting the six-mallet technique on the marimba, he has written a remarkably versatile and diverse catalog of original musical forms, both in small and large size ensembles as well as for voices and various instruments. He covers as many different ranges of emotions in his music as well, ranging from humorous to bawdy and raucous and to majestic and poetic – particularly in his reverence for nature.
'Hell's Kitchen,' his newest work – which is being premiered at the Utah Arts Festival – is as musically serious as it is whimsical. Each section represents an instructional technique in cooking: Boil, Deep Fry, Grate, Blend and Grind, Grease, Whip and Al Dente (which features the stringed instruments being plucked pizzicati, of course). Sizzle, for example, is represented by a cymbal.
However, in addition to traditional instruments, Paterson has composed parts that require some extra duty for the musicians. Driving west from his New York City home to Rocky Ridge Music Center in Colorado – where he is the composer-in-residence this summer – he brought along numerous kitchen appliances, including frying pans, grater, wooden spoons, stainless steel mixing bowl, glass bowls and a blender. He plans to purchase the last 'instrument' from a salvage business in Salt Lake City – a kitchen sink.
The new work takes it name from the popular reality series hosted by British chef Gordon Ramsay. "The piece begins and ends with a gradual descent into Hell, and then a mechanical factory line (inspired by imagining a meat processing plant)", Paterson explains, adding "these sections sound a little rock and roll drum set like."
Selecting the right utensils was not a capricious task and took some trial-and-error, as Paterson ordered his items through Amazon and tested them for tonal pitches. For the record, a frying pan he is using has the actual pitch of a D flat triad. The music in the eleven-minute work is episodic in terms of calm and violent moods."I guess my vision of a kitchen in hell wasn't all loud and dissonant", Paterson says.
The work, performed by the Vertigo Ensemble, is scored for flute (doubling piccolo), B-flat clarinet (doubling B-flat bass clarinet, violin, cello, percussion, and piano. All instruments double on kitchen utensils or appliances. Hell's Kitchen will also be performed in Maine and in New York City (Merkin Hall) this season by the American Modern Ensemble.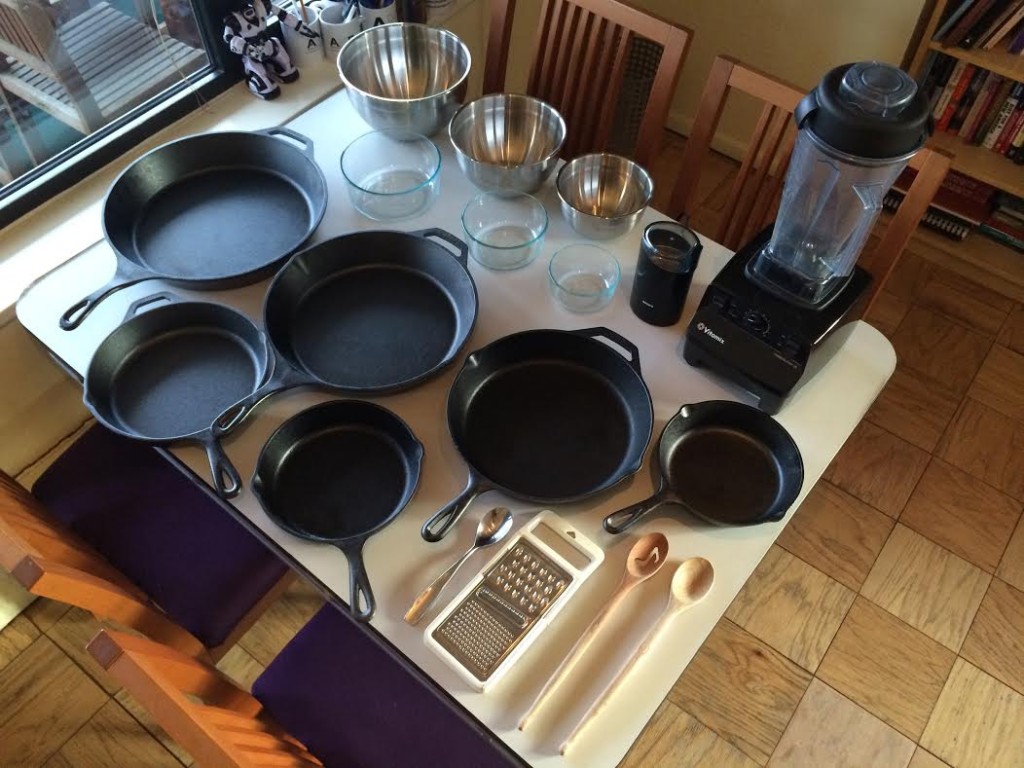 Paterson says 'Hell's Kitchen' is somewhat akin to a 1999 sextet, a programmatic piece inspired by old television shows in which a fugitive criminal is trying to escape the grips of law enforcement. In fact, he quotes a musical motif (about salty peanuts) in the work which will be premiered in Salt Lake City. More about his music and clips can be found here and here.
Paterson is making a prodigious musical output and he rounds out his work, leading and directing the American Modern Ensemble which is about to celebrate its 10th anniversary and a steady stream of commissions, master classes, and residencies. According to the U.S. Bureau of Labor Statistics, there are only 2,530 composers in the country who have similar creative lives.
He recently has written two short operas, 'Safe Word,' about a professional dominatrix and a client who pays her hundreds of dollars an hour, and 'The Companion,' about a professional career woman and her robot paramour. A tremendously fun composition is called 'Looney Tunes,' inspired by some of the most famous cartoon characters – including Taz the Tasmanian Devil, Foghorn Leghorn, Tweety Bird, the Road Runner, and Wile E. Coyote. Performances are set to photo stills. Another work – 'A New Eaarth' for narrator, chorus and orchestra – is based on Bill McKibben's book of the same title, which focuses on the potential impact of climate change.
Indeed, in an interview Paterson is witty, approachable, and talks easily and plainly about his music. He grew up in a home where his parents – a sculptor and a painter – always listened to music. By the age of 13, he started writing his own music. He decided that going to college and becoming a percussionist was a great idea for advancing his musical career and "for meeting girls." In school, he met violinist Victoria Paterson, whom he married and they live in New York City with their son, Dylan, who was more than willing to help his father bang on the pans and utensils to test for musical pitches.
As his musical output suggests, Paterson is interested in evoking all sorts of emotional connections. As he wrote in his one of his articles: "Of all of the aspects of writing that seem to intrigue people regarding my work, my embracing humor is probably the most contentious: some people like, it, some do not. Many composers admit that they do not care to write 'funny' music. It seems as if they think they are in danger of being considered trivial or not serious if they embrace humor. With or without humorous intentions, I am essentially interested in unifying all musical elements—and many non-musical elements (i.e. 'noise') — into a cohesive whole."
Recent performances of his work include 'Dark Mountains' with Jamie Laredo and the Vermont Symphony Orchestra, the European premiere of 'Dancing Games' by the Orchestre National des Pays de la Loire (France), and Eternal Reflections, commissioned for the San Francisco-based Volti choir. His works have been played by the Louisville Orchestra, Minnesota Orchestra, American Composers Orchestra, Pittsburgh New Music Ensemble, New York New Music Ensemble, Barge Music, California EAR Unit, and Ensemble Aleph in Paris.
The program also will feature contemporary works including 'Northern Flicker' by Mathew Rosenblum, 'Fortuna Sephio Nos' by Kamran Ince, 'Amputate IV' by Timothy Beyer (for Violin & Tape), and 'Astral Projection' by Christian Asplund.
The Vertigo Ensemble performers will be led by Andrew Rindfleisch, conductor and artistic director. Musicians will be Carlton Vickers (flute), Scott Harris (clarinet), Jeremy Megginson (percussion), Jed Moss (piano), Hasse Borup (violin) and Cassie Olson (cello).
Patrick Buie, 'Jura,' Friday, June 27, 8:30 p.m., Festival Stage
Although not specifically tied to the music itself – but more as a suggestion for mood and emotional texture – Buie's premiere jazz commission is inspired by Jura, a small Scottish island where his ancestors lived and was once home to a beautiful farm estate called Ardfin. A few years ago a private investor purchased the property and closed it supposedly to tear it down and build a golf course.
Buie's piece – performed with the Salt Lake City Jazz Orchestra – pays musical homage in a form that has become increasingly evident in recent Utah Arts Festival jazz commissions; where the music does not rely on traditional big band charts with head solos and shout choruses but instead more upon a synthesizing composition of rhythms, time signature changes, basic harmonic structures, and melodic fragments.
While Buie says the piece is set generally in a 3/4 rhythmic form, he adds that it is not a jazz waltz, as he often pits contrasting rhythmic patterns against one another – even moving at one point in the piece into a slower 9/8 Latin-style rhythm. While there are hints of a swing feel in some solo parts, Buie keeps everything in pretty tight format, both rhythmically and harmonically, in a short timespan. The solos are more characteristically modal, such as what one might hear in the much longer composition 'The Ghetto Walk' by Miles Davis. Indeed, Buie is going after a distinct moody effect that justifies the title reference to 'Jura.'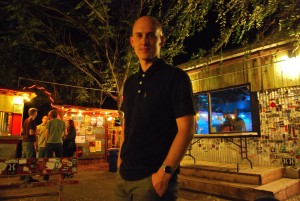 A long-time member of the Salt Lake City music scene, Buie is also a University of Utah alumnus with a bachelor and master degree in music. Buie also works at the Summerhays Music Center, and has played guitar and bass guitar for several prominent rock groups, eventually performing alongside many national touring groups including Built to Spill, The Helio Sequence, and White Denim.
Seven years ago, Buie took up trombone and shifted to jazz under Dr. Donn Schaefer's mentoring. One of his most significant influences for composing is Russell Schmidt, whose 'Patience' was last year's festival jazz commission.
Buie has a similar feel with his descending chromatic lines. Likewise, his appreciation for noted progressive jazz musician Nathan Douds also is reflected in Jura's fluid, organic compositional form. The musical aesthetic brings forth a deeply remembered emotional connection to a place that will always be part of his family's legacy, even if the physical evidence has been long transformed. In 'Jura,' the instrumental solos do effective vocalizing work.
Now a familiar presence on the local jazz and salsa scenes, Buie performs and records with many local ensembles including the Salt Lake Alternative Jazz Orchestra, Salt Lake City Jazz Orchestra, Joshua Payne Orchestra, and Rumba Libre. He also composes for and performs with the Patrick Buie Project. He holds a bachelor's degree in music education and a master's degree in jazz studies from The University of Utah.
Christopher Ruud, 'Drum,' Saturday, June 28, 6:30 p.m., Festival Stage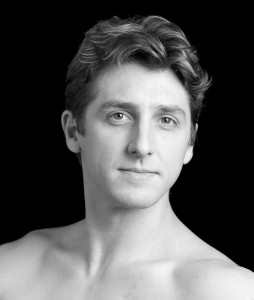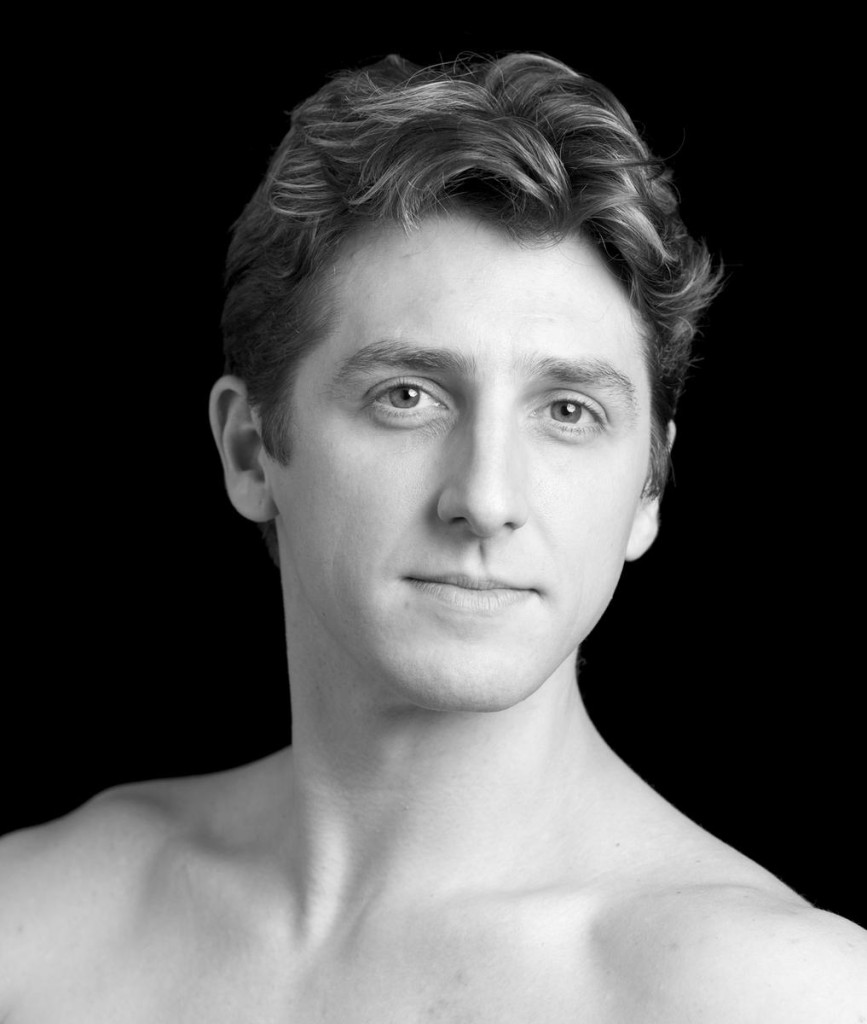 Ruud, who has been a principal dancer with the internationally respected Ballet West company, is continuing a highly successful series of dance commissions that includes two earlier works created by colleague Thomas Mattingly. Like Mattingly who used tsugaru shamisen music from Japan in his 2012 festival commission, Ruud turns to Japan once again but for a completely different take incorporating the music of taiko drums, which represent an extensive and extremely diverse musical form.
Traditional presentations of taiko drums also would incorporate flute music. Just in a basic overview, there are at least 90 classically fundamental rhythmic patterns in Japanese drum music. The potential variety for a choreographer is virtually limitless – especially in terms of syncopated and tension-building effect. Ruud sets out effectively to explore some of that distinctive territory in his piece which opens with the entire dance ensemble dancing in ebbs and flows of mood and movement to the drums' constant rhythmic pulses. This is followed by a slower, softer, more ethereal movement in which the ensembles breaks off into couples, with the drums accompanied by flute and bell. The work closes in a blaze of perpetual motion with all the dancers responding to the drum beats and rhythmic pulses.
Ruud grew up in a ballet home where both of his parents performed with Ballet West. For the festival, he is performing one of his father's ballets, Tomm Ruud's 'Mobile,' which is choreographed for three dancers who perform the piece entirely within a circle measuring just ten feet in diameter. The work is set to the Adagio movement of Aram Khachaturian's Gayane Ballet which was featured in the classic film '2001 : A Space Odyssey.' The work has been performed at the Stuttgart Ballet, Ballet West and Joffrey Ballet Company. Ruud says 'Mobile' is his earliest memory of watching his father perform.
The remaining work on the program will be 'Without Fall' which was performed for the first time at Ballet West's 2012 gala and features selections from all but one of the seasons in Vivaldi's 'Four Seasons'. Ruud choreographed the work with the sensation of endless movement. "It's imagining what life would be without fall when there is a sense of decay, of slowing down, of packing things up for the winter and preparing for hibernation." Thus, each movement represents the perpetual motion suggested by each of the remaining seasons: the playfulness of spring, the luxuriating warmth if summer and the bracing impact of winter's icy cold.
Ruud (a San Francisco native) studied ballet as a child and performed regularly in children's roles for the San Francisco ballet. Heading into his teenage years in the early 1990s, he stopped ballet completely. In his final semester as a high school senior, Ruud says he "fell in love again with the stage" when he landed an acting role in the school's drama production. He had enrolled in an actor training program when he realized just how much he loved performing ballet. By what he describes as a "happy accident," he received a scholarship but his desire for performing professionally grew so intense that he quit school. He performed in the first 'Thriller' production of the Odyssey Dance Theatre and the best birthday gift came at 21 when he landed a spot in Ballet West. Three years later, he was promoted to soloist and became a principal at 27.
Performing at the festival, courtesy of Ballet West, will be Elizabeth McGrath, Allison DeBona, Katie Critchlow, Kimberly Ballard, Jaime Lynn Schultz, Alexander MacFarlan, Trevor Naumann, Lucas Horns, Logan Martin and Christopher Ruud.
2014 Utah Arts Festival Dance Commission for Ballet: DRUM by Christopher Ruud from Utah Arts Festival on Vimeo.