NOTE: This preview of the Literary Arts venue for this year's Utah Arts Festival is written by Amy Childress, one of the well-connected young individuals in Salt Lake City's literary arts scene.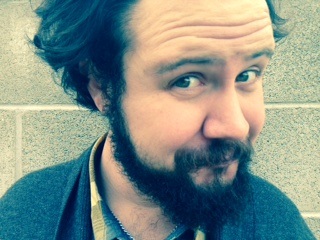 Since Melissa Bond organized the Big Mouth Stage in 1995, the Literary Arts program at the Utah Arts Festival has expanded into a venue of great variety, and this year is no exception. Adam Love, this year's new literary program coordinator has put together an exciting, highly interactive literary experience for festival goers. "We're incorporating much more elaborate forms of what we've determined to be 'literary art,' Love explains. "We're not strictly keeping it to fiction/non-fiction writers and poets. We want to be all inclusive for all forms of writing."
This year's schedule includes mini-workshops by nationally recognized authors sponsored by the Salt Lake City Community College's Community Writing Center, The Wasatch Iron Pen Literary Marathon and a dynamic array of performances on the Big Mouth Stage by comedians, local writers, songwriters and Slam poets.
"Two words: Book Tree," says Love, when talking about one of the literary themed interactive installations at this year's festival. In collaboration with the Utah Museum of Contemporary Art (UMOCA) and various donors, the "Book Tree" is "a giant bookshelf (donned to look like a tree), adorned with dozens upon dozens of books for anyone to take. Though, keep in mind, we're aiming to create a mini inner-loan library system here with a 'leave-a-book, take-a-book' policy."
Alongside the "Book Tree" festival goers can also participate in the SLCC Community Writing Center's Utah Race Card Project: Write Your Six Word Sentence, where participants can engage in an open dialogue by creating a six-word sentence that encapsulates their experiences, observations and thoughts about race and adding it to the Race Card Wall.
The SLCC Community Writing Center (CWC) often has between 50 and 70 participants for the Wasatch Iron Pen competitions. In this 24-hour literary competition, adult and youth writers can enter in one of three categories that include fiction, non-fiction and poetry, or can register for all three as part of the Ultra Pen Challenge. Prizes will be given to the winning authors, who also will read selections from their works on Sunday, June 29, at 2 p.m. at the Big Mouth Stage.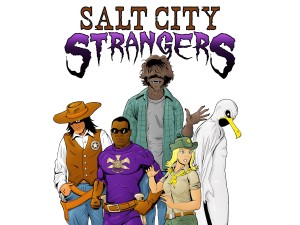 The cost is $12 for a single entry or $30 for Ultra Iron Pen.
Participants will receive their writing prompts on Friday at 6 p.m. and will have to submit their work no later than 6 p.m. on Saturday.
The SLCC Community Writing Center also will host an array of free, public workshops and community and storytelling readings throughout the festival, including two readings, presented by Timpanogos Storytelling and featuring Steffani Raff and Sam Payne (June 27 and 28, 1 p.m.). Other reading presentations include a Digital Storytelling Showcase, two Community Readings, 'youth voices,' and 'Diversity Writing Series.' In addition, the center will have 'Have Your Say!: Gigantic Magnetic Poetry Walls' with gigantic magnetic words available so visitors can create their own poetry.
Returning this year for their third time are Paul Guinan and Anina Bennett, the Portland-based husband-and-wife team who have created comic book series including 'Boilerplate: History's Mechanical Marvel' and other literary projects that mix their interests in science fiction, history and pop culture. They will be leading the 'Create your own Comic Book" workshops that will be happening every day of the festival. Space is limited to 15, so come early to get a seat.
Kids' workshops include 'What's The Next Line: 'Origami Fortune Tellers,' 'Choose Your Own Adventure!' and 'DaDa Poetry.'
Mini-workshops include, 'Tin Box Stories: stories as keepsakes,' 'Order Out of Chaos: Using Repetition to Structure a Poem' facilitated by Poet Laureate of Utah, Lance Larsen and 'This Was Here: A Workshop for Writing Memories of SLC' with guest writer Paisley Rekdal.
Lance Larsen, Utah's poet laureate, will read at the CWC at 6 p.m. on June 28. Larsen is the author of four collections of poetry with his most recent collection, Genius Loci, and he is currently a professor of English at Brigham Young University. In 2007 he received the National Endowment for the Arts' highly prestigious Literature Fellowship in Poetry.
Paisley Rekdal, is the creator and managing editor for Mapping Salt Lake City, a community-written web atlas that maps the various communities and neighborhoods of Salt Lake City through critical and creative literature, interactive maps and multi-media projects. Rekdal is the author of a book of essays, The Night My Mother Met Bruce Lee; a hybrid-genre photo-text memoir that combines poetry, fiction, nonfiction and photography entitled Intimate; and four books of poetry: A Crash of Rhinos, Six Girls Without Pants, The Invention of the Kaleidoscope, and Animal Eye, which was a finalist for the 2013 Kingsley Tufts Prize, the Balcones Prize and winner of the UNT Rilke Prize. She will read on the Big Mouth Stage on June 27 at 5:30 p.m.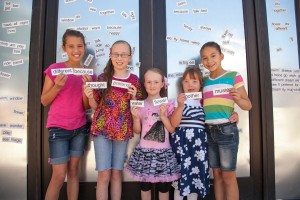 When it comes to the Big Mouth Stage, Love says, "I might be a bit star struck." Alongside performances from local writers, several new and non-traditional literary performances will be happening at the Big Mouth Stage this year. Salt City Strangers will be doing a live-action comic generation on June 28 at 3 p.m. "They're that LDS/apocalyptic-themed comic that turned some heads at Salt Lake Comic Con. Chris Hoffman and crew have put together something I've never even heard of before, by allowing the audience to help write their next issue."
Also new to the Big Mouth Stage this year is the IAMA (International Acoustic Music Association) Susanne Millsaps Singer Songwriter Showcase. The showcase is part of the IAMA Folk Festival. During the showcase, ten finalists will perform two songs for a panel of judges (June 28, noon). The winner of the showcase will perform on the Festival Stage at 8 p.m.
Other notable writers scheduled to appear include Melissa Bond, Jason Dickerson and Jerry Vanleperen and Cat Dizon.
Michael McCLane, the literature program officer for the Utah Humanities Council and a contributing review editor for the Sugar House Review and an editor for Saltfront (June 29, 4 p.m.) will read. Love himself will be reading following McClane. Love's work has appeared in MiPoesias, Conte, Big Muddy: A Journal of the Mississippi River Valley, and Borderline Online. He was nominated for a 2012 Pushcart Prize. In 2013, his collection of poems, Another Small Fire, was published by Tired Hearts Press.
Finishing off this year's festival is the infamous Indie Poetry Slam and Team Slam Finals, with the preliminary slams for the Indie Poetry Slam happening Thursday and Friday (June 26-27) at 7:30 p.m. and the preliminary slams for the Team Slam happening Saturday (June 28) at 4 and 8 p.m. Both finals are one of the most exciting and heavily attended events at the Big Mouth Stage, and this year the competition has grown with its audience.
Over the course of the festival 22 poets will compete in the two Indie Poetry Slam preliminary rounds for the top six spots in the finals stage on Sunday. The team slam competition has also grown, featuring eight teams competing over the course of the weekend including visiting teams from Denver, Phoenix, Las Vegas and Boise. Also competing are three teams from Utah. For the first time, St. George is sending a team to compete, spearheaded by poet Darren Edwards. Salt City Slam and Voice Boxers will represent Salt Lake. All three teams will compete in the National Poetry Slam in Oakland, California this August.
Salt City Slam, reached the semi-finals stage at the National Poetry Slam in 2011 and 2012. This year's team comprises Courtney Hammond, Deanne Emett, JoKyR, Gray and Jessee Parent. Jesse Parent (who also will perform in solo June 29 at 3:30 p.m. on the Big Mouth Stage) has been on the team for seven years. Parent took second place at the 2010 and 2011 Individual World Poetry Slams, and was a finalist at the 2012 Ontario International Poetry Slam. Gray (who also will perform in solo June 27 at 7 p.m. on the Big Mouth Stage) is the 2014 Individual World Poetry Slam representative for Salt City Slam. To help both teams get to Oakland in August or to learn more about the Poetry Slam competitions happening around Salt Lake visit see here.