This year's Artist Marketplace at the Utah Arts Festival is by all measures the strongest in terms of quality and originality in aesthetics and technique. Of the 615 artists who applied to be in this year's event, 169 were selected: 47 from Utah and 122 from outside of the state. More importantly: 59 are making their first appearance at the marketplace and 31 have never applied before to participate.
Among the artists featured are last year's award winners, who automatically were selected for the 2015 event. They include:
Sondra Wampler (Digital Art Media, Santa Fe, Booth 78)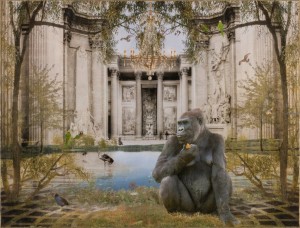 Known for her still life of botanical imagery and her use of surrealism in other work, Wampler has been introducing other series in her art, including Paradise, which meshes dreamlike imagery with her passion for art history and fine photography. There are hints of her homage to painters such as John Singer Sargent. As she explains in her artistic statement, "Appropriation has played a significant role in the history of the visual, literary and musical arts. In the visual arts to appropriate means to properly adopt, borrow, recycle or sample aspects of man-made visual culture. I have resampled just the figure from the original painting. The new work re-contextualizes what it has borrowed to create the new work. Artist from Picasso to Jeff Koons have used appropriation in some of their works with Andy Warhol being an artist who almost exclusively used or borrowed imagery from pop culture."
Jennifer Lashbrook (2-D Mixed Media, Dallas, Booth 160)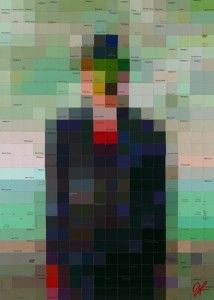 Lashbrook creates portraits from paint swatches she gathers from a local hardware store, and she then meticulously cuts each piece to create a surface resembling a puzzle. In a 2014 interview with The Utah Review, she said, "I began painting when I was 10 years old. I studied art through out high school and received a BFA from the University of North Texas. I have been working professionally for the last 10 years and full-time for the last year. My mother, a seamstress and fashion designer, is a huge inspiration as well as artists Close, Dali, Rauchenberg and Richter. The more variety of artwork I see, the more inspired I become."
Carlos Page (Sculpture, Cave Creek, Arizona, Booth 156)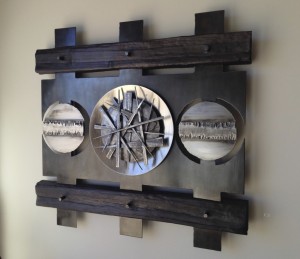 Born in Buenos Aire, Page moved 25 years ago to San Francisco to apprentice with Argentine artist Pepe Ozan, where he developed his skills in working with steel, concrete and other materials. He later attended Hunter College in New York City, where he began creating sculptures. Today, he maintains an active schedule at juried festivals and design shows around the country.
Paul Nzalamba (Graphics/Printmaking, Los Angeles, Booth 73)
A native Ugandan, Nzalamba watched his mother design and construct baskets, floor mats and room dividers and started to draw at the age of nine and by high school he sold his first paintings. Later, he studied batik, a wax resist fabric dying technique, from Katongole Wasswa, one of East Africa's most respected batik masters, while working on a degree in political science at Makerere University in Kampala. He continued his studies in Kenya before moving to Los Angeles, where he expanded his work on batik, incorporating images from his native East Africa land while communicating the ubiquitous themes of family, relationships, celebrations and education.
Johanna Mueller (Graphics/Print Making, Fort Collins, Booth 7)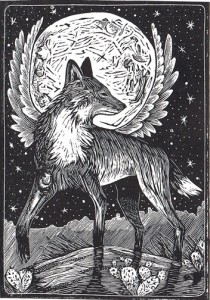 A Colorado native, Mueller settled solidly on printmaking during her college years at Metropolitan State College of Denver and later earned a master of fine arts degree in fine art and printmaking at George Mason University. A self-described gypsy, she works of out her home studio with her husband Stan Scott, relying exclusively on traditional printmaking methods other than digital prints. Her award at the Utah Arts Festival last year was among four best of show honors she received at festivals around the country. She also has received artist's residencies at The Donkey Mill Arts Center in Holualoa, Hawaii and at the Frogman's printmaking workshop at the University of South Dakota.
Aaron Memmott (Painting, Helper, Utah, Booth 5)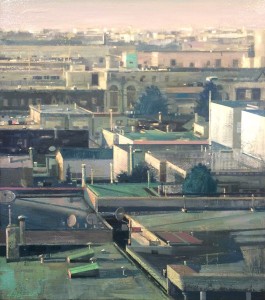 A graduate of fine art programs at the University of Utah and the Academy of Art University in San Francisco, Memmott was one the faculty at the Savannah College of Art and Design in Savannah, Georgia. Now working in Utah, his major include 20th century American painters Richard Diebenkorn, Wayne Thiebaud and Edward Hopper, with whom Memmott has an especially strong connection. His urban and rural scenes, rendered through a unique pallet and complementary perspective, reflect his personal vision of modern life. Thomas Hart Benton, another inspiration, is Memmott's great cousin.
Among the new artists:
Steph Mader (Glass, Freeland, Washington, Booth 60)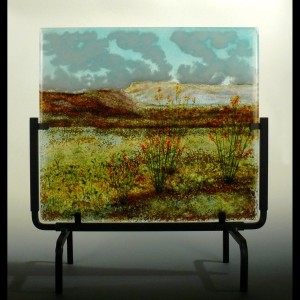 Mader creates glass landscapes from tiny particles of colored glass, working in layers to fashion the hills in the background, the plains brought forward, and then finally the details in the foreground. As she completes each layer, she fires the piece in the kiln to fuse the glass and bring out the colors. When each piece is finished, whether it comprises five or up to ten layers, it achieves a 3-D effect.
"I'm interested in what the natural world has to teach us about our own deeper nature. In this fast-paced world it can be hard to remember to take a minute, soften your attention, take a breath and let your mind wander," she explains in her artistic statement. "When we're in quiet, remote places away from the stimulation of machines and crowds, alone with just the sounds of birds and wind, we can have a deeper experience of ourselves as living beings, connected to the natural world. I hope to capture a little bit of that feeling in my work… as a reminder."
Santiago Michalek (Painting, Highland, Utah, Booth 91)
An Argentinian-born artist, Michalek started a business in 2003, restoring vintage models of Volkswagen Beetles and buses that eventually became a consistently profitable enterprise. One feature stood out consistently among his customers: Each was thoroughly devoted to preserving the VW vehicle.
As he developed his paintings to celebrate the love of VWs, he also took on the experience of drawing and painting other figures, including people, focusing on capturing the same breadth and depth of detail which characterize his VW paintings.
Six years ago, he began exhibiting his work formally, including in shows at the Springville Museum of Art, and the Meyer Gallery in Park City.