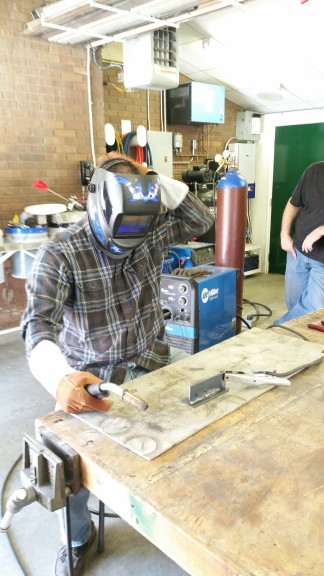 For DIY weekend warriors in the area, Make Salt Lake is fast becoming the go-to clearinghouse for adventurous makers who believe they can learn quickly how to make anything and everything. One maker, for example, who built a cigar box guitar also designed a flux capacitor using Arduino and some welding, scrapping and soldering. Turning to Make Salt Lake's forum, he wanted to know if he could get a few cuts on the legs for an office desk that he was building because his bandsaw was too small for the job.
It is safe to say that anything is possible at Make Salt Lake, which operates in space provided by Standard Supply Electronics, a South Salt Lake firm. The tools include a wood shop worthy of any master carpenter, two electronic tools work benches, plastic bender and a small vacuum form machine, and a full spectrum industrial laser cutter, a CNC mill that was adapted from one of the large drawbots that was featured at last year's Utah Arts Festival. Among its more recent and most popular acquisitions are a pair of 3-D printers that use plastic filament produced by the organization. One printer is suitable for hobbyists and can be modified easily to suit specific purposes. The other is the Orion Delta, which has really attracted the attention of local makers. "We've gone through about five and a half kilometers of filament in just a couple of months," says Henry Haskell.
For its upcoming appearance at this year's Utah Arts Festival, Make Salt Lake (formerly known as EnjiGo – an odd, awkward name, according to Haskell, that had to be changed to reflect more effectively the iconic significance of Salt Lake's growing maker community) is presenting a fairly extensive range of interactive and hands-on projects and activities that highlight the agility and flexibility makers have in turning inexpensive and ordinary materials into 21st century objects, tools, and products.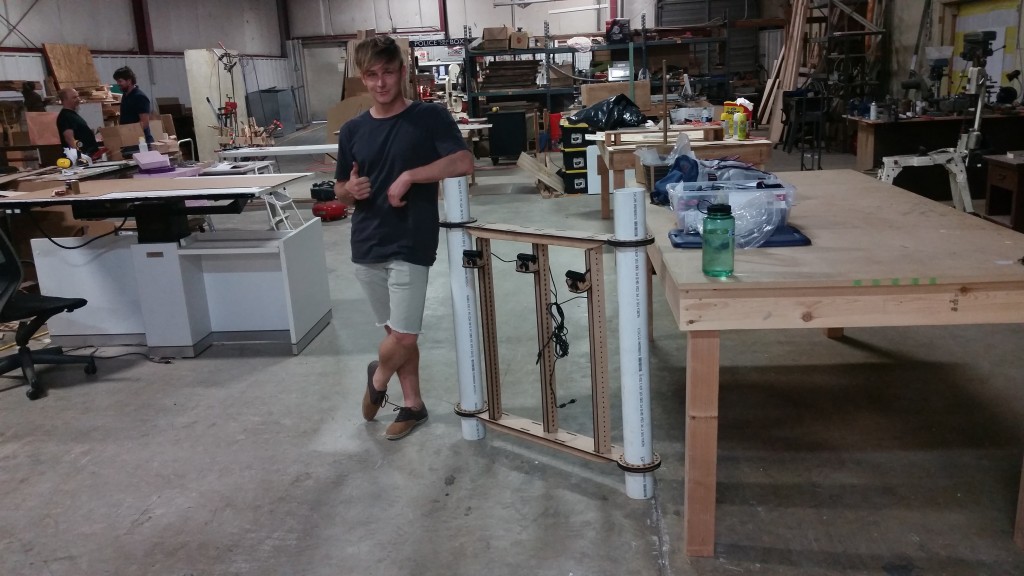 With the benefit of Android tablets, Arduino controllers, and Bluetooth receivers, individuals will be able to reprogram one of four Sumo robots, which run on rechargeable lithium ion nine-volt batteries, before every battle. The exhibit, as Haskell explains, is a "great educational way to see how one easily could learn how to control robotic devices using a tablet." For weeks before the festival, Make Salt Lake members have been tinkering with the robot chassis to see what would best absorb the constant impact of the Sumobots hitting each other, as well as making continuous motion possible, doing laser cutting and developing and testing the software needed to run the bots. Even those who might have had no experience in robotics are capable of picking up new skills on a pretty quick learning curve.
Paying tribute to "bullet time" first referenced in The Matrix film franchise and later in popular video games such as Max Payne and The Matrix Online, Make Salt Lake will offer an exhibit that incorporates inexpensive cameras and micro-controllers to reproduce the special effect by filming participants in hyper slow-motion from a constantly shifting viewing point. Another exhibit incorporates Google Cardboard where participants will demonstrate Apple or Android smartphones that have been modified to become Virtual Reality goggles.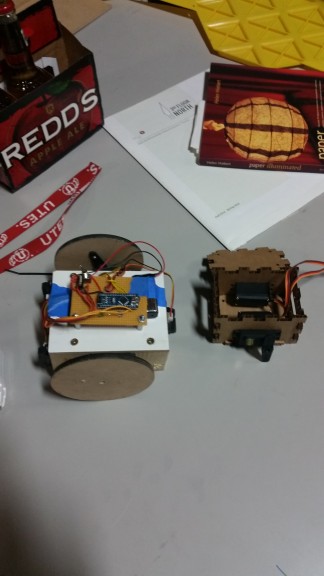 Plenty of spare parts from lamp repair kits, materials to make color-changing LED wands, bathroom tiles, and alcohol ink made with sharpies also will be on hand for participants to make a variety of art and craft objects. Visitors also will have the opportunity to make mulberry rice paper party lights to take home. Makers also will show visitors how to knit without needles just by using their fingers.
"The point is that if you didn't think you could knit or create something, we're here to show how easy it can be to learn in less than 30 minutes," Haskell says. "It's less the objective of trying to create a perfect art piece and more about the process. At Make Salt Lake, we emphasize that stumbling blocks are okay. If you didn't experience failure along the way, then you probably didn't learning anything. We believe that it always is more effective to fail fast and move on."
Haskell practices what he preaches, recently doing an all-nighter assembling 54 birdhouses from pre-fabricated pieces of really solid three-quarter-inch wood. "I had never worked before on how to join wood pieces or saw angles so I quickly learned how to safely cross=cut wood on our table saw," he explains.
| | | |
| --- | --- | --- |
| Examples of art tiles, duct tape rose, tea lamps and laser wands. | | |
Make Salt Lake, which was established a little more than 18 months ago, is growing steadily in paid memberships and visibility in the expanding local community of makers. For $50 per month ($35 for students), members have free access to all of the equipment and tools, and if they are unfamiliar how to use some devices, training is always available. "The only thing that we charge additionally for is laser cutting, which is 25 cents per minute, a really reasonable bargain," Haskell says. In addition, there are workshops and classes in everything from microcontrollers to finger knitting.
Just as the hobbyist looking for the right tool to make the cuts on the legs of his custom-made office desk, many local enthusiasts are discovering how easy it is to ask around at the organization, find the know-how, and then learn the methods and techniques to complete their project. And, members are open to crowdfunding in order to purchase additional equipment as they did earlier this spring in raising the $900 for an Argentum conductive ink printer which gives members the capabilities of printing customized circuit on paper, cardboard or any type of hard surface.
Make Salt Lake's enterprising inventors also are looking beyond projects that are educational, creative and entertaining. For example, several members are interested in creating artificial muscle from inexpensive monofilament fishing line that is conductive and can be used for animatronics and androids. Hardly far-fetched, the project is an example, Haskell explains, of how limitless one's potential is for bringing an imaginative idea to fruition. Last year, a paper in the journal Science described how scientists using sewing thread and fishing line, containing high-strength polymer fibers made out of scraps of ordinary materials costing just $5 per kilogram, created artificial muscles by twisting the fibers into coils that were then properly heat treated and contracted just as normal, healthy muscle tissue would in the body. The breakthrough means there could be less expensive and potentially more effective options than existing artificial muscles that contain pricey carbon nanotube yarns and metal wires.
| | |
| --- | --- |
| One of the three Beat Bots Spy Hop Productions will have at the Utah Arts Festival. | There will three Spy Hop Beat Bots with different styles for Utah Arts Festival visitors to try out at the Makers Booth. |
While Make Salt Lake will be giving festival patrons the opportunity to see Sumobots reprogrammed before every battle, Spy Hop Productions will have three Beat Bots of human size built from solid wood and numerous spare parts and materials. The bots incorporating adapted forms of MaKey MaKey technology will give patrons the opportunity to control using props, objects, and body movements to trigger sounds, melodies, and beats to create their own song or musical composition.
Each of the three robots — made from wood, sections of PVC pipe, old cameras, and spare toy parts — will have a unique style, Spy Hop's Adam Sherlock explains, who conceived the idea last fall and has worked with fellow mentor Josh Samson on creating the robots for the festival. One gives users the opportunity to swap out continuously four cubes of effects located on the robot's chest, while another resembles an octopus with eight arms, which when controlled by users in the right response time will make the robot operate to the desired rhythmic commands. The third incorporates a microphone that when pressed plays a sample loop that could be anything from a beatbox clip to random words or lyrics or, as Sherlock explains, "a really cheesy music book on tape." He adds that when the bots, which originally had a cardboard chassis that did not hold up well to the force of continuous touches, were tested with various groups, the younger children consistently favored the microphone robot – "the noisiest and most obnoxious one," Sherlock adds. Spy Hop has beta tested the robots at various events including a hackathon at the Viridian Event Center in West Jordan, the World Refugee Day Festival at Liberty Park, and at a presentation for Jane Chu, chair of the National Endowment for The Arts.
Haskell and Sherlock agree that these types of exhibits, especially for younger students, show a lot of promise for encouraging interest to pursue studies and training in the STEM (Science, Technology, Engineering, Mathematics) disciplines, especially when embraced with an appreciation of the process behind art and creative expression.
"Certainly at Spy Hop, we are dispelling the myths about technology when it comes to learning and access," Sherlock explains. "It's pretty simple: Here's how I did it and I will show you now. It also redeems the meaning of hacking by taking something and making it do something that it was not originally intended to do. And, making that tie-in to STEM is just one part of the creative prize."
The Makers Booth will be located adjacent to the Big Mouth Stage on the north plaza side of The Leonardo.