One of the standout features in recent years in the Urban Arts venue at the Utah Arts Festival, Mason Fetzer's 100 Artists / 1 image community mural project is taking on new significance in its fifth year.
Previously, the finished pieces encompassing 100 tiles in a 20-foot installation – each painted by a different artist – have been ephemeral works, captured only for posterity by a photo or video. However, this year's project will find a permanent home in the atrium of the new Volunteers of America Homeless Resource Center for youth when it opens in early 2016. And, for the next five years, the annual community mural will be exhibited at the center.
Fetzer always keeps under wraps what the final image will look like but the project in its most recent iterations has proven to be a warmly received success. "The first year, we gave students the artistic license to paint randomly but the project fizzled out halfway through and we had to make up quickly for the time lost so the mural would be finished during the festival."
Now, the mural is typically finished by early Friday evening, the festival's second day. "We're in good shape if we have 40 to 50 tiles painted during the first day," he explains.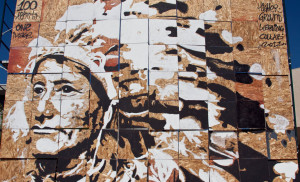 Fetzer also accounts for the sunny, hot weather that typically accompanies the festival, and this year will see temperatures top 100 over the weekend. "One year, I featured my own work created by painting on old LPs and the works started melting," he recalls. He makes oil-based paints available for the mural because acrylics tend to dry too quickly and create a crusty layer.
Visitors also will see the progress of this year's Urban Sculpture, provided by the Utah Arts Alliance in conjunction with the group's annual Urban Arts Festival on July 18 at the Gateway in downtown Salt Lake City. Lead artists Derek Dyer and Bobby Gittins are creating Crystal Math, a sculpture rising more than 14 feet high in a 10'x10′ area. The Utah Arts Alliance is a unique group that has proven quite effective in empowering young local artists to develop their work. It provides venue and studio space, through sponsored partnerships, for artists who otherwise might not be able to afford it.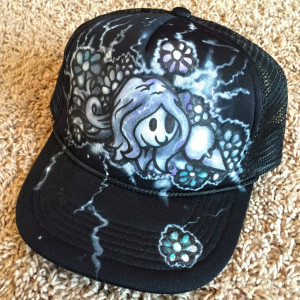 Young artists who want to practice their graffiti skills without fear of incrimination for vandalism or trespassing will be creating ever-morphing works on the wall installation. Meanwhile, a rotating schedule of local DJs and MCS will be spinning and remixing throughout the day.
One of the most popular features is the FatCap Gallery, where local young artists will customize graffiti for caps at $25 each. "Patrons tell the artists what they would like and the cap is ready within an hour or two," Fetzer explains. Artists expect to make more than 350 caps over the festival's four days and they share in some of the proceeds raised from the sales.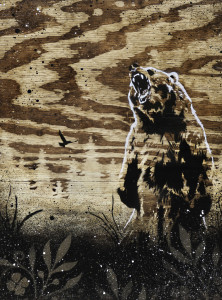 Fetzer, the Urban Arts program coordinator, also will be offering selections of his work for sale. Truly the most ideal candidate to develop programming for the venue, Fetzer is a versatile, agile artist who works with many different types of graphic art, fine art and street art forms. He has a cleverly written artistic statement that introduces three basic observations – "Scalpels are like Xacto knives," "I write like my Dad," and "Playing Nintendo is like riding in a car," which then leads appropriately into his own creative epiphany: "It's right now. You're reading this, my artist's statement. I escaped from biology but kept my love for scalpels, except now I say X-Acto knife. I stayed in the family business, sort of, but not as an architect. My Nintendo has been replaced by an Apple computer, which I still play way too much. And I am fascinated by intensity, improvisation and precision. Also, by just layers, shifting."