In music, rare is the instinct in collaboration between two groups, especially when both sets of musicians live in different cities and do not meet perhaps as often they might like. However, when they do meet, the instincts immediately mesh and the mass of sound created is exhilarating and, yes, glorious.
It has been two years since Sound Mass last appeared on a Utah Arts Festival stage, bringing together the musicians of Salt Lake City's Theta Naught and Austin, Texas' My Education, and much has changed for both groups.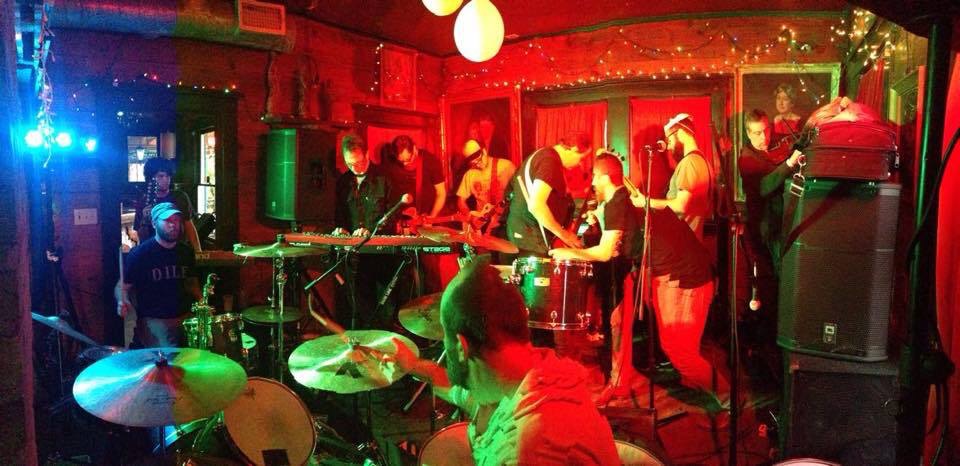 My Education was formed in 1999 and, like Theta Naught, the number of members in the band has grown and contracted throughout its existence. The band has seven albums in its discography (along with a compilation and a 7″ release), each suggesting steady advances that expand the boundaries of the band's instrumental and sonic potential. In addition to several singles and compilations, the band also released on vinyl a collaboration with avant-hip hop duo Dalek and has seen its recordings remixed by members from various bands such as Kinski, Pelican, the Red Sparowe. It maintains an active performing schedule that has included extended international tours.
Theta Naught, which takes its name from a mathematical term which also happens to be a core concept in the group's approach to musical composition, was formed in 2002 and has performed previously at Utah Arts Festival. The group already had six albums under its belt when Sound Mass was formed, including a 2006 double-disc release 'Sound Weave,' which included 12 tracks featuring Alex Caldiero, the poet known as 'The Sonosopher,' on the second disc.
The band recently lost guitarist Josh Ogzewalla to cancer and Theta Naught has been on hiatus, but they occasionally come together to play in Sound Mass. Ogzewalla was a central force in both Theta Naught and Sound Mass. "Our performance this weekend is being dedicated to him," Stanfield says.
Whatever individual band changes have occurred dissipate in the collaboration of Sound Mass. The group's most recent release is one of the most apt album titles imaginable: Spiritual Docking which was released under the Cleopatra Records label last fall. It incorporates the themes of music performed at the 2013 festival appearance and represents a significant advancement in this unusual yet hugely gratifying musical experiment.
It's worth revisiting how the genesis of My Education came about five years ago. Started spontaneously when My Education came through Salt Lake City, Theta Naught bassist Ryan Stanfield and My Education guitarist Brian Purington thought the bands should record an album together. "Originally, it was intended for each group to record its own set of compositions," Stanfield recalls in a 2013 interview. "However, that day, both bands decided they'd do a double-group improvisation recording, which resulted in Sound Mass." The group performed for the first time at Kilby Court.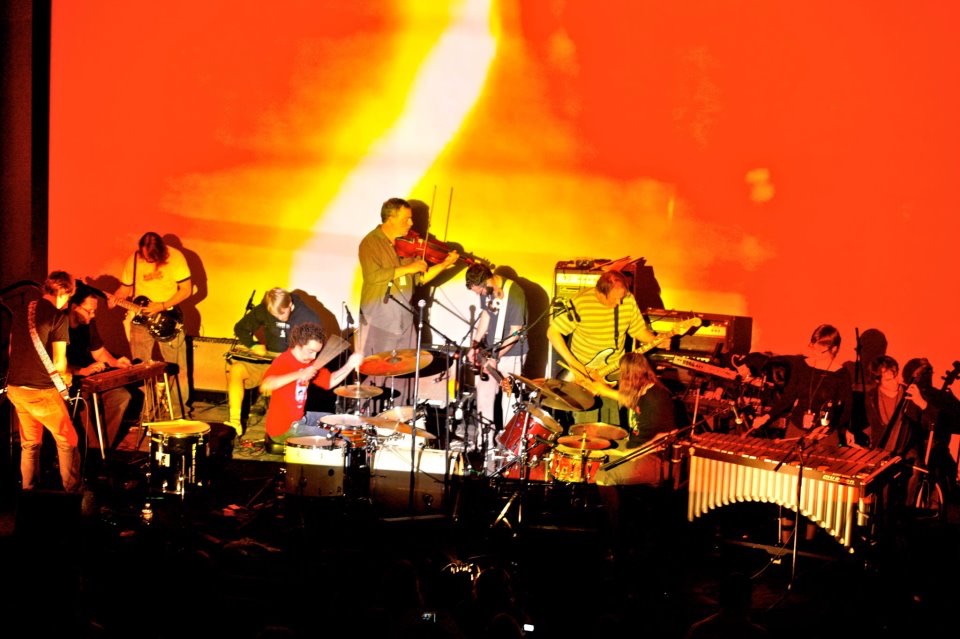 The collaboration clicked into creative gear immediately. Indeed, it has been the well-honed individual experimental instincts of musicians from both groups that might supersede any general differences between them. In an interview with The Utah Review, Purington and Stanfield complement each other perfectly, sharing a musical vision that emphasizes the fascinating enjoyment the musicians are getting from the Sound Mass experience.
Regarding Spiritual Docking, Purington says, "We worked out these ideas," and Stanfield agrees, "the music was not off the cuff." While the first was almost entirely improvisational in nature, the second is agile, flexible, formidable in its thematic structure.
This leads to simple yet significant point, given each band's history. Theta Naught has been known for how it improvises along a broad spectrum that feels as comfortable with Bach as it does with the continuously shifting cosmopolitan jazz styles of Miles Davis, the alternative metal of Faith No More, and the experimental rock of Godspeed You! Black Emperor. My Education orchestrates well-finessed yet still flexibly structured songs and richly textured compositions that really do thwart the temptation to classify the music conveniently as post-instrumental rock.
Assembling the musicians from both groups, however, underscores how the resulting music of Sound Mass reflects the idea that the sum of two great parts can lead to virtually limitless satisfaction and results. It is an incremental yet significant step toward finding a new musical vocabulary that forges a whole spectrum of musical idioms, ideas, forms, philosophical ideas about creative freedom, sound technologies and spatial dimensions about music into an emerging new organic system of music-making. Spiritual Docking reveals the promise of 21st century music that transcends all genre lines. Given how difficult the schedule is to coordinate for members of both bands, the collaboration is justifiably remarkable.
Whatever tensions lie between elegantly elucidated ambient lines and improvised emotional-laden musical material that can fuse effortlessly, for example, jazz with hardcore or punk are transformed into the bold sonorous and solid textures of Sound Mass that never seem too dense or heavy. It is no idle assertion how prominent the sense of mutual confidence and trust vines through in the musicianship of the members who play in Sound Mass.
There are seven members in My Education's lineup: James Alexander, viola; Skye Ashbrook, visuals; Earl Bowers, drums; Chris Hackstie, guitars; Brian Purington, guitars; Kirk Laktas keyboard Instruments, and Scott Telles, bass.
Theta Naught's current lineup includes Darren Corey, drums and theremin; Greg Corey, lap steel; Stanfield, bass and saw; Briawna Anderson, harp; William 'Ben' Alleman, keys and percussion.
Thus, this assembly of Sound Mass covers a lot of territory in instrumental colors, tones, and textures and musical influences, which, of course, has garnered a good deal of serious attention from serious representatives in the music world. In 2010, the collaboration germinated quickly in SLC, as the groups went to AudioSpace Studios to record five soundscapes or musical acts within a nine-hour period. The following day, Sound Mass made its first appearance with 10 musicians crammed on the small stage in that tiny musical mecca of Kilby Court.
After some further mixing and editing, the tapes were delivered to Austin where Bump Boyz and Headbump Studios finished the production on the CD in time for Sound Mass' appearances at SXSW in 2011 and Austin Psych Fest that year as well. The initial release was later issued by Differential Records as part of its serial volume collection of Harmonic Motion recordings.
For this year's festival performance, there will be 10 musicians handling drum, bass, guitars, cello, harp, keyboard, lap steel, bass and saw.
And Purington says this weekend, as in 2013, the performance will give "the seeds of something new" for a future recording.
It is not a stretch to use the metaphor of a long-distance marriage that works because both partners already have achieved a secure, healthy self-actualized sense of their respective skills and achievements in musicianship.
In the simplest terms, Sound Mass has provided an exemplary model for creative collaboration that signals a golden era of original, innovative music that will last long throughout this century.