Mister Pauper is an artistic persona. Growing up, he followed an organized, well-chosen path both of practicality and spirituality which would have likely set his adult life securely, even as influences, desires, imagination and dreams subtly pushed him further toward unfettered creative pursuits. There were hesitations and doubts, waiting to be reconciled at the right time. Having the opportunity to discover a different world and different culture, Mister Pauper finally became emboldened by the expressive possibilities which he tapped, as he confronted the long-simmering crisis of faith and authenticity that marked much of his formative life.
Mister Pauper stepped forward to take the risk, knowing that he would lose everything including his home and, for at least a while, his family. Now, Mister Pauper has found a new, safer – albeit occasionally just as risky – arena to connect soulfully and spiritually through the story-telling potential of art. And, in this new venture, Mister Pauper is finding redemption – even refreshed connections – with those he loves and respects, especially as he collects and repurposes throwaways into new pieces that recover their relevant, instructive, and enlightening meaning.
Mister Pauper's story is part of Utah artist Jake Buntjer (Booth 143), one of the 55 new artists at this year's Utah Arts Festival's Artist Marketplace. This also is his first arts festival exhibition but already in the first two days, his booth on the Library Square plaza has captured a good deal of merited attention.
Buntjer's pathway is different than others in many respects but then not so much in others. "I had started in photography in college but then I dropped out," he says. "I had started a family – with three children — when I was young and there were the pressures and doubts about the livelihood of being a photographer."
Regardless, Buntjer's passion for creating art was always there, a spark that only grew stronger even during his Mormon missionary days in the West Indies. Testing his passion once, he had to see if he could give up his dream, knowing that if he couldn't do it, then he would never be able to give it up. "I tried and I melted," he says. Along the way, he was divorced, estranged from some family, lost his home, and left Mormonism.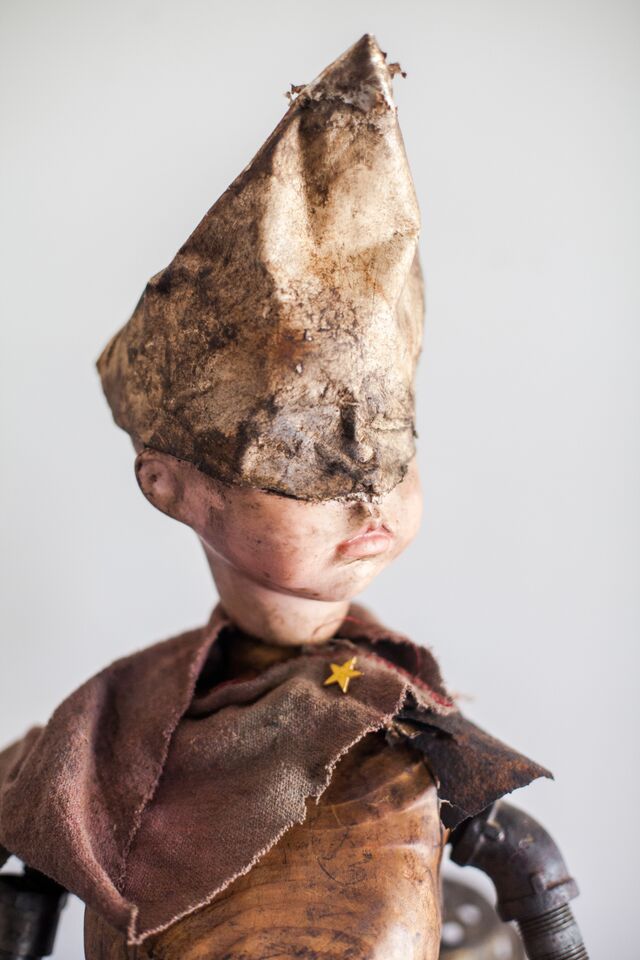 Art, however, emerged quickly as his soulful redeemer, especially as he welcomed the opportunities to use his art to tell stories. "Art allows us to discuss the things we normally cannot talk about politely," he says. His works, which emerge from objects and discarded items he collects with relentless yet focused obsession, readily convey all sorts of meanings, often left freely to the viewer's own interpretation. There is whimsy but there also is darkness in some of the cheekiness of the works. And, there can be the subtlest essence of pain, disappointment, loss, and the struggle to be validated but, that again, is left more openly to one's idiosyncratic interpretation. "It is a weird draw to odd objects, especially dead ones that no longer are used for the function they were intended for," he explains. "I collect everybody's little throwaways, such as every screw and pipe section my grandpa collected. This is the lifeblood of materials for my workshop with wall-to-wall shelves packed with objects. But, I should stress that it's organized chaos." He visits antique shops, always looking for broken oddities that no longer are functioning. Buntjer starts putting objects together , deliberately avoiding the risk of being wedged into a particular theme or narrative. He lets the story take shape naturally because otherwise the piece would risk becoming jaded or cliched.
Buntjer wisely comprehends that artists do keep an arm's distance from the spectator and viewer, refusing to answer in full even insistent questions from spectators who ask the artist what he or she was going for in creating the art. As he writes in his artist statement, "I don't set out to create something from emotion but I find that once a piece is complete it almost always reveals a deep sense of truth… I think the darkest moments of my life fuel the soul that lives within each piece and I think there is a brutal honesty that transfers through to the viewer."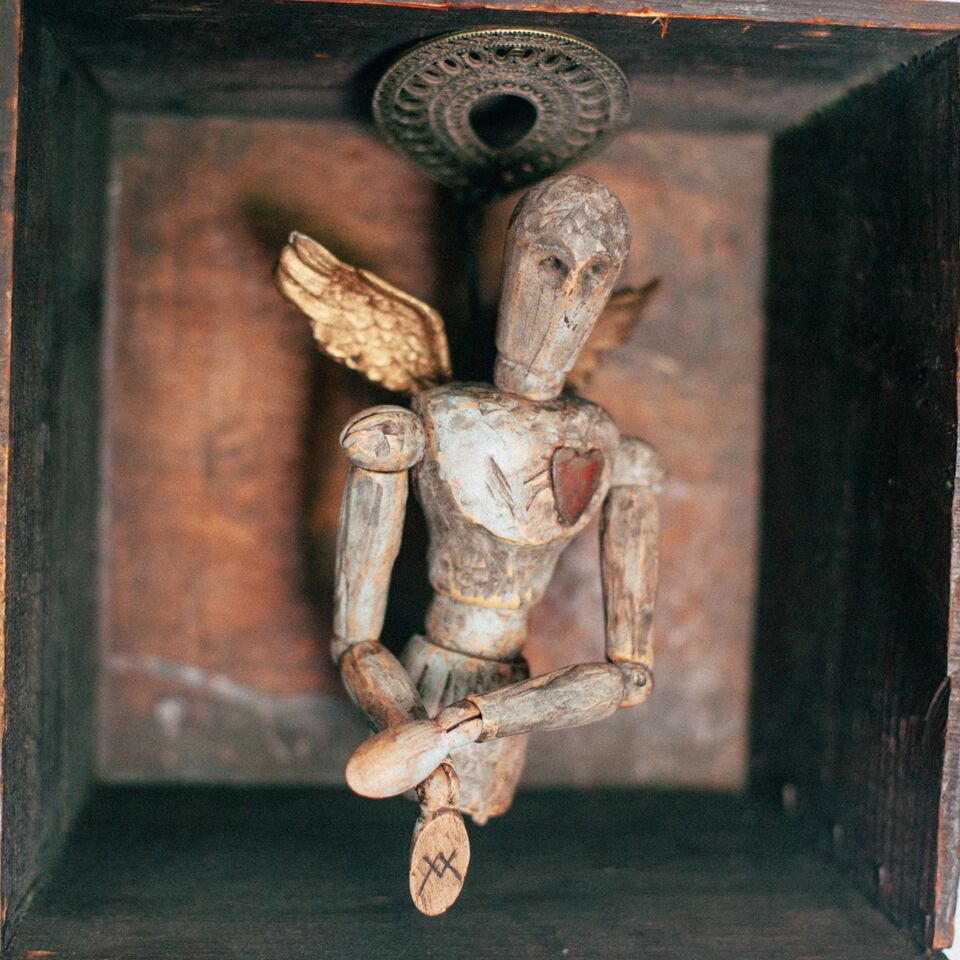 One aspect of exhibitions especially at events such as the Utah Arts Festival is that artists intentionally or unintentionally bare themselves to varying degrees, especially when festival goers have no qualms about offering their straightforward assessment of the work their seeing. Many artists, and not just from the visual realm of creativity but in all forms of artistic and creative disciplines, are reluctant to discuss how they contend with fears and doubts in their own creative process.
Buntjer, who lives in American Fork, Utah, and works in a studio in a Provo building that provides space for 18 artists, also is inspired and influenced by numerous artists including Corey Fox, owner of Provo's Velour Live Music Gallery in Provo and long established California artist Ron Pippin. He also draws upon silent films as well work by Tim Burton and Jules Verne, a particular favorite.
Although he was especially nervous ahead of the festival opening, he soon relaxed and had the support of his father, whom Buntjer says is "his number one fan." While Buntjer has previously been at venues such as Craft Salt Lake, this was the real deal: a blind jury selection in which he was among 615 applicants selected. The acceptance rate for this year's festival was 27 percent. Humbly and prudently, Mister Pauper has found a good home at the festival.
UPDATE: Buntjer received the Artist Marketplace Merit Award, which means he will be automatically invited to the 2016 Utah Arts Festival.