Three local music headliners will give the Utah Arts Festival's Saturday night party edge that much more oomph in a variety of musical styles and influences.
Bassmint Pros (The Round, 9:45 p.m.)
In the midst of the Utah Enlightenment, many local creative producers in every artistic medium, conventional or hybrid, are making their mark. Cast aside the genteel civility and conformity that goes along with and be self-aware enough not to take yourself so seriously that you lose sight of creating art that is enlightened, meaningful and even in its playfulness can still offer worthy substance.
"Good music is good when it pushes the envelope," says Mad Max, one of the four core members of the Bassmint Pros hip-hop collective, which makes its own mark on hip-hop with music that epitomizes the Enlightenment so many are working earnestly toward in the 801/435 and 385 (for all those Utah mobile users out there).
This year's Utah Arts Festival is giving more visibility to hip-hop on several fronts and the BMP collective works effectively with many, diverse roots from its formative years not just in the sociocultural experiences of growing up in Utah but also from the subconscious presence of music on which the members cut their creative teeth: the best traditions of hip-hop but also country, classic rock, heavy metal, acoustics music, punk rock, Weird Al Jankovic, blues, electronica, dance music, Disney pop, and even a church ward hymn. The core members are Beatnic da Diabolik, Ransom, Mad Max and Weird Beard.
Some people in Utah might tell others who are different from them, "we appreciate you," which rings hollow because of its insincerity. However, as evidenced in a witty, easy flowing interview with the core members, when BMP says, "we appreciate you," it means "we like what we're hearing from you and we'd like to make music with you. The members joke easily with each other but they also respect each other's background and training – some have had more interaction with hip-hop in its classic formulations while others bring a different realm of performing experiences to the creative table.
The Collective is expansive, as on its 2015 release Takeover, there were more than a dozen local musicians, spoken word artists and rappers who joined the recording. And, the experiment in egalitarianism works well, as the music and lyrics are accessible and approachable even to those who may have never even given hip-hop a fair listening previously.
Latin Jazz Factory All Stars (Garden Stage, 9:30 p.m.)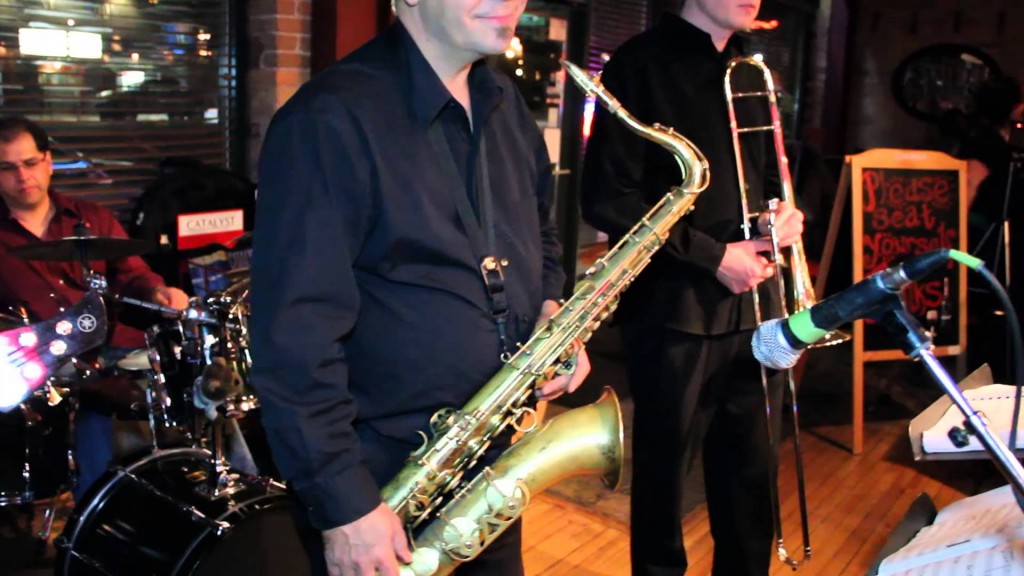 A perfect addition to the celebratory air of an arts festival marking its 40th anniversary, the Latin Jazz Factory All Stars is bringing the ideal flair with its excellent Latin interpretations – incorporating the rhythmic identities of the Mambo, Cha Cha and Bossa Nova – on the best-known jazz standards. The band's catalogue comprises about one-half jazz standards interpreted in Latin musical elements and the remaining half in original compositions.
And, for this year's festival, Carlos Arroyo says the group will perform three original songs composed by members. Escarlatta, by pianist Steve Lindeman, pays tribute to Scarlet, the composer's daughter who lives in Mexico City. A food writer who also is working on her doctorate, the woman – called Escarlatta by her Mexico City friends – is trying to start a restaurant. Arroyo says of the song and its composer: "He admires her courage, grit, passion, drive and determination to make her dreams happen, and this song is an attempt to musically portray those qualities, with influences of the most passionate Latin band (for him), Santana."
A Drop in the Ocean, written by saxophonist John Flanders, is intended as a double entendre. "It's about the importance of having even individual efforts to take responsibility and be aware of our environmental impact on the oceans," Arroyo explains. "It is also a nod to his love of the ocean, and a drop in it would be jumping in for a swim."
The third premiere, also by Flanders, is Wistful While You Work. Arroyo says, "John [Flanders] stated this song came to him when a friend used the word 'wistful' which he loves, and then he went for the pun. He just couldn't resist.
Performing on Saturday evening, when the festival's crowds are expected to be the largest given the forecast of perfect weather, Arroyo says the band expects the crowds to feel the groove, dance and swing the hips. The band, which was formed in 2005, has enjoyed a steadily growing demand for its particular style of music, which is inspired by the likes of Poncho Sanchez, Dizzy Gillespie, Eddie Palmieri ,Cal Tjader and Chucho Valdés. In addition to a regular appearance at The Bayou, gigs include weddings, conventions, corporate functions and private parties.
The Soulistics (Park Stage, 8:45 p.m.)

It would be reasonable to say that The Soulistics might be one of the best-known and best-loved party bands in the Salt Lake City metropolitan valley. At its last festival performance two years ago, the crowds responded as energetically as usual and the band's appearance at this year's anniversary festival will likely be as enthusiastically welcomed.
"We'll be doing a medley of Prince tunes along with Bruno Mars and Uptown Funk, among many that I'm sure the crowd will recognize," Rick Jackson, vocalist, says. Jackson says that when the group started, it was focused on performing the B-sides of many soul classics from the 1960s and 1970s. "They were, of course, appreciated by the hard-core musician," he explains, "but a lot of people didn't really know them so we now only occasionally will do some record backsides."
Jackson says it is gratifying to hear reactions from younger people who hear and recognize a classic old school song from Earth Wind and Fire, Tower of Power, Barry White, Al Green, James Brown, Philly Soul and Motown. Indeed, it is a hopeful sign for that legacy's timelessness.
The band also has an impeccable portfolio of performers. Jackson has been active in the Salt Lake City music scene for more than two decades and he has performed regularly with some of the best-known names on the concert circuit. Also on vocals is Carrie Scott, a well-known performer in Utah and she also has written and produced her own music which cuts across many musical boundaries. Guitarist Mike Moran grew up in the Detroit area, rarely ever missing his uncle's group perform – that is, Chick Corea. Moran started performing as a teenager and has opened for several bands including Switchfoot and Sixpence None The Richer. Ben Johnson started out on pianos and gained his musical experience in choirs but his love of R&B, soul, and funk motivated him to learn the upright bass and do his jazz studies at The University of Utah. He also is one of the most familiar musicians in the valley as a teacher, performer and composer.
A pianist who also holds a master's degree in electronic music, Adam Holladay handles the electric piano and Hammond organ for the band – and his influences, are, as he describes them, "the two Herbies, the one Stevie and the one and only Dudley Moore." On drums, Jarod Manis played his first gig at 13 and since them has performed with many bands ranging from heavy metal to big band swing. On trumpet, Eric Devey also has explored a good deal of musical territory, including brass quintets as well as ska and funk. His performance credentials include performing with great jazz musicians such as Gordon Goodwin, Toshiko Akiyoshi, and Peter Erskine.
The band's pair of saxophonists also have extensive credentials. Scott Moore, a tenor sax, had musicians in his family and has developed his musical skills with influences such as John Coltrane, Chet Baker, Jimmy Giuffre and Maceo Parker. On baritone sax, Tony Rico, a passionate advocate for the neo-soul sound, is one of the original members In addition, Rico also has been following Afro-Cuban, Brazilian and Latin Jazz music.