Opening night Utah Arts Festival headliners cover the gamut of musical influence — from acoustic folk punk rock to the versatile virtuosity of the Chapman Stick to the original arrangements of classic Frank Sinatra songs and a savvy electronic music duo.
And, of course, The Young Dubliners (9:45 p.m., Amphitheater Stage), one of the best known purveyors of Celtic Rock music but who also represent much more than that genre label. While only two of the band's five members are from Ireland, the Celtic riffs come easily to all of the musicians with influences coming from various rock sources including Thin Lizzy, The Pogues, The Waterboys and U2. Their last album Nine from 2013 was the band's first independently released compilation.
Millie and The Moths (7:30 p.m., The Garden Stage)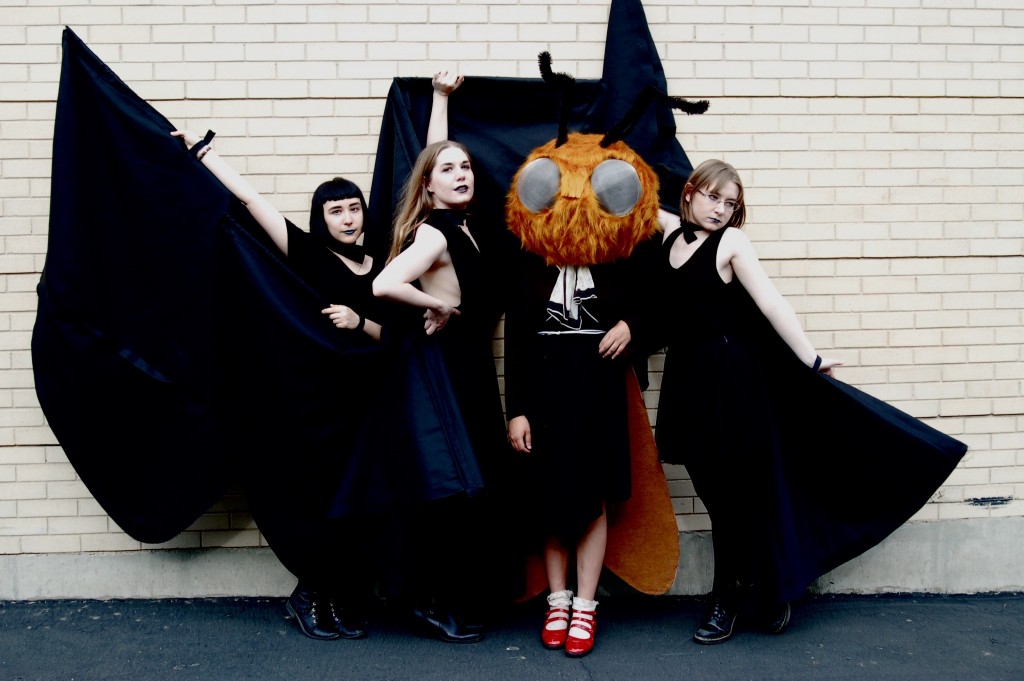 When it comes to writing music for their three-piece acoustic folk punk band Millie and The Moths, Millie Montag and Laura Slusser are like Star Trek's Captain Kirk and Dr. Spock in terms of musical ideas. "I'm the one with the crazy difficult ideas and Laura is the mathematical one," Montag says in an interview.
The sisters come to music from different backgrounds. Montag, who completed her philosophy degree at University of California-San Diego, says she is logical yet passionate about Russian literature; the works of Nietzsche, Sartre and Existentialism in general, and darker musings about mortality and spirituality. A physics major with a math minor at the University of Utah, Slusser is an accomplished musician who has studied music theory so she handles the instrumental parts for the songs performed by Montag and fellow band member Ysa Pitman who handles vocals and plays violin. "I loved jazz piano so I love figuring out and improvising the chords for the songs," Slusser adds.
The band's hybrid nature works perfectly given the smart and substantial musical heft of its steadily growing catalog. There is definitely a nod to the Violent Femmes and P.J. Harvey, a definitive role model for how she has defied the genre labels of her own music-making. And, Millie and The Moths undoubtedly are distinctive in their sound, given the way their relationship with music has developed. The sisters' parents listened to a lot of folk rock and music by Joni Mitchell as well as Simon and Garfunkel.
"However, I went the opposite of my parents' likes — with post-punk," Montag explains. Meanwhile, Slusser has been drawn to Charles Mingus, the bass lines and the switch ups in instrumental sounds and textures from glockenspiel to accordion and to baritone spaces. These influences are hardly disparate as the band members realize the best emotional intuitions of both pop and jazz — respectively, the roots of both sisters' formative appreciation of music. And with Pitman on violin, the tonal palette becomes that much more versatile.
Montag, who says she is shy off the stage, explains that when a performance starts, a switch instantly flips. "I get up there and start shouting, exhilarated by the great music. It's somewhat like vaudeville, punk and Judy Garland all at once." Afterward, Slusser says, "I'm picking up the pieces. Seriously, I love performing and started with recitals which have that distance between stage and audience. Here, it still can be a bit unnerving with people near the stage or trying to climb aboard."
Cause and Affect (9:15 p.m., The Round)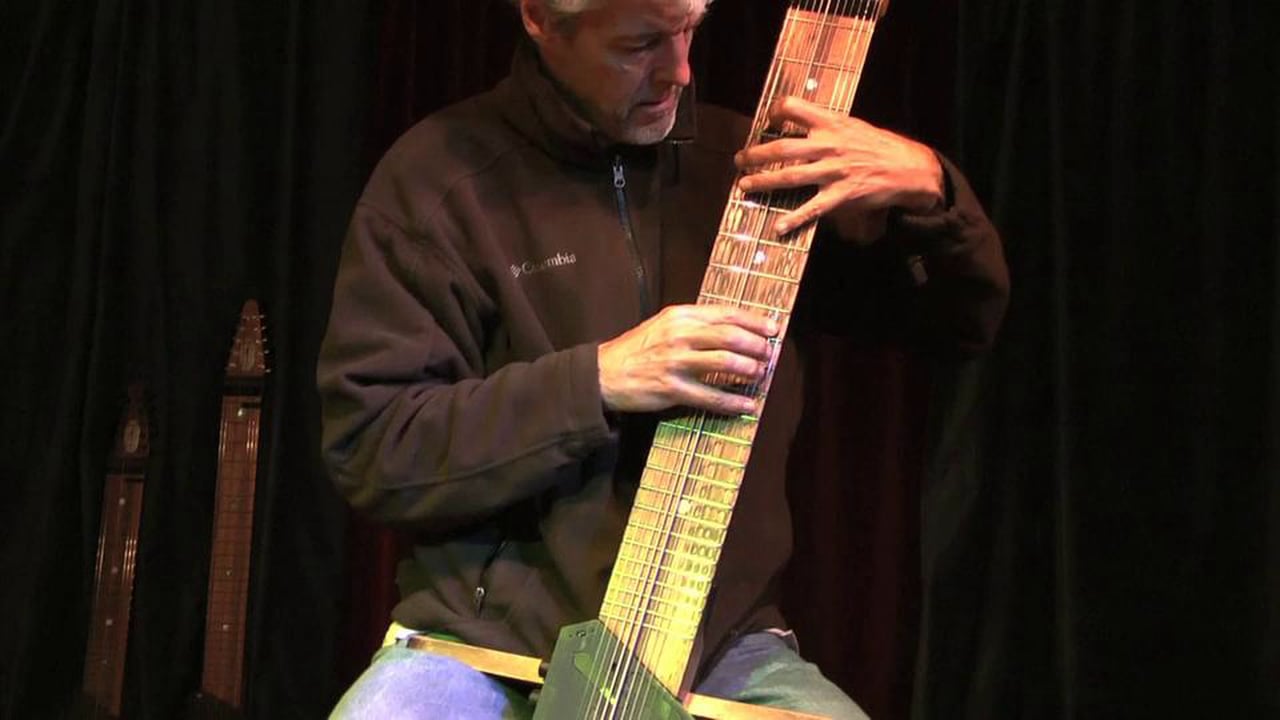 Forty years ago, when Bob Culbertson was teaching guitar in a music store, he became fascinated by the Chapman Stick, an electric guitar instrument usually with 10 or 12 strings with polyphonic chordal features that can cover several musical lines simultaneously.
Designed by Emmett Chapman in the early 1970s, the instrument has enjoyed various levels of attention but none as so widely recognized as in the efforts of Culbertson, who has demonstrated its musical capabilities for the last several years at the festival in a space within the Artists Marketplace. This year, he and drummer Rick Alegria will perform as Cause and Affect, truly a virtuosic guitar-percussion duo. This opens up many opportunities for compositions featuring the Stick.
A musician who started out in the bluegrass style, Culbertson says in an interview that, at 21, he became fascinated by the Chapman Stick and has been playing it for so long that he hasn't really thought about how hard it was to make the switch from traditional guitar to the Stick. There are some versatile advantages for either the beginner or the advanced player. Half of the strings are tuned in fourths while the remaining half is tuned in fifths — offering the consistency for the new student to learn quickly how to play basic chords. For the advanced musician, the possibilities open up widely with microtonal capabilities and, of course, playing larger, full-voiced chords with lots of fingering patterns and rubs, ranging up to four and even five octaves of notes under each hand's fret position.
When Culbertson purchased the instrument in 1976, he paid $580 (which in today's valuation would be nearly $2,500). Today, the instrument generally retails for under $2,000.
Today, Culbertson's reputation as the principal performer on the Stick is essentially unchallenged. Chapman, who will be 80 this year, compares him to the late Andres Segovia, the Spanish musician widely regarded as the grandfather of the classical guitar performance style. Culbertson's YouTube performance and instructional videos have been viewed by millions and like an increasing number of music instructors, he offers students lessons over Skype, a great platform for the purpose.
The Phoenix Jazz and Swing Band with Jack Wood – Sinatra Centennial Salute (10 p.m., Festival Stage)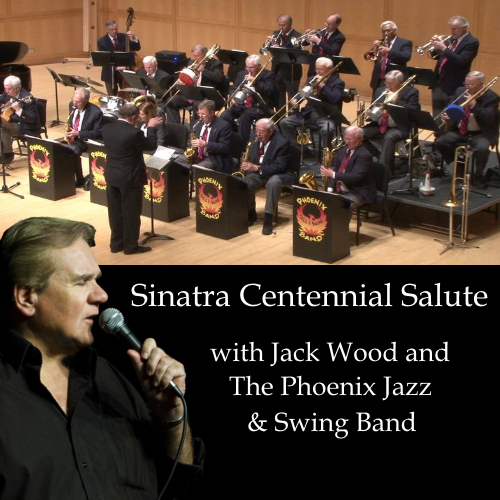 In the 18 years since Frank Sinatra died, his reputation and legacy continue to grow. The recent centennial observance of his birthday revealed that Sinatra's connection is as strong as ever, especially among younger generations who only know his voice through recordings and videos. Add to this the resurgence of interest in ballroom dancing and the classic big band sound of Glenn Miller, Tommy Dorsey, Harry James and Count Basie, thanks in part to the network television blockbuster Dancing With The Stars.
Festival audiences are in for an outstanding glimpse into the authentic sounds of the arrangements that made Sinatra's songs unforgettable, both in instrumental and vocal parts, when The Phoenix Jazz and Swing Band, led by Henry Wolking, and singer Jack Wood perform a centennial salute to Sinatra.
Wood, a graduate of Brigham Young University's music school, appears regularly at Southern California's most popular jazz club. In 2014, Wood performed at a sold-out concert at BYU with Vincent Falcone, Frank Sinatra's long-time music director and a 66-piece orchestra. They performed two encores and received three standing ovations from a standing-room-only audience.
Recently, The Phoenix Band, thanks to the efforts of trumpeter Randy Dalton, has secured many original arrangements of Sinatra songs, including those by Harry James which have not been used for decades. Dalton, who had noticed that some of the arrangements were being sold on eBay, discovered that they were part of the records of Pat Longo, the longtime bandleader whose group also had performed with Frank Sinatra, Jr. Longo had played saxophone and clarinet with the Harry James Orchestra before forming his own band in 1978. Longo was in the process of moving from southern California to New Jersey for retirement and had intended to leave more of his papers behind.
The original arrangements capture the tremendous virtuosity expected of players in one of the most famous big band ensembles of all times. As Dalton explains, "these are signature Harry James tunes." And, there are gems from Count Basie, among others. The charts, as Dalton says, reflect "all of the most famous musicians and their amazing artistry."
There are many prime musical chestnuts available, including many of the tracks that were featured, for example, on the phenomenal 1998 Sinatraland album with Patrick Williams and his big band. They include All The Way, I've Got You Under My Skin, In The Still of The Night and Saturday Night (Is The Loneliest Night of The Week).
As for the band, which has been playing for a quarter of a century, this is a milestone performance. On July 5 at 7:30 p.m., the group along with Wood will perform a free, public concert at The Gallivan Center. As a 501(c)(3) non-profit organization (supported in part by Salt Lake County's Zoo, Arts, and Parks program) the band's educational and community outreach includes regular performances at schools and senior centers across the valley.
Conquer Monster (10:15 p.m., The Round)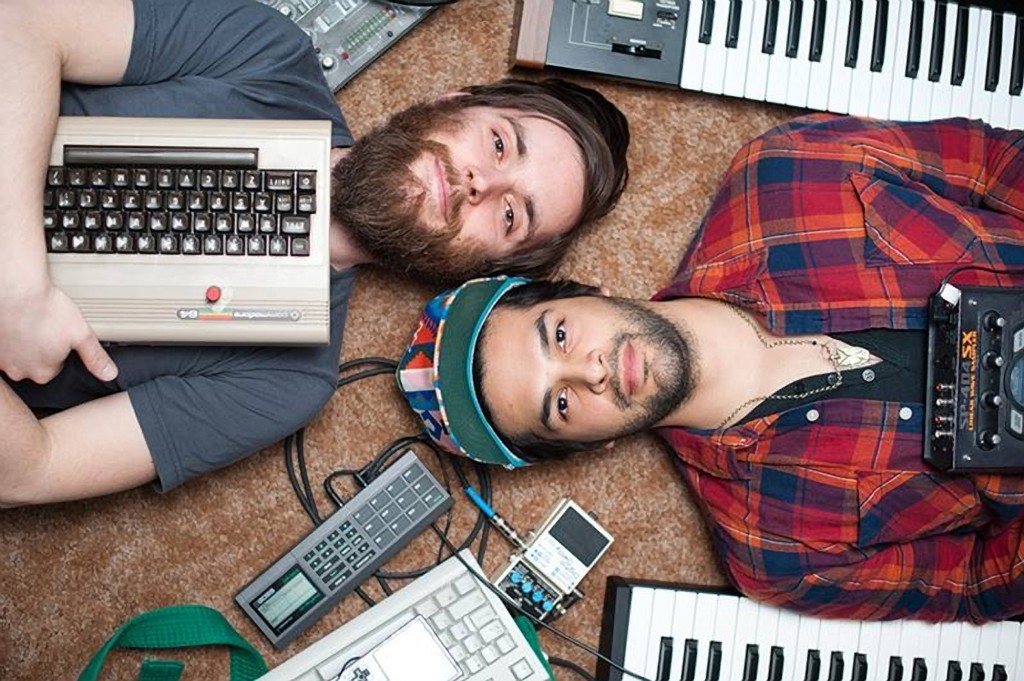 The Round is a tremendous venue for musical egalitarianism and experimentation and the locally based Conquer Monster leverages many possibilities in combining the analogue hum of vintage synth rock, the pulsing club beats of modern electronica and the nostalgic 8-bit sounds of the 1980s into their sci-fi space jams. Joshua Faulkner and Daniel Romero comprise the Conquer Monster duo and they will be joined by Tanner Hawkins who will add his own glitched-out video art to the performance. The duo recently answered several questions in an email interview and their response are featured below.
TUR: What are your formative influences and musical training experiences? And what consolidated your interests in electronic music?
Daniel: The earliest formative influence I can remember is the memory of going to my grandma's house as a child and playing music on her toy Casio keyboard. I would gravitate towards it every time I visited. My loving mother then got me my own Casio, and I had about a year's worth of piano lessons when I was eight. In my adolescence I started playing guitar and spent most of my time covering Neutral Milk Hotel and Modest Mouse songs. In high school I was heavily influenced by The Unicorns and my best friend Sawyer Vaughn. He had the first analog synthesizer I ever played (Roland Saturn 09). Shortly after high school I got my first analog synth (Korg Delta) and drum machine (Roland TR-505) and my electronic space station has been evolving ever since. Synthwave, nu-funk, vaporwave, chillwave and synthpop are genres that keep me heavily influenced in electronic music today.
Joshua: I've always liked the use of vocal samples with instrumental music, so that's why I connect so much with bands like Man or Astroman? and The Books. I have no formal musical training, but I've been creating and performing original music since I was in high school. Music and electronics are two of my passions. In high school I started modifying obsolete computing equipment and early generation gaming consoles into musical equipment, but never used them to make music with. The pile of potential music machines started to depress me, so I stopped making synths and started making music.
TUR: At the festival, we are seeing this year a solid representation of many musical styles and practices, including folk/acoustic music and perhaps the strongest expansion of electronic music we have ever had. I think that there are lots of similarities between the worlds of folk/acoustic music and electronic music, in particular, because I see your work as a grassroots technologists in democratizing the world of music creation and performance in ways that certainly were not possible before. Yours and your fellow band members' thoughts on this would be appreciated. This, of course, segues into the next question.
Joshua: It's interesting that you bring up a link between folk and electronic music. Woody Guthrie is my all-time biggest musical influence, but life brought me to electronic music. In the 40s folk music had the lowest barrier to entry. As long as you could get a hold of a guitar you could make folk music. Today, electronic music fills this role. All you need is access to a computer, free or inexpensive software, and some imagination and you can make music. Our process is a little more complicated than this, but this is definitely a good starting point for anyone curious about electronic music. Also, the Internet has made it possible for anyone to distribute their music for free. On one hand this has taken away some of the power of the larger record companies and given it to the artists, but it has also contributed to oversaturation, which makes it hard to find stuff you actually want to listen to.
Daniel: The biggest similarity for me between folk and electronic music is the emotional bonding experience it can have for the performers and the audience. The art of storytelling is something that has always drawn me to folk artists like Joanna Newsom, Neutral Milk Hotel, and Iron and Wine. I really enjoy telling stories without words though, and it's an apparent focus of ours in CM. We love creating an array of different emotions using the many textures we get from our instruments, especially in correlation with our comic book.
TUR: Your approach to instrumentation is enterprising in the greatest and most positive sense of the word. I'm interested to learn more about how you have developed and perfected this over the years, as you continue to write and perform new music.
Daniel: Hours of research and geeking out on Vintage Synth Explorer and watching YouTube demo videos of synths. Most of all I just love being in my room surrounded by various noise makers. There's nothing like having a cup of coffee on Sunday morning and letting my mood and thoughts shape the sounds around me. Songwriting feels like home to me.
Joshua: I've built or modified all of the instruments I use, so they are fairly unique. My favorite instrument to use is my Commodore 64 in conjunction with a low pass filter. These older-than-me machines are able to create grittier, noisier and oddly more organic sounds than you typically find in modern electronic music. This grit is a key component to our sound, which adds a nice contrast to the prettier sounds that Daniel creates.
TUR: Metatransit is like this wonderful little catalogue of all types of electronic sounds and musical influences. What was the creative process like for each of you in bring this release to fruition?
Joshua: Back in 2013 Daniel and I decided that we wanted to write a sci-fi concept album that told the story of an assassin living in a futuristic dystopian world. To help guide our songwriting we brainstormed some details and came up with a setting and a few details. We eventually found ourselves pitching these ideas to Black Omen Comics. They loved the concept of a comic book with an accompanying soundtrack and started developing the story and artwork for the comic. We worked closely with Black Omen, as they developed the story, it influenced our song writing and as we developed new songs, it influenced their comic book writing. It was true collaboration at it's best.
Daniel: Working with Josh has been a huge step in songwriting for me. I couldn't ask for a better bandmate. He was very receptive to me bringing ideas and sometimes full songs to practice and we'd rework and record them, and they'd really come to life with both of our personalities. Metatransit is my first album and my greatest musical achievement at the moment.
TUR: What do you plan for your performance at the Festival, especially given that you will have the potential to reach quite a few new people who may never have heard of Conquer Monster before?
Joshua: We want people to know that even though we are primarily a music project, that we care about our aesthetic and love collaborating to push the boundaries of what people should expect from an electronic duo. At UAF we are collaborating with a local glitch-video artist named Tanner Hawkins. He will be doing live, projected video manipulations in synchronization with our music, which adds another layer to our live performance.
Daniel: We're constantly striving to make our live set the best it can be, and most of all we just want everyone to have fun. People can expect thumping dance beats and spacey synth leads and occasional cyborg vocals. We're really excited to share our sci-fi jams in conjunction with Tanner's glitch art with the UAF crowd.