Sometimes art's most appreciated beauty arises randomly to the observer's delight. The cathedral-like atrium in the City Library's Urban Room, just one of the many high-traffic areas of the Utah Arts Festival, is a musician's dream for acoustics, especially for opera singers. Perched in the middle of the overhang on the second floor, a singer can send his or her voice soaring in volume without any need for amplification.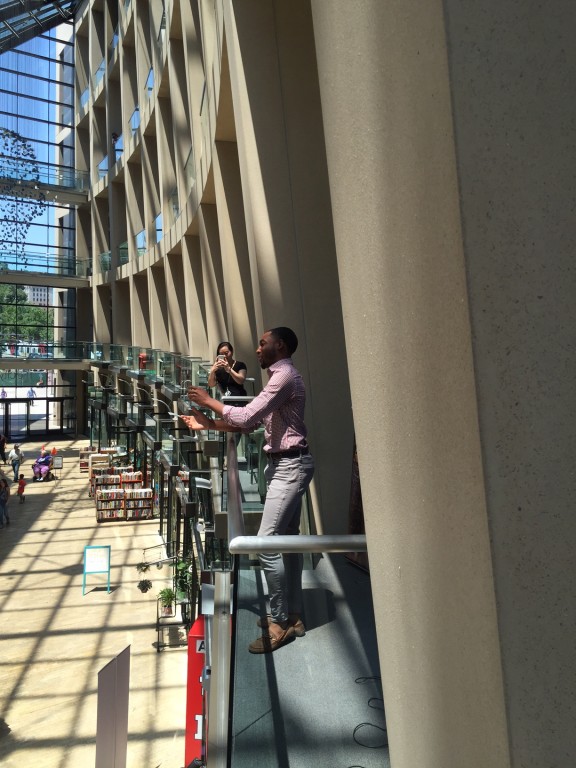 Enter the Utah Opera which is presenting 'Random Acts of Opera' at several times during the festival with a short yet diverse sampling of arias, musical theater standards and other art songs, courtesy of two of their up-and-coming resident singers and an accompanist. The outreach initiative, coordinated by Paula Fowler, education and community outreach director for the Utah Symphony and Utah Opera, has been an ongoing effort with the City Library. "In fact, the library purchased a portable piano for such events and singers from the opera often come and offer five to ten minutes of music for an impromptu performance," Fowler says.
Markel Reed, baritone, and Clara Hurtado Lee, soprano, are participating and their own backgrounds suggest how community outreach can be an influential element in sparking interest about opera. "Originally, my focus was on engineering," he says. "I always have loved math, science, physics and calculus but I had a chorus teacher in high school who was urging me to pursue music in college even though I didn't think I had a voice."
Reed, whose baritone voice immediately charmed passers-by in the library during a Thursday performance with selections that include Broadway, Sondheim and Strauss, majored in opera theater at the University of Kentucky in Lexington. His repertoire is focused on Mozart as well as French and Bel Canto opera, including most notably the roles of Leporello in Don Giovanni, Morales and Dancaïre in Carmen, Papageno in Die Zauberflöte, Schaunard in La Bohème, and Guglielmo in Così fan tutte.
Early on, it might have seemed that Reed was destined to be a tenor but it became apparent that he could develop his range as a baritone where many intriguing roles often have virile, meaty, imposing lines of singing. And, he fulfilled a dream to work with the Lyric Opera of Chicago.
Reed also has seen directly the impact of outreach efforts in other settings. In Kentucky, he traveled throughout the state with SOOP (Schmidt Opera Outreach Program), as the title character of Jack and the Beanstalk for more than 2,000 children.
Like Reed, Lee originally aspired to a career in science – as a marine biologist. Her glittering soprano voice generously filled all of the space in the Library Urban Room during a Friday afternoon performance. She has appeared with many top Utah performing arts companies and internationally with La Musica Lirica in Italy. Her opera roles include Mimi, Musetta, Lucia, Pamina, Adina, Madame Herz, Micaela, Sophie (Rosenkavalier), and Susanna (Nozze).
She won first place for the Cal-Western Region in the prestigious National Association of Teachers of Singing Artist Award Competition. Subsequently, she was a national semifinalist in Boston, where she won the Harold Stark Award.
Accompanying Reed and Lee is Emily Williams, a University of Utah alumna of the music school. In addition to working with the Utah Symphony and Utah Opera, she is vocal coach at Westminster College as well as an accompanist for the Westminster Chamber Singers, Chorale and the Opera Studio. She also works as an accompanist and coach for several voice studios at the University of Utah. Williams also spends her summers in Italy with La Musica Lirica, a summer opera program for young American performers. She has and continues to work with Utah Symphony and Opera.
Two performances remain on Saturday afternoon (at noon and 1 p.m.).