Just Google the terms "upcycling and kid's art," and pages upon pages of ideas for do-it-yourself art projects will pop up that mostly ask for inexpensive items that most household family members often throw into the trash without a second thought.
The term is more popular than ever. It was coined by Reiner Pilz who was quoted in a 1994 interview for Salvo, a monthly publication about architectural antiques and reclaimed building materials. The topic was a forthcoming European Union initiative about how to handle the enormous amounts of demolition waste that come when buildings are razed for new projects. Frustrated that people had misunderstood what recycling meant, Pilz said, "I call it downcycling. They smash bricks, they smash everything. What we need is upcycling, where old products are given more value, not less."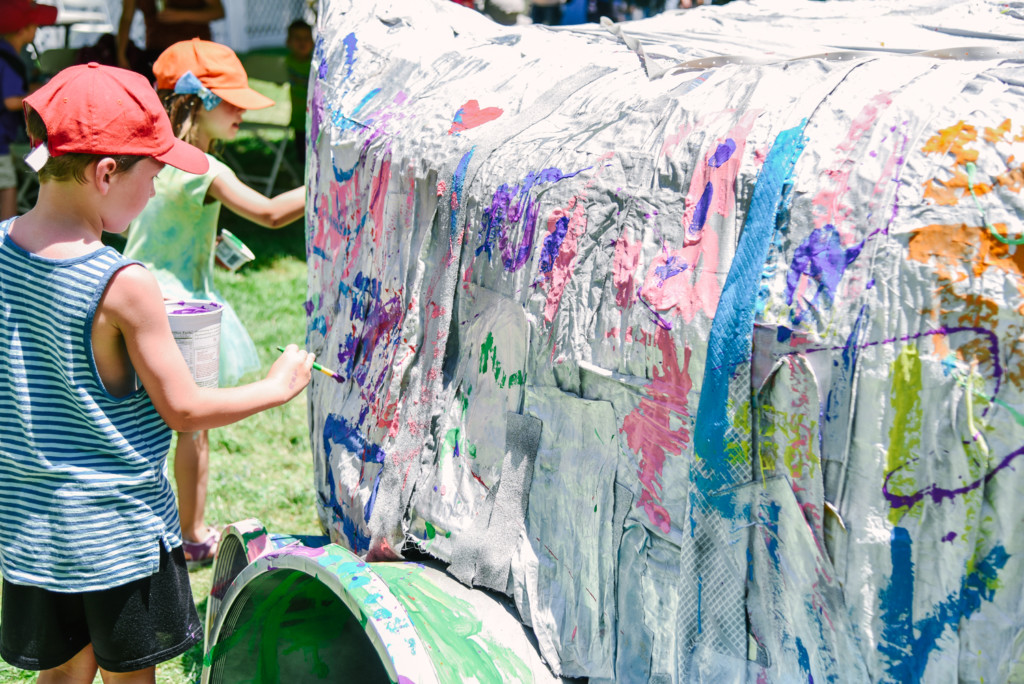 Upcycling has become one of the fastest growing movements in the visual arts. At the Etsy website, which features many artists specializing in handmade and vintage items, the search term for upcycling exploded in just three years, from 7,900 in 2010 to more than a quarter of million three years later. Visitors at this year's juried Artist Marketplace in the Utah Arts Festival will see many examples of artists who work with upcycled materials.
And, perhaps the most extensive and potentially most consequential use of upcycling as a creative form of expression in the visual arts will be found at the festival's Kids Art Yard, one of the most popular venues at the event which also has managed to build a cohesive program each year with the help of some of Utah's best known museums and art organizations.
Long before the summer heat arrives and often in the midst of the dreariest winter days in Utah, Maggie Willis, the Kids Art Yard coordinator, already is collecting materials that will be upcycled into imaginative projects for the festival. In January, she contacts neighbors and friends as well as business owners to collect numerous items including the paper tubes for toilet paper and containers and lids that often might be disposed in recycling bins. Every year, volunteers work with the kids on a sculpture that is made from cardboard and discarded fabric remnants. "The whole idea is to turn it into something new," Willis says. "Every year, I will hear from parents who are surprised to discover that they can take something as simple as yogurt carton lids and turn them into art projects. They'll say, 'You mean I don't have to spend $50 on materials for art projects.'" More simply, Willis says, "Everything has a purpose."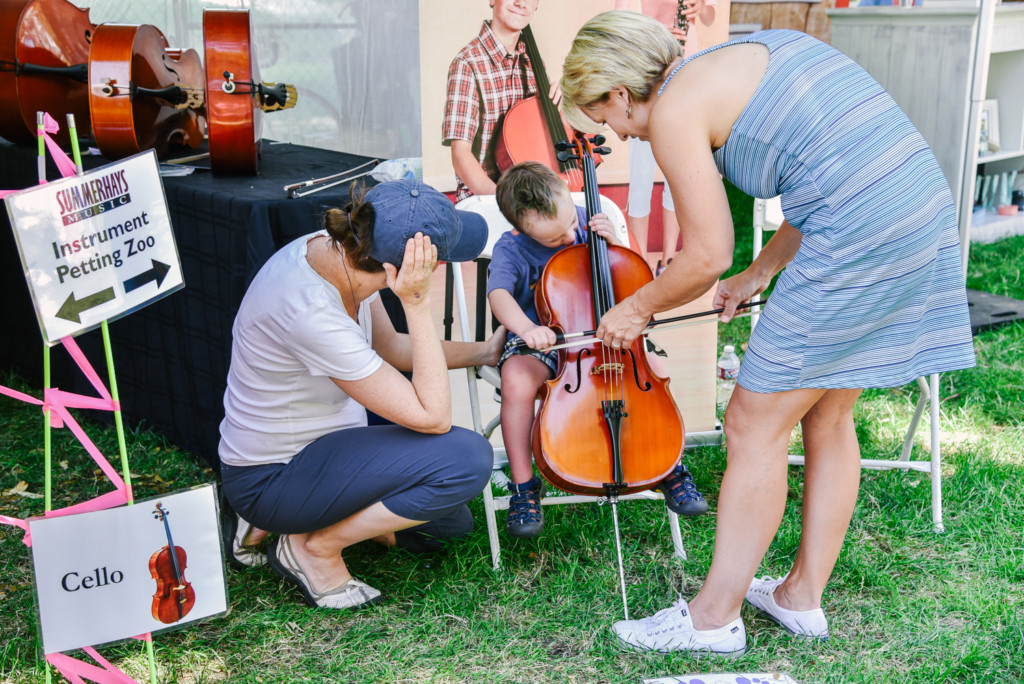 The Art Yard, which is open all four days of the festival from noon to 9 p.m., is a model lab of creative expression by eager young artists who work on imaginative projects not only incorporating upcycled items but also on activities organized by nonprofit partners. These include a kids' version of the festival's international Fear No Film program and an instrument petting zoo, sponsored by Summerhays Music Center, one of the most popular perennial features of the Art Yard.
This year's theme for the Art Yard focuses on past, present and future cultures all over the globe which depend on the oceans for exploration, adventure and survival. Willis says she always appreciate the willingness and the creative suggestions the sponsoring nonprofit organizations offer in ensuring the make-and-take projects are substantially educational and entertaining for kids.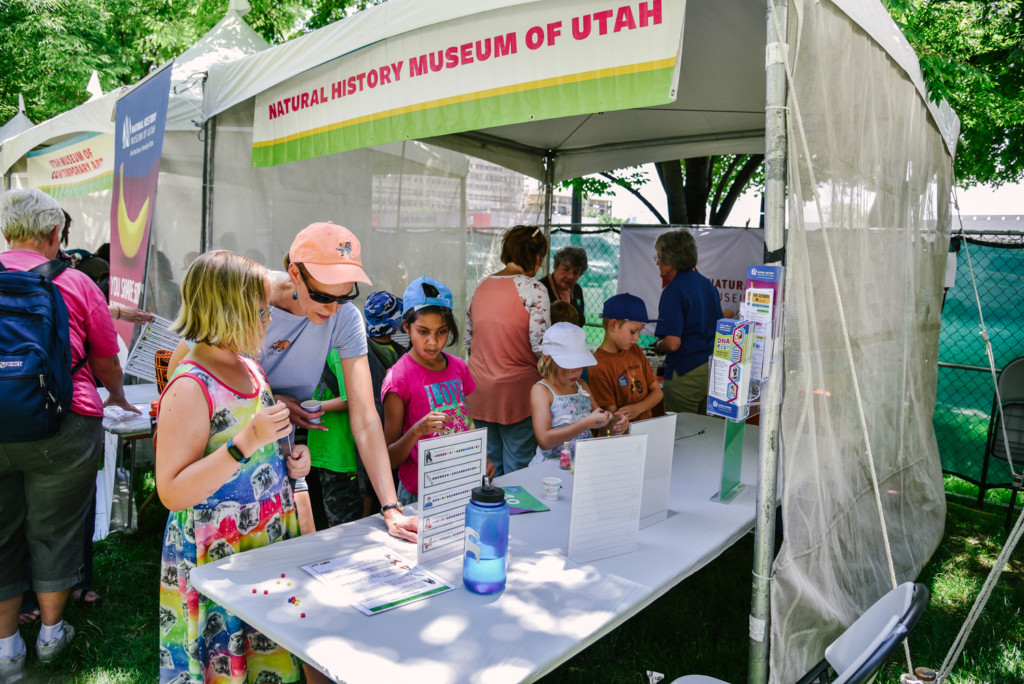 For example, Art Access, a local nonprofit which emphasizes public engagement through the arts as well as reaching out to persons in marginalized communities as well as individuals with disabilities, will sponsor a booth where children can make their own under-the-sea themed hat to wear. Craft Lake City, one of Utah's most active organizations in Do-It-Yourself crafts and arts that often combine science, technology and art, will sponsor a bioluminescent jelly fish project where kids can create an illuminated jellyfish model that jiggles and glows.
Others include the Natural History Museum of Utah, one of the most popular destinations for residents and tourists, which will provide volunteers to help youngsters explore the world of the Vikings and to create a take-home project that will make participants feel like a seafaring warrior. Just last month, the museum opened an exhibition of more than 400 artifacts including jewelry, funeral urns, weapons, game pieces, clothing, and even a piece of 1,000-year-old Viking bread – many of which have been displayed outside of the Scandinavian region.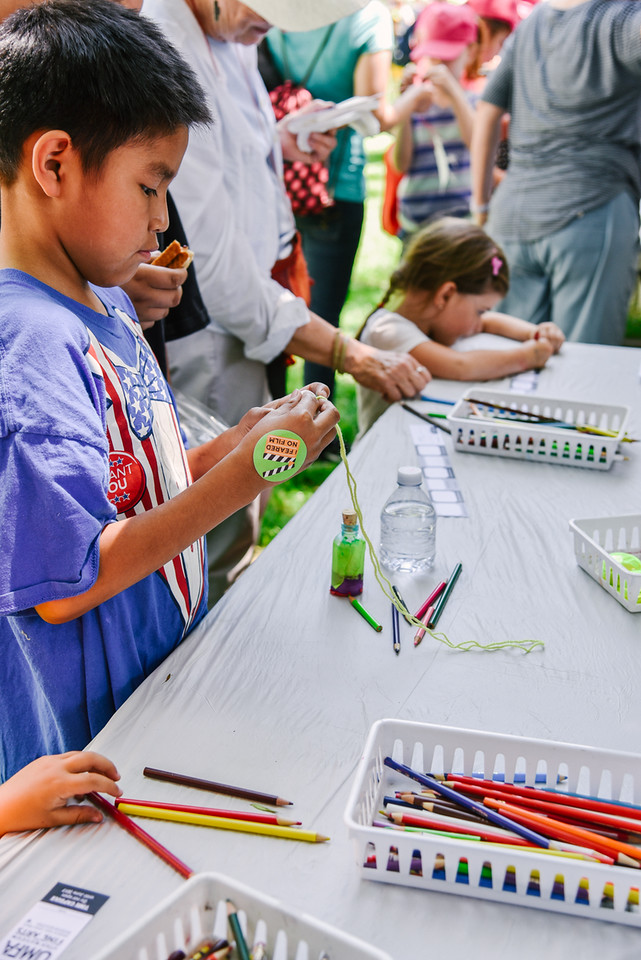 Tracy Aviary, the country's oldest and largest bird parks, will help children learn about nautical birds. Children will learn how to craft bird beaks while volunteers demonstrate which bill designs are best made for scooping up fish and other food in the water.
The Utah Museum of Contemporary Art, marking more than 85 years on the local art scene, will sponsor a project where participants can create their own miniature lighthouse out of eco-friendly materials to guide them into understanding the value of a more sustainable future on land and at sea. And, the Utah Museum of Fine Arts is inviting kids to learn more about traditional Japanese seascapes and the art of Gyotaku fish prints. They also will make their own rubbings and drawings of fish.
And, the festival has activities for kids in areas outside of the Art Yard, including the Mad Hatter venue, where children can make their own version of a Mad Hat. In addition, the festival has a toddler zone, with activities suitable for children under the age of 4, along with booths for face painting and airbrush tattoos, available for a nominal fee.