This year's Artist Marketplace at the Utah Arts Festival represents a continuing evolution in how artists are using media in original ways to leverage the strongest possible forms of expression in their aesthetics and technique. There are examples of repurposed materials for 3-D media art works including model airplanes made out of beverage cans, new expressions of the marriage of science and art such as the wave recordings of sound that are cut into wood, fresh takes on vintage forms such as woodblocks and photographs in which significant depth effects are created with etched glass laid over vintage maps and stunningly real oil paintings of urban landscapes, just to name a few examples.
The total of 174 artists includes nine returning awards winners. Of the 615 artists who applied to be in this year's event, 165 were selected, in addition to the returning participants. The marketplace represents 55 artists from Utah and 119 from outside of the state (watch The Utah Review coverage throughout the next several weeks for individual artists' features). More importantly: 56 are making their first appearance at the marketplace (nearly one-third of the entire list).
Among the artists featured are last year's award winners, who automatically were selected for the 2017 event. They include:
Alex Horst, Jewelry, Prescott, Arizona (Best of Show, Sponsor Jury Award), Booth 30:
Horst's jewelry features simple, clean lines in classic geometric expressions. With pieces including necklaces, earrings, rings, pins and cufflinks, he then adds gemstones, sparkling or opaque, to create visual texture, brilliance and balance, along with gold or silver to complete the functional frame for the stone.
Ken Acton, Wood, Billings, Montana (Best of Show, Board Member Award), Booth 84:
Using just one piece of wood, Acton makes his sculptures from materials that already are unique in color and natural marks so he does not paint or stain the completed art work. Some of his most popular pieces come from maple burl, cypress and cottonwood.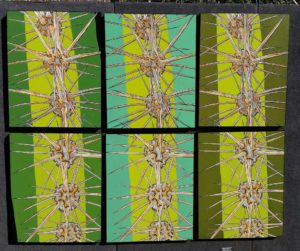 Jake Asuit, Metalwork, Cleveland, Georgia (Best of Show, Artist Marketplace Award), Booth 160:
Asuit's knives are forged by hand, using high carbon steels, spring steel, bearing steel and nickel, as well as re-purposed steel from tools. He also works with his son, also named Jake. Asuit's artistic statement is plain-spoken but elegant:
As a father and son team, who loves the outdoors, the hunting and fishing that goes along with it, we decided we needed to express our artistic talents with stag, steel & stone, which led us to the knives we now build. As the father growing up in Utah, opportunities were vast to hunt and fish the surrounding areas like Utah, Wyoming, Colorado & Idaho. Knives have always been a part of my life. I was very excited to introduce them to my son Jacob, the other Jake.
Stephen and Bonnie Harmston, Graphics and Printmaking, Chandler AZ (Best of Show, Gallery Association Award), Booth 88:
Harmston works with serigraphs, which became popular in the 1930s as American artists sought to distinguish their work from widespread silk commercial screen printing. Pop artists during the 1960s were particularly drawn to the process because of the potential for striking and bold colors on the flat surface. The couple work together and in a January 2017 blog, Bonnie Harmston discussed how they overcome their differences in their collaboration. Bonnie has been drawn more to the minimalist aspects of pop art expressions while her husband enjoys the detailed cuts of the stencils. She explains how they resolved the problem:
The challenge became how to keep the piece interesting enough for Steve to work on with his aesthetic but retain the look I wanted that would be bold and different enough that it would not be a direct interpretation of the image I took. The goal was that whatever we ended up with would be a piece that would be graphic enough that people wouldn't even really know what it was. So as we talked it through we decided to make it twice as big first. Then as the background printing began the whole piece took a drastic and for us a risky turn. What if we made three different pieces with different backgrounds? Since we only had enough paper for six individual panels that meant there would only be two full sets when we were done. That's if nothing went wrong! So we moved forward and kept cutting.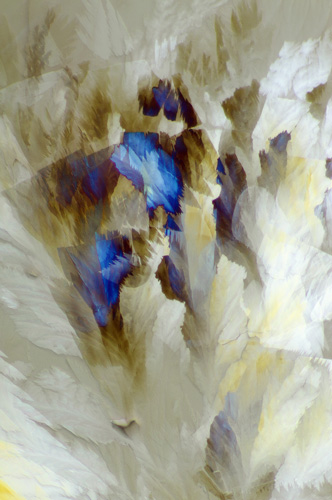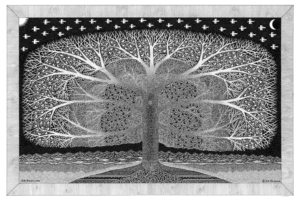 Lee Hendrickson, Photography, Goodyear, Arizona (Award of Merit, Sponsor Jury Award), Booth 7:
Featured in a 2016 article as part of The Utah Arts festival's coverage, Hendrickson's photographic art, with crystals, which he grows from a solution, is the culmination of a lifelong fascination with the distinctive manifestations of beauty in both art and science. What happens in his work is a sophisticated, significantly advanced version of the Rorschach ink blot test protocol. However, one would be foolhardy to contend that they know what had to transpire in order to create the images which constitute his art.
Three elements are always at work in his art: the highly technical and sometimes idiosyncratic aspects of crystallographic methodology, the techniques of high magnification photography, and a mature, rigorously tested artistic eye which has been trained to see and represent a natural world profoundly different and ever challenging our previously set perceptions. For his work, Hendrickson selects molecules from products and liquids with which we are all familiar – including caffeine, a fruit's citric acid, resveratrol from wine or acetaminophen. The only requirement is that whatever he works with will have the potential of generating a seemingly infinite number of crystalline compositions. The image he ends up photographing covers a field that is no larger than a pinhead. He uses an Olympus BH2 microscope with a trinocular head to which is attached a Canon 5D (20mp) camera. The digital images are captured directly to a computer.
Eli Helman, Drawings/Pastel, East Hampton, Massachusetts (Award of Merit, Gallery Association Award), Booth 51:
A self-taught pen-and-ink artist, Helman refers to his style as 'maximalist,' blending in themes that can be about nature, animals or music with decorate elements and folk art shapes, patterns and images. Much of his work is intended as a cultural commentary, as suggested by the surreal and even cartoon-like tone of his drawings. The concept of maximalism is essentially packing as many line elements as possible in a tight space of creative expression, all while representing as many different aesthetic styles. His work naturally is time and labor intensive. Originally inspired to do pencil sketches as part of his music projects, Helman now works with large-format pen drawings, primarily using Micron pens on drawing paper.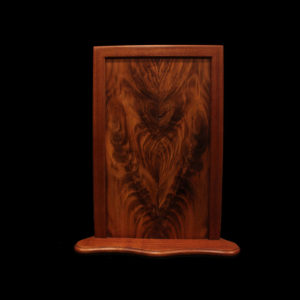 Chris Blackburn, 2-D Mixed Media, Salt Lake City (Award of Merit, Board Member Award), Booth 13:
Blackburn's art has a distinct classic foundation, as he explains in his artistic statement: "The photographers I admire are all long and past, but most come from the golden age of cinema and photography. The ability to sculpt light, give positive direction, and make conscious decisions on how to shoot all play a role in my style of photography." His work truly champions the epitome of 20th century photographic art aesthetics and techniques.
Charlie Hastings, 3-D Mixed Media, Salt Lake City (Award of Merit, Artist Marketplace Award), Booth 151:
A University of Utah graduate with a bachelor's degree in geography, Hastings has been a yoga teacher and an artist, who was inspired by working in his family's business, Wood Revival Desk Company, a custom furniture company that has been open since 1979 in West Valley, Utah. The company manufactures pieces intended to last generations. Primarily using red oak, the company's crafts workers also use walnut, cherry and mahogany, among other types of wood, to make roll top desks, flat top desks, file cabinets and bookcases that are made in traditional and mission styles.
Hastings explained in a 2016 interview with The Daily Chronicle student newspaper at the University of Utah how he was inspired to build his altar pieces. He said, "Building furniture, I'm always re-sawing wood, so taking a piece of wood, cutting it in half, opening it up, […] It's just part of what we do to make solid wood furniture. So it's always been [something I've been] familiar with. And my dad has been doing this for a long time, and he started saving interesting pieces of wood. He's the one that kind of introduced the concept of this."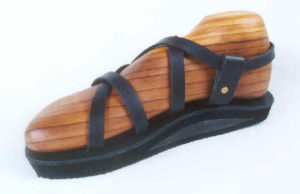 Rhett Risler, Wearable Art, Lucerne Valley, California (People's Choice Award), Booth 36:
Carrying on the art tradition started by his father Lee in 1963, Risler elevates the fashion aesthetics and artistic timelessness of the sandal. The sandals are unisex and are available with different pattern options for the straps, which can be simple as a toe loop and single upper band or as complex as multi-straps. The shoes come in black or brown leather and cushion or leather soles. They handle water and sun well and many testimonials indicate that buyers have been pleased with their durability.