This flame that burns in my heart.
Calls me to the heat of Samba.
It is the glow that illuminates the darkness
The light that clarifies my path.
It is culture, art, and expression.
It is magic brought from Aruanda.
From black and white ashes
From so much suffering of yore
A phoenix was born alight and resplendent
The sun burning at the break of dawn
It is Samba. It is Fire. Samba Fogo
Takes away my heart.
Enredo do Samba Fogo by George Brown, 2017
Samba Fogo's first appearance at the Utah Arts Festival eight years ago brought one of the most enthusiastic responses ever experienced for a local performing group. Given that it was still a relatively new group, the performers brought their program of Brazilian dance, music, capoeira and, perhaps the biggest crowd pleaser, several numbers with fire torches, to The Round Stage next to the City Library, often reserved for local arts ensembles who are building their visibility and reputation.
Their nightly performances which closed the day's event packed the area completely. In addition to the Round Stage's small amphitheater seating being packed, crowds stood five lines deep, while others climbed to the library's crescent arch and others stood in the pool next to the building to watch the performance. Since then, Samba Fogo has appeared at the festival every other year and its most recent appearance was missing the fire dancing because of fire code regulations for outdoor stages.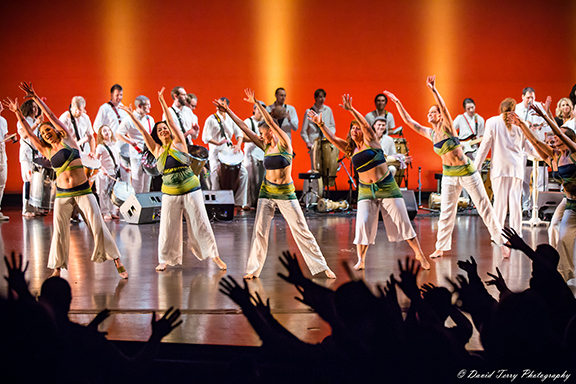 This year, the group, bigger than ever and coming off the heels of its most extensive dance concert ever in the spring, is a Friday night headliner on the Festival Stage (June 23, 9:45 p.m.) and it has been cleared to use fire in some of their numbers.
Samba Fogo has matured significantly during the past decade when it was formed. As exciting and satisfying as Samba Fogo's entertainment is to audiences, the group works hard to respect the authentic significance of its performance art. When the words from Enredo do Samba Fogo, the group's new school song, are performed – 'It is magic brought from Aruanda' – performers celebrate Aruanda's historical roots. Created by Brazilian slaves who were brought from Luanda, Angola in Africa over three centuries, Aruanda signifies the freedom and promise of heaven. It is a reminder that the dance and music culture of Brazil, including Samba, is forever linked to deep African roots.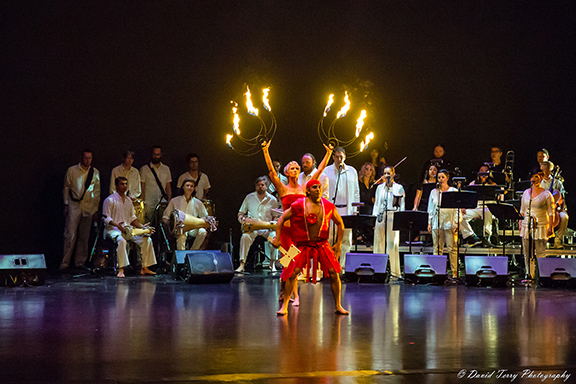 Samba is known as the rhythm of the saints and Brazilian slaves worshiping in their Macumba religion called their many gods by beating drums. Even as Brazil identifies strongly with Catholicism, the worship of many gods (Orixás) is taken up by millions in the country. Dances and accompanying music indicate the nature and character of the gods.
These cultural foundations have energized Samba Fogo's long-term project to cultivate a genuine appreciation for an art that has richer, spiritually enlightened contexts than just the high-energy celebrations of traditional carnivals and feasts, according to Lorin Hansen. The group's performances often are the best avenues for bringing new dancers, musicians, capoeira acrobats, vocalists and drummers to its classes in technique and style.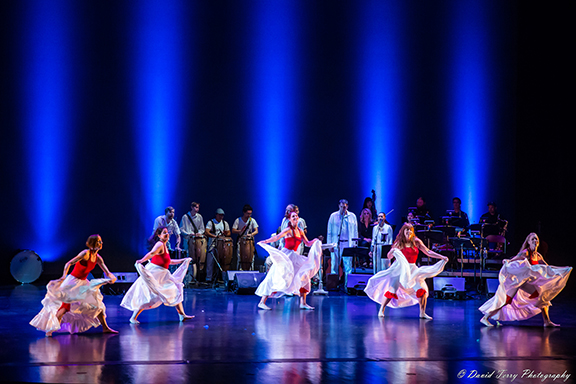 Indeed, the festival shows have helped Samba Fogo expand its performer base (Hansen says that while the drum line is the largest so far in the group's history at 18, she would love to see it grow much larger, as authentic performances often call for 300 to 500 drummers.).
In 2013, Missy and Scott Stone were planning to meet some friends at the festival to see a different show but the couple happened to catch Samba Fogo's performance and the two were hooked. Both signed up for classes – Missy as a dancer and Scott as a drummer – and now they are ensuring their three boys will grow up learning Brazilian culture, music and dance.
This year's festival show, Hansen explains, will introduce people to the gods and goddesses integral to the culture. "It will definitely be a loud show," she adds. Some of the material will be included from Samba Fogo's spring concert which was titled Chama, the Portuguese word for flame, while other numbers will be new. With the performing venue on a main festival stage, Hansen says the group is looking forward to the audience getting up to dance, "because the energy exchange makes the performance wilder and more intense than in a concert hall."
Hansen says the extensive music and dance panoply of their shows is possible because of many years of research and practice. "We've always wanted to do it right and we have blessed by having many great teachers," she explained in an earlier interview with The Utah Review. "It is important that we keep this culture and its tradition alive and vibrant. These religious practices are stigmatized – even demonized – in certain areas of the country."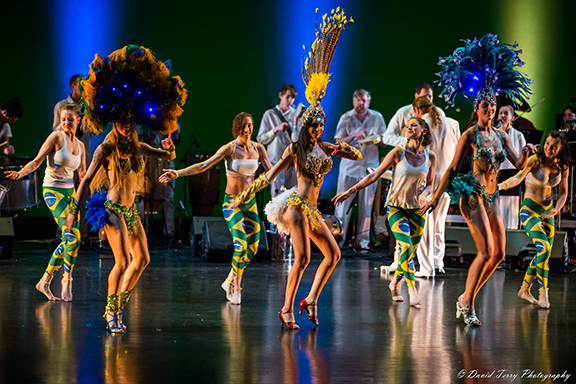 Going back to the colonial days when the slave trade was at its maximum, slaves may have publicly professed their new connections to Catholicism but privately they carried on their spiritual practices from their African homelands. Even today, there are many who worship outwardly as Catholics but privately devote themselves to Orixás worship. The drumbeats of the saints – the ultimate promise of Aruanda – persevered in samba while it became the foundations of blues music in the American South.
As Samba Fogo has explored the foundations behind the music and dance, the experience has been used to grow and diversify the group's arts education efforts. "We're consistently getting more requests to collaborate with schools and to be a part of after-school programs," Hansen says. "One of the greatest ways we have had to share our mission is with school assemblies where hundreds of kids see us perform."
Likewise, after a Utah Arts Festival appearance, many people will contact the group to register for classes and workshops and start the process of learning to be a performer. "It is thrilling to see someone who started at the age of 12 grow into an accomplished performer at 22," she says, adding "that we've provided an outlet for people to go outside of the box, especially if they want to dance but to find another way than with ballet or modern dance."
Groups like Samba Fogo and The Bboy Federation, which has become a regular returning participant to the festival, have deepened the already numerous and strong roots of Salt Lake City's dance culture.