More than 100 artists in this year's Utah Arts Festival Artists Marketplace come from outside of Utah. One is Lisa Gastelum of Portland, Oregon, who weaves by hand beads from durable nylon beading thread that are wound around a wood core. She adds these colorful beads to hand-crafted metal work, made from nickel-free sterling, copper and 14-karat gold fill which is used for the fabrication of her metal work.
Recently, Gastelum agreed to do an email Q&A and her well-articulated responses tell her story as an artist and the creative process involved. She is in Booth 103.
TUR: How have you used art media forms in helping to create a holistic body of artistic work that searches for a more complete expression of your own innermost and most powerful state of emotion, inspiration, contemplation, and self-identity?
LG: The simple circle, contradiction, and color are, very purposefully, a big part of my work.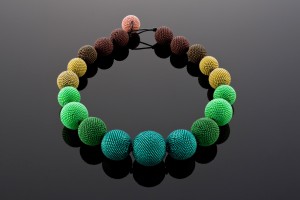 I found myself thinking about what it means from a young age and as time went on I was continually drawn back to the circle, and incorporated it into my business name with the call tag: circles, dots, rounds, spheres. Circles and the circular motion are also incorporated into my how my woven beads are created. I weave in the round and most of my beads are round. All the tiny seed beads in my woven work come together to make a larger, cohesive, collective – much like we, as humans, when we come together to build, create, or plan something larger than ourselves. We are a never-ending cycle of forward motion. Right now I am incorporating my circles into another theme of "Together" – with the use of cages, pins, rivets, caps and bars.
I also love contradiction. The combination of my hard-edged metal work with the softness and fragility of my woven glass seed beads: an illusion of fragility but with a reality of strength. With the anticipation of heaviness and weight but realizing that my work is light and airy. I love the reaction from the public.
Color conveys a story. I often come up with my color combinations based on a personal memory. One of my favorite stories to tell is how I came up with "Skoocumchuck", and collection of blues, greys and blacks. My husband's grandfather was a history professor at Western Washington University and he specialized in Pacific Northwest history. When he was growing up in Eastern Washington the local Native American children taught him some of their language: Chinook. When I met him, many years later, he taught me some. He told me that "skoocum" means very excellent/extremely good and "chuck" means water. I would often take trips to Portland when I lived in Seattle and I have to travel over the "Skoocumchuck" river every time, conjuring up my beloved memory of Grandpa Keith.
TUR: What is your training as an artist? Who do you consider your most significant influences and inspirations? Do these influences shift as you progress both in your work and life?
LG: I am self-taught in the art of woven seed beads – developing my own method/science back in 1995. I have studied metal-smithing at Multnomah Arts Center here in Portland, OR. I am lucky to have such talented and gifted instructors such as Kristen Shiga and Laurie Hall.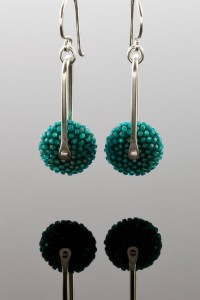 My most significant inspiration for what I do is my mother, Christine. An artist herself, she went to school in Philadelphia and to PNCA (Pacific Northwest College of Art) here in Portland, OR. She was always encouraging me to experiment until I found my 'thing'. And I did when she handed me an old necklace made up of seed beads and said I could do with it what I wanted. She introduced me to the theory of color, especially when she would explain a master painting by van Gogh, Renoir, Monet, or Kandinsky. She explained the power of shapes when combined together. She also loved to tell stories and loved to laugh.
Over the years I have found other inspirations – one was my early metals teacher, Kristin Shiga. She had an element of "tough love" in her that I liked. She challenged me to start thinking of myself as a metal smith and not just someone who works with beads. She taught me to develop a language, experiment with them and see if they all speak the same and can work together. She taught me to think in themes in order to keep my work focused.
My influences have shifted over the years – and one of the major contributors is the fact that I travel so much. I have been doing the show/fair circuit for over 5 years now and I am often surprised by what I see, who I meet and how I got here.
TUR: Do you work full-time exclusively as and artist? Or, how do you augment your work as an artist?
LG: I do happily work full-time as an artist (no augmenting). After moving to Seattle in 1990 I found job at a fine craft gallery in the Pike Place Market and then later in Bellevue, just over the Lake from Seattle. My husband and I decided to move back to Portland and I continued to work in the fine craft business at a local gallery 'The Real Mother Goose'. I think I had every job there – finally finishing as the Administrative Manager and Buyer. It was great fun and I learned so much about the business of being an artist that I took the plunge back in 2005 and quit my job to be a full-time artist.
TUR: Do you find it easy or difficult to start new work? And, typically, how do you prepare yourself to handle both the creative and physical demand of creating your art?
LG: Actually, I am always thinking of new designs and processes. I just can't help myself! Easy to come up with a design but, due to the nature of my work, not always easy to bring it to life. It isn't always a simple 'go-to' soldering solution. But, there is something about that challenge that I love.
I like to use the seasons to give me permission to create something new. I'll come up with a new color-story, or a new design. Perhaps I found a new bead shape to weave. As for the physical demands, I have to pace myself. I can't hammer and rivet all in the same day, nor can I make one of my 50mm woven beads in one sitting. I've done it and usually I've damaged my shoulder. Bummer.
TUR: With regards to participating in the Utah Arts Festival, please share your feelings about being a part of this enterprise? Have you been in other festivals and do you plan to explore other festival venues?
LG: I'm excited to do the show! This is my first time doing the Utah Arts Festival and while I've travelled through Salt Lake City many times, I haven't had time to stop and really explore the city. I'm really looking forward to that. I'm also really interested to see how it is doing a festival with your hours – meaning running so late into the night. I finally had to get lighting for my booth. Looks like its going to fun!
I have been in many festivals and have nine lined up for this Summer 2014 season. I often hear from people how exciting it must be and how crazy my life must get doing shows – but I honestly wouldn't want to be doing anything else. I love talking directly to the public about my work and thankfully I have my husband (and my business manager) to help me at every show. Customers often refer to him as my 'No. 1 fan'. I refer to him as indispensable and amazing.