Jacob is hoping Sophie, the nurse who is going to administer the infusion he needs for his chronic disease, is better at needles than the last nurse he encountered. But, the 12-year-old boy also is hoping that Sophie can ease his concerns. Explaining that he is an alien, Jacob says, "I decided that was a made-up disease and the trouble is really with earth food," adding, "And earth oxygen. And earth." To her credit, Sophie plays along with the imaginative ways Jacob, who also enjoys studying ballet, has invented to cope with the concerns he has about Crohn's disease and the regular infusions he needs to manage it.
Ballet for Aliens is the newest original play Plan-B Theatre is producing for its Free Elementary School Tour (FEST), which marks its 10th anniversary this year. In addition to several free, public performances, the production, geared toward students in grades 4-6, will be available for performances in schools throughout Utah during the 2022-23 academic year.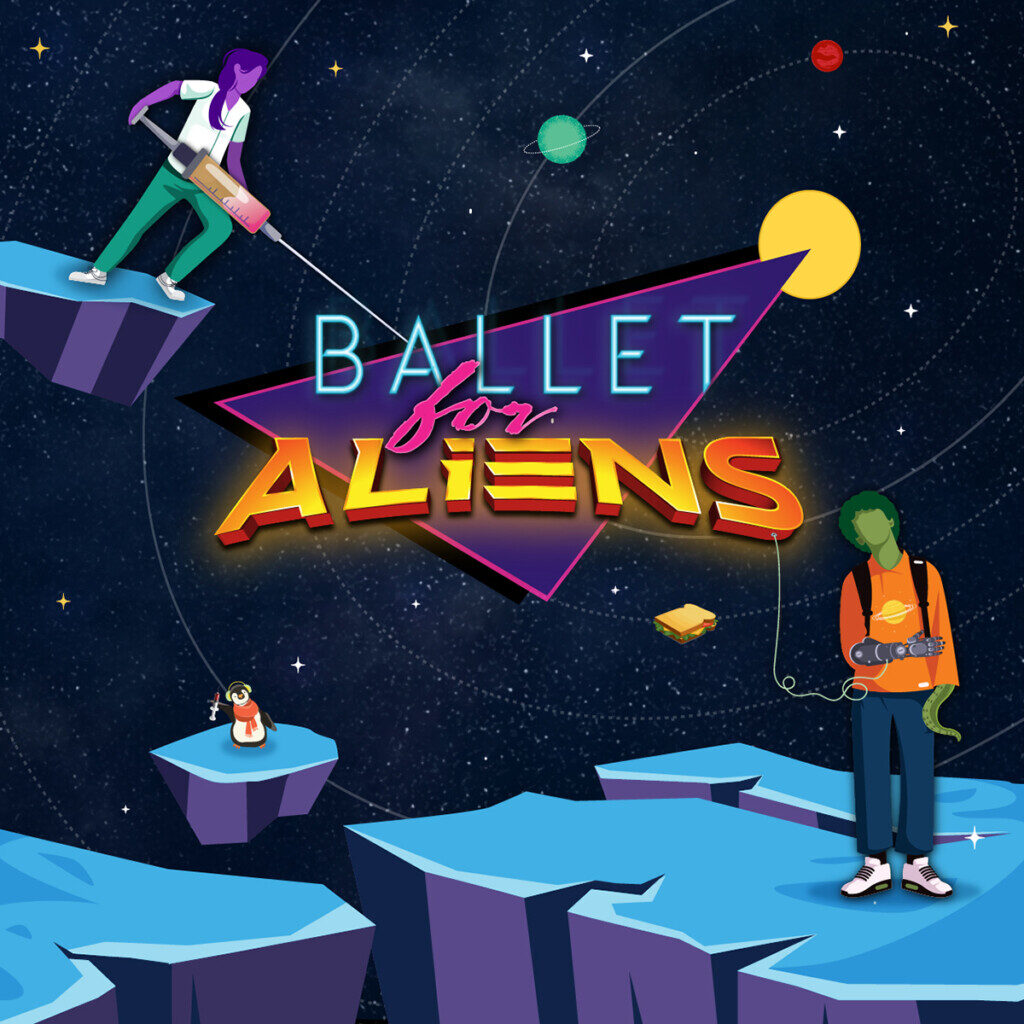 The creative writing team for this year's production embodies wholly the spirit of the FEST artistic mission. Two of the three writers are high school students — ninth grader Gerard Hernandez and tenth grader Oliver Kokai-Means. The third is playwright Jennifer Kokai, a former Weber State University faculty member who is now the director of the University of South Florida's School of Theatre and Dance.

Four years ago, Kokai and her son, Oliver, had their play Zombie Thoughts premiere in FEST. Developed around the theme of generalized anxiety disorder, the play is about a child and a pig who are navigating through various levels of a video game. That play has enjoyed international success, with productions in Australia as well as in the States, including Los Angeles, Washington, D.C. metro area, Chicago, and a virtual production during the height of the pandemic that was presented by the Montana Repertory Theatre.
The writing process for Ballet for Aliens started three years ago and the resulting final version of the script reflects a nimble melding of the authentic voices representing the ripening skills of two youthful writers and an accomplished playwright and scholar of the theater who ensures the structural integrity of the play honors the creative intentions of her colleagues.
It is Hernandez's experiences with Crohn's disease and as a ballet student which became the scaffolding for the story. "They asked me if I would like to do a play about that and I said yes because who would ever turn down the chance to work with these two [Jennifer and Oliver]," he says. The two young writers became friends during first grade and played soccer. But, Hernandez suddenly stopped coming to soccer and Kokai and her son learned that he was in the hospital for tests.
At the age of seven, Hernandez was diagnosed with the disease. Recalling his experiences in second and third grades, he explains how hard it was to focus on school work and how difficult it was to find the right words to explain to his teacher about his illness without feeling embarrassed or without making the teacher think that he was trying to skip his work in the classroom. When his parents enrolled him in a different school, he found teachers and students who were more understanding about his condition. This included having access to a private restroom at school whenever he experiences a flare-up and learning about foods that would not aggravate symptoms.
Ballet also became an important outlet for Hernandez. In a 2018 article for The Salt Lake Tribune, writer Heather King profiled him, ahead of his appearance in the annual Ballet West production of Tchaikovsky's The Nutcracker. "And he has found that the movement of dance helps him build stamina and physical strength while also boosting his confidence," King wrote. Hernandez, who was 11 at the time, said, "My favorite thing about ballet is … everything. Everything! I can't leave out anything. I love it all — dancing, the costumes, the props." He was cast as the Sneak Boy in the production that year.
"Writing with people younger and closer to the age of the characters is important, especially when the experiences of Ollie and Gerard show how life might be like for those with invisible disabilities," Kokai says.
Thus, the younger writers have a keen sense of what television sitcoms, popular culture and games make for the play's funniest moments and opportunities for parody (obviously accomplished with the doctrine of fair use in mind). There is even a reference to The Nutcracker (with a kazoo). A giant syringe becomes a prop for the ballet battle. There also is a subtle sting for the elders from the 20th century, with the reference to being born in the "late 1900s," which has become effective shade used by a 21st century generation (even better than 'okay, boomer').
Comparing the two experiences he now has had as a contributing playwright for FEST, Kokai-Means says it was "a lot of fun to write this with another person whose input had different perspectives." This time, the younger playwright had the opportunity to write more dialogue and both Hernandez and Kokai-Means brainstormed and improvised scenes during the creative process. Meanwhile, Kokai guided them, gently reminding, for example, Hernandez, while he now has eight years of experience managing the disease and his treatment, that he was writing for a character who just learned of his diagnosis and was preparing to receive his infusion for only the second time.
Currently, Hernandez is not in ballet, mainly because the COVID-19 pandemic interrupted the usual schedule of rehearsals and classes. Now focusing on the high school phase of his education, he is enrolled in the Ogden-based Davinci Academy of Science and the Arts, a charter school district for northern Utah. He is starting cross country and studying percussion instruments but adds that he hopes to rejoin ballet "sometime soon." He sees Ballet for Aliens as coming full circle. "I'm a dancer who has written a play. I started doing dance when I was three so I have been doing dance a lot longer than theater," he adds.
The Ballet for Aliens study guide, which accompanies the program, is a great example of intersecting opportunities for science and health education along with the creative arts. Students are learning about chronic illnesses as well as practicing empathy with peers and finding ways to manage the stress of difficult situations that come with such illnesses. Each school, which participates in bringing FEST peformances to students, also will receive a copy of Nadia Hasimi's 2018 book The Sky at Our Feet, about a 12-year-old boy in New York City who is looking for his aunt but ends up in an accident that lands him in a hospital. He meets a girl who longs to be seen as "normal" despite her epilepsy. The two escape the hospital to continue the search for the boy's aunt.
The production, directed by Jerry Rapier, will feature two casts for various performances: Danny Borba and Estephani Cerros and Tamari Dunbar and Amona Faatau. Individual performers from both casts will combine for some performances. Other production team members include Arika Schockmel, designer, Kallie Filanda, tour manager; Peter Christie, choreographer, and Sharah Meservy, education coordinator who also will introduce performances as well as moderate the talkback after each show. Show art is provided by Aaron Swenson.
The non-ticketed, free, public performances will take place af the Chapman (Sept. 10, 1 p.m.) and Marmalade (Sept. 17, 3 p.m.) branches of the Salt Lake City Public Library. Others include the Collide Arts Festival (May 20, 2023, 4 p.m.), which is held at the Salt Lake School for the Performing Arts and another performance with location and date to be announced.
Schools looking to schedule performances will find contact and essential information at Plan-B's education page.