For the second year in a row, Ballet West opens their season with works from renowned choreographer George Balanchine. Noted in the ballet world as a modern-day genius, this year's Ballets Russes features a triple bill of his most significant early works created for the Ballets Russes in France.
Imagined when Balanchine was in his 20s, Le Chant du Rossignol (The Song of the Nightingale), Apollo and Prodigal Son chronologically reconstruct Balanchine's development as a master choreographer and celebrate his collaboration with world-renowned artists and composers in his one-act ballets.
"These three pieces of history still remain artistically relevant," explains Ballet West Artistic Director Adam Sklute, "but they also give us a unique glimpse into the dawn of contemporary ballet and show us where we can go as we move the art form into the future."
Ballet West has taken great care to educate their audience about the importance of the works presented in this season's opener. On opening night Sklute welcomed the crowd and encouraged the audience to read the playbill and visit the exhibits in the lobby to improve their understanding of the significance of each work.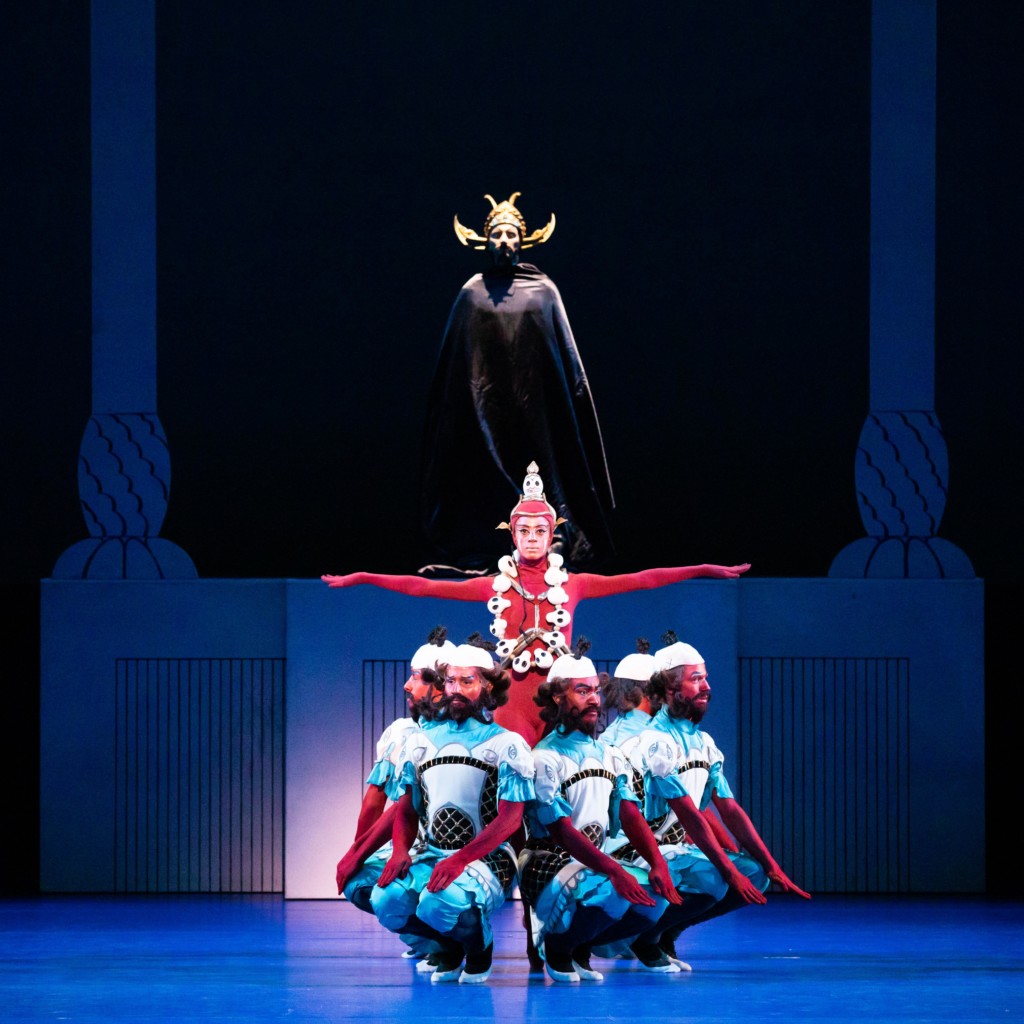 Le Chant du Rossignol
Premiering in the U.S. for the first time, the program opens with The Song of the Nightingale, based on a Hans Christian Andersen fairy tale. The ballet follows the story of a songbird, artfully represented by soloist Jenna Rae Herrera, who cures an ailing Chinese emperor (Christopher Sellars, first soloist).
Herrera flits about the stage ever so lightly after being released from her cage surrounded by sets and costumes originally designed by acclaimed modernist Henri Matisse. Matisse researched ancient China to accurately reflect the colors and pagentry of the time. Nowhere is this more evident than in the colorful terra cotta warriors and mechanical nightingale brought to life by first soloist Tyler Gum.
Notably, The Song of the Nightingale was also the first collaboration between Balanchine and celebrated composer Igor Stravinsky. Together, their 46-year-long friendship would produce some of the greatest ballets of the 20th century.
But the staging of a work such as Le Chant du Rossignol featuring Chinese and Japanese characters presents its own challenges to a 21st Century audience, Sklute explains. "Western composers, artists, and choreographers of the time, hungry for new vocabularies, turned to these supposed 'Oriental' motifs. I truly believe that, for the most part, while their interpretations were meant to be celebrations of the cultures they took inspiration from, their use of these motifs sometimes created a mockery of the culture when we look through a modern lens."
During the rehearsal period, Ballet West proactively invited leaders from the Asian American community to join a rehearsal and begin a dialogue about what changes were needed in order to ensure that everyone could enjoy the work without the distraction of caricature.
Sklute and Ballet West took it upon the company to address how an arts organization honors and respects historical performing art—without perpetuating caricatured racial stereotypes—while still remaining true to the original choreography reconstructed by art and dance historians Millicent Hodson and Kenneth Archer.
"My hope is that our restaging not only entertains, but also educates, our community, and can perhaps become a platform for this larger, global conversation on how to present historic theater, opera, and dance that deals with antiquated racial representation," said Sklute.
Ballet West's treatment of these issues will be one of the subjects of The Guggenheim Museum's Work and Process series in New York City on September 29.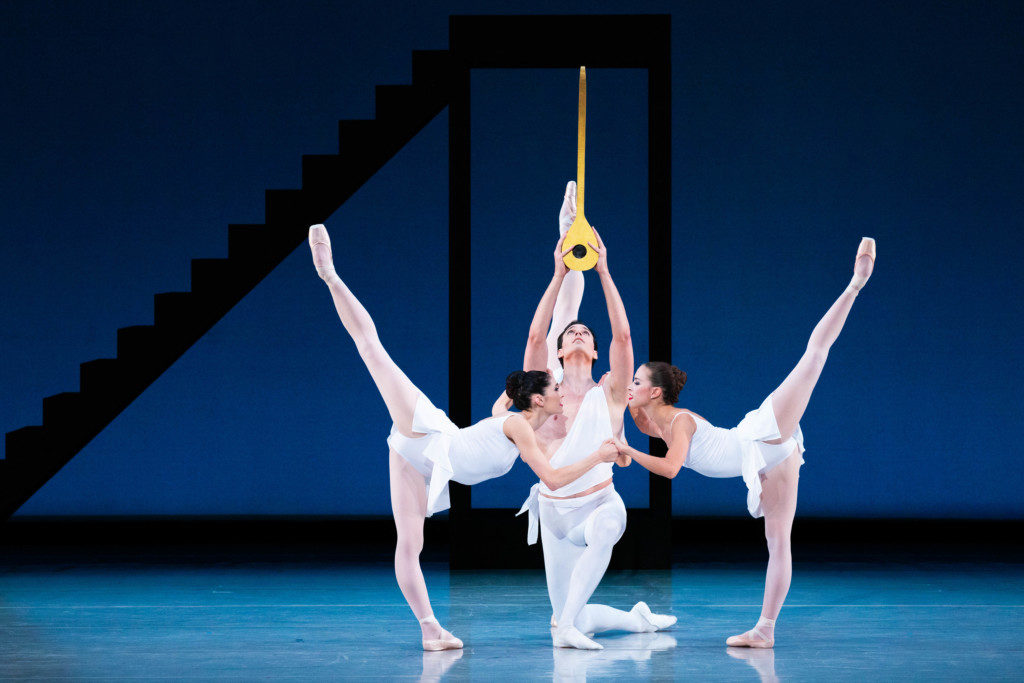 Apollo
In the Ballet West premiere of Apollo, viewers follow the story of the birth of the Greek god Apollo to his interactions with three muses—poetry (Calliope), mime (Polyhymnia) and dance (Terpsichore)—to his transcendence into godhood at Mount Parnassus.
Staged in its rarely seen original form, Apollo presents an early glimpse into Balanchine's developing neo-classical style of clean, clear and technically demanding movement and musicality when combined with another of Igor Stravinsky's melodic scores.
Ballet West artists took on the roles of Apollo (Principal Adrian Fry) and his muses Katie Critchlow (Calliope), Beckanne Sisk (Polyhymnia) and Sayaka Ohtaki (Terpsichore) admirably.
As the story unfolds, Apollo finds that the muse of dance truly captivates him. Fry and Ohtaki moved in effortless harmony together, showing mastery of their intricate movements with such elegance that the audience audibly gasped in admiration at the close of their opening night performance.
Prodigal Son
Ballets Russes closes with Balanchine's 1929 masterpiece, Prodigal Son. The ballet, which features one of the most memorable male dancing roles, tells the tale of sin, seduction, remorse and redemption from the Gospel of Luke.
Enchanted by the siren's tempting inuendo, the prodigal son (soloist Hadriel Diniz) leaves home with the beautiful siren whose followers then rob him.
Passion and promise fuel Diniz' rebellious spirit throughout the performance supported by powerful leaps (of faith and physicality) before his spirit is dashed by first soloist Katlyn Addison's sinful and strong siren character who leads him to ruin.
Remorseful at his foolish choices, the prodigal son returns to his forgiving father.
With a score by Serge Prokofiev and sets and costumes by expressionist Georges Roualt, Ballet West's Prodigal Son closes the curtain on an introspective look at the early works of Balanchine.
Balanchine's Ballets Russes runs through November 2. Tickets are now on sale at balletwest.org or by calling 801-869-6900.