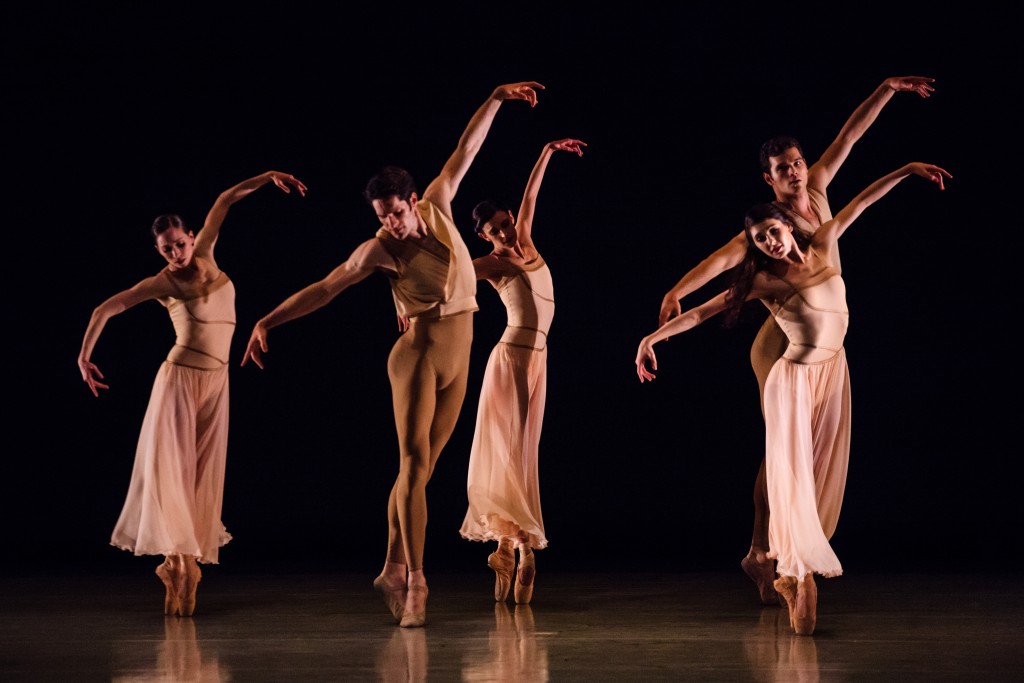 Ballet West closes the 2016 season with what has come to be an annual tradition in the Innovations program. As it has for the past nine seasons, Innovations celebrates up-and-coming choreographers from around the world and talent from within the company on the stage of the Rose Wagner Performing Arts Center.
But with the final performance on May 28, 2016 the curtain will close on the series and next year move to larger, independent productions in the National Choreographic Festival and Works from Within in Park City. "Next year I have decided to expand and extend how Ballet West approaches the world of new creations," explains Ballet West Artistic Director Adam Sklute.
It's fitting then that the final season of Innovations ends with an emotional roller coaster of performances evoking tears, introspection and even, head scratching. "I look at this Innovations 2016 as one of the most complete Innovations program we have produced," continues Sklute. "Three different pieces accompanied by live music, two different commissioned scores and an impressive level of sophistication in the choreography."
What's more, four of the five pieces performed made their world premiere on opening night, Friday, May 20, 2016.
In Memoriam
Ballet West Principal dancer Christopher Ruud finds himself behind the curtain as choreographer of the tear-jerking In Memoriam. "This ballet is for the women in my life who have shown me what it is to truly be great," says Ruud. The piece is based on the first five stanzas of Alfred Tennyson's 1850 In Memoriam A. H. H. and follows Barbara Barrington Jones through five stages of her life represented by mementos stored in a chest of drawers at the rear of the stage. Although each of the five ballerinas represented their era with authenticity, first soloist Jacqueline Straughan stood out for her emotionally adept performance exploring marriage and abuse. The work also features a newly commissioned score for piano and strings that was written and performed live by Ballet West Associate Music Director Jared Oaks.
Barre Spot
Barre Spot brings live music on-stage with a lively riff of 1930s jazz (Erwin Schulhoff's Hot Sonate) featuring a solo saxophone blown by Marco Blackmore and piano once again by Jared Oaks. Choreographer Christopher Sellars, first soloist with Ballet West, comments, "My goal was to make this piece enjoyable for the audience and the dancers alike." High energy from all the artists as they seamlessly examine their sacred spots at the classroom barre along with spectacular costumes accomplished Sellars' goal on opening night. Principal Emily Adams and First Soloist Beau Pearson shined as the featured pas de deux with nimble, speakeasy-esque moves.
Fragments of Simplicity
"I wanted to create a work that would showcase the beauty of fluid movement in an effortless fashion," says choreographer Oliver Oguma, Ballet West artist. The first movement, featuring the hypnotic Chinese violin or erhu music of Jia Peng Fang and a calming floral backdrop, set the stage for the audience to keenly focus on the duet of two male dancers, demi-soloist Alex MacFarlan and artist Jordan Veit, whose focus and fluidity were mesmerizing when paired with their simple flowing white costumes.
Homer: a study in phenomenological ontology
"Phenomenology" as defined by the Stanford Encyclopedia of Philosophy is: the study of structures of consciousness as experienced from the first-person point of view. The central structure of an experience is its intentionality, its being directed toward something, as it is an experience of or about some object.
Choreographer and newly named Ballet West demi-soloist Trevor Naumann's explanation of his piece is almost as maddening as being an audience member watching it unfold. I found the discordant music nearly seizure-inducing and the performance as unintelligible as most of my previous studies in philosophy. I was rendered temporarily speechless and unsure of my personal consciousness.
Lyric Pieces
The final work of the evening comes from professional choreographer Jessica Lang. Sklute explains, "There is no plot to Lyric Pieces but it is a whimsical, at times humorous, and ultimately profoundly moving dance poem. Our dancers have loved working with Jessica and she has been a joy."
Ballet West Associate Music Director Jared Oaks once again takes a seat at the piano to perform Edvard Grieg's piano solos as the ensemble of dancers rhythmically move to the music. Newly announced Principal Chase O'Connell brought everything to the stage for his solo, although the color-blocked tops of the men's costumes seemed unmatched and much less formal than the flowing dresses of the women. Set elements in the form of giant, accordion-style walls and pillars, created by MOLO Studio, are moved about the stage by the dancers and become ingenious elements of the dance itself. It's clear why Lang is in great demand worldwide.
Innovations 2016 continues at Capitol Theatre Wednesday-Sunday, May 25-28 with evening performances at 7.30 p.m. and a matinee performance at 2 p.m. Tickets can be purchased at ArtTix.org.