If you're searching for somewhere special to dine out and celebrate this Cinco De Mayo, we've got you covered. We asked our writers to name some of their favorite spots for a delicious May 5th in Utah. Here are six of the best for inspiration. If we've missed your favorite taqueria or cantina – let us know in the comments!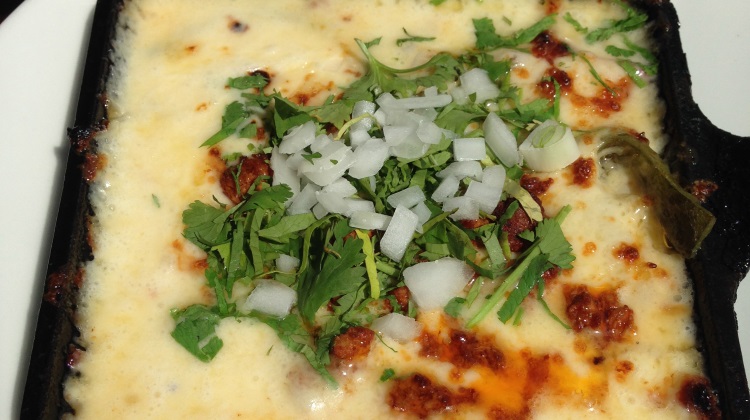 Alamexo – With a selection of 22 tequilas to be enjoyed on their own or as a margarita for just $1 more, Alamexo is the perfect stop for a Cinco de Mayo celebration.
Kick off the party with tableside guacamole or queso fundido with housemade chorizo that can be wrapped up on warm corn tortillas and shared around the table.
Then explore chef and owner Matt Lake's Mexican masterpieces like the earthy and rich enchiladas mole poblano, goat-cheese stuffed chile rellenos espinacas or 10 ounces of seared skirt steak heaven in the carne Oaxaquena.
Before you leave, a plate of crunchy, sugar and cinnamon-dusted fried tortillas will satisfy your sweet tooth but if you need more than a bite of dessert, ask about the ice cream selections—particularly the chocolate-pasilla chile flavor bomb. Heather L. King
Frida Bistro – When owner Jorge Fierro chose the edgy warehouse space (of his existing business Rico Brands) for his newest venture Frida Bistro, it was an undeniable statement of intent. Arguably the first restaurant in Utah to elevate and explore what Mexican cuisine can be – this isn't your typical strip mall eatery and there's not a single burrito in sight.
Frida Bistro is awash with excitement and energy, from the vividly decorated interior to a menu that is loaded with inspiration. You won't find dishes like Chile En Nogada anywhere else in town – a poblano pepper stuffed with shredded beef, fruit and nuts draped in a creamy walnut sauce – and of course, plated with fine dining precision. Don't miss the pretty patio out front either where dishes like sopa fria de aquacate (pictured above) – a chilled avocado and crab soup – make for perfect summery treats alongside a tipple from Frida's imaginative cocktail list. Stuart Melling
Hector's – Regardless of the time of day, the first thing you'll notice at Hector's (2901 E. 3300 S.) is the line of cars snaking away from the drive through. If you have a brainwave moment and head indoors, chances are you"ll find just as many people lined up, eagerly waiting to place their order.
There's a reason for the crowds of course – Hector's serves up hearty staples like burritos and tacos with both speed and at stunningly affordable prices. Much of the menu is priced comfortably around five dollars, with the above pictured chile relleno the most expensive item at a meager $8.45 – even then, the two cheese-stuffed chiles with rice, beans and three corn tortillas is plenty for two meals.
Insider tip – in a town that can often be tucked up in bed and asleep before midnight – Hector's is handily open until 3 a.m. every day except Sunday; perfect for those late night taco trips. Stuart Melling
La Hacienda – Nearing its 20th anniversary, La Hacienda Mexican Restaurant enjoys a large, loyal customer following for a diverse, consistently affordable menu that includes many authentic classics perfect for a family meal. Owner Esther Ornelas and her family (many of whom are employees) have struck a good balance between offerings that gently invite unfamiliar diners into Mexican cuisine inflected with subtle Americanized touches and many genuine appetizer and entree options featuring all types of meat and seafood.
Of special note are shrimp ceviche, campechana, fajitas, enchiladas, baby back ribs either with a generously spiced barbeque or tomatillo sauce, tacos, carne asada, chimichangas and chile rellenos. The refried beans have an appealing creamy texture, as they are prepared with lard in the true Mexican style. There also are plenty of beer and tequila selections.
Two locations are available including 1248 South Redwood Road, which draws a steady lunch crowd. The larger location at 12434 South Minuteman Drive in Draper, which opened in 2010, is suited for an evening dinner celebration in honor of the festive day. Les Roka
Taqueria 27 – If a taco and a margarita are your idea of perfect Cinco de Mayo fare, stop by one of the three locations of Taqueria 27 (T27), located in Holladay, Foothill and their newest downtown restaurant next to Bar X.
T27 is the brainchild of chef and owner Todd Gardiner, who wraps up his interpretation of Latin American street food in the form of high-end tacos and tequila-based drinks in a casual yet trendy venue.
To celebrate Cinco de Mayo, imbibe in one of the many 100 percent agave tequilas found on the menu including locally owned Vida Tequila. The T27 margarita ($6 or a long pour for $7) is a great go-to but you can also build your own premium margarita for the cost of your choice of tequila plus $3.
Pair your tequila with a selection of T27 tacos. Whether you choose the Taco of the Day (TOD) or the PBLT (pork belly, lettuce and tomato pictured above) made with cast iron-seared Niman Ranch pork belly, jalapeño mayonnaise, lettuce and tomatoes plus avocado—you'll delight in the fantastic flavors delivered to you in T27's party-worthy atmosphere. Heather L. King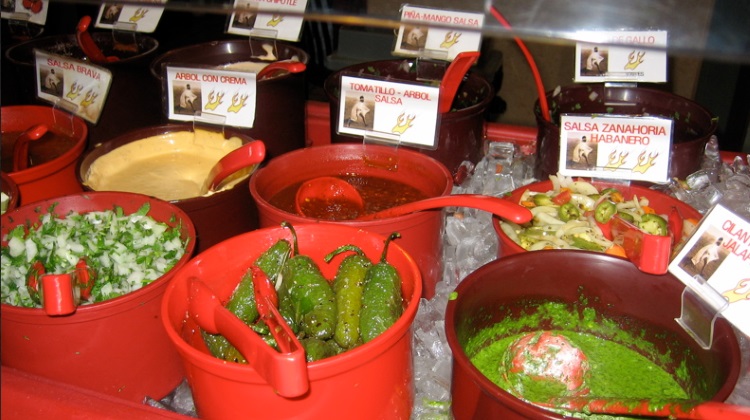 Tarahumara – Midway's worst kept secret is the fantastic Tarahumara restaurant, home to possibly Utah's most eclectic salsa bar. Forget the salsa bars of your nightmare (wait that's just me huh) with dried up pico and lame-tamed 'hot' salsa, the selection at Tarahumara is out of this world. In total the restaurant offers 20 creations made fresh in house daily. From standards such as pico de dallo and pineapple salsa through more intriguing options like salsa molcajete and salsa zanahoria habanero, you're free to pop back and forth to the bar as much as you like, heck, I think it's encouraged.
Folks don't flock here from far and wide just for the free fixins mind you, it doesn't hurt that the food is top notch too. With the recently opened adjacent cantina with full bar, plus the existing outdoor patio, it's easy to drop by this family run eatery and linger much longer than intended. Stuart Melling