Yes, the name of this site is The Utah Review. So, why is a town in Colorado being written about in this space? Well, just as Christmas music can over extend its reach and be heard before Thanksgiving even has a chance, borders can – and do blur.
Speaking of blurred borders, my recent trip to Fruita crossed the border into Utah more than once: first by bike and second by boat. And no, my beer did not turn to 3.2 once the imaginary line behind the Zion Curtain was crossed.
My goal was to meet up with friends who live in the Denver area for a river trip on the Colorado River for a long weekend of paddling, but the temptation to add in a few dozen miles of Fruita singletrack proved to be too tempting.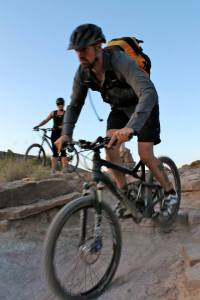 Mountain biking in Moab gets, seemingly, all the press. While Fruita has become more of a prominent player in the fat tire world, it is not quite the mecca Moab is – which is why I prefer riding on this side of the border. Well, that and the local liquor stores carry a hefty supply of Colorado beer from upslope breweries on the Front Range.
Riding in the Fruita area can be divided into four regions: trails near Grand Junction; north of Fruita on 18 Road, which features many camp spots; Kokopelli's area near town adjacent to the river; and finally Rabbit Valley, which is closest to Utah and has a few nice camp spots as well.
Opting to make my drive shorter I chose to set up shop at Rabbit Valley, less than two miles from the "Welcome to Colorful Colorado" freeway sign. There are several rides to choose from, each of which is descriptively named: The Zion Curtain, Westwater Mesa and Western Rim. A unique characteristic about these rides is crossing from Colorado into Utah and loop back to finish in Colorado! The best thing, however, is the views. From the Western Rim, and when I say "rim" sometimes the trail is right on the freaking rim, scenic river and mesa views stretch all the way to the La Sal mountains near Moab. The going is slow, if only for the need to stop to take in the views without worry of a tire wandering off the edge.
Having driven most of the day from SLC, night fell quickly and I needed to find my way back to camp by headlamp, where a few of Colorado's finest water and hops awaited in my cooler. Night riding can be really fun, providing ones has planned ahead with necessary clothing and lighting, full charged. Having drained my headlamp and cell phone battery fairly low over the past day or so, I was lucky to find an open spot that allowed me to aim an array of portable solar panels to the sun to recharge while I was out riding. Secur Soloar makes a variety of panels and chargers: I used a Sun Power Bank 3000 and two Sun Power Pads that can be pre-charged at home by USB or in the field by solar. Each of these can charge any and all digital devices that use USB. They easily charged my iPhone and headlamp, with enough juice leftover for a second charge the following day. At about the size of a portable hard drive or small e-reader, I rarely travel without one – and you shouldn't either.
The next day I headed closer to town to ride the Kokopelli area. Featuring easy 3 mile loops, such as Rustler's to mid-distance loops like Horsethief Bench and Steve's Loop, as well as technical challenges on Moore Fun, this area truly has something for everyone. I decided to venture out to a trail I had yet to try: Troy Built. Part of the Kokopelli trail proper, which connect Fruita to Moab through scenic trails, Troy's started out by following a side canyon drainage to meet the Colorado River. From there a stiff climb brought me up to the base of Mack Ridge and views of the entire Loma/Mack area, with the Bookcliffs off in the distance to the north. A fast descent down Mack Ridge completed an awesome afternoon ride.
Preparing to switch from biking to river running, I drove a few more miles east and set up camp near the boat launch near the town of Fruita in preparation for tomorrow's river trip.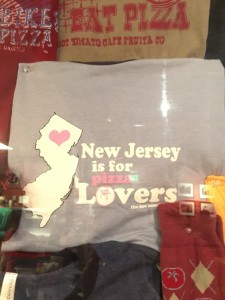 Once the chargers were doing their thing, I went to recharge my proverbial battery at the local pizzeria: Hot Tomato. As a born and raised New York kid, I am pretty picky about pizza, so take it as high praise for Hot Tomato I was beelining it there. The full set of New Belgium taps provides even more reason noshing slices here has become a tradition year after year for our group to meet up, as each one rolls into town at random arrival hours.
The next morning brought several grey clouds, not exactly the sky you hope for when planning to be on a river for three days. Having perfected the rain jacket under the poncho wardrobe, staying dry isn't a problem and the river can be pretty fun. Nah, who am I kidding: rain sucks.
By the time we found our camp for the first night we had already missed it because we were too busy paddling through a head wind and scrambling to lash down hats or whatever else the wind was attempting to blow away. So, we wound up on a rocky island that would be underwater if the river rose even a foot during the night. When I say rocky, I mean ROCKY. There was no sand – just pebbles. Pitching a tent was exceptionally hard as there was no way to stake it down. Most of the night was spent standing in three of the four corners of my new tent in hopes the wind didn't turn it into a sail. Cheers to the fine folks at PahaQue for making a tent that can hold up and hold strong in the wind, even without basic reinforcement. The only water we took on was when one tent mate grew hot during the night and opened the window. In a rain storm. Did I mention Colorado has good beer?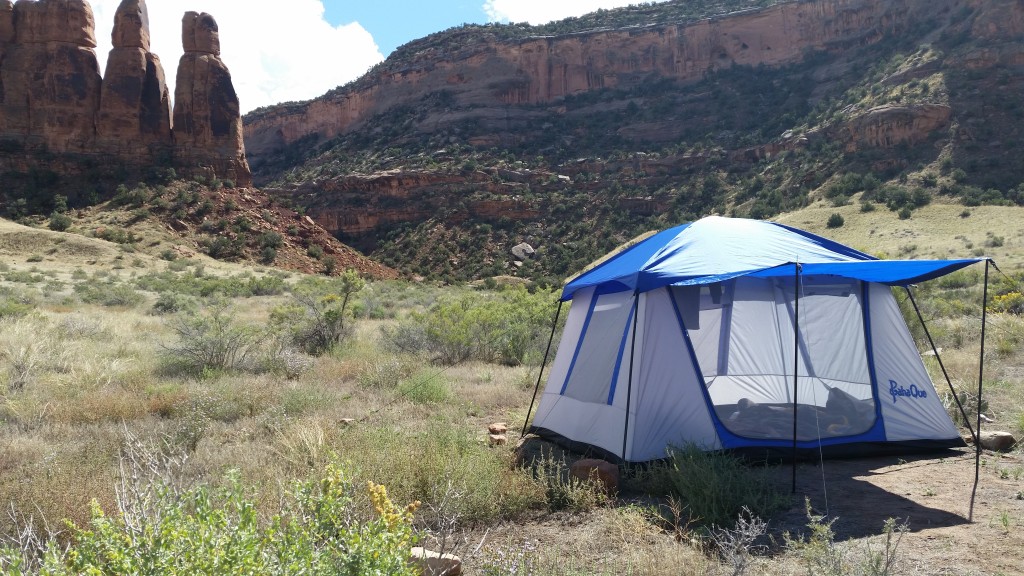 The second river day brought better weather and by the time we arrived at camp (hey, look, we found our camp spot!) the sun was out. The tent dried out quickly from last night's leftover moisture in the sun and our rain tarp served a sun shelter. Having successfully navigated the only series of rapids (not much at Class 3) kicking back and watching the sun set on the red rock was a welcome reward.
This particular stretch of river has an Amtrack section running through it, which takes away a bit from the wilderness feel, but is still kind of unique in a way. Plus, the conductor always honks a few times if cajoled.
Our third and final day on the river is when we crossed into Utah, as we neared our takeout at Westwater. Below this boat ramp is a famous stretch of rapids by the same name. Unlike the bike trails from a few days prior, which cross invisible lines, the river offers a much more defined geography experience. On river right (right side of the river, if looking down river), painted high on a wall, are the words "Colorado" and "Utah".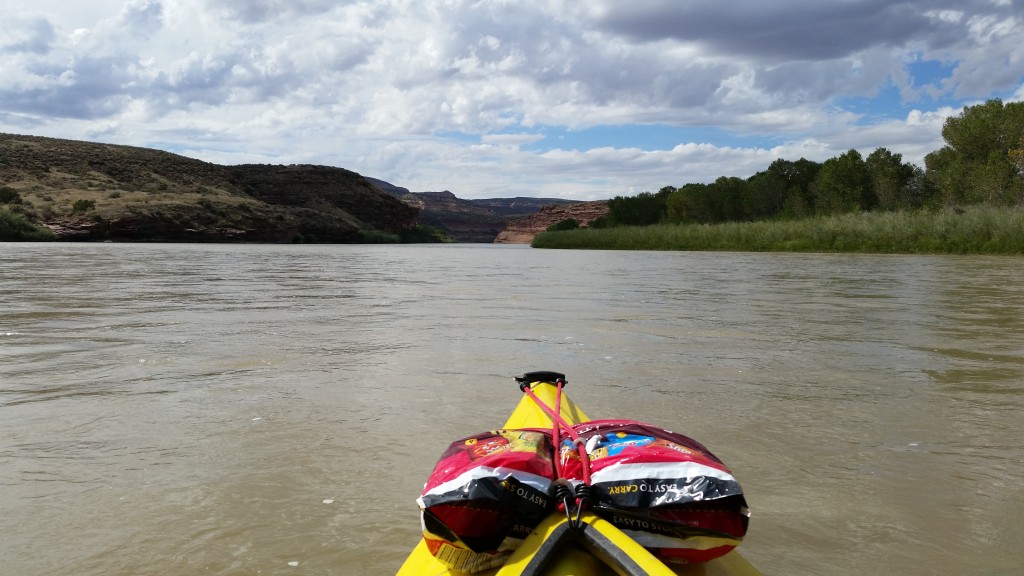 And much like a deer doesn't magically turn into an elk at a random elevation, our beers didn't become watered down and weaker as the Zion Curtain closed behind us. Border towns like Fruita highlight the best of both Utah and Colorado, so long as no Christmas music is being played.