NOVA CHAMBER MUSIC SERIES' ODYSSEY
With Odyssey, its most recent Gallery Series concert, NOVA Chamber Music Series once again flexed its perfectly tuned muscles, by curating intellectually inspiring music from two Pulitzer Prize winning composers: the Israeli-born Shulamit Ran (1949-) and Steve Reich (1936-), who unquestionably has influenced the direction of American classical music more than any other living musician.
The most fascinating takeaway from Odyssey, certainly a riff on themes of journey, is the emphasis was on emotion, not imagery, in the purest abstract sense. In a 2016 interview featured at the NewMusicBox digital magazine website with editor Frank Oteri, Ran summarized this nicely about music's emotional power: "It speaks in remarkable ways and can move us to tears, leave us dumbstruck with emotion, and bring us to a sense of being joyous at being alive. … Music seems to have the capacity to bring time to a standstill. It's an illusion, but at the same time it's a miracle."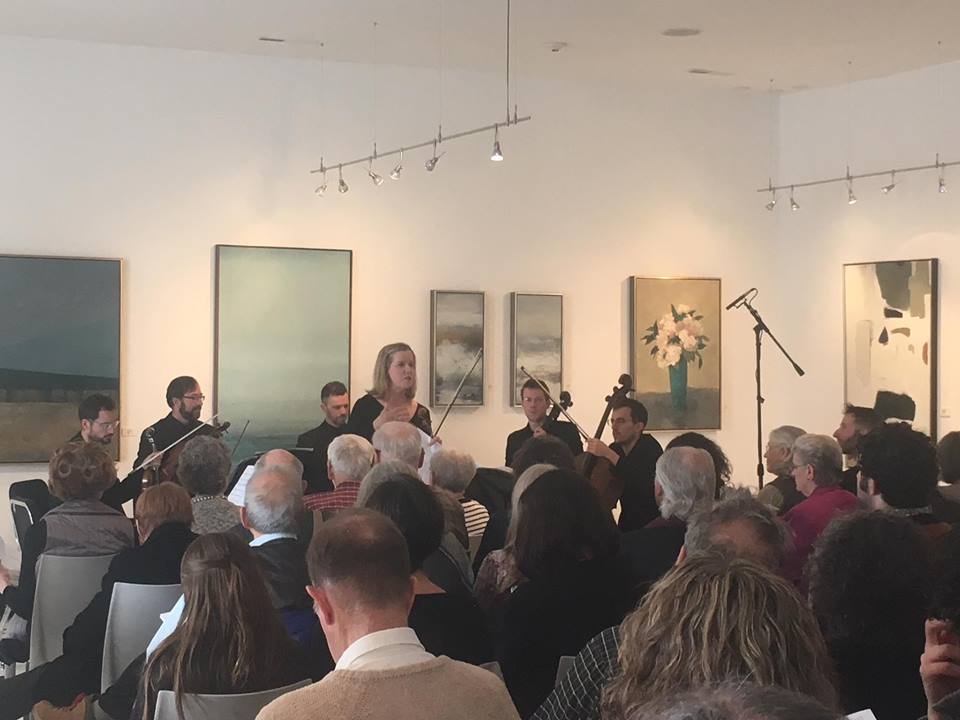 As compact as the 75-minute concert, which sold out the 15th Street Gallery in Salt Lake City, was in its presentation of three works by Ran (Lyre of Orpheus (2008), East Wind (1988) and Bach Shards (2008)) and Reich's finest accomplishment of Different Trains (1988), the miraculous illusion Ran referenced emanated radiantly. Reich's piece will be reprised in an encore performance, along with Beethoven's String Quartet No. 2 in G Major, Op. 18, this Thursday (March 14) at 7 p.m. in the I.J. and Jeanné Wagner Jewish Community Center (2 North Medical Drive, SLC).
Again, smart decision to present not just one work by a contemporary composer who definitely should be on every serious listener's radar, but three from Ran, who was born and raised in Israel and has spent most of her musical career in Chicago. A child prodigy, who premiered her first work at the age of 14 at a Leonard Bernstein's Young People's Concert, she studied with Elliott Carter and Ralph Shapey, a creative lineage that is evident in her exceptional music.
Scored for string sextet, Lyre of Orpheus (the title which Ran added after she had nearly completed the work) puts Ran's composing skills on impressive display. The work, featuring solos for the first cello, is effusive in its melodious gifts and it connects immediately to the audience. Ran consciously tears down every intimidating barrier in her music. As with Andrew Norman, a composer who had three works featured in a NOVA concert last month, Ran also enjoys architecture and brings her own unique language of joy to the composer's score.
Those objectives were met in a full-throated intensity by The Fremont String Quartet, comprised of the string section principals of the Utah Symphony, who also performed another Ran work as well as the Reich piece. The quartet members (Madeline Adkins, concertmaster and NOVA's current music director; Claude Halter, second violin; Brant Bayless, viola, and Rainer Eudeikis, cello) were joined by Joel Gibbs, viola, and Andrew Larson, cello. The 15th Street Gallery performing space can be tricky acoustically for such rich, complex writing – including having the second cello tuning its lowest string to accommodate additional lower notes – but the balance was perfect, with every superb strand articulated and heard.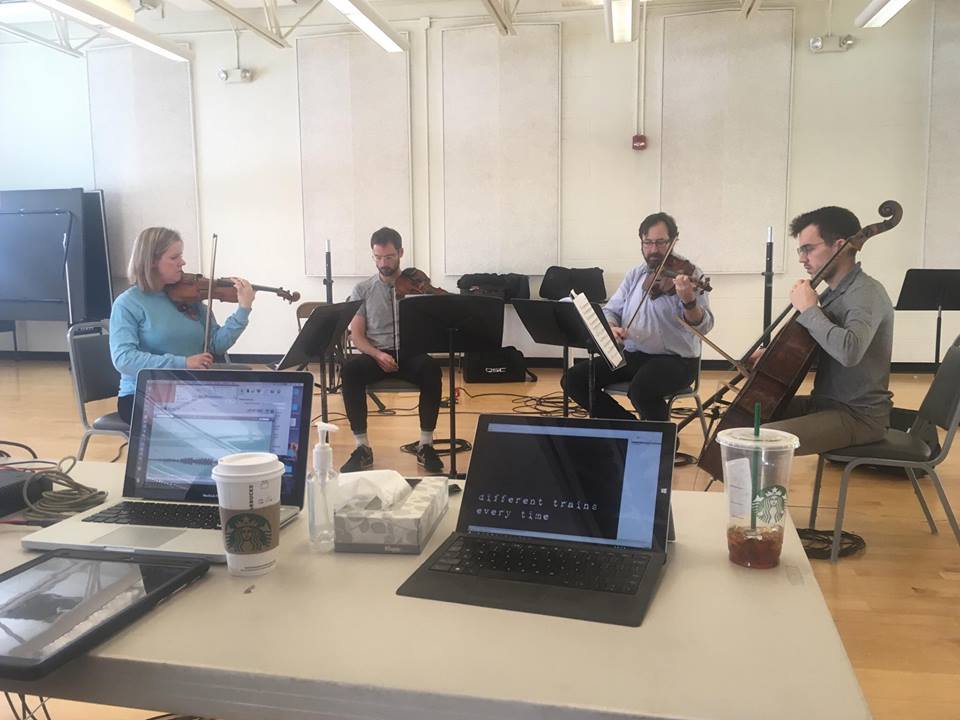 Mercedes Smith gave full artistic justice to East Wind, a work for solo flute. Many contemporary composers who write complex music have relished the challenge of creating solo works for the flute that stretch the instrument's capacities for expression that reposition technical challenges in new dimensions for intellectual and emotional communication. Ran's version has a unique clarifying vintage. And, Smith elucidated the marvelous melodious element that validated the piece's position in this Odyssey program.
The third Ran work put the exuberant exclamation point on this sampling of her oeuvre with Bach Shards. She composed this as part of a commissioning project in which the Brentano Quartet asked various composers to write 'musical commentaries' as companions to specific fugues from Bach's final work The Art of Fugue. Ran's composition 'commented' on Contrapunctus X, and she opted to stay within the boundaries of the original's harmonic vocabulary. Yet, it is so fresh, frisky and wonderfully cheeky.
With the aid of sound design engineer, musician and composer Devin Maxwell, the Fremont String Quartet performed Reich's Different Trains with commanding emotional force. Here, the recorded bits of speech and sounds on tape (taken from reminiscences from his governess, a retired Pullman porter, several Holocaust survivors and train sounds from the U.S. and Europe of the 1930s and 1940s) constitute the music's melodic lines which the string parts imitate.
He wrote the piece in his early fifties, which the Kronos Quartet premiered. Different Trains juxtaposes the romanticized experience of his childhood train journeys with the dark, ominous horrors of the trains on another continent at the same time. For the performance, some fragments of those recorded bits of spoken text, were presented as supertitles in a font typeface that was appropriate to the period. So wisely chosen were those fragments that they unobtrusively alert the listener to sense how Reich's modal melodic expressions and the pulsating rhythms evolve and proceed in the work. Different Trains is one of those rare artistic expressions that captures comprehensively the history of the 20th century. The Utah Enlightenment is about remaking the spaces where art and creative expression occur and this Odyssey program was as brilliant a case study as seen recently in the local arts scene.
For ticket information and more details about the remaining concerts this season, see NOVA's web site.
BACHAUER CONCERT WITH CÉDRIC PESCIA
Playing to a sold out house in the Jeanne Wagner Theatre in downtown Salt Lake City, Cédric Pescia rendered far more than deep respect for Bach's mastery in performing the seven pairs of selections from both books of The Well-Tempered Clavier, BWV 846–893, which were published 20 years apart (1722, 1742). There is an unconditional love in his engagement with Bach's music – an unforgettable sensitivity for the composer who literally set the path for keyboard performance and technique to this day. This particular Bach collection encompasses the composer's maturity of expression that evolved from his twenties to when he was nearly 60.
Pescia's offering of Bach has the primordial significance that explains the mission of The Gina Bachauer International Piano Foundation. His solo recital was an expression of exquisite gratitude to the community where he won the gold medal in the Bachauer competition 17 years ago, the only such event he ever had participated in as a young pianist.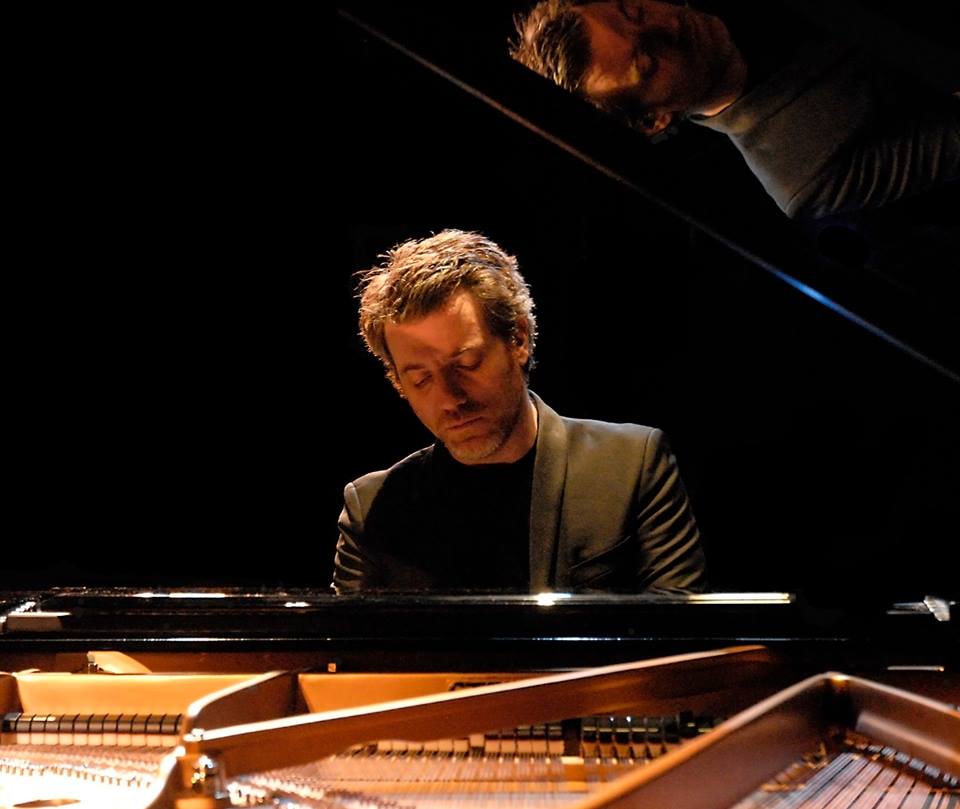 Many people, including Pescia, became most familiar with the work, the two-book set totaling 48 prelude and fugue compositions, through the recordings of Canadian pianist Glenn Gould. Those recordings arose from an exhaustive obsession for precision in technique and interpretation. However, when they are performed live, they are freed from their cherished shine of musical mysticism. Pescia is delighted, even as he is focused, in letting the music's personality overtake its long vaulted iconography as the pianist's Old Testament.
Music written 300 years ago is animated, reminding listeners why Bach is impervious to anachronism. In 2019, Pescia brilliantly reminds us of that timeless vitality. He alternates frequently between both books, selecting pairs representing the companion major and minor keys.
He opened the program with the first piece in Book I, the C Major Prelude and Fugue – one of the most recognizable pieces in all of western music. It's a piece that many young piano students learn. Of course, in Pescia's skilled hands, it was as ethereal as could be imagined. He followed that with the C Minor counterpart from Book II. The program did not alternate always from Book I to Book II, nor did he necessarily stay within chronological order. He ended the first half with selections from Book II: the F Major and F Minor Preludes and Fugues. Pescia delivered the F Major's Prelude and Fugue in all of its expansive, plucky and adventurous expectations. The Fugue is like a spirited gigue and there are some harmonic surprises in the chord progressions, which then are rewarded with a virtuoso conclusion. Likewise, the Fugue in the F Minor selection showcases why Bach was the master of the form. Pescia precisely conveys its three thematic ideas and then builds the tension to an immense satisfying release that combines all three themes.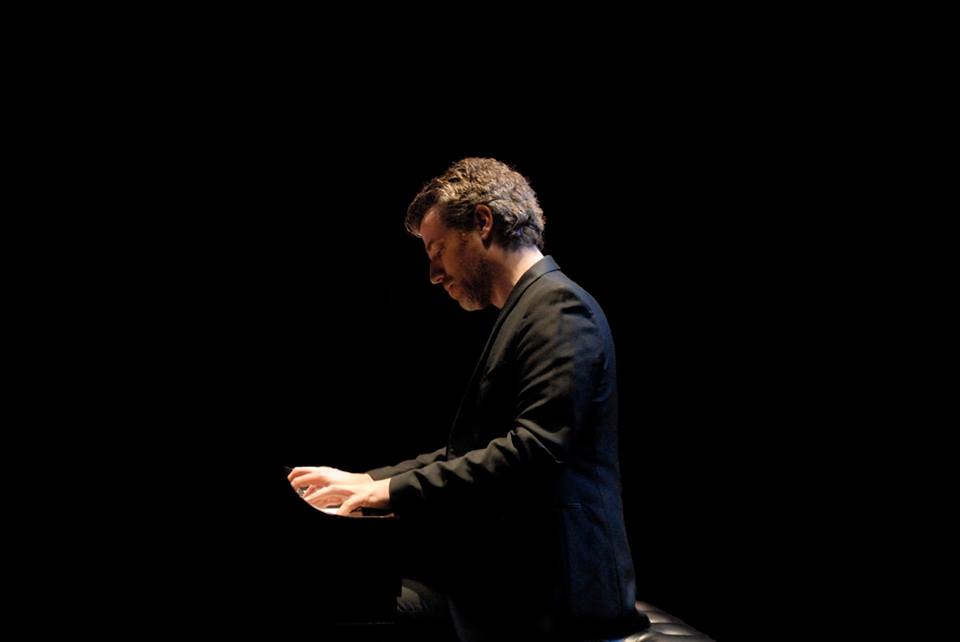 Pescia chose wisely, offering an example of a five-part fugue from Book I's C Minor piece and the collection's only fugue for two voices in the E Minor work from Book I as well. In this latter example, this is where Pescia's intimate relationship with the music allowed a veritable peek into Bach's complex character, which could be as unrestrained and vivid as it could be dignified and spiritual. Likewise, Pescia brought out the full joy of the Prelude from Book I's G Major offering and the technical blaze of its Fugue.
He ended the program with two selections from Book I: The B Major, one of the shortest examples in the entire collection, and the B Minor, a key that Bach cherished, as evidenced by some of his greatest and best-known works. Pescia's interpretation resonates with deep gratitude of the Bach legacy. There are all of those wonderful suspensions and the walking bass line in the Prelude. And, then the Fugue, where Bach incorporates all 12 semitones. What a spectacular choice to end this all-Bach concert: Bachauer's concert season theme is Bach, Beethoven, Brahms … and Beyond. The B Minor's intense chromaticism foreshadows the incredible harmonic explorations that marked the 20th century's developments in music.
The season closes on May 3 with a concert of music by Brahms and Schubert by Alexander Korbin, one of today's most acclaimed pianists to win top prizes at many of the world's best-known piano competitions. For information, see the Bachauer web site.