When BTG Wine Bar debuted two years ago it wasn't clear what the future would hold. Hamstrung by a limited seasonal license, a huge question mark hung over the future of what is arguably SLC's first wine bar in the truest sense.
Certainly others have dipped their toes in the water before — hands up who remembers Panache in the Wells Fargo building? To my mind though, there has been nothing previous that comes close to the level of professionalism or execution of BTG Wine Bar. Among a bar scene that skews heavily to a younger crowd, this chic bar for *gasp* grown ups, is relatively unique in Salt Lake City.
Of course, the business eventually snagged a permanent full service license, which undoubtedly helped owner Fred Moesinger (also owner and chef at next door Cafe Molise) lure wine geek and sommelier Louis Koppel to the team in January 2014. The business hasn't looked back since, growing in confidence and class.
Koppel moved here in 1995 from back east and the story is a familiar one. Gravitating to Utah for the powdery white stuff, Koppel fell in love with that special someone and discovered his calling. From humble beginnings in the restaurant business, "as a busser/ski-bum, I got psyched on wine and now my job is what I'd compare to the Willy Wonka of wine — sharing the world's treasures," Koppel explained. Indeed, BTG is probably what Wonka might have built himself of he we're more oenephile than chocophile (yes, I know, my Latin is lacking there).
Under Koppel's stewardship the wine selection is impressive: approximately 50 reds, 30 whites and around ten fortified wines. Several specials adorn a chalkboard and a selection of dry sherries are mooted to arrive soon, pushing the collection to well over 100. That's not counting the beer, spirits and cocktails available too.
To manage such a deep inventory, BTG takes advantage of a number of techno-tools. All red wines are handled by a Cruvinet dispensing system; this setup works by removing the cork, placing a line into the bottle and exchanging spent wine with neutral argon rather than oxygen; while we love to breath the stuff, its anathema to wine. Through savvy temperature control, pressure and the removal of oxygen — wine can be preserved for around 4-6 weeks. Koppel added, "we are also big proponents of the Coravin for ultra premium wines — no waste and much longer preservation."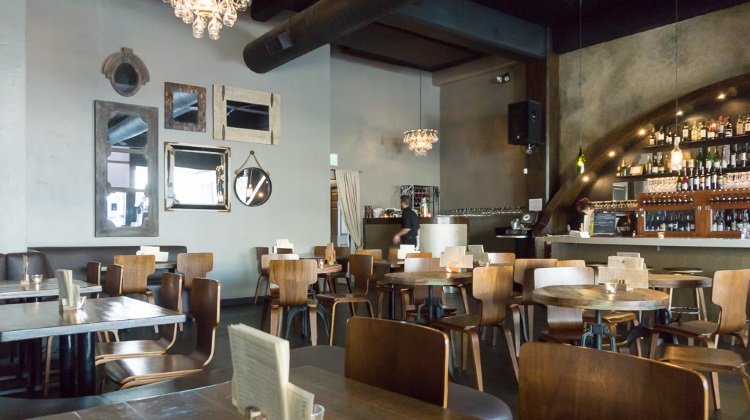 With all the inventory, BTG is able to offer a range of fun wine flights, perfect for when you just can't decide. The flights mostly comprise three pours totaling 6 ounces, highlighting perhaps a specific varietal, region or even something a little fun and whimsical, ala a trio of lush rose wines, titled Blushing Beauties.
There's plenty of flux and flow and always something new to try. A recent evening ended with a decadently enjoyable Madeira wine flight (off menu and one of two offered) suggested by Koppel. The beautifully delicate Broadbents Barn Find flight is best described by Koppel, "again 3 styles and different grapes: Sercial 10 year, Verdelho 10 year and the gem – the Terrantez, which is not to be confused with Torrontes and is labeled as Old Reserve because there was no date or paperwork associated with the barrel that was found on a property, bought by a Madeira producer and found resting in barrel in a barn. It's been approximated by experts as from the 1930's. It's the rich history and the storied wines of Madeira that I want to share with guests. The entire islands grapevine acreage is one-tenth of Napa Valley."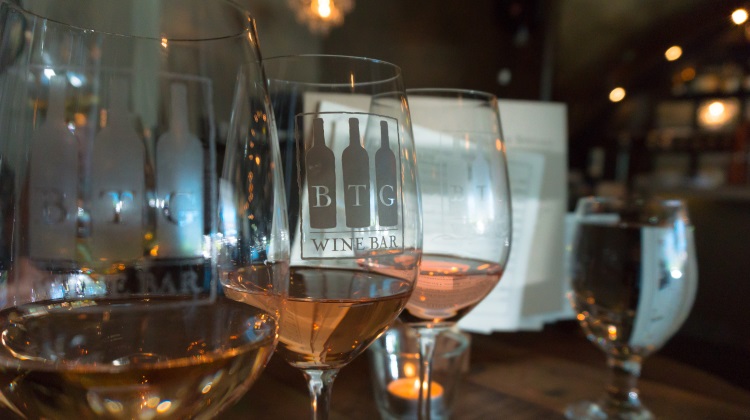 Made possible by the expertise of Francis Fecteau, broker at Libation Inc., this flight is just one example of BTG's commitment to not just pouring the best, but also working with the best talent. Case in point, behind the bar you'll find Jesse Garrett, a graduate of the team at Caffe Molise and responsible for the bar's entry in this year's Farm To Glass contest — the Caprese Spritzer — a bright spin on several summery ingredients. Not content to rest on his laurels Garrett talks with excitement about broadening his own skillset, taking the Master Sommeliers exam this fall.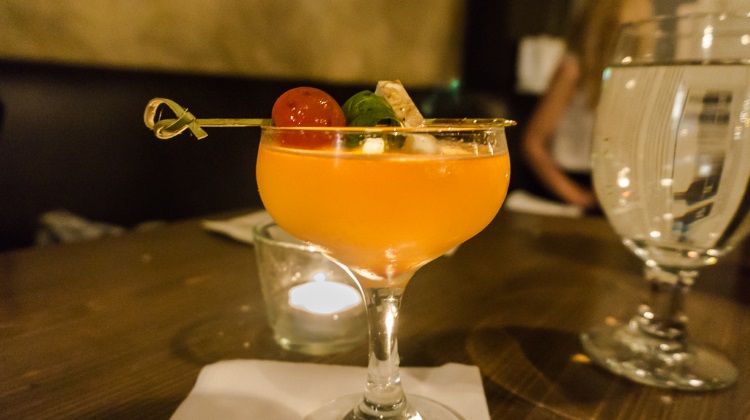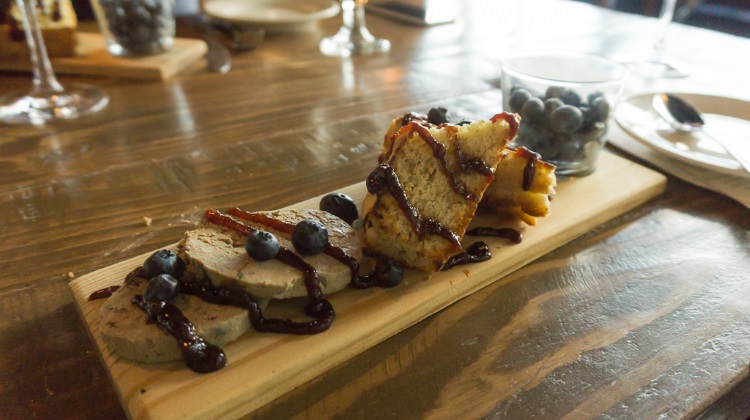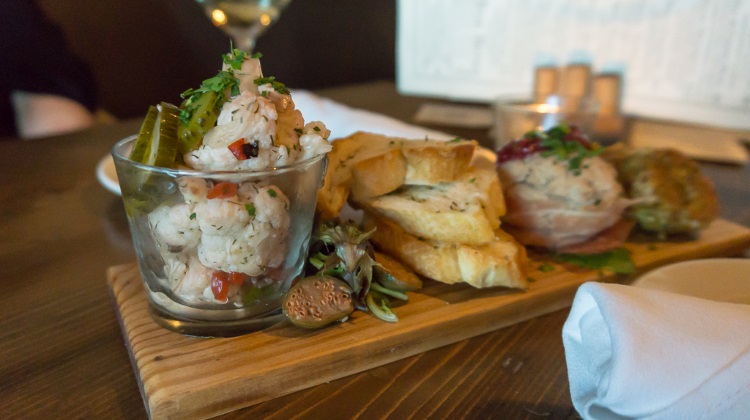 While patrons are free to drink at BTG without eating — it's a bar first, restaurant second — I might suggest you do peek at what's on offer from the kitchen; it goes without saying the food at BTG is a step above burgers and fry sauce.
The precise selection at any given time is something of a work in progress, in all the best ways of course. The latest menu to hit the tables focuses on small plates, suitable for either pairing with a pour or combining together to build a more composed meal. Don't go running for the hills at the sound of more small plates though. The menu eschews the trendy in favor of the timeless; think less shishito pepper and more chicken liver pate.
If Italian cuisine is top of your mind, you can still order plates from sister restaurant Caffe Molise; the flavors at BTG pop with flair from all around the world though and make for a fun adventure. Something French and confit'ed there, maybe a little slice of something Spanish there. It all fits together rather well, and I'm a fan.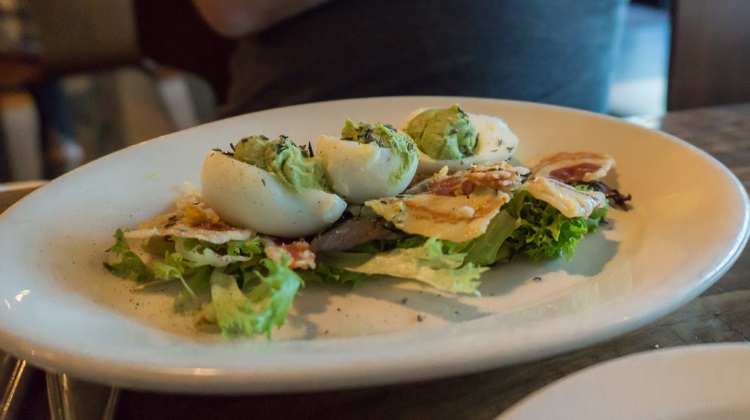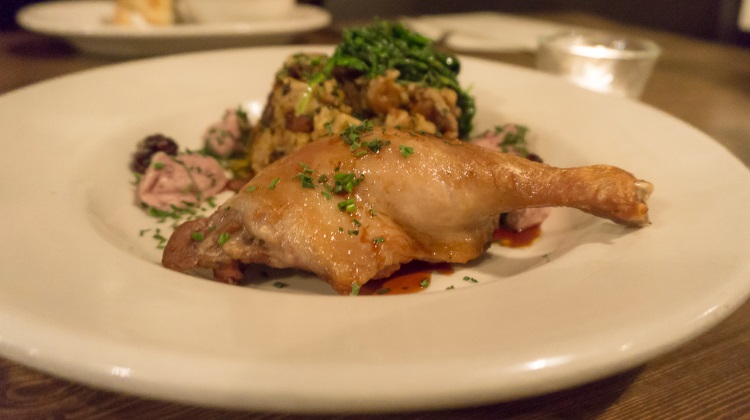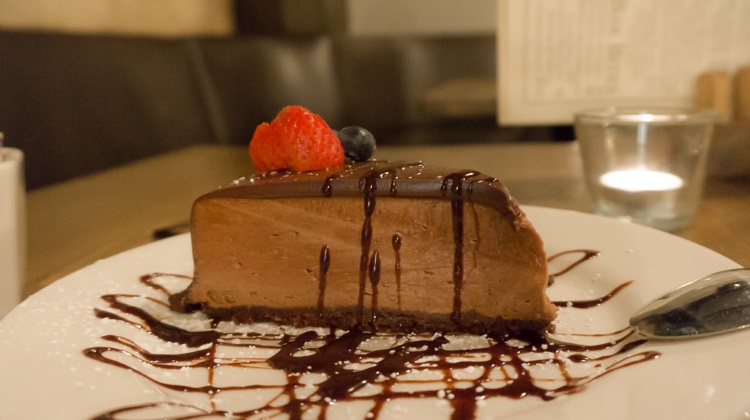 As a glass half full guy, I often feel at odds with most of teeth gnashing dialogue about Utah's local bar and beverage scene. In the brief 600 days since BTG's opening it's almost impossible to count the number of distilleries, breweries and beverage innovators that have come into being pushing SLC forward; not to mention the countless cocktail and food and wine festivals that seemingly pop up on a monthly basis.
Through the grapevine I hear that the process of special ordering wine is getting easier all the time and programs like the small wineries exemption makes boutique wines in Utah some of the most affordable in the nation — funny how no one ever mentions the good things huh?
So with that in mind raise a glass to BTG with me — perhaps the best bar in downtown SLC for discerning adults.
63 W 100 S, Salt Lake City, UT 84101
(801) 359-2814
www.btgwinebar.com