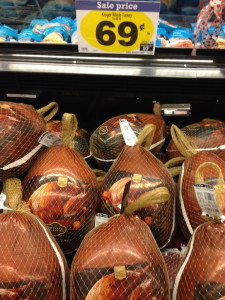 The Mission: Determine if 12 people can eat a traditional Thanksgiving dinner for $50.
The Menu: turkey, mashed potatoes, turkey gravy, cranberry sauce, rolls, stuffing, green beans, candied yams and pumpkin pies with fresh whipped cream.
The Verdict: Yes, it can be done—and without coupons!
After considering various Thanksgiving shopping incentives from Smith's and Fresh Market and price matching by Walmart and WinCo, we determined our best overall value (and one-stop shopping trip) was Smith's.
The Details: We headed out with our shopping list for the above feast in hand. We were also armed with our Fresh Values Rewards card (reflected in the prices below) along with the November shopping special that Smith's runs each year which gives you a loss-leading discount on a store-brand turkey if you spend more than $25 on other groceries. We wound up with a mix of store-bought, pre-made items and homemade options along with both brand name and store brand items.
Typical pantry items that most homes will have on-hand including flour, white sugar, baking spices and salt were not included in the cost of groceries for this meal—although we did allow for the purchase of additional eggs and butter as well as brown sugar.
So how did we do it?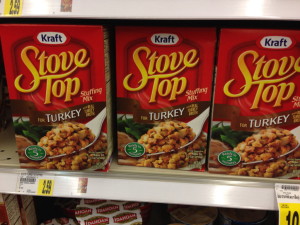 The Costs:
2 14.5 oz. cans Ocean Spray canned cranberry sauce ($0.89 each)
1 bag of Rhodes frozen rolls (36 count) ($2.79)
1 box Kroger ready-made pie crusts (2 in box) ($3.29)
1 29 oz. can Libby's canned pumpkin ($2.99)
1 12 oz. can Kroger evaporated milk ($1.09)
1 2 lb. bag Kroger brown sugar ($1.50)
10 lb. bag of Idaho potatoes ($1.99)
3 packages Kroger turkey gravy mix ($0.79 each)
2 boxes turkey StoveTop stuffing mix ($2.59 each)
1 29 oz. can Bruce's yams or Princella sweet potatoes ($1.99)
1 bag Kraft mini marshmallows ($1.37)
3 14.5 oz. cans Green Giant green beans ($1 each)
1 dozen Smith's large eggs ($1.19)
1 pint Kroger heavy whipping cream ($2.29)
1 lb. Kroger butter ($3.99)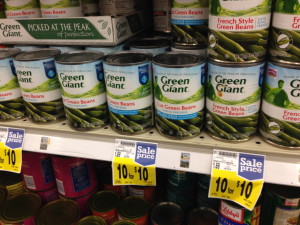 Subtotal: $36.81
(this qualified us for the in-store discount on a 15 lb. Private Selection turkey for $0.69/lb. or $10.35)
Total: $47.16 (plus tax)
 *priced on 10/19/2014, rechecked on 11/19/2014