The long immigration corridor from all parts of Mexico to all parts of the United States has brought some of the most gratifying results to the American restaurant industry, especially with ambitious, eager and talented chefs.
No doubt, Carlos Gaytán, who spent three days last week in Salt Lake City in culinary events to raise scholarship and programming funds for Artes de Mexico en Utah, epitomizes the possibilities for all young immigrants who enrich the American experience with a flair for hybrids of creativity and innovation.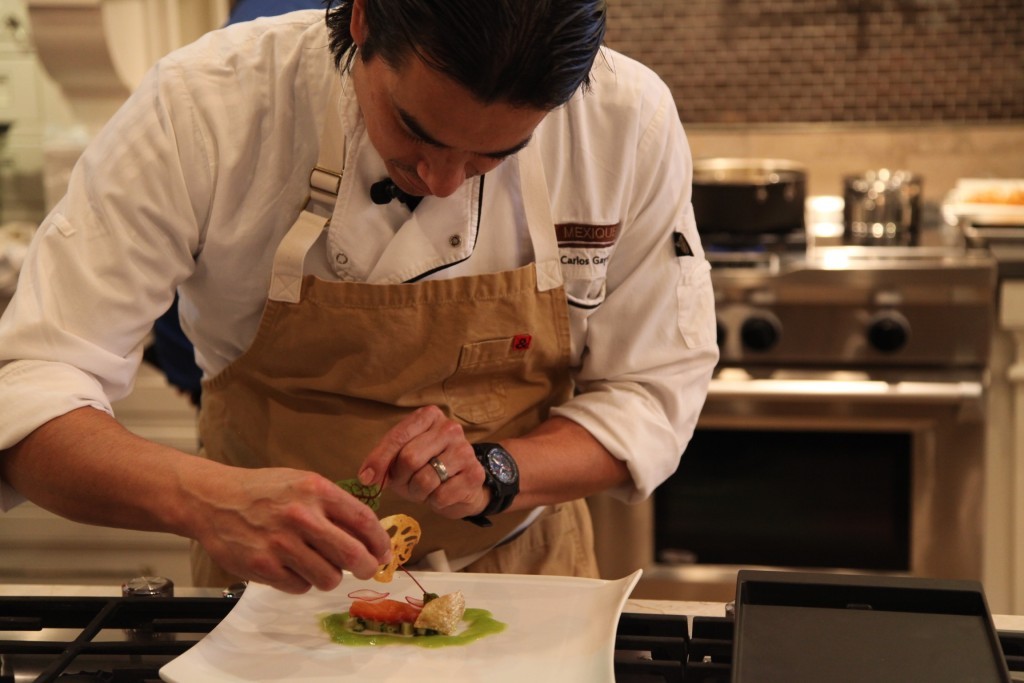 Gaytán, owner and executive chef of Chicago's Michelin-starred Mexique restaurant and an 11th season finalist in Bravo's Top Chef competition, came to the United States 25 years ago, first working as a dishwasher before landing a cook's job in the city's Sheraton North Shore Hotel.
Originally from Huitzuco in the Mexican state of Guerrero located in the country's southwestern region, Gaytán's culinary genes, so to speak, were steeped in a cuisine influenced by Spanish and French traditions as well those of indigenous people. The region is known for pozole blanco, mezcal, chilpancingueñas (a leavened wheat bread), quail and seafood cuatete made with the area's distinctive blue catfish, just to name a few items.
In an interview with The Utah Review, Gaytán said he grew up in a family where everyone learned to appreciate the culinary riches and resources despite the area being one of Mexico's poorest. "And, in my restaurant, this is what makes our work so demanding," he explains. "We focus on every detail in our food, and the good news is that both demand and appreciation for Mexican gastronomy are growing and getting better all of the time."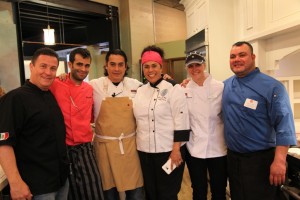 However, he also laments what the harsh debate about immigration has meant for the restaurant industry. "So many young people in Mexico have such a passion for food and are so eager to come here and learn as much as possible about technique in the kitchen," says Gaytán, who worked with gifted chefs such as Dominique Tougne at the Bistro Margot in Chicago, where he studied with the chef every morning to learn and perfect French culinary techniques.
"But, it has become really hard to find good, hard-working employees in Chicago, especially who are willing to start out as a line cook and are willing to work up from the bottom," he explains. "There are many who graduate from culinary schools and want to start out as executive chef, even if they do not yet have the knowledge or experience to do it well."
Latinos, and immigrants from Mexico, in particular, have kept the restaurant industry going, as suggested in a 2015 Washington Post article. In 2010, the U.S. Bureau of Labor Statistics estimated that at least 1.4 million out of a total of about 12.7 million workers in the restaurant industry were immigrants. The Pew Hispanic Center estimated that about 20 percent of the country's more than 2.5 million chefs and cooks were undocumented immigrants.
Despite the issues with finding workers, Gaytán says the current period has been wonderful for Mexican restaurants which emphasize a fine, ambitious cuisine that goes well beyond the usual fare of Tex-Mex inspired tacos, burritos and enchiladas. He opened Mexique nearly eight years ago, and quickly gained the attention of critics and diners, including one of Chicago magazine's top new restaurants of 2009, best restaurant of 2010 and received its first star in the Michelin Guide in 2013.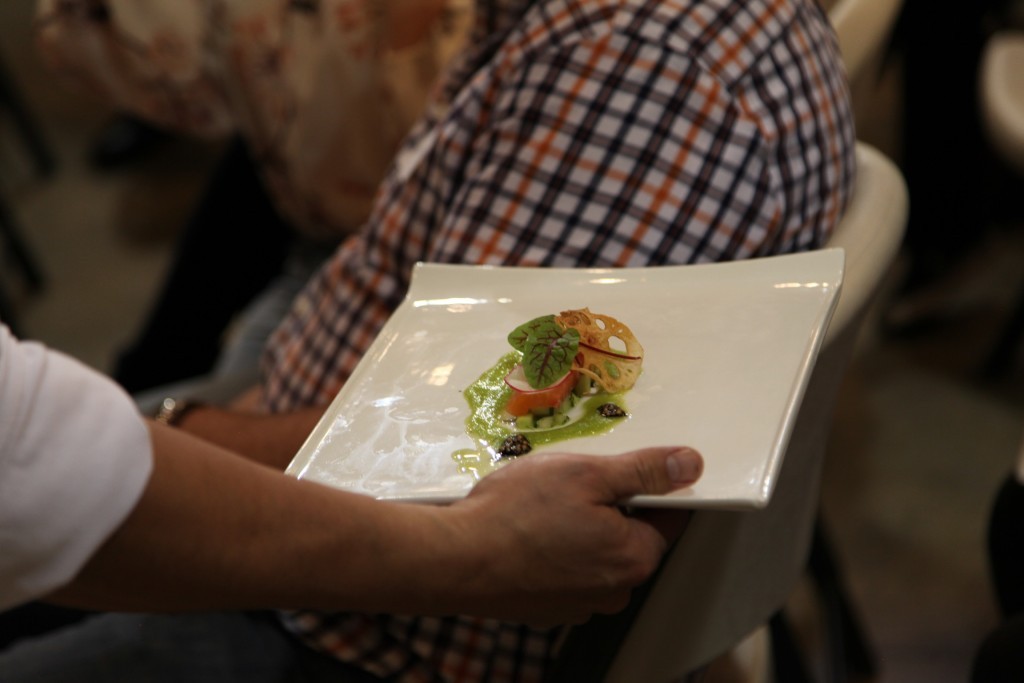 In Salt Lake City, he cooked for three days at Frida Bistro, calling it a "wonderful ambassador" for outstanding Mexican cuisine, and an impressive sign of the cosmopolitanism which has made the city's culinary scene that much more ambitious and adventurous.
During a cooking demonstration in one of the kitchens at Mountain Land Design in South Salt Lake, he was comfortable, genial and witty, almost as if he was in his own kitchen at home or in his Chicago restaurant.
He prepared one of his signature ceviche dishes, which brings together elements of Mexican, French and Asian influences. The salmon was served sashimi style in meticulously cut cubes, adorned with fresh greens, cucumber, passion fruit, beautifully sliced radishes, a mustard seed caviar made with squid ink, and a smooth aguachile dressing made with tangerines, lime juice, cilantro, rosemary and chile peppers. The dish was capped with a fried lotus root chip.
He prefers to let the presentation of his dishes to provide the artistic focus in the overall dining experience. The ceviche suggested the color composition of a Matisse or Chardin.
It proves to be a versatile dish, according to Gaytán, who says it work wells with salmon, tuna, cobia or other firm flesh seafood proteins of sashimi grade. The aguachile is a pulverized liquid dressing, central to many ceviches in Mexican restaurants. It, too, is versatile, and one can adjust the heat level of it, depending on the preference for jalapeno, serrano, or, for the most daring, habanero pepper.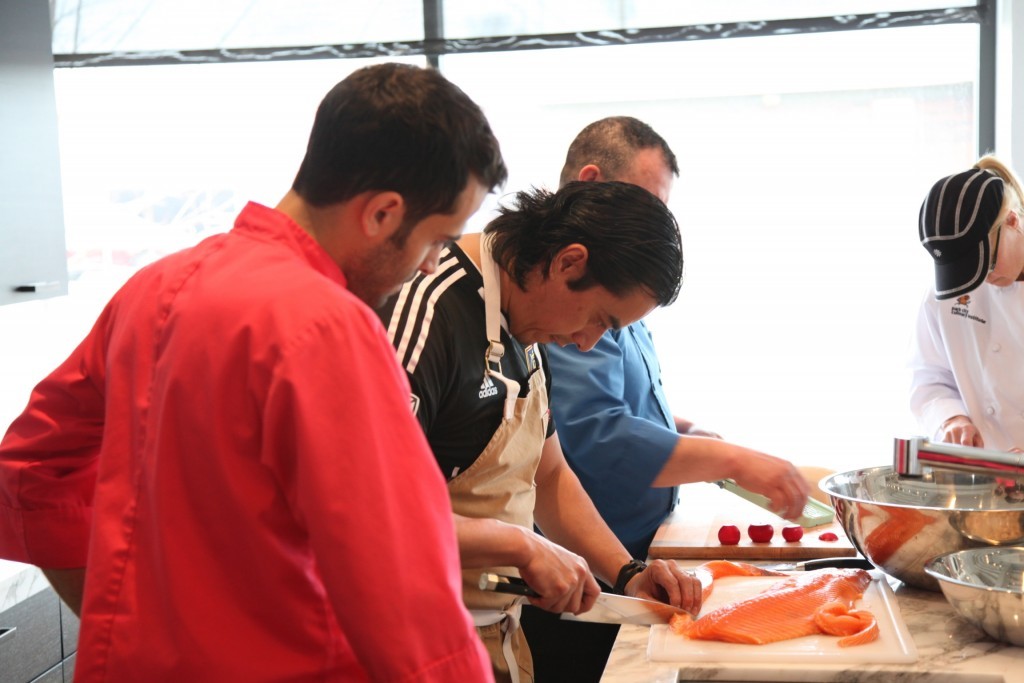 He was assisted by several local chefs including Chalia Escalona, chef, Brulee Catering; Alberto Higuera, executive chef at Cannella's and Taco Taco; Zach Howa, chef, La Caille and Dawn Hoffman, a student at Park City Culinary Institute. Gaytán invited Eduardo Arnal, who is leaving this week as Mexico's Consul in Salt Lake City to return to work in Mexico City.
One of Gaytán's strongest pieces of advice for the restaurant industry and Salt Lake City, especially, is the matter of service. "In Chicago, every restaurant is fighting intensely to keep and grow their business, which means it's getting better all of the time," he explains. "Every little detail counts and that's why service is so important."
He was surprised after finishing his guest cooking stints at Frida Bistro that he could not find a place for a decent meal after 11 p.m. "This would be a big negative in Chicago," he adds.
One particular scene stuck with Gaytán during his SLC visit, after the front desk hotel staff was unwilling to help him find a place to get a late-night sandwich, because an employee was about to end her shift. "I had just fired an employee in my own restaurant who refused to seat a diner during the last part of our lunch service," he recalls. "We serve lunch from 10 a.m. to 3 p.m. and the customer came in after 2:30. Our challenge is always first to utilize and share our gifts and make our customers happy."
Artes de Mexico en Utah offers a full line of programming in Mexican art, history, literature and culture. It recently has broadened its offerings to include an upcoming program in Chicano Hip Hop. A student competition for original literature and poetry in Spanish also is underway.