The Natural History Museum of Utah's newest exhibit, The Horse, will be galloping around the University of Utah foothills through January 4, 2015.
The exhibit is meant to explore the enduring bond between humans and horses across cultures and throughout time, with much of it on loan from the American Museum of Natural History in New York.
Get up close and personal with a terracotta horse from Tamil Nadu, India; a horse in authentic German medieval armor from the late 1400s; a Wells Fargo stagecoach (a special piece provided for the Utah run of the exhibit only) and even the winnings of the prized Triple Crown—considered the greatest accomplishment of a thoroughbred racehorse.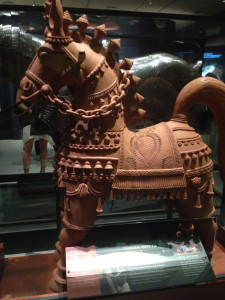 Museum goers will discover the fascinating story of how humans have shaped the horse through domestication and how we have bred them for work and play, and forged deep emotional and spiritual connections with them—and how they have changed the human species.
This special exhibition includes cultural objects from around the world, a hand-painted diorama depicting the evolution of the horse, and interactive activities where one can test your strength in horsepower, identify different breeds and peek inside a life-size, moving horse.
As with the museum's other special exhibits, great care has gone into crafting a story that connects with Utahns directly. In this way, The Horse explores one of Utah's most important horse stories—the connection of the Ute people to horses. The Ute were among the first North American tribes to acquire horses from the Spanish in the 1600s—which transformed Ute life and helped them become better hunters and traders as well as fierce warriors on horseback.
Special guided tours of the exhibit are available on a regular basis for an additional $1 per person (above admission prices) and run 25 minutes.
For more information on special events surrounding The Horse, including one with museum paleontologist Tylor Birthisel on August 23 called From the Horse's Mouth and a Labor Day weekend filled with exciting events, visit here.
Horses are integral to our history and touch us as individuals and The Horse celebrates our bond with these magnificent creatures. Don't miss it from now through January 4, 2015.