Concerts at Deer Valley's Snow Park Amphitheater are an enjoyable experience all on their own. Mountain air, great music and good food are enhancements to the venue. Packing your own picnic foods and drink are welcomed, but if you don't have time to get it together, you can pre-order gourmet picnic baskets or bags available for pick up at the venue the night of the concert.
The offerings include both single and double options, as well as vegetarian, vegan and gluten-free selections. The traditional entrée basket comes with your choice of lightly smoked salmon with marinated cucumber ribbons and a dill caper aioli, or, a chilled petit fillet of beef with caramelized onions and horseradish cream. The beef is tender and eating it chilled with the horseradish cream was a great main dish. It's a bit of a challenge to cut it on your lap plate with plastic utensils, but its doable.
Also in the basket is a fresh antipasto of artichokes, a variety of imported olives, Deer Valley's own housemade Tuscan salami, plenty of slow-roasted tomatoes and baby heirloom tomatoes and fresh arugula. Not only is this side colorful on your plate, its delicious and easy to eat.
A freshly baked, crusty baguette is included with a small wheel of Deer Valley Artisan Meadowlark double cream brie. Just rip a piece off and pair it with a bite of apple and/or a handful of grapes, also included, and you can snack throughout the show.
When you are ready for a little something sweet, the lemon pound cake and the salted brownie pop will not disappoint. The lemon pound cake is moist with the perfect hint of lemon and the salted brownie pop is rich, and fudgy–two bites is all you need and you can savor the rest later.
The vegetarian entrée option is honey-soy glazed tofu and tamari sesame marinated Asian noodles with Napa cabbage, carrots, peppers, scallions and shiitake mushrooms. All the same sides and desserts are included in this basket option as well.
If you have little ones with you, they have kid-friendly food options as well. Offered in a reusable bag, kids can choose between good 'ole peanut butter and jelly or turkey and cheddar cheese sushi rolls. Sides include a housemade trio of chips, which consist of Idaho potato chips, yam chips and purple Hawaiian potato chips. Carrots, celery and cherry tomatoes are great hand held veggies to dip in the housemade ranch, and chilled edamame are also a kid favorite. Top it off with some caramel popcorn and a fortune cookie.
The only thing lacking was a beverage, which you can add for an additional fee, so make sure you bring your own or be prepared to buy one there. As an added bonus, you can keep the basket or tin your food comes in if you like.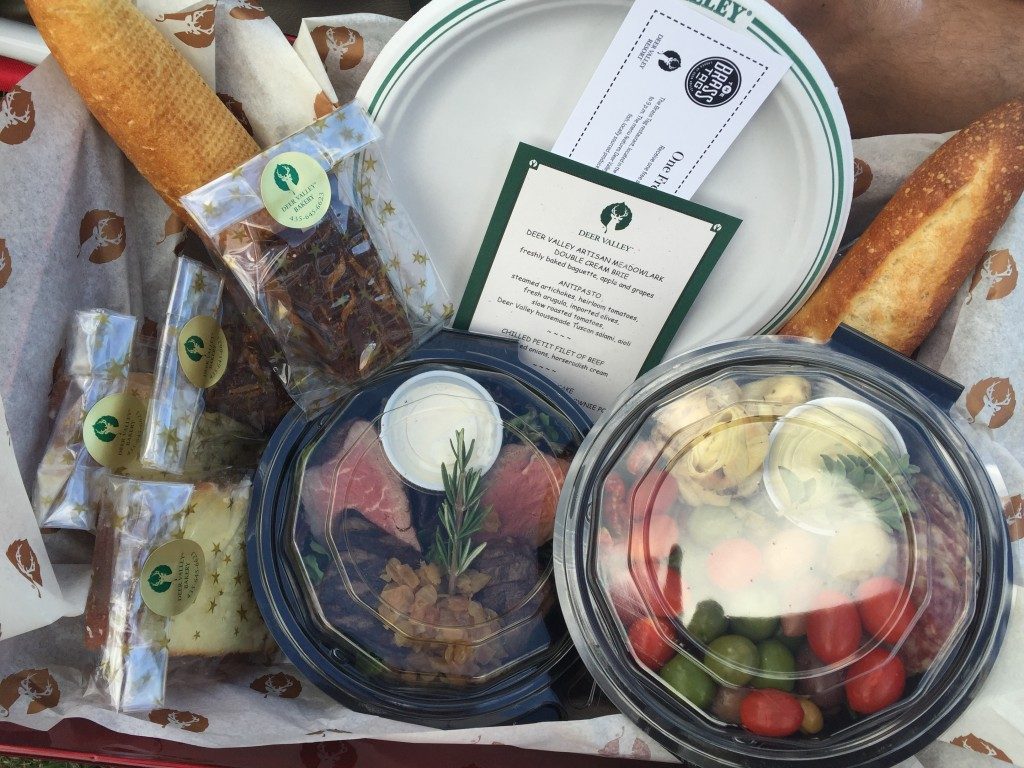 Prices:
Single Basket: $47
Double Basket: $84
Children's Bag: $32
Water and soda add on: $3.50 each
To order yours for the next concert, call 435-656-6613.