Two local masters of minimalistic theater are staging plays about children this fall — though stark contrasts in treatment. One is a macabre junk opera take on old German stories about children who misbehave or refuse to follow sound advice. The other is a new play about two siblings grieving over the loss of their beloved grandmother who go on a play adventure and discover important lessons about grief and the lasting power of love and memories.
SACKERSON: SHOCKHEADED PETER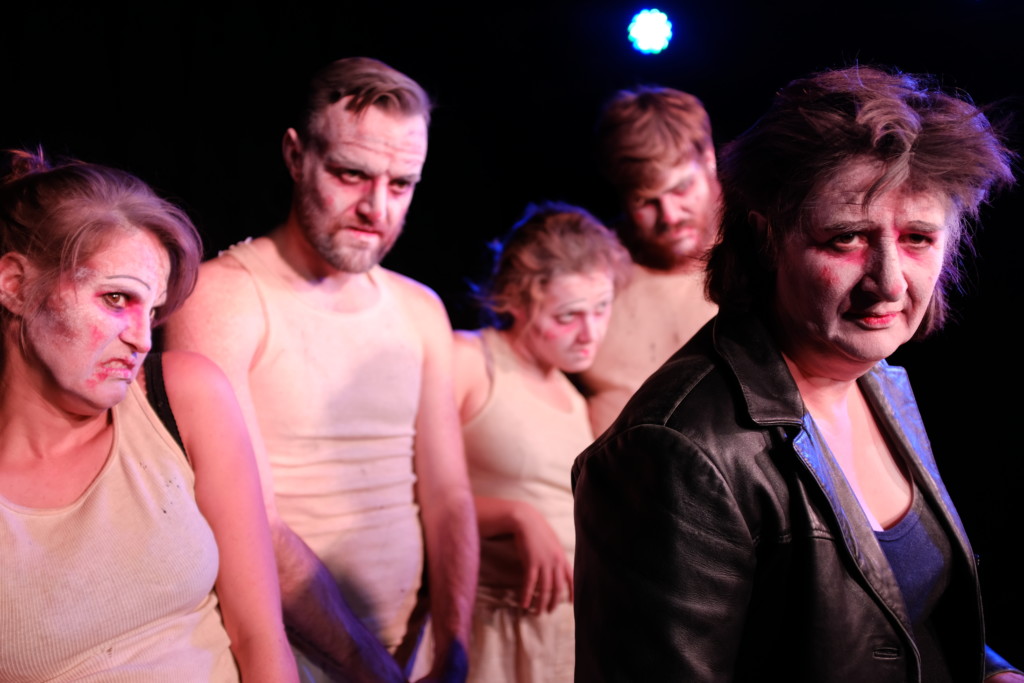 In Shockheaded Peter, the recalcitrant children meet gruesome ends in the cruelest ways. A dog being whipped by an awful bully of a boy retaliates by inflicting a fatal bite on his tormentor. Harriet's obsession with pyromania ends in her immolation, as the cats observe with a definitive 'I-told-you-so attitude.' A neighbor smashes the tiny heads of relentless bullies. A hare turns the tables on a hunter. A fidgety boy at the dining room table ends up being gored by the silverware when he pulls down the tablecloth. Ignoring the cautious advice to stay indoors during a storm, a boy ventures outdoors for the last time. Or, the poor lad who can't stop sucking his thumbs, a compulsive behavior that beckons an ominous-looking tailor with a long pair of scissors.
The admonitions of childhood discipline never sounded more gruesome or more captivating in their macabre tones than in the junk opera or dark-humor cabaret of Shockheaded Peter. Sackerson, one of the newest theatrical companies on the Salt Lake City metropolitan scene, gives a first-class regional premiere of this solid British delight, complete with an outstanding cast and musicians.
Shockheaded Peter is inspired by the original Struwwelpeter collection of stories originally penned in the 1840s by Heinrich Hoffman, a German physician who wrote the book as a Christmas present for his son. An internationally acclaimed show that premiered in 1998, the play originally was directed by Julian Crouch and Phelim McDermott, with songs written by Martyn Jacques and performed by The Tiger Lilies. The premiere production was made possible by Michael Morris of the London-based Cultural Industry.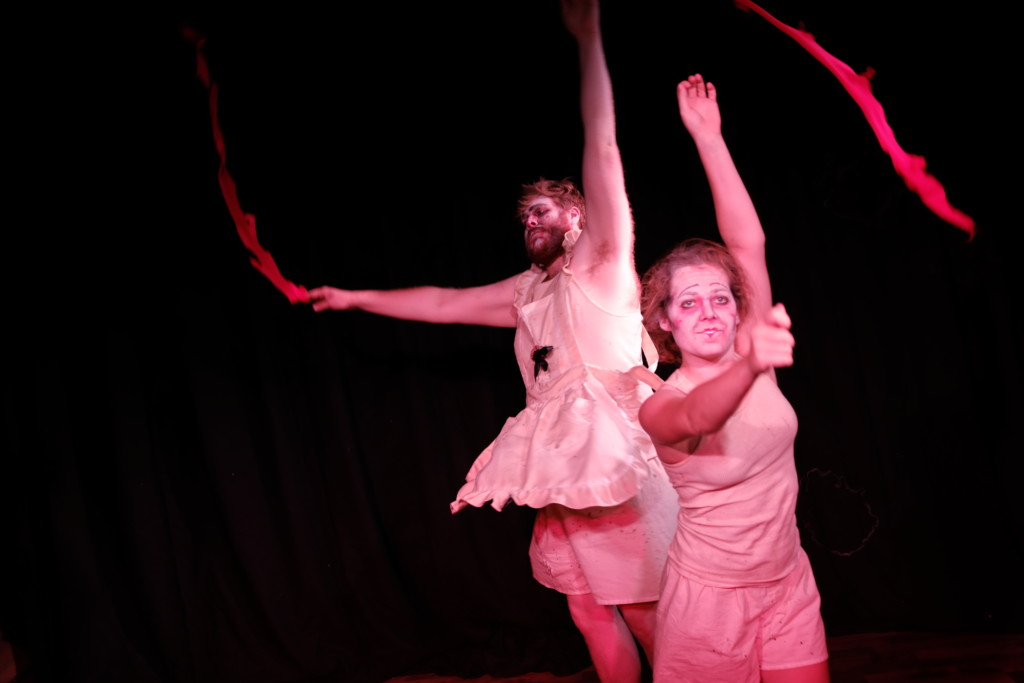 In Sackerson's production, co-directed by Dave Mortensen and Alex Ungerman, this fiendish cabaret does not miss a tempting beat in the on-stage physical comedy nor in the excellent renderings of The Tiger Lilies music. Shockheaded Peter is a tricky show to stage. The script for actors is almost barren in spoken dialogue with the songs directing virtually all of the stage action. The directors do an outstanding job of keeping that distinct British tone, which makes the macabre humor work so well, while only making the minimum of variations, as they stay true to the original contours of the show. They drop in a couple of Utah references in the script – a theatrical seasoning to be used only sparingly. The original cabaret is too good in quality to alter in any significant form.
Sackerson, like Plan-B Theatre, is more than adept at minimalistic staging with maximum effect. In a short time, it transformed a space in The Art Factory, located in South Salt Lake and operated by Utah Arts Alliance (211 West, 2100 South), into a small theater that has functioned well for this type of production. The clothing, makeup, props and hair styles accent the tone precisely.
But, it is the performances that ignite this cabaret through every song. Sarah Shippobotham relishes every turn as the emcee. Her elocution sets the show's tone immediately in the prologue, as when she says, "Who spoil their pinafores and their frocks/They deserve no Christmas box/Such as these shall never look/At this pretty picture book."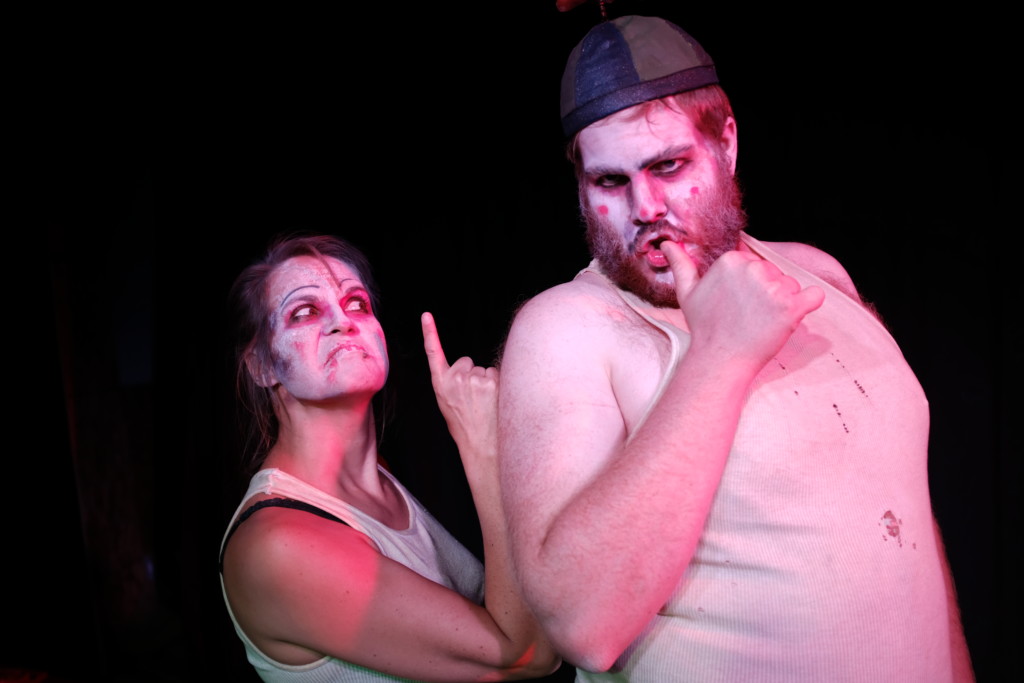 The cast of four actors who play out the stories in the devilish set of songs pull out all of the stops in nonverbal movements and gestures, creating the apt visualizations to accompany the lyrics. Even with an opening night glitch in lighting (which was quickly rectified) the cast never lost its momentum, thanks to the professionalism of actors Shawn Francis Saunders, Emily Nash, Brenda Hattingh and Leviticus Brown.
The music, however, transforms the normally sounding repugnant accounts of such horrors into tuneful, hummable darkish joys of intimate cabaret music. The quartet of musicians — Jill Hancey Hoover (drums), Ellen Nicole Allen (accordion), Brooke Bolick (bass along with ukulele and cello), and Ashley Wilkinson (vocals) – do more than worthy respect to the originals.
Wilkinson's vocals propel the stories vividly. With plenty of suggestions of rock, jazz, gypsy-style dances and polkas in the songs, the musicians blend so effectively into the staging that they never overwhelm but they underscore the actors' physical movements with solid synchronizing effect.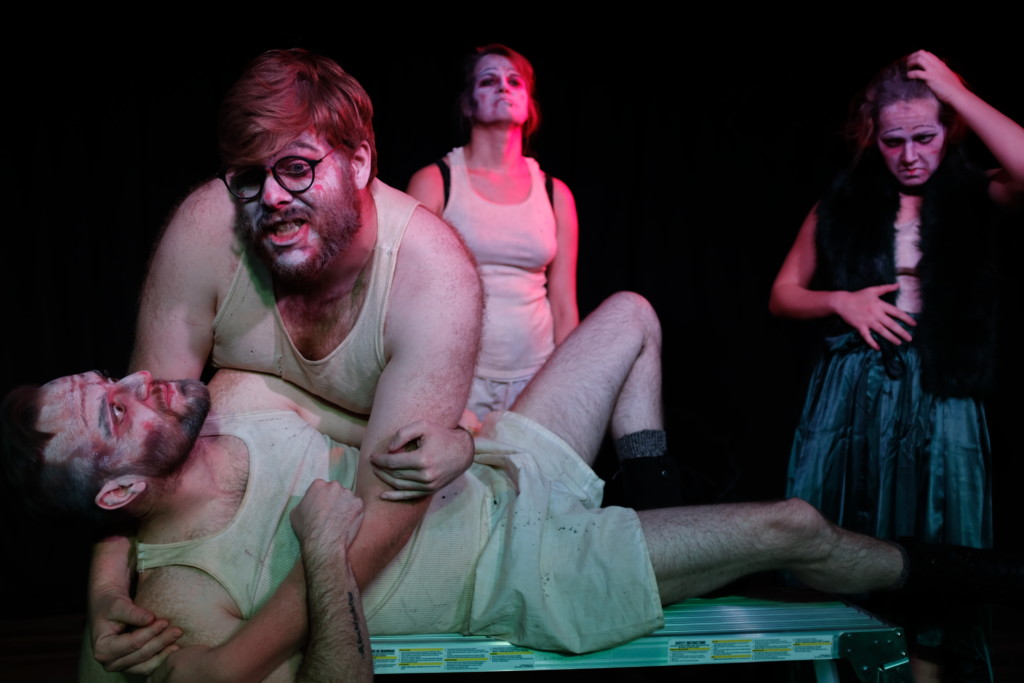 Sackerson proves that excellent quality of theater can be achieved in any venue and its Shockheaded Peter production is yet one more piece of evidence about why this company's reputation has grown so rapidly in its first few years. Performances continue this weekend (Oct. 20 and 21 at 8 p.m.).
Upcoming productions include The Ten Deaths of Hamlet, an unconventional take on the Shakespearean classic using just one actor, and The Little Prince, based on a classic holiday season tale.
PLAN-B THEATRE: RIVER. SWAMP. CAVE. MOUNTAIN.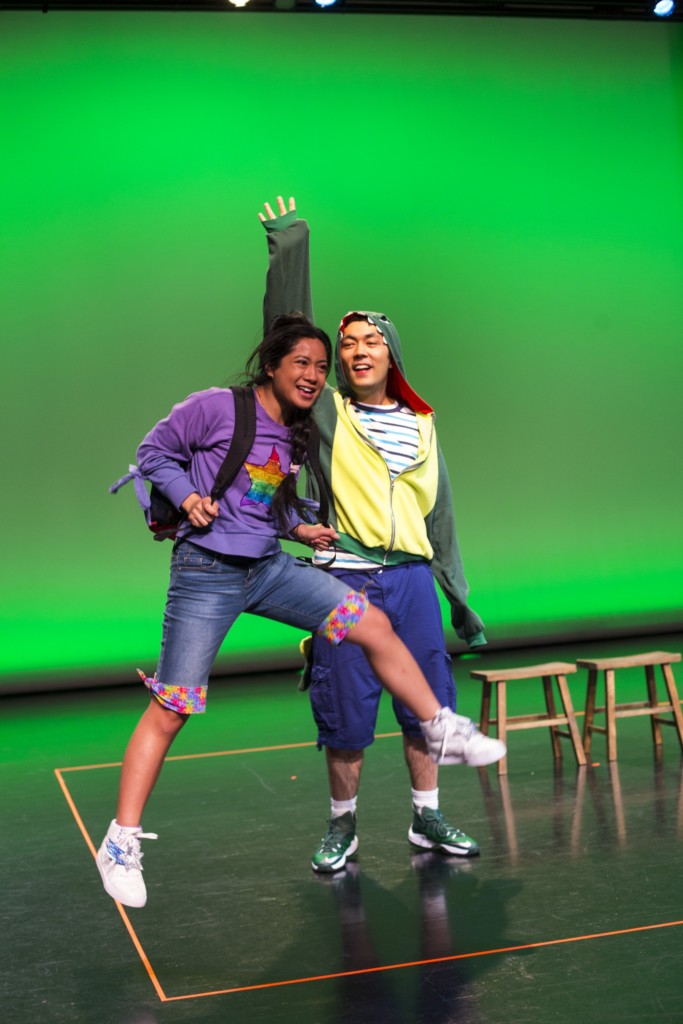 As the two children prepare for their journey in Plan-B Theatre's River. Swamp. Cave. Mountain., Izzy, the eight-year-old loquacious girl, tells JJ, her unfailingly inquisitive younger brother of five, that there will be no singing as they search for a treasure. Their grandmother died recently and the siblings set out on their journey because their mother said that there always is "something magical" at the end of it.
JJ insists on singing through all four stages of the play. First, after he wonders if tears of sorrow fill the river they encounter. He wants a song to relieve the anger and frustration they experience in the swamp, as they wrestle themselves free from sticky vines. JJ and Izzy both feel afraid and isolated in the cave but Izzy finally gives into JJ and they sing a simple, charming song with a pop feel inflected with a perfectly gentle bit of rap:
Word word (what)
A lullaby (bye, bye, bye, bye)
A little hum, like a dragonfly
That rhymes and climbs to the top of the sky
And no you're singing with a word and a lullaby (shhh, shhh, shhh, shhh)
The song lifts their spirits as they head to the 'mountain.' There, Izzy and JJ discover the treasure. Izzy says, "When I sing, I feel like Grandma's with me! … The thing Grandma wanted us to remember: That even though she's gone, her love is still here."
Writing a short yet substantive piece of theater targeted for a K-3 audience is challenging enough but when the topic of grief is added into the mix, the risk of not connecting to children who can be unsparingly honest critics of what they see could be significant.
But, Elaine Jarvik's newest play succeeds on all accounts, adding yet another artistic jewel to the crown of Plan-B's effective Plan-B Theatre's Free Elementary School Tour (FEST). The play is the feature of a fall tour with performances that will reach more than 15,000 elementary students in K-3 at 40 schools in an area stretching from Weber County in the northern part of the state to Garfield County in the south. In addition, there are public performances scheduled at library branches in the Salt Lake City metropolitan area.
The play was developed with the assistance of The Sharing Place, a locally based organization that helps children, their parents and their families with the grieving process. The result is an impressively sensitive treatment inflected with humor and wonderfully appropriate elements of play that have been cited as effective ways of helping children understand death and cope with the grief of losing a beloved family member. River. Swamp. Cave. Mountain. parallels the stages of grieving process in smart ways that register with young audiences, as evidenced in a public performance last week at the Rose Wagner Center for Performing Arts, which was part of the Repertory Dance Theatre's Ring Around The Rose program.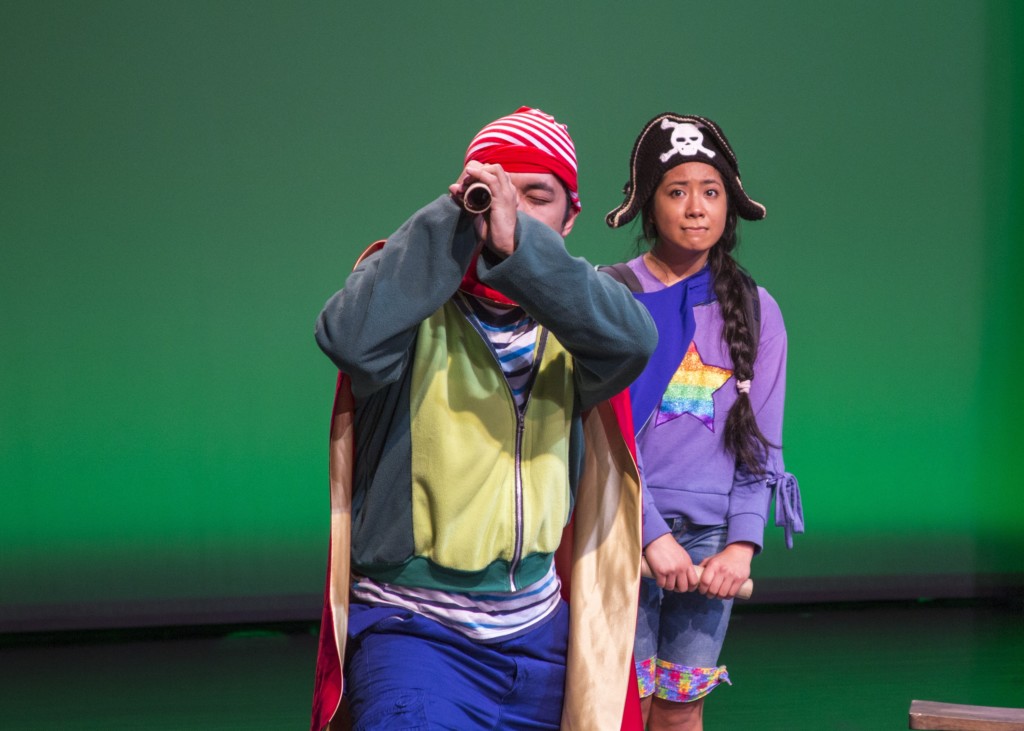 After the performance, children and their parents were invited on stage to join a version of the Hokey Pokey dance. The children were asked about which feelings to act out as a part of the dance. In addition, their recall about the play's different stages was perfect. It was a superior alternative to the typical Q&A.
The production, directed by Cheryl Cluff, displayed once again Plan-B's phenomenal capacity for leveraging minimalistic staging with maximum impact. Both actors — Ashley Marian Ramos as Izzy and Benjamin Young as JJ – fully absorbed the childlike vibe to make their characters believable. Aaron Swenson excelled once again as designer, decking out the characters in the sort of clothing kids of eight and five, respectively, would wear today. JJ's dinosaur apparel, capes, stylish backpacks and miscellaneous props to use during the journey accented the mood precisely.
This is the fifth installment of Plan-B's FEST program. Public performances, which are free and require no tickets, include the following:
Salt Lake City Public Library
Thursday, Oct. 19, 2 p.m., Main Library Story Room (210 E. 400 S.)
Friday, Oct. 20, 2 p.m., Glendale Branch (1375 S. Concord St.)
Saturday, Nov. 4, 11 a.m., Sweet Branch (455 F Street)
Saturday, Nov. 11, 2 p.m., Chapman Branch (577 S. 900 W.)
Saturday, Nov. 18, 11 a.m., Marmalade Branch (280 W. 500 N.)
Saturday, Nov. 18, 2 p.m., Anderson-Foothill Branch (1135 S. 2100 E.)
Davis County Libraries, presented By Davis Arts Council
Thursday, Oct. 26, 4 p.m., Centerville Library Auditorium (45 S. 400 W., Centerville)
Friday, Oct. 27, 4 p.m., Central Davis County Library Auditorium (155 Wasatch Drive, Layton)
Friday, Nov. 17, 4 p.m., Roy Library Black Box Theatre (2039 W. 4000 S., Roy)