A perfect autumn evening unfolded for an elegant dining hideaway at J & G Grill and delivered an appealing combination of bold dishes prepared by the newly appointed Chef de Cuisine, Rachel Wiener. J & G is a part of the signature Jean Georges portfolio, and the St. Regis location specializes in carefully prepared dishes with locally sourced ingredients.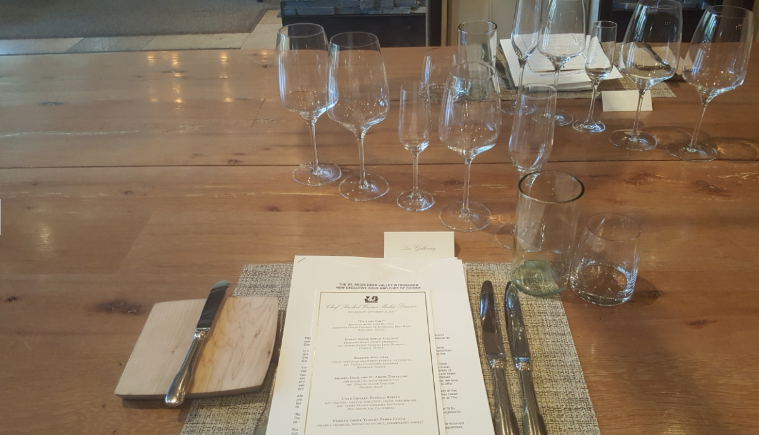 Welcomed by a well-prepared staff, we were seated in the main hall at the tastefully laid communal table, reminiscent of a 17th century monastery. The menu for the evening's dinner hinted that we were in for an evening of perfect pairings. Chef Wiener had prepared a customized array of small plates–allowing her to show off a little–and introduce us to her style.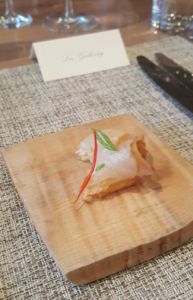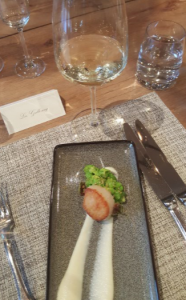 The six-course evening kicked off with the medai sashimi, potato & chili paired with Simmonet-Febvre Cremant De Bourgogne Brut Rose from Burgundy, France followed by Ingrid Bengis scallops seared to exquisite tenderness with a dollop of edamame mash topped with crispy amaranth (a grain high in iron and calcium). These were paired with the 2013 Albert Bichot Domaine Long Depaquit. 
As one of my dining companions was allergic to shellfish, we were entranced with the tofu scallops that look confusingly real, having been dusted with amaranth.
Next, we cleared our plates for the forthcoming roasted foie gras feature. For many this is a delicacy, and this version didn't disappoint with the high quality, rich and buttery texture. The liquid nitrogen shattered berry druplets offset the lightly browned crust of the foie gras. 
The richest protein was the chargrilled buffalo ribeye, with thinly sliced glazed bok choy and perfectly distributed fresh persimmons. Every bite was enjoyable and a favorite at the table.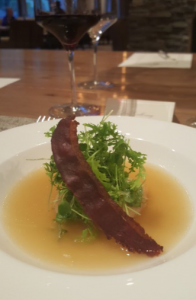 More dishes went down smoothly including the smoked duck & St Andre torteloni with plenty of attention paid to each paired wine–thanks to St. Regis' extensive on-site wine cellar and private reserves.
The evening reminded me of the typical 12-hour European dinner parties, welcoming plate after plate, and taste after taste, satisfying every palate with plenty of wonderful textures.
I gained a bit of reverence for the dining team and the highly personable Chef Wiener. The attentive staff cleared plates in a timely manner, replacing and placing utensils and glassware before we noticed. Politely present but not interfering–unpretentious, but attentive.  The whole evening was like being spoon fed camaraderie, perfectly prepared plates and a range of spirits that enhanced each bite.
Chef Wiener's dedication to her position and her career are clear, and she had taken her new assignment seriously. Working with a staff that shares both the love of food and great teamwork, the menu and the "veritas en vino" (truth in wine) conversation kept us all entertained.
The evening wrapped up with a luxurious vanilla Greek yogurt panna cotta, and rich coffee, while we listened in on Chef Wiener's stories, and prodded her with questions on her love for her work, her team and what we have to look forward to with St. Regis. No doubt, this place that has the ability to entice so many to the mountains, and savor a menu that has clearly been prepared with care.
I prefer to dine with company in great locations, where ambiance flavors my palate as much as the food. J & G Grill offers "ritual" dining that creates bonds where food is truly appreciated rather than sought just for fuel. Where a meal isn't about overindulgence with oversized portions. It's about the art of pairing, and preparing something for the senses. Chef Wiener had set a tipping point for absolute quality.
With a full belly, I was happy to saunter back to the funicular for a great view of the rust and amber-colored mountains on my way down. It was a pleasure to encounter a refreshingly inviting menu and guests, with a wide range of tastes, deserving of recognition. If you're looking for gastro-mountain gold, this is the place.
You can find out more about J & G Grill and St. Regis here.
You can find out more about Chef Rachel Wiener here.