While virtual presentations in the performing arts abide by pandemic-related constraints and adjustments in social distancing, they also afford unique advantages. The case for such advantages is evident in Double Take, the film of the historic collaborative season opener for the Repertory Dance Theatre (RDT) and Ririe-Woodbury Dance Company.
There are obvious ones that pop up immediately. The hour-long film includes two world premieres, a reprise of a work by two Israeli choreographers and interviews with the respective directors of the companies as well as the four choreographers responsible for the works.
Professionally produced by Wonderstone Films, a local company, the film is a flattering cinematic representation of two internationally known dance institutions based in Salt Lake City with a well-established history as pioneers. Normally, the traditional concert venue covers a weekend of performances in the 500-seat Jeanné Wagner Theatre of the Rose Wagner Center for Performing Arts. However, made available at generously discounted ticket prices, the film can be viewed twice within a week by a single viewer or a family at one link. The film is available through Nov. 3 and can be accessed with a digital ticket virtually anywhere in the world.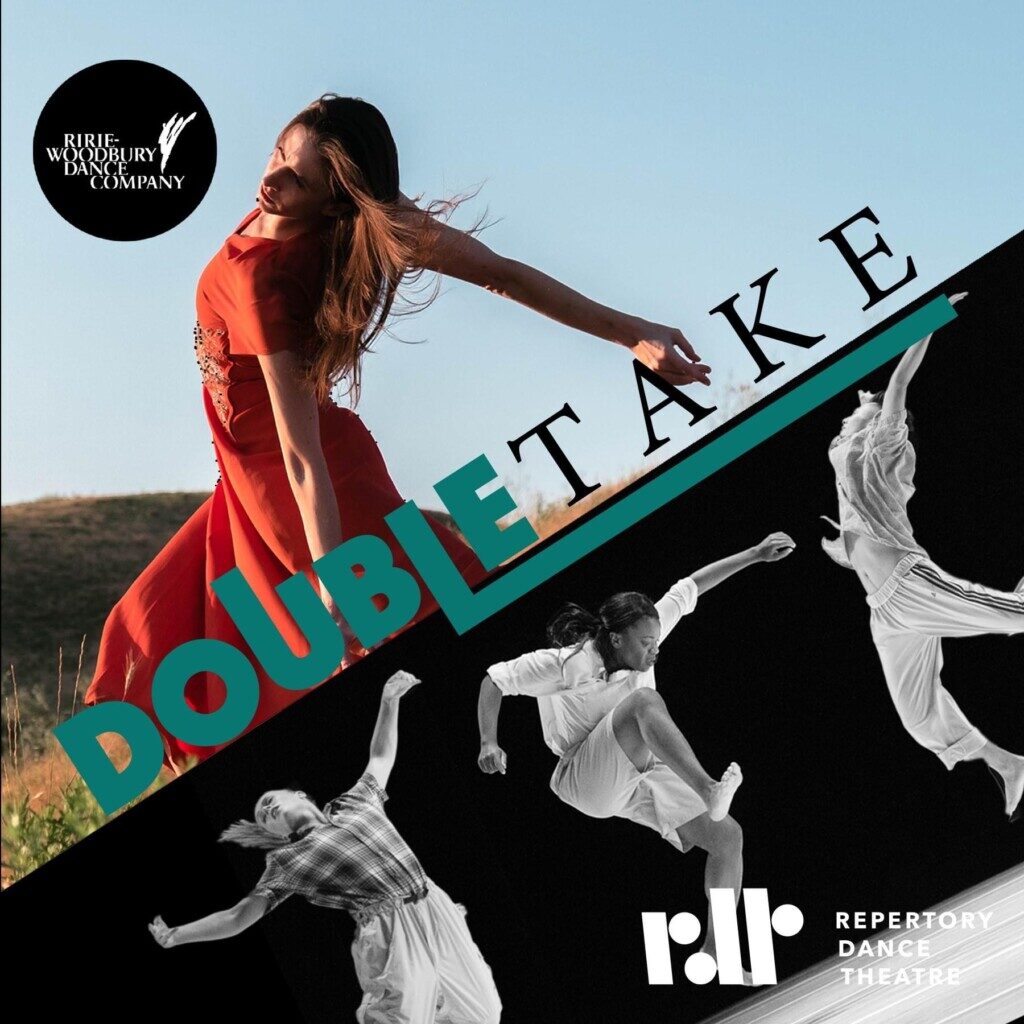 For those who might never have attended a RDT or Ririe-Woodbury concert in person, Double Take is an effective, comfortable, approachable introduction. And, it emphasizes two reasons why Utah's dance culture has such an impressive presence locally, nationally and internationally: RDT and Ririe-Woodbury. While Linda C. Smith and Jena Woodbury, executive directors of RDT and Ririe-Woodbury, respectively, open the film by highlighting the distinguishing characteristics and the numerous shared elements of their artistic and social missions, the performances also emphasize subtle yet significant distinctions between both companies.
With RDT, the world premiere of Justin Bass's Reset and the reprise of Outdoors, the first half of a 2018 work set by choreographers Noa Zuk and Ohad Fishof, the performances present a balanced consideration of abstract and concrete elements in how dance communicates the ideals of community in artistic and socially conscious senses. Looking back over recent seasons, one sees this broader thematic commitment in RDT's programming in selections from the company's repertoire, ranging from historic works by Doris Humphrey and Jose Limón to, for example, Zvi Gotheiner's Dancing the Bears Ears and, more recently, Danielle Agami, Bryn Cohn, Bebe Miller and Andy Noble.
Meanwhile, the world premiere of Autumn Sun, a work set by Daniel Charon, the company's artistic director, in collaboration with six dancers, signifies Ririe-Woodbury's distinctive artistic character. The performance accentuates a compelling, ongoing intersectional exploration of a literary sense (prominently, allegory and science fiction) juxtaposed against the risks and threats to human connection and intimacy, which emerge with technology, digital communication and, most recently, the social constraints imposed for the sake of public health and safety during a pandemic.
Truly an expression of cinematic poetry rendered in the company's unique movement language, Autumn Sun succeeds, augmented exquisitely by the music and soundscape composed by Michael Wall and costumes by Melissa Younker that evoke the fall palette of earthy and muted colors we often observe. This work accommodates the constraints of social distancing as well as the medium of film that is complicated in how it captures modern dance's curiously ephemeral nature where the kinetic magic pops in the immediate moment of performance. As mentioned in a preview published at The Utah Review, the use of film in dance often has been relegated to archival purposes for documenting the movement language and vocabulary of a choreographed composition. However, both companies have performed works incorporating digital and multimedia elements, including those commissioned specifically for their respective repertoires.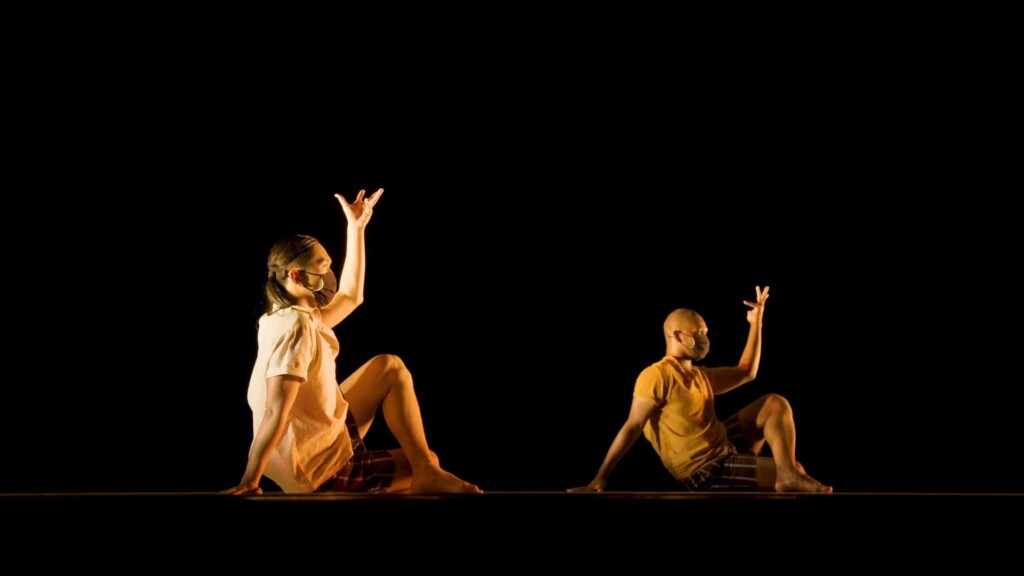 Autumn Sun incorporates video design, enhancing an opportunity to simulate convincingly the representation of the "body's deepest circuitry of total sensuousness," a phrase The Utah Review used to characterize Ririe-Woodbury's 2017 performance of Kate Weare's mesmerizing Unstruck, a composition choreographed for a trio.
The video design element in Autumn Sun resolved a critical problem: dance artist Nicholas Jurica was in quarantine because his wife had tested positive for COVID-19. For his duet with Dominica Greene, Jurica had his performance recorded via Skype during the production filming and projected onto the scrim, while Greene performed on stage. And, as with the other duets in the 18-minute piece, the effects demonstrated how the medium of film could be manipulated effectively. They convey the same set of emotional tensions of finding a trusting space for human connection that, for example, propelled Weare's Unstruck piece, which was performed at a time when dancers' bodies could intersect and carve against each other within spaces that narrowed and expanded continuously.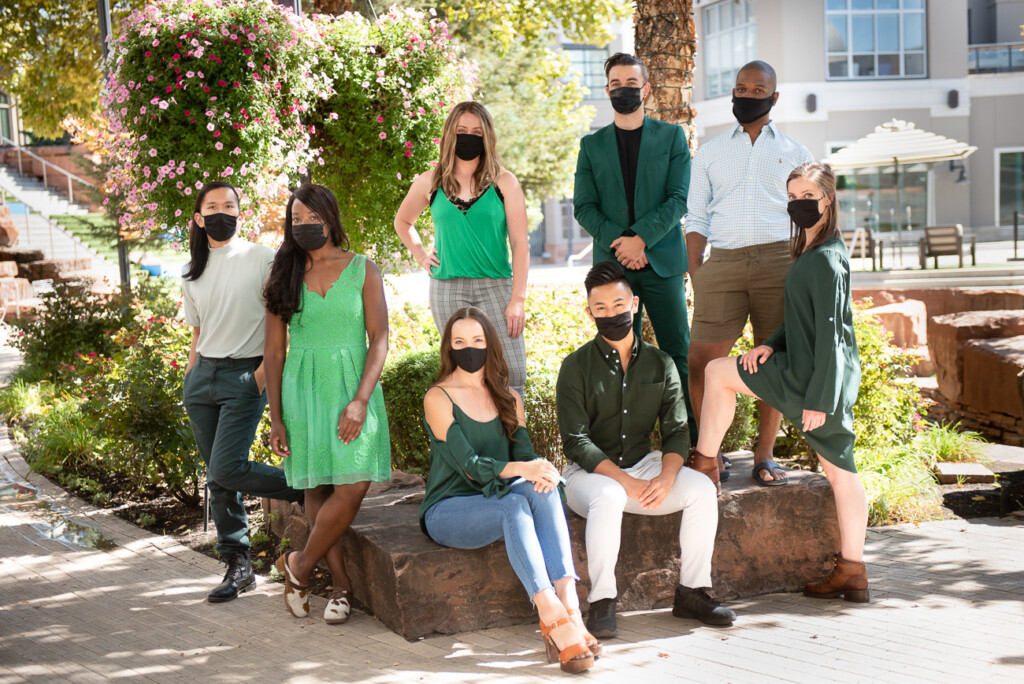 Meanwhile, in RDT's world premiere offering of Reset, Bass, a former RDT dance artist who won the company's Regalia choreographer's competition last winter, set movement that instinctively aligned with the social chemistry and internal rhythms of the eight dancers, individually and collectively. Set to his own soundscape created using a diversified mix of samples, sounds and rhythmic phrases culled by using GarageBand software, Reset personifies its choreographer's identity with a groovy, witty, hoppy flair and bop. Bass, who started choreographing hip hop dance as a teen in East Cleveland, Ohio, has synthesized the experiences of working with a cosmopolitan range of internationally known choreographers during his five years with RDT. Of note in this latest piece is how, as an example, the impact of performing and experiencing Zuk's By The Snake and Gotheiner's Dancing the Bears Ears resonated with his own "inherent cadence," as he has described it.
In Reset, the dancers cross the stage continuously in various combinations (but never as solos and never in partnering where they normally close the gap in their spaces), communicating the movement that parallels the ever-shifting tones and textures of his soundscape. The work epitomizes a familiar restless sense of stepping back toward some environment of pre-pandemic normalcy, if that is truly possible. It's not a smooth process but it also is a testament to resilience and patience — with the hope that it soon will be safe enough again to return to narrowed, overlapping spaces for movement and contact.
Similarly, adjustments that Zuk and Fishof made to Outdoors, a 2018 work that RDT added to its catalogue with a performance in the fall of 2019, exemplified how dancers have managed to accommodate the constraints effectively. Similarly, Wonderstone Films heightened the impact by capturing several birds' eye shots of the performance. Prior to the 2019 performance at the RDT concert, both choreographers explained in an interview their intentions for the piece. Outdoors is about creating a world where "we never think ahead of what it will be in the end," as Zuk says. Fishof says that it starts as "accidental, arbitrary, unconscious, circumstantial, and intentional … and then turns into something else." He compares it to an elaborated procedure — like the steps required to taking a nuclear power plant offline. "It's very complex but you cannot take it back or reverse it," he adds.
True to form, RDT dancers in this latest performance communicated compellingly the prescient, relevant dimensions of this work. Indeed, creating community ritual is still possible, even with the current constraints.
Double Take resolved a serious problem for two performing arts institutions, which certainly had envisioned, prior to last March, far different objectives for this new 2020-2021 season. However, while Double Take satisfies artistic purposes for the moment, there is a bittersweet acknowledgment that like everyone else who yearns for a full-scale return to their respective passions, dance artists will welcome the 'reset' to performing live on stage without distancing restrictions and rejuvenating the kinetic magic. Ann Carlson, a choreographer who restaged her evening-length work Elizabeth, the dance last year for Ririe-Woodbury, said in an interview with The Utah Review at the time that every dance work needs the audience and its "heart, mind, soul and spirit" and it is not complete until "they're here." Unquestionably, everyone is more than ready to eliminate and heal from the unease and distress that have defined 2020.
Double Take will be available for viewing through Nov. 3, accessible with tickets purchased online. Ticket information, which represents a substantial discount from regular season purchases, is available at the RDT website and the Ririe-Woodbury website.