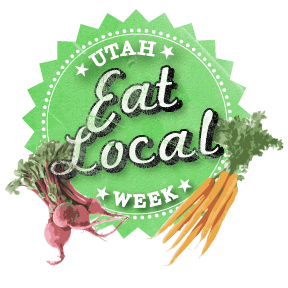 Beginning September 12, the state of Utah will kick off Eat Local Week as part of the Eat Local Challenge. The challenge is simple: eat as local as you can for one week.
Eat Local Week is a statewide program that celebrates the regional harvest season by promoting local agriculture and food artisans, honoring the preservation of Utah's agricultural heritage and empowering the community to make conscious food choices. Eat Local Week offers educational activities and events focused on local food resources, agriculture and food production, environmental impact and sustainable food practices.
The official 2015 Eat Local Week Utah is September 12-19 with the mission of rallying Utah communities to eat more locally produced food—in turn supporting local farmers, producers and economy, and thereby preserving Utah's agricultural heritage.
There are three levels to the Eat Local Utah challenge—from the strictest Hardcore level, the Easy-Does-It level or the intro DIY level. Each prompt you to think about your eating habits and replace more and more foods you consume with those grown, raised, produced or caught within Utah boundaries. Many items are clearly marked with the Utah's Own label which makes your buying decisions that much easier.
No matter which of the three challenge levels you choose, Eat Local Utah will offer you suggestions and support throughout the Eat Local Utah challenge week. In fact, local food lovers have been submitting recipes designed for each challenge level and you'll be able to vote for and then follow the recipes to make and enjoy your favorites.
And whether you decide to eat everything local for the week or just focus on one meal a day or sourcing a certain food group from a local provider, the benefits are substantial—getting to know Utah's local producers at farmers markets and neighborhood shops and eating fresher, healthier foods.
To learn more about the Eat Local Utah challenge levels and to sign up for the Eat Local Utah Week, visit here or stop by their booth at the Downtown Farmers Market for more details and instructions.