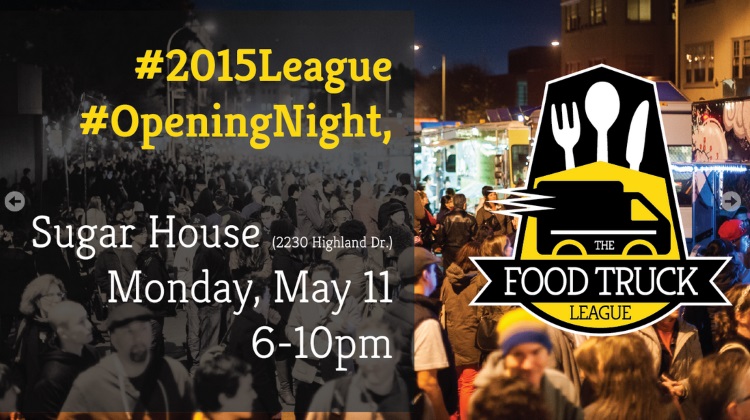 This evening in Sugarhouse join ten thousand like-minded (or should that be like-hungry) strangers and celebrate the first ever Food Truck League gathering. At least that's the goal of the organizers of this new recurring event, whose concept sees ten food trucks pitching up together for a weekly foodie-feast. The event takes place on Sugarhouse's Sugarmont Plaza (2230 S. Highland Dr.) and tonight's proceedings start at 6 p.m. and run through 10 p.m.
All going to plan, tonight's inaugural get together should be the beginning of a weekly 'league' gathering every Monday (at the same location) where a rotating roster of Utah's finest food trucks will convene for a food frenzy. Francisco Terreros, founder and co-owner of the FTL commented via press release:
"Our main goal is to help jumpstart the food truck industry in Salt Lake City. Our League Members have put their passion into their work, and we are thrilled to support them and help them share that passion with the community. The feedback we've received so far has been overwhelmingly positive and we are optimistic that we will continue to have a strong following as we announce new locations and the release of our IOS app."
More info on that app as we have it, but the concept already sounds intriguing – a concrete way to catch fleeting food trucks that can often be elusive to pin down. I'm told more than forty food trucks so far are members of the fledgling league, with others joining soon. If you want to check out opening night, the ten vendors inked in for tonight's bash are as follows (explanation blurb taken from the vendors own sites):
Art City Donuts – "Bringing Utah Valley a variety of hot, fresh, mini, gourmet donuts. Follow us for specials, locations, and schedule."
A Guy & His Wife Grilled Cheese – "Food truck in Salt Lake City, Utah. Serving Gourmet grilled cheese sandwiches hot and fresh off the grill!"
Black's Sliders – "Socially conscious food truck that proudly serves only locally sourced, hormone and antibiotic free food!
Chop City SLC – "Born and raised in SLC and we love our city. Our menu incorporates Bacon into a wide variety of taste and style."
Fat Kid Mac n Cheese – "Fat Kid Mac n Cheese is Salt Lake's cheesiest food truck, with a secret recipe cheese sauce utilizing a total of 8 cheeses hand picked by Chef Kimo to deliver the creamiest, cheesiest, grooviest cheese sauce known to man."
Fire & Slice Mobile Wood Fire Pizza –
"Wood fired pizzas that bring a smile to the world's most discriminating pizza connoisseurs."
The Matterhorn – "A complete mobile Gourmet French toast making machine."
Q4U BBQ – "Q4U BBQ Truck was born out of Necessity… The Necessity for Great BBQ in Utah!"
Rolling Mountain Bistro – "Northern Utah's Premier Gourmet Food Truck serving handcrafted unique burgers, hot and fresh sandwiches & specialty pastas from LOGAN all the way to OREM!"
Saturday's Waffle – "Utah's first gourmet mobile food vendor to offer authentic Liege waffles."