In a December 2020 interview with The Washington Post, Alexis McGill Johnson, the newly installed president of Planned Parenthood, recalled speaking with a woman who told the story about her mother as a college student discovering that she was pregnant and how afraid she was to tell her parents. "Her brother was a flight attendant, and he said to her, 'I'm going to take you where we take all the gals' and flew her to Kansas," Johnson said. "It was a back-alley situation and horrifying and traumatizing for her mom. This was in the mid-'60s. And so I brace myself more for the story and less for the 'I can't believe you do that.'"
When asked if she talked with individuals who disagreed with Planned Parenthood, Johnson explained that she had, adding, "And where I find that people are most willing to engage is in understanding, when you make the choice plain, whose decision should it really be? You know, should it be yours with your partner and your pastor, or just yours alone? Or should it be Sam Joe legislator down the street, who has no idea about your reality or situation? I really wish we had more of those kinds of conversations. I think that's really an opportunity to bridge, and it's important to make this less of a partisan issue."
The opportunity to bridge the discussion in more productive humanizing terms is presented in P.G. Anon, a new play by Julie Jensen and directed by Cheryl Cluff, which will receive its world premiere in an unprecedented audio format by Plan-B Theatre to open its 30th season.
Jensen's play presents three stories of women in different circumstances and in different times dealing with common and familiar fears, furies and frustrations of unplanned pregnancy. Jensen leaves each story open ended but there is no doubt that each story, acted and presented in a rhythm unique to the character's circumstances and time in which the narrative occurs, nevertheless is connected to each other thematically.
The main characters, the results of Jensen's adept capacity to synthesize history, memory, observation and the stories of women, will emerge just as familiarly to listeners of the production. Like Jensen, it doesn't take long for anyone to recall stories of people they know either first hand or indirectly who have experienced and coped with the decisions surrounding an unplanned pregnancy. Each act also has an ensemble chorus of four voices who comment on the characters and the respective story as it unfolds.
Jensen, who is gay, says the idea came from a straight female friend (Elizabeth Murphy), who told her, as the playwright recalls, "You don't have any idea what a straight woman in this world has to deal with the question: Am I pregnant? And, I have to worry for 30 years and it's never over." As Jensen started to explore more about surprise and unwanted pregnancies, she discovered how ubiquitous the stories had become — straight, gay, religious, non-religious, liberal, conservative, rich, poor, well-known or not widely known, etc. "This experience had permeated throughout a universal level," she adds. There were stories about abortions as well as those who decided to give up kids for adoption.
The recorded audio-only premiere is also a first in Utah theater. While Plan-B has 25 years of experiences in presenting audio and radio productions, this is the first full-length play where the actors and production crew never congregated in physical spaces but stayed separately while rehearsing and performing via Zoom in their homes. To augment the audio quality of Zoom, Plan-B invested in equipment provided to each actor. The final production will be edited and fully mastered for its premiere.
Never before in Plan-B's history has sound and its design been the most predominating factor in producing a full-length play that originally was destined for live theatrical performance. "My approach to directing was not much different," Cluff says. "What surprised me was in listening to a run of the whole show and how connected they all sound to each other even though we're in separate spaces and in Zoom." During the virtual rehearsals, everyone would turn off the video and just use audio.
The cast includes Latoya Cameron, Lily Hye Soo Dixon, Emilie Evanoff, April Fossen, Tamara Howell, Tracie Merrill and Sydney Shoell. David Evanoff is handling sound engineering.
In Act 1, the story centers on Pauline, a 46-year-old woman hoping to get a job after her youngest child, a rambunctious boy, started school. She says, "I have three degrees; I could have gotten a job. Not an interesting job, just a nice place to go with quiet people, who comb their hair, and sit still." The story is set in 2016, when half of the six million pregnancies per year are reported to be unplanned. Reflecting a decision that Jensen made in her later drafts of the script, each act is anchored in the period in which the story is set by a reference to a major news story that reverberates with relevant sociocultural context. However, the references do not telegraph a political message as much as they reinforce just how long the war has persisted against acknowledging women's rights, especially the somatic ones, where attacks do not end on just the most visible and controversial issues. "I picked three examples to show how much this has permeated our culture, even with the most famous people. The examples really set the zeitgeist of the times during which each act occurs. Pauline's story, for example, is set against the backdrop of the 2016 presidential campaign, when Donald Trump "was recorded talking about women in a lewd and aggressive manner. He is alleged to have said, 'When you're a star, you can do anything. Grab them by the pussy. Anything.'"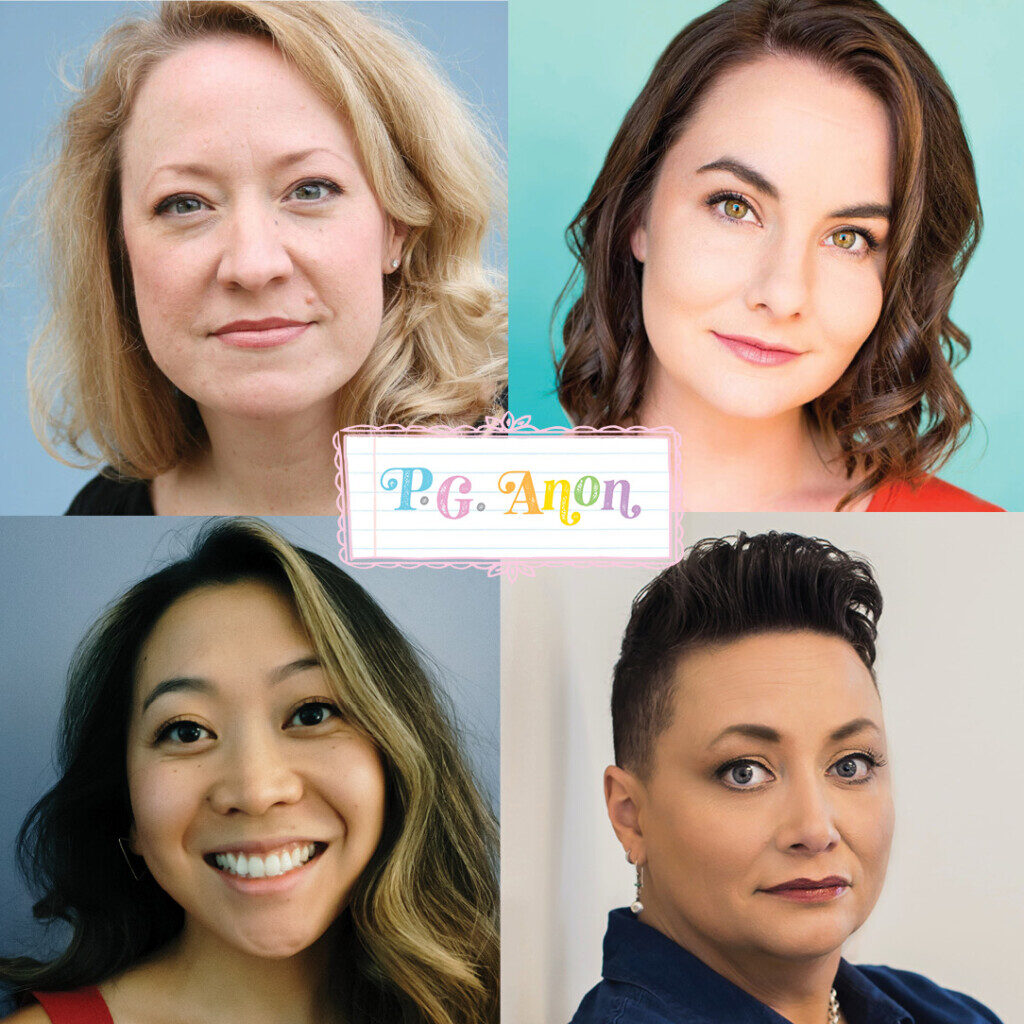 In Act 2, which takes place in 1998, the news about President Bill Clinton and Monica Lewinsky is the backdrop for Tiffany's story. In her late twenties, Tiffany enjoys her vodka and knows the life and the way of the streets. She sees her latest pregnancy as an opportunity to make good on her maternal desires: "I didn't give 'em up. They was taken away. And that's another real reason I should have this kid: Because this kid would be grateful to me every damn day of his life."
In Act 3, Sheila, who is about to turn 15, seems confident on the outside but discovering that she is pregnant nearly paralyzes her with fear as she struggles to decide what to do. Her story is set in 1991, as news reports document Anita Hill's testimony in the Senate Judiciary Committee hearings about being sexually harassed while working for Clarence Thomas, who had just been nominated to the U.S. Supreme Court. At one point, Tammy, Sheila's friend, says, "My dad thinks she should not get away with this." Sheila, already wise beyond her years, responds, "That's men. They all stick together."
Jensen, who grew up and attended high school in Beaver, Utah, a predominantly Mormon community, recalls young women as young as 14 or 15 who had to get married because they were pregnant. As for the character of Pauline, she says, "I knew 10 people like her who were devastated by the news of being pregnant again, which was the last thing they wanted to handle at the moment." Jensen adds that Tiffany was based on someone she had known personally.
Cluff also responds to the inherent rhythmic structures suggested in each act through musical selections and specific sound effects. With Pauline's story, there is light classical music that one might hear on an AM-FM station, along with woodblocks and a service bell. Tiffany's story brings a '90s pop song blaring on the boom box, along with a water bottle being shaken and a metal bowl. In the final act, which opens with a surreal jump rope chant, reminding viewers that Sheila is still young enough to enjoy the games of childhood, there's a country western tune. The music also shifts in tone through each act. "I do not want it to sound overly dramatic or sentimental," Cluff says, adding that "this play is a perspective that is rarely expressed due to the social expectations of how women should feel and talk about pregnancy — planned or unplanned — which normally is to think about it as a rosy time in one's life, but which might not always be the case."
Jensen adds, "I hope that the production will result in people remembering their own experiences with such fear and fury related to this subject."
The production will be available Feb. 25 to March 7. It also is presented with the support of the Planned Parenthood Association of Utah, Stewart Family Foundation and The Blocks SLC. The play was commissioned and developed through the Rivendell Theatre Ensemble in Chicago.
Plan-B's season is available as a subscription series ($57) for the three world premieres, all audio productions. Each of the plays will be available for streaming as a podcast on the Plan-B website as well as on its free app. Listeners will be able to access the productions within specified run dates. Tickets for individual productions also will be available on a pay-what-you-can basis: As a guide, the regular ticket price would be $22 and there are no additional fees. Plan-B will send donation letters to individuals who pay an amount larger than $22 per ticket. For more information, see the Plan-B website.