"Let's skip town, take a couple of days off work, and explore Blanding, Utah!" said no one, ever. That's a slight exaggeration; my friend Elaine and I did see three people in three days on Grand Gulch primitive area trails near Blanding the first weekend in October.
I'm not sure I would have ever explored that part of southeastern Utah had it not been for my friend Elaine. Elaine's aunt, who currently resides in Boulder, has shared many an alluring story about this area with Elaine over the years. It's one of her aunt's favorite hiking and camping destinations in Utah. It's famous for its ancestral Pueblo cliff ruins and rock art. All we needed to hear was "totally off the grid and wonderfully remote!" and we were in. But we didn't quite know what we were about to get ourselves into.
I'm a notorious road-tripper. I caught the bug in high school when, as a graduation gift, my parents sent me to Los Gatos, California to accompany my cousin on a cross-country road trip to Colorado. Road tripping is also what landed me in Utah: in 2010, my husband Josh and I drove 16,000 miles across the country looking for "the best place to live." Twenty-four stunning national parks and many not-so-stunning hot summer nights in a tent later, we landed in Utah, where the road trips only increased in frequency.
It wasn't a surprise to Elaine, a close friend, when at 12 weeks pregnant, smack-dab in the middle of battling morning sickness (it's really all-day sickness), I suggested the wild and crazy idea of an off-the-grid road trip. And, since I'm used to seeing a great many things in a short amount of time, my proposed itinerary for our 4-day getaway, featuring 750 miles and almost 14 hours of driving, was intense. But Elaine was game and so we packed for a weekend in the wilderness and hit the road on a warm autumn afternoon. Work in the dust; adventure on the horizon.
Day 1: SLC > Goblin Valley State Park
I first discovered Goblin Valley in 2010, on that 16,000-mile road trip with Josh. We'd been on the road for a few weeks and an intense storm was coming. We needed to find a campsite fast. We turned onto a dirt road in the middle of nowhere (closest town: Hanksville, UT) that promised to take us to Goblin Valley State Park. After several weeks on the road with just a few hotel stays, we were thrilled to discover plush amenities including hot showers. Did you know, the amenities at state parks are often much nicer than those at national parks!
I've returned to Goblin several times because it never disappoints. The goblins always entertain, as do the sunsets and sunrises. There are two yurts near the campground should you desire a slightly less primitive camping experience.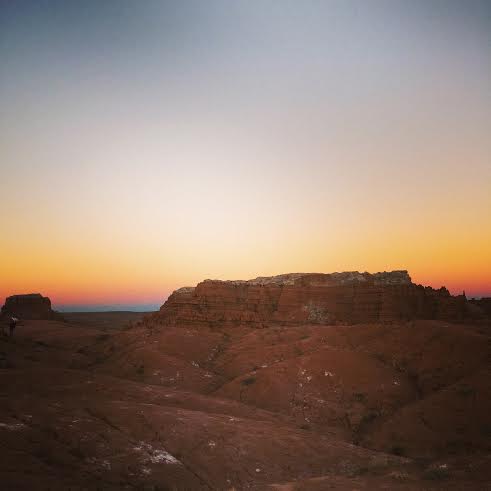 Elaine and I pitched our tents, lit a fire, and watched as the sun set and the stars glittered in the velvety, sapphire sky. It felt good and right to be away from the city. We ran into an older couple from North Carolina on a road trip across the country. You could sense they were rediscovering their younger days, courtesy of retirement. As the last of our wood turned to ashes, we agreed to get up at sunrise and make our way to the Kane Gulch ranger station where our off-the-grid adventures would begin.
Day 2: Goblin Valley > Grand Gulch Primitive Area – Turkey Pen Ruins
Kane Gulch Ranger station is the place to get information on the grand gulch area. Besides Moon House Ruin, you don't need a permit to day hike here. We planned to hike Moon House, so we drove straight to the ranger station to pick up our permit before they closed at noon, stopping at a lovely overlook along the way (that's the Dirty Devil river).
We arrived at the station and the ranger informed us that our low-clearance Subaru Impreza wouldn't get us to the Moon House trail head. As all good outdoor enthusiasts do, we improvised. Since the station happened to be right next to the Turkey Pen Ruins trailhead, we decided to embark on that 11-mile hike instead.
While 70-degree temperatures sound ideal for hiking in the mountains, it's a tad hot for a desert hike, where you're as exposed to the sun as you are to all the little prickly plants that line the trail. Bodily signs of a weekend in the desert: sunburns and legs that look more like cat-scratching posts.
Four miles into the hike, we arrived at the junction ruins. We stood in awe of the structures, nestled way up high in the red rock. In our awe-infused stupor, we continued on the wrong trail. Instead of continuing up Kane Gulch, we veered into Grand Gulch, but quickly noticed our mistake when the arch we were supposed to see never emerged. I went one way; Elaine another. Not all who wander are lost, but we were definitely lost. I shouted for Elaine several times (and, embarrassingly, even blew my whistle). I started to panic. Being lost together is one thing; being lost alone is a much scarier thing. But I found Elaine, calmly and casually standing at the bottom of a small hill waiting for me. Helpful hint: travel with people who have their shit together more than you do. Hiking with a detailed map of the area helps too.
We examined the map, quickly picked up where we'd left off, and made it back to the car with a couple hours of daylight left; just enough time to navigate a rocky dirt road to a primitive campsite the ranger recommended. Low-clearance Subarus require skillful dirt-road driving. After navigating several large rocks, plants, and potholes, we arrived at camp – a gem of a set up with mesa views all around and a perfectly constructed fire ring. The adjacent campsite was occupied only by a ginormous bundle of firewood. Best of all: camp was just ½ a mile from the trail we'd planned to hike the following day.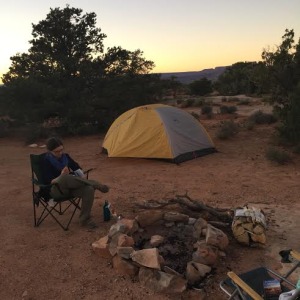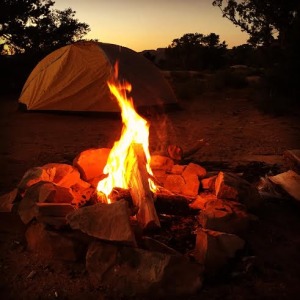 Elaine cooked burgers and potatoes in the fire, but the rest of the evening is a blur. We were tired from hiking and driving, and eagerly retreated to our tents after way too many biscoff cookies.
Day 3: Grand Gulch Primitive Area – Government Trail > Moki Dugway > Valley of the Gods > Sand Island Campground
On Saturday, we woke up without much of a plan other than to hike to Big Man Panel – a beautiful yet hard-to-find collection of pictographs created as early as 200 A.D. We considered camping another night and, against the ranger's recommendation, attempting to get the subie to the Moon House trail head. Instead, we decided to pack up camp before hiking since it'd be way too hot when we got back later that afternoon. (A choice that proved to be wise.) Before the packing began, we moved our camp chairs to the middle of the "road" and watched the sunrise over the bright red mesas, riddled with Kelly green veins; perhaps some sort of mineral deposit. As we sipped our French-pressed coffee (the only thing about our weekend that bordered on "glamping" status, we relished the fact that not a sound could be heard; not even the chirp of a bird.
We signed in at the government trail head, noticing an entry from the week prior. Previous hikers had gotten lost and written an S.O.S.-style note in the sand, but had figured things out and were OK. Given our knack for getting lost, we exchanged somewhat worried glances before denial kicked in and we started on the jeep road that meandered through juniper trees and was, thankfully, littered with wonderfully helpful cairns.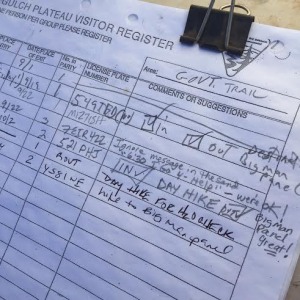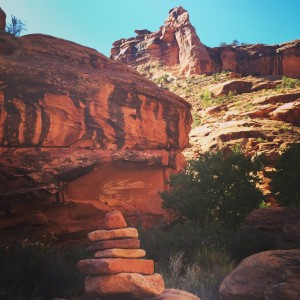 By 10 a.m. it was already hot. Very hot. We stopped for water every 2 miles, knowing we'd have to be diligent about hydration. We descended into the canyon, agreeing the hike was far more beautiful than the previous day's. Knowing that Big Man was hard to find, we kept our eyes peeled for a "bulge" – the only piece of guidance we had to go on. But, sure enough, the bulge emerged and we knew to make our way about 200 feet up. After a bit of scrambling, we discovered an absolutely perfect panel of pictographs. One brief experience can make an entire trip worthwhile. For us, Big Man Panel was that experience. We stared at the art for quite a while, snacking on apples and Australian licorice (I do not recommend this flavor combo). Miraculously, we made our way back to the car without getting lost.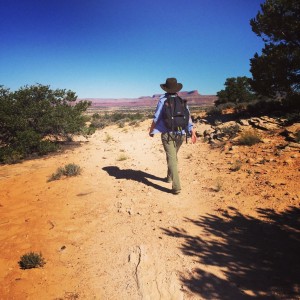 We were tired and out of water when we got back to the car. Excited to sit and drive, we made our way to Valley of the Gods via the Moki Dugway. According to my very reliable source, Wikipedia, the Moki Dugway was constructed in 1958 by Texas Zinc, a mining company, to transport uranium ore from the "Happy Jack" mine in Fry Canyon to the processing mill in Mexican Hat. I didn't feel like lugging my real camera around on this trip, and I didn't get a good shot with my iPhone, so here's a good photo I found online.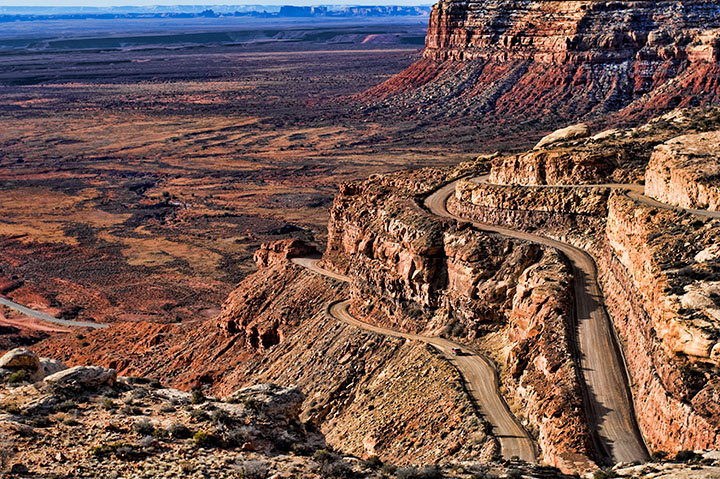 Moki dumps drivers at the mouth of Valley of the Gods. Again, Elaine and I found ourselves in a "Subaru impreza unfriendly zone." (Note to self: buy an outback) The guidebook specified "depending on road conditions, suitable for passenger cars" but it was somewhat hard to take in the buttes with all the bumps and close calls (i.e. "We didn't really need that car part, right?") The last time I went off-roading in a car ill-suited for off-road driving was in 2012, in Goblin Valley, in a Honda fit. At one point the driver, my friend Dani, lost a grey plastic car part as a result of navigating a particularly rocky section. She said, "Well; we're still moving without it, so I guess it was a superfluous part" Helpful hint: travel with people with way more confidence than you.
Driving through Valley of the Gods at sunset was spectacular. The setting sun does wonders for red rock. But with limited daylight, Elaine scoured the road map for nearby campgrounds. Preferably ones that allowed fires. What's the point of camping if you can't sit by a fire? Luckily, she spotted one right off the San Juan river called Sand Island. There were quite a few spots left. Another night of campfires, burger-grilling, stargazing, and moon pie-eating commenced. Have you ever eaten a moon pie? They are actually the snack version of a s'more and, since calories don't count at camp, it's the perfect time to indulge in gas station-quality snacks.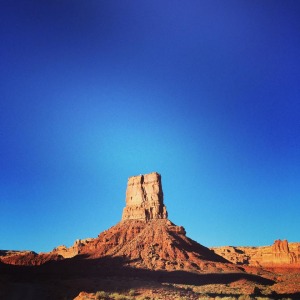 Day 4: Sand Island Campground > Moab > SLC
While warm and sunny during the day (70s), it can dip below 40 at night in the desert. We were comfortable and slept well most nights, until we got to Sand Island. Perhaps because we were by the river and humidity makes everything feel colder, we struggled to stay warm through the night in our respective tents, walking up to frost on our flies. We rushed to load up the car, packing haphazardly. Helpful hint #4: travel with those equally at peace with disorder and messiness. Elaine and I had clothes, snacks, and books scattered all over the back of the car. While the Subaru failed us when it came to bumpy roads, it served us well by accommodating all of our unnecessary shit. I'm pretty sure I could have survived a year with the amount of clothing I brought on this 4-day trip.
We enjoyed the sunrise over the San Juan river with hot coffees in our mugs. We could have watched the steam rise from the slow-moving river for hours, but we wanted to get to Moab in time for breakfast at the Jailhouse Café. Their motto is "good enough for the last meal" and it's the truth. We stopped at the old fort in Bluff, where Elaine narrowly escaped the educational advances of a woman dressed in pioneer garb. We got to Moab, stuffed our faces with breakfast, and, resisting the reality that our adventure was coming to an end, headed out for a final hike.
Hunters Canyon would have been a lovely meander if it weren't so damn hot. We made it halfway before turning around. There had been some major flooding the week before, though, so we decided to take advantage of the bountiful swimming holes along the trail. A frigid dip felt refreshing after a few days in the dusty, warm desert. A road trip isn't a road trip without some sort of beer, though, so before officially hitting the road home we stopped at Moab Brewery for a real beer and a root beer. NPR – when reception was good enough to get it – kept us entertained on the 4-hour drive back to Salt Lake.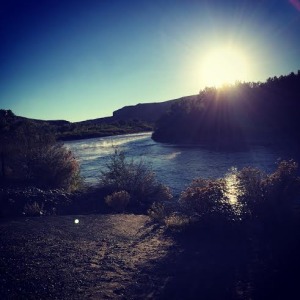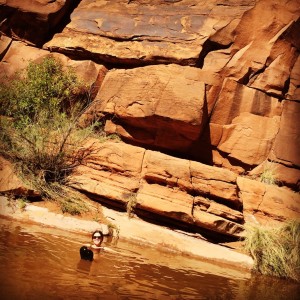 Whether or not you've backpacked a lot and consider yourself an avid outdoors-person, you can do this trip. It's as off the grid as I'd recommend for a novice camper/hiker/backpacker, but it's entirely doable. I've included some helpful links throughout this post, but feel free to email me with any other questions you have.