Having a good number of world-class pianists within arm's reach in the Intermountain West makes for a great spring season of virtual solo concerts that begin tomorrow.
The Gina Bachauer International Piano Foundation's series launches tomorrow (March 4) at 7:30 p.m. with Lyrical Landscapes featuring Stephen Beus, the 2006 Bachauer gold medalist, in a concert of works by Rachmaninoff, Liszt, Mendelssohn and Marion Bauer. Beus will participate in a post-concert Q&A tomorrow and the concert will be available on demand, with purchased tickets, through April 4.
While Bachauer, which is celebrating its 45th anniversary, anticipates returning with live performances in October, Kary Billings, executive director, says the availability of rich musical talent so close to Salt Lake City makes the logistics of organizing virtual performances safe and reasonable.
To wit: Beus, who is on the music faculty at Brigham Young University. A native of Othello, Washington, Beus won Bachauer's international junior competition at the age of 13 in 1996 and ten years later, after graduating from Juilliard, he was the only American finalist in Bachauer's International Artists Competition. He won the gold medal with his performance of Prokofiev's Third Piano Concerto.
The works Beus has selected are marvelous for the filmed experience of his performance on the Jeanné Wagner stage of the Rose Wagner Center for Performing Arts. Billings says the combination of sound engineer Robert Abeyta's long experience with Bachauer competitions and the production skills of the locally based Wonderstone Films replicate the live concert hall experience as closely as possible. "Piano is not easy to record but viewers will recognize the perfect unmistakable Steinway sound," Billings says, adding that the film captures crisp images of the performance in progress with shots as close as three feet away.
The first of two Rachmaninoff works Beus presents is Prelude in G Major, op. 32, no. 5, which sets the bar for the concert's capacity to evoke rich images and dimensions of story telling. This is a gentle, delicate work. Indeed, as Billings notes, the beauty of an on-demand concert is that viewers can pick whenever they want to listen to Beus' performance. And, this Rachmaninoff Prelude makes for a gorgeous morning start.
The other Rachmaninoff work is Etude-Tableau, op. 39, no. 9, an exceptional and fitting choice for a filmed concert. Rachmaninoff lovers will enjoy how Beus extracts this work's sound textures to become a story tableau. There is something ironic about labeling this work as an etude, normally referencing a study of complex piano techniques. Skills, yes, but the piece stands out for its emotional, lyrical heft while leaving the listener with a lingering memory much like one would experience visiting a museum gallery.
Beus also introduces lesser-known works including four preludes from a 1922 set composed by Marion Bauer, a composer well known for modernism whose body of work forged a unique blend of French and American sonic expressions. Born in 1882, Bauer went to Paris where she was the first American to study with Nadia Boulanger, one of the 20th century's most influential musicians. After Bauer returned to the U.S., Schmidt Music took her on as a composer and among the works published was Six Preludes, op. 15, from which Beus will perform four selections. They augment the concert theme precisely with narrative-rich contrasts of meditative and stormy images.
Cascades upon cascades of sound propel Franz Listz's transcription of the Eduard Lassen art salon song Löse Himmel, meine Seele, which is set on a Peter Cornelius poem. Lassen, who was one of the most popular musicians in the late 19th century and was music director in Weimar, met Liszt in Germany, who transcribed several of Lassen's work.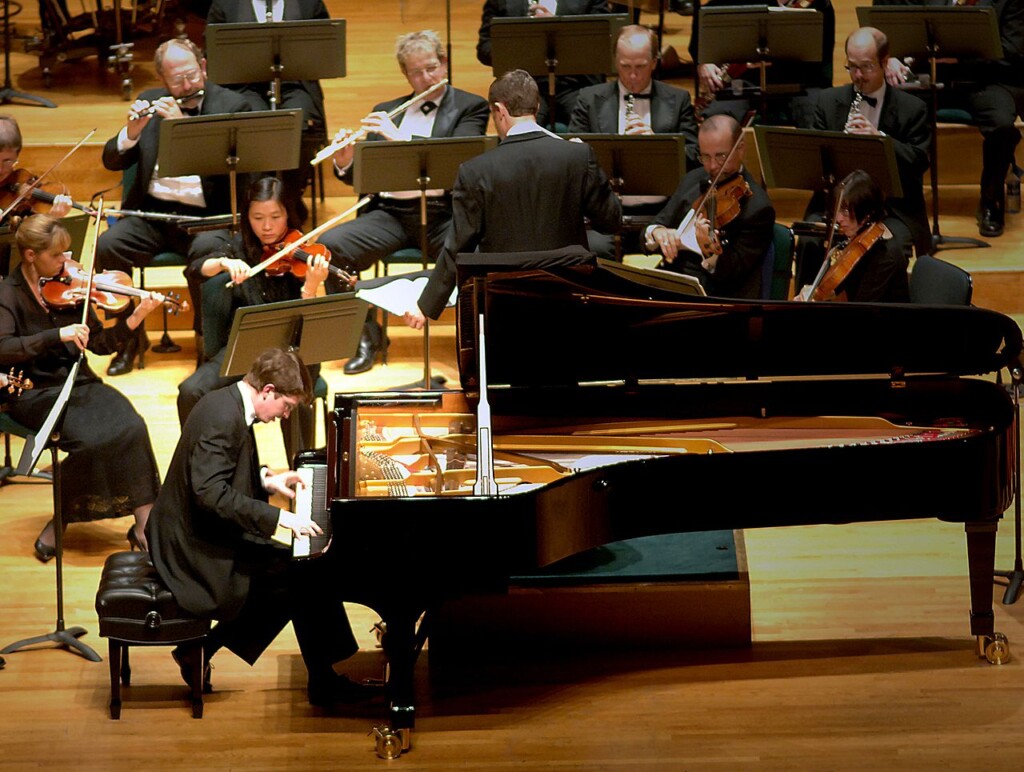 Another less familiar piece is Mendelssohn's Sonata in E Major, Op. 6, written when the composer was just 17 and in the same year when the Overture to A Midsummer Night's Dream and the superb gem of the A Major String Quintet was produced. Mendelssohn was starting to break from the influence of Beethoven and this youthful work heralds the sparkling originality of his later oeuvre.
Forthcoming programs include the master transcription artist Koji Atwood (April 8 launch) with his own transcription of Schubert's Death and the Maiden String Quartet and Steven Mayer (May 6 launch), who will be joined by violinist Igor Pikayzen, with Franck's Violin Sonata. Mayer also will perform his own transcription of Gottschalk's Fiesta Criolla from Night in the Tropics, and Bizet / Waxmen's Carmen.
Bachauer also will proceed this summer with the streamed version of the finals of the competition that was delayed from 2020: the Junior and Young Artists International Piano Competitions, representing 51 pianists from around the world between the ages of 12 and 18.
Tickets for the concerts are 50% off the normal prices. Tickets can be purchased from Bachauer and for more details visit the Foundation's website.