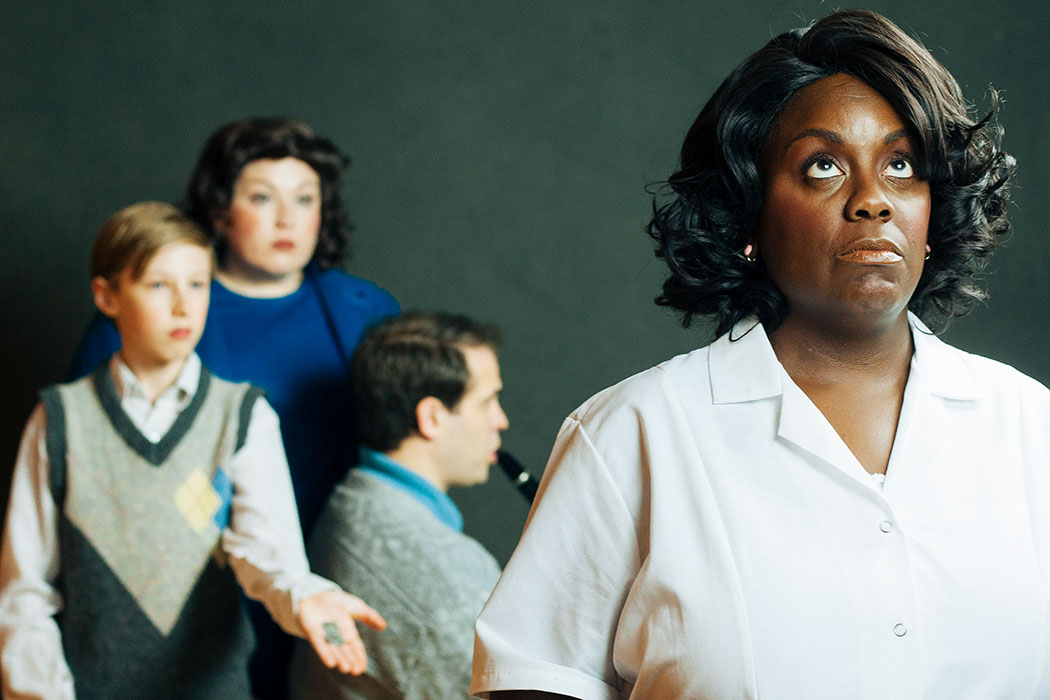 Good Theatre Company
Good Company Theatre presents the final show of its 2018 season, Caroline, Or Change. This Olivier Award-winning musical was written by Tony Kushner (book and lyrics), and Jeanine Tesori. Teresa Sanderson (Director), and Anne Puzey (Music director) return to Good Company Theatre to direct this powerful work by two of America's most celebrated living theatre artists.
It's late 1960, and warm for November in Louisiana. The southern air is thick with the tensions of a changing nation. Caroline Thibodeaux continues her work as a maid in the muggy basement of the Gellmans, a Jewish family still rocked by the sudden death of a wife, and mother. Embittered by the limitations of her blackness and tired from a life of servitude, she finds little joy in her life. When she asks for a raise her bosses are unable to give, Caroline finds every relationship in her life strained to the point of breaking.
"This musical offers profound insight into the American psyche," Good Company Theatre Co-Director Camille Washington notes. "Our anxieties about race, class, and cultural difference, are embedded in every word and note of this underproduced piece theatre. In many ways it is even more timely than when it was first produced over a decade ago."
When asked how his semi-autobiographical story differed from a traditional musical, Tony Kushner remarked: "I don't know what that is, a traditional musical. I think Caroline's in the tradition of what I love in the Broadway musicals I love: it celebrates and works variations on American musical idioms from blues to klezmer. It's funny, it's sad, it's historical, it's political, it's personal, it's about love and loss, you leave humming the tunes, it's indebted to Rodgers and Hart and Hammerstein and the Gershwins and Bernstein and Sondheim. The traditional musicals we treasure have mostly been pretty untraditional." (LINK)
Accomplished theatre multi-hyphenate Teresa Sanderson (Seven, Lady Day at Emerson's Bar and Grill) directs, and Anne Puzey (Seven Brides for Seven Brothers, A Little Night Music, 35MM: A Musical Exhibition) music directs the talented cast. Dee-Dee Darby-Duffin (Lady Day at Emerson's Bar and Grill, Fences) plays the title role of Caroline. She is joined by Jayne Luke (Death Of A Salesman, Big Love), Alicia Washington (Zombie Thoughts, Hairspray), Oliver Kokai-Means (Fun Home, Deluge) Natalie Keezer (Buried Child, The Musical Comedy Murders of 1940), Dee Tua'one (American Idiot, In The Heights), Tristan Johnson (I and You, Hairspray), Sibley Snowden (The Addams Family), Detorea Holy (A Diva's Holiday), Michael Nielsen (Cabaret), Paul Naylor (Marie Antoinette, Appropriate), Olivia Lusk (Ragtime, Sister Act), Kortney King (A Little More Homework, Hairspray), Daisy Allred (You're A Good Man Charlie Brown, The Rocky Horror Show), Aaron Ross (Arcadia, Marie Antoinette); and, introducing Aiden-Isaiah Oliver, and Mikaya Wilson.
Caroline, Or Change is a full-length musical recommended for audiences ages 10 and over. It contains mild adult language and themes. Originally conceived as a chamber opera, the vast majority of the story is told through song. Tickets are $20 online at www.goodcotheatre.com, or at the door before each performance. Runtime is 2 hours, with at 10 minute intermission.
The show has a limited, two weekend run, November 29-December 9. Showtimes are Thursdays and Fridays at 8pm, Saturdays at 4pm and 8pm, and Sundays at 4pm.
Rock Canyon Poets
The Rock Canyon Poets and Pioneer Book, in participation with the Utah Humanities Book Festival, announces the release party of "Inspired," a community poetry writing experience and open mic on Tuesday, November 13, 2018 at 6:30 pm. The event is open to the public and no ticket is required.
"Inspired" is a printed anthology of local Utah poets who recently participated in a free community poetry workshop on epistolary poems (poems as letters). Each contributing poet receives a free copy and additional copies will be available to the public for $5 at the event. Poets will read their work from the anthology, after which, the open mic will begin and audience members are invited to read a poem they have written or a favorite by another poet. Light refreshments will be served.
Where: Pioneer Book – 450 West Center Street, Provo
When: Tuesday, November 13, 2018
Time: 6:00 – 8:00 pm
Rock Canyon Poets and Pioneer Book host poetry open mics the second Tuesday of each month.
Rock Canyon Poets boasts diverse membership, ranging from 19 to 72 years in age with many backgrounds–including literary journal founders, editors, ex-military, business professionals, a playwright, and a periodontist. Individually, they have received several awards and been published in magazines, anthologies, journals, chapbooks, and full-length books of poetry. Rock Canyon Poets offer poetry with the tactile clarity of tin-can messages through fuzzy strings to the ears of an audience. These poems are tumbleweeds in semi-truck grills. They get stuck in your teeth, build bridges of spun sugar, and make it possible to mount a camel without a sturdy ladder.
Co-founded by Bonnie Shiffler-Olsen and Trish Hopkinson in January, 2015, Rock Canyon Poets was established to develop camaraderie among Utah Valley poets, provide consistent workshopping and reading opportunities, and promote the disciplined study of writing poetry as a serious art form. Members meet twice a month at Pioneer Book in historic downtown Provo. The group sponsors poetry readings and an open mic on the 2nd Tuesday of every month. Membership is by invitation or portfolio submission only.
Official web site: http://rockcanyonpoets.com