Modern dance always has adapted to extraordinary circumstances. "We always have been willing to improvise, adjust and be flexible," Linda C. Smith, co-founder and executive artistic director of Repertory Dance Theatre (RDT), explains. "If we couldn't afford a theater, we found a rooftop. If we didn't have a budget for costumes, we performed in pedestrian clothes. We adapt to survive and the pandemic is part of that. Movement sends a message that resonates with people because we need art, need movement and need positive thinking. We need to make the connections with one another. This is why we exist."
RDT and Ririe-Woodbury Dance Company, the two great pillars of dance in Salt Lake City with international reputations, are collaborating on a historic event – Double Take, a virtual concert that will premiere in a livestream film Oct. 3 at 7:30 p.m. Both companies had hoped that they could open their new seasons – 55th for RDT and 57th for Ririe-Woodbury – with live performances in this historic collaboration, respectively, at the Rose Wagner Center for Performing Arts in downtown Salt Lake City. However, it became evident just a few weeks ago that the concert would have to be filmed and premiered in a special livestream event, as COVID-19 case numbers had increased recently. At one point, both companies even had discussed the idea of setting a new composition involving all of the dancers.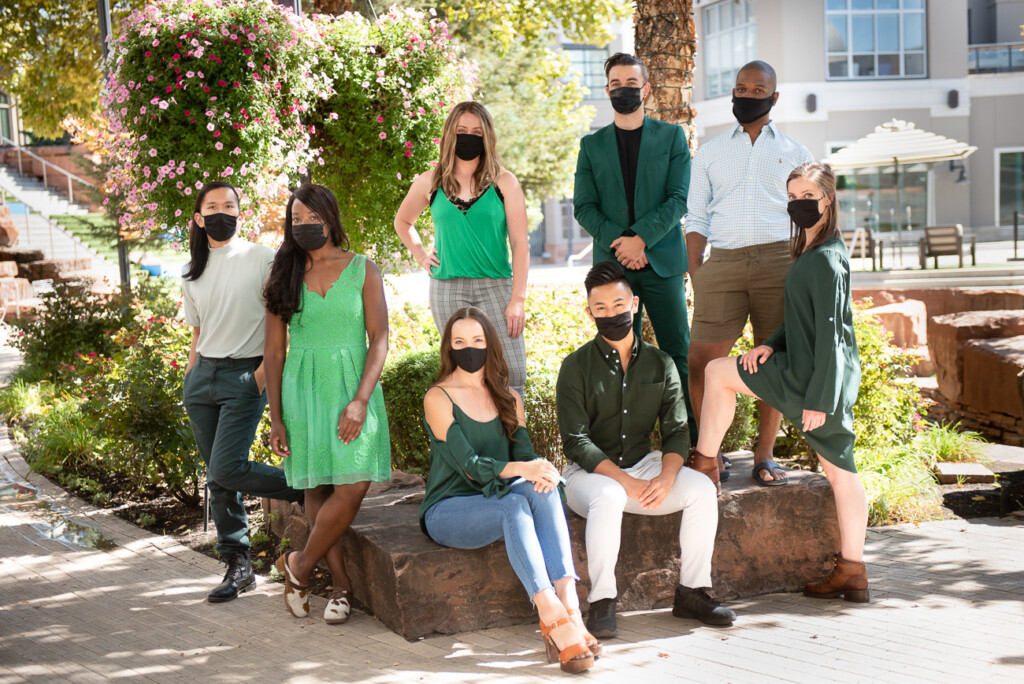 The concert will be momentous for two world premieres, one by each company: Reset by Justin Bass, a former RDT dance artist who won the company's Regalia commission competition last winter, and Autumn Sun by Daniel Charon, artistic director for Ririe-Woodbury. The third work will be a restaged version of Outdoors, the first half of Shutdown, a 2018 work by Israeli choreographers Noa Zuk and Ohad Fishof that RDT performed last year.
Wonderstone Films, a Salt Lake City company which produced the Rose Exposed show last month, returned to the Jeanne Wagner Theatre at the Rose last week to film the three works for the concert. Certainly an encouraging sign, the Rose Exposed film already has been seen by more than three times the number of people who would have seen the program live in person if all 500 seats in the theater were sold. The response has been so enthusiastic that viewing access for the film of the six performing arts companies for the Rose (which include RDT and Ririe-Woodbury) has been extended indefinitely beyond its closing date, which was Sept. 30.
Double Take will be available for viewing through Nov. 3, accessible with tickets purchased online. One advantage of the virtual concert season opener is that it will be available worldwide, not just to local viewers.
There is no question that the pandemic has brought RDT, Ririe-Woodbury, and the four other in-house Rose companies closer together as artistic neighbors. "We realized in March and April that we would be out for a long time," Charon says. "We were brainstorming and sharing ideas as we also anticipated the apprehension of audiences wondering if they could safety come back to the theater and the likelihood of smaller houses. We were committed to supporting each other, our respective artists, staffs and audiences. And, we've grown closer in this crazy experience of sharing the realities for the performing arts in the pandemic."
Joining forces for a historic season opener was good for several reasons. One, despite both institutions existing for more than 50 years, some Utahns still mix up the two companies, thinking that there is just one dance company. "Is it because their names both begin with the letter R?" Smith says, recalling a discussion with Jena Woodbury, Ririe-Woodbury's executive director. Two, it underscores solidarity in the dance community, especially when some people believe erroneously that they are rivals in contention. As Charon notes, there are crossover segments of the respective audiences and the admiration and respect are mutual between the twin empresses of Utah's dance scene. Thus, the ground was set, as Smith explains, for doing a show together that emphasizes an optimistic, safe and comfortable message of welcome back to the performance world – "to send a message we're here even if together we're not quite ready to see it in person."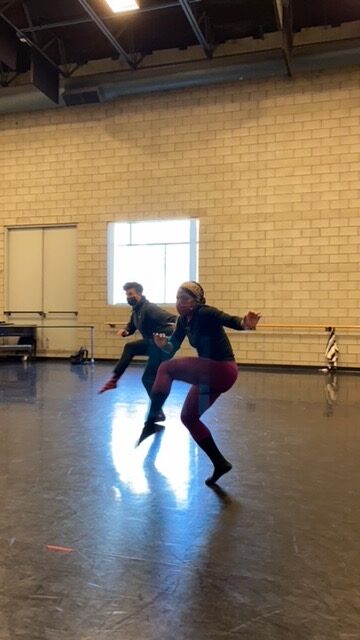 The premiere of Reset, which Bass says is not thematically related to the pandemic, stands out for Smith, who explains that the work comprises a "straightforward, clear" message of "hieroglyphics" rendered in movement. Bass, an East Cleveland, Ohio native who danced for five years with RDT, now lives in the Bedford–Stuyvesant neighborhood of Brooklyn and works for The Wallace Foundation in Manhattan.
"Reset is about getting back in studios and dancers working with choreographers," Bass says in an interview with The Utah Review. In fact, this is the first work being set for the eight RDT dancers since the pandemic shutdown last March that involves a choreographer's presence in the company's studio at the Rose.
"It came together really fast," Bass says, adding that he set the movement within the first three days of his residency and the last two days were devoted to polishing the composition. Groovy, fun, stylized and concise are the words that Bass highlights for setting his first major commission piece. Bass's approach flows naturally – or, his "internal cadence," as he describes it. The 10-minute work has no solos but the movement is presented in duets and groups, following the general guidelines of keeping the six-foot distance. Bass already knew most of the dance artists with the exception of Kareem Lewis, the company's newest addition.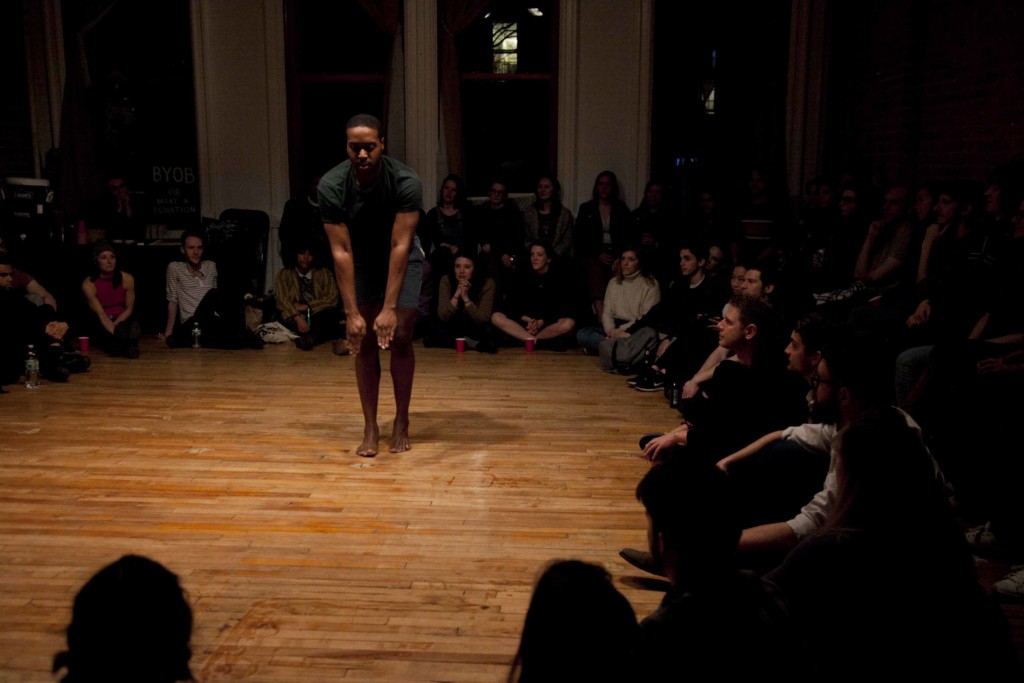 Bass also composed the soundscape for Reset, remixing a catalog of miscellaneous loops, courtesy of GarageBand software. These include strummed guitar, drums, flute, bass, wind tunnel effects and bongo. "I left no loop unturned," he adds. Bass had an extensive musical background as a student, including French horn, snare drum and choir. Reset will become part of RDT's permanent collection of dance works.
The creative process for Reset as well as the piece itself teems with meta references and inner motivations. When Bass moved to New York City in 2018, he experienced his own reset. "A lot of that was switching gears, getting my work out, and hitting the ground running," he says, "and that meant opening the gate and not trying to string along from yesterday." Included is Bass's work with The Wallace Foundation in New York City, which focuses on enriching the holistic experience of the arts for disadvantaged children. Of course, with the COVID-19 pandemic, the challenge has been to translate and introduce new virtual experiences for arts programming as well as opportunities to offer honoraria to emerging artists. "It's about bringing new artists to the 49th floor," he explains, referencing where the Foundation's offices are located on Broadway in midtown Manhattan. This includes a new series of virtual artists salons, coming in November, that foster networks and fresh connections. This will include artists with whom Bass worked with during his time in SLC: current RDT artist Ursula Perry as well as former RDT artist Tyler Orcutt and University of Utah alumnus Marty Buhler.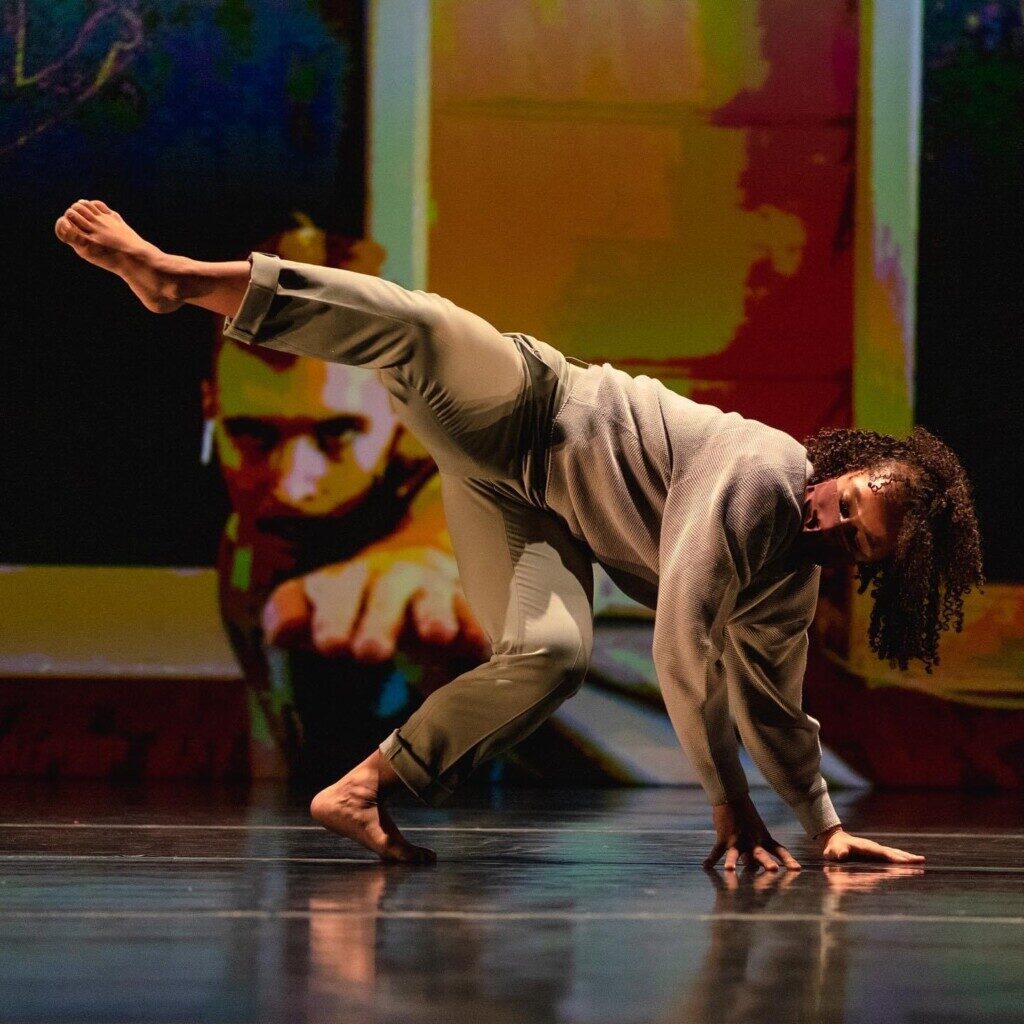 Bass also has dipped into his own mini entrepreneurial adventure: Are You Lit Candles, which sold out quickly in their initial offering at his Etsy Store and now feature a fall collection including pumpkin chai and brandied pear.
For the second world premiere, Autumn Sun, this one presented by the six Ririe-Woodbury dance artists, Charon has built on a composition he set for last month's Rose Exposed virtual premiere, which briefly explored how with movement one can overcome the initial restless frustrations of social distancing. The title for this premiere, Autumn Sun, which Charon decided on at the end of the process, evokes the counterpoint images of the late season's comforting warmth of the sun's rays and the wistful, sad times that have landed in our realities during a year of great challenges that are not limited to the pandemic.
The creative process for setting this new work initially was "really slow moving," Charon explains. "It was such a huge accomplishment to finally get back into the studio and to do so with so much more planning than usual." Both RDT and Ririe-Woodbury have committed themselves rigorously to all of the protocol mandates to ensure that everyone is as comfortable as possible during rehearsals and their time in The Rose facilities. Ririe-Woodbury also welcomed two new artists to the company: Corinne Lohner and Fausto Rivera.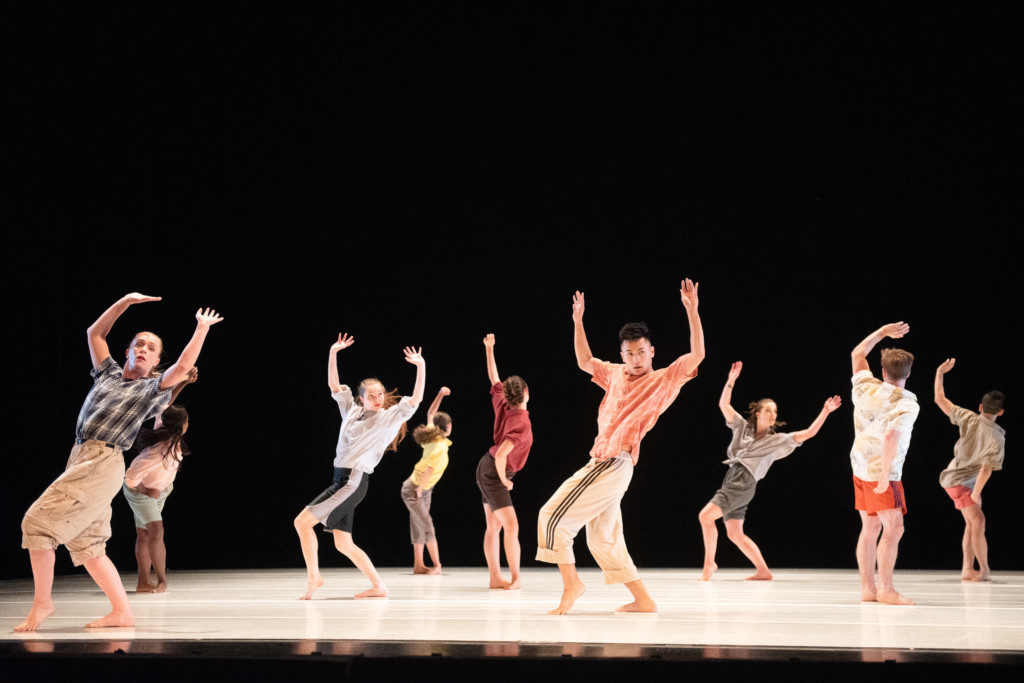 The critical questions for Charon were "how do I make a dance without the ability to touch against the backdrop of a physically distant world" and "to do so when there were still many questions about how the performance would even look." This is an quintessential example of choreography's impact in solving problems – namely, how to communicate casually and intimately, in both instances from afar. He approached the choreographic challenge with three versions as options: live in the theater, online with a film production and a hybrid.
The hybrid is a potent artistic opportunity. Traditional live performances of dance often are filmed for archival purposes with a single camera placed so that it does not obstruct the audience's view. With a professional film crew handling the production, the possibilities of how the work is framed onstage open up extensively. Even as the dancers are grounded in duets while remaining distanced from each other, the filming affords a vantage point that creates a satisfying visual sensation with closeups that intensify the emotional context of the movement while suggesting overlapping bodies that seem to be manipulated and connect in the frame of the film, even as the dancers adhere to social distancing. "It becomes a dream that could live on stage," Charon explains. Here, the choreographer now can storyboard the composition, taking advantage of the opportunity for extreme close-ups and greater flexibility in achieving a sense of intimacy even as social distancing measures affect the actual contact or proximity of movement between and among dancers.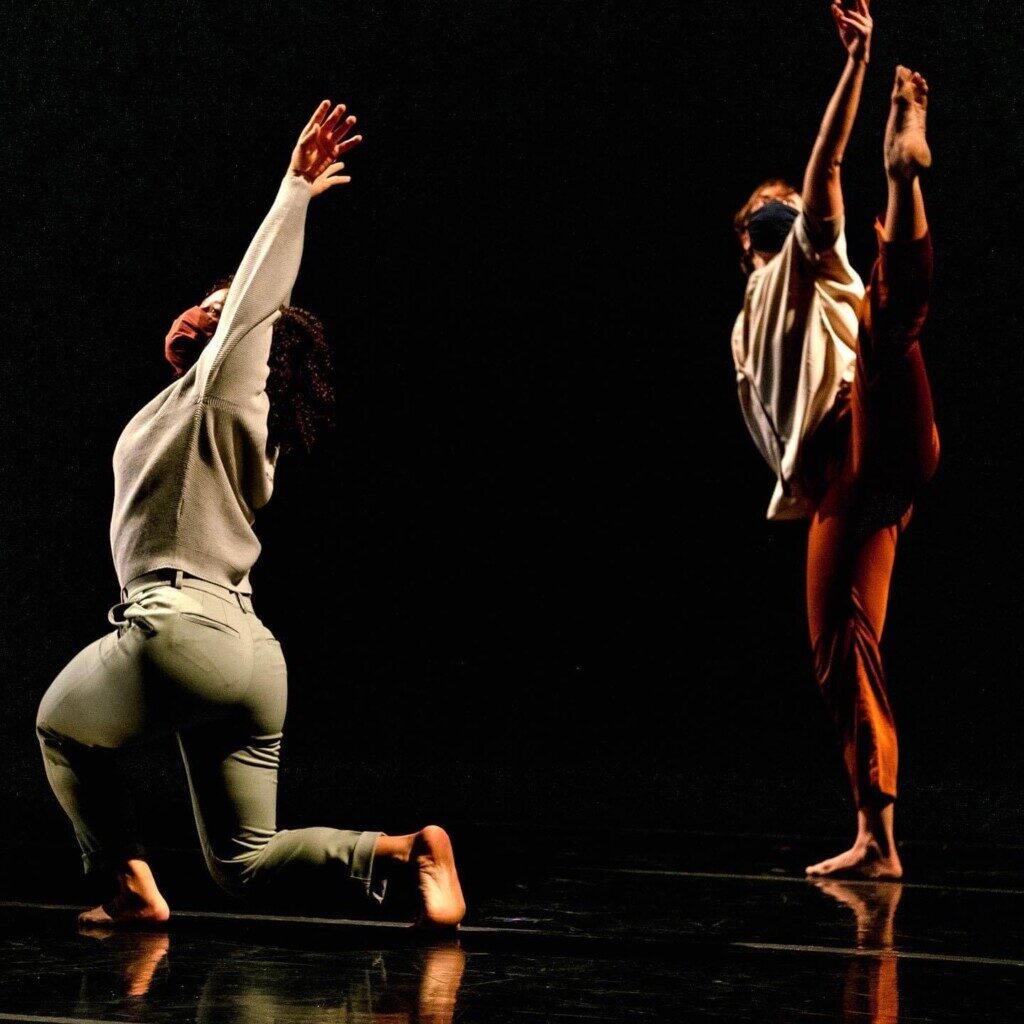 For music, with the generous possibilities of going with a hybrid approach in setting the work, Charon selected music by local composer Michael Wall, nationally known for his diverse catalogue of scores at soundFORMovement.com. Wall's music evokes the ambient atmospheric vibe where the dancers can comfortably respond to their own internal rhythmic responses to the sound.
In keeping with the positive, even buoyant, theme of Double Take, RDT will reprise Outdoors, which was part of the opening concert in 2019 when the company launched its 54th season. The work arises from the Gaga movement language that has been a driving creative force in the choreography of Zuk and Fishof. It is based on Fishof's 15-second rhythmic sentence that repeats and evolves 60 times throughout Outdoors.
As mentioned in a 2019 article in The Utah Review, Gaga, as Zuk explains it, is a "toolbox" that heightens "our awareness of our body" and "the many qualities connected to the basics of our love to dance." Fishof adds that it is not a dance style or choreography as much for interpreting a work as it is for expanding a dancer's abilities to interpret and connect to an endless depth and range of possibilities. RDT dancers have become proficient with Gaga.
In Outdoors, the RDT dance artists essentially create their own community ritual. They leverage Fishof's basic rhythmic statement into a full-blown and dense choreographed melodic interpretation. Their movement – frenetic, personable, humorous, incisive, jagged, unrepentant and confident – fills out the musical possibilities of a hypnotic pulsating foundation in a physically demanding display.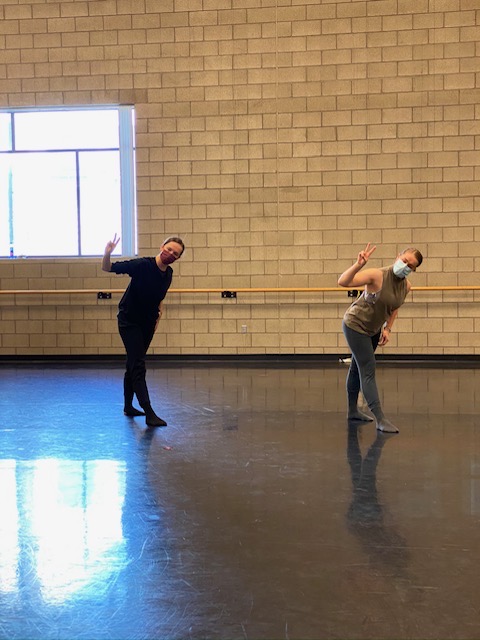 For this virtual performance, some adjustments needed to be made to accommodate the recommended distancing between the dancers. In particular, in two sections, there were duets in which the dancers were closer than permissible. But, with rehearsals incorporating Zoom conferences with Zuk and Fishof, who live in Israel, the choreographers adapted the work accordingly. "They were pleased with the emotional quality in the adjustments made," Smith says, adding that they were particularly satisfied with the effect of having all eight dancers masked.
Outdoors is part of Shutdown that was premiered by the Wee Dance Company in Germany, a group that recently merged with the Gerhart Hauptmann Theatre in Görlitz-Zittau. And, returning to a 2019 interview published in The Utah Review with Zuk and Fishof emphasizes its serendipitous relevance to these pandemic times. Outdoors is about creating a world where "we never think ahead of what it will be in the end," as Zuk says. Fishof says that it starts as "accidental, arbitrary, unconscious, circumstantial, and intentional … and then turns into something else." He compares it to an elaborated procedure — like the steps required to taking a nuclear power plant offline. "It's very complex but you cannot take it back or reverse it," he adds.
Ticket information, which represents a substantial discount from regular season purchases, is available at the RDT website and the Ririe-Woodbury website.