There always is something soothing in the familiar pop strains of such Beatles classics as I Want to Hold Your Hand, the 1963 hit that truly brought the British quartet to its fame with American audiences. Unfortunately, when one washes and sanitizes their hands, the immediate impulse to touch, however, is constrained by social distancing measures despite the exhortations of the classic song's lyrics:
And when I touch you
I feel happy inside
It's such a feelin' that my love
I can't hide
I can't hide
I can't hide

For the ninth edition of the Rose Exposed, the six resident companies of the Rose Wagner Center for Performing Arts in downtown Salt Lake City have picked a variant of the title of the 1963 hit – I Wanna Hold Your Hand – as their theme for a program of new short works that inspire and amuse audience members to the challenges of touch and intimacy during pandemic times. We struggle to satisfy the irresistible urge while remaining vigilant but the six companies also present delightful, empathetic examples with creative, clever, and humanizing resourcefulness.
This year's edition of Rose Exposed, however, is unlike its previous eight offerings. The premiere will be virtual in an online viewing party hosted on Thursday, Sept. 10, at 8 p.m. The program is free but viewers are encouraged to register in advance at the Rose Exposed website. The hour-long event will include introductions by the artists and Mary Dickson as well as a short Q&A following the film's premiere. The stream also will be available for the remainder of the month.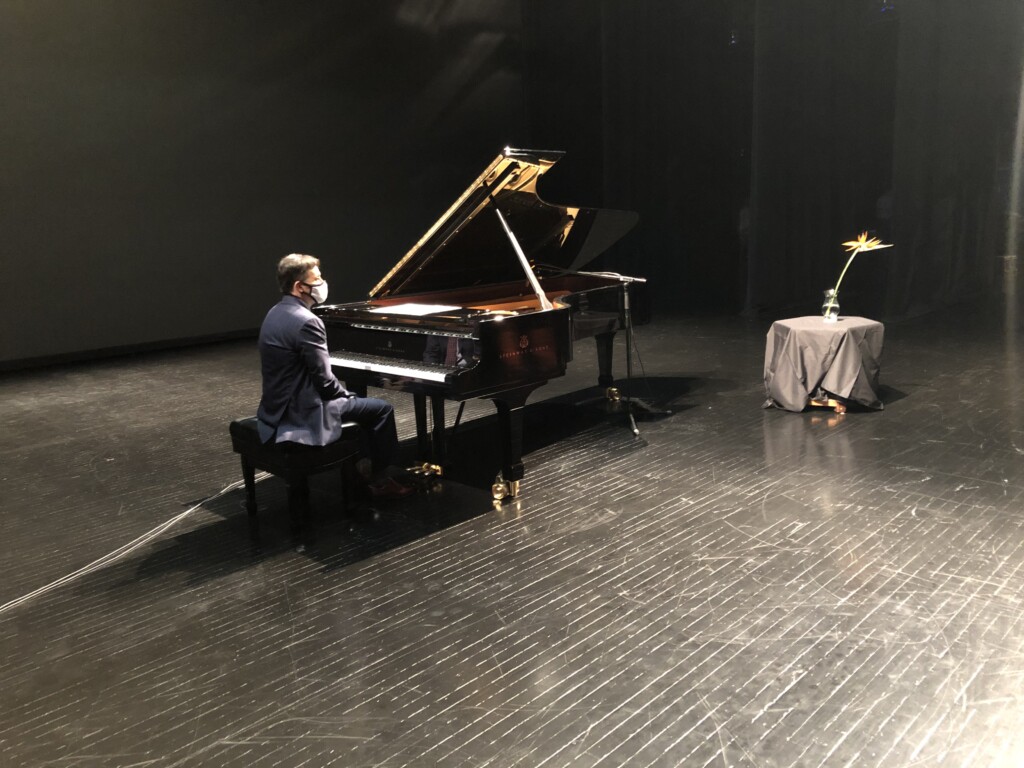 To comply with the city and county regulations for masks and social distancing, the six companies followed an expertly crafted protocol spread over two days in late August to perform their works, which were filmed by Wonderstone Films, based in Salt Lake City. The Utah Review was invited exclusively to observe both days of performances and filming.
Premieres of these short works will be presented by the center's resident companies — Plan-B Theatre, PYGmalion Theatre Company, Gina Bachauer International Piano Foundation, Ririe-Woodbury Dance Company, Repertory Dance Theatre and SB Dance.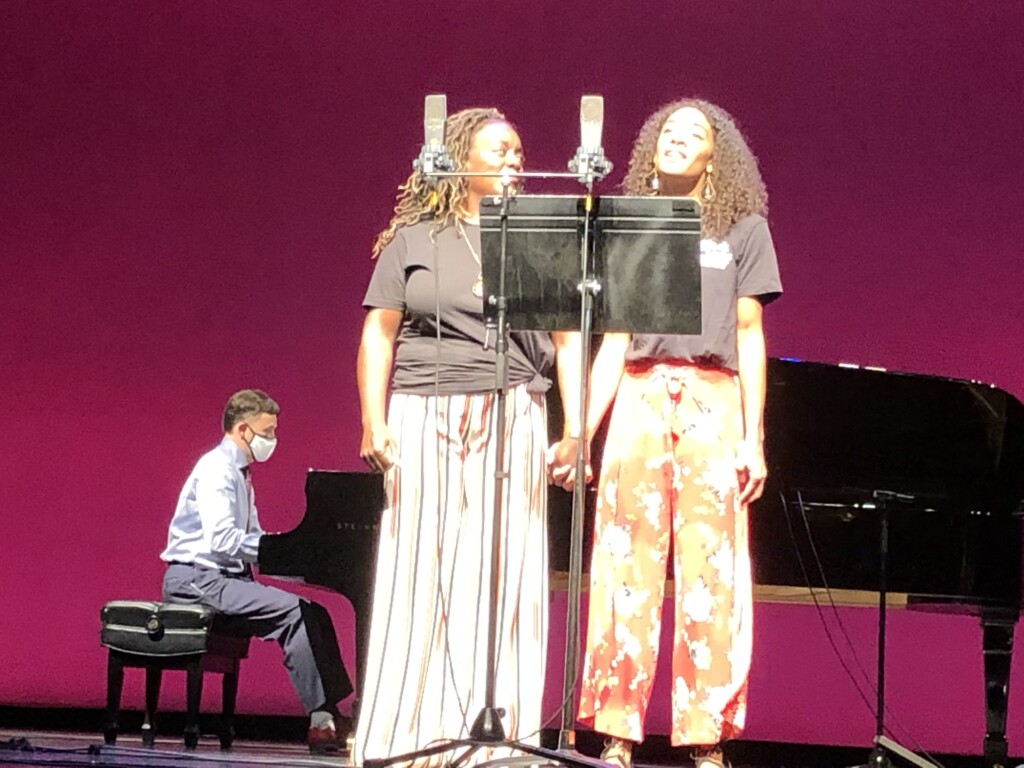 Each of the companies prepared and rehearsed their pieces in advance and were allotted one and a half hours of stage time, a comparatively tight schedule to handle all of the technical production details that normally would be part of a live performance. For each company, this also was the first time the performers worked with pianist Koji Attwood, who participates in each of the six pieces. Once a company had completed its performance and filming, the artists left the stage and were not allowed back into the Jeanné Wagner Theatre. The stage was sanitized between each slot. Thus, prior to the Sept. 10 premiere, only Attwood, the Wonderstone Films production crew and The Utah Review have seen all six pieces.
The process went exceptionally well, not surprising given that these six companies represent the top elite of Utah's small independent performing arts institutions. The number of performers per piece, excluding Attwood, ranged from one to eight. Ideally, the companies crafted pieces that lent themselves efficiently to the filming process, where scenes or segments could be captured individually for later editing. Also, a master audio track was produced for each segment. It was rather remarkable, given the extraordinary circumstances involved to mitigate any risks from frequent contact, how few takes were needed to capture the preferred quality for what would become the final edited cut.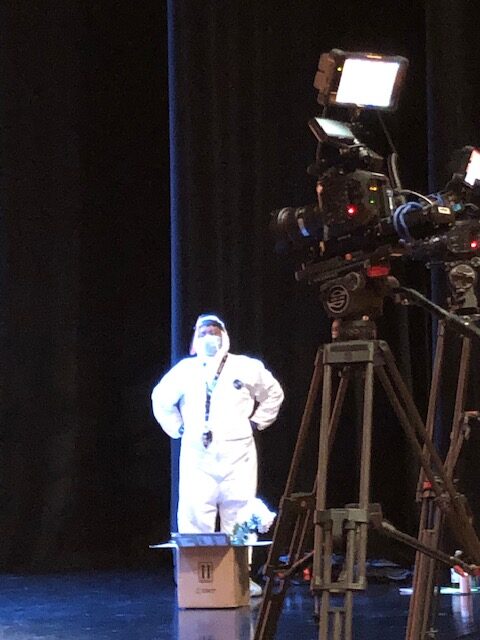 Additionally, the small production team from Wonderstone was sensitive to the continuity and flow integral to each of the company pieces. While Attwood's magnificent solo as part of the Bachauer offering and the understated moving performance of a new duet for Plan-B Theatre were straightforward enough for filming purposes, the complex movement language displayed by Ririe-Woodbury Dance Company and the Repertory Dance Theatre (RDT) offered some compounded challenges that were met nicely from both the performers and videographers.
And, while PYGmalion Theatre Company had just one actor, its piece involved a multitude of props scattered through a series of very short scenes and SB Dance raised the bar even further, with two opera singers on stage and a pair of dancers in the lower house section of the theater. In anticipation, one can expect the final edited cut of the six performances will resonate with the customary éclat one expects from witnessing these companies in live performances.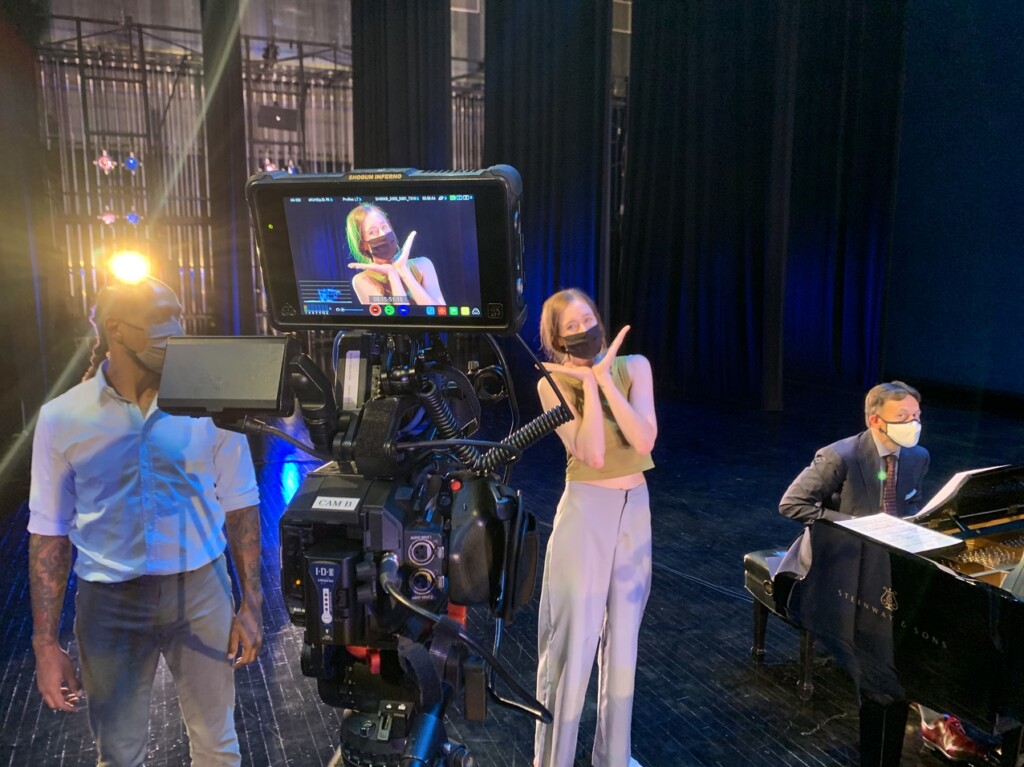 Attwood's solo offering for Bachauer was a treat that often is not heard in mainstream concerts – one of the 12 pieces from Leopold Godowsky's Java Suite. The work was published in 1925, two years after the composer visited the Indonesian island and became fascinated with gamelan music and the gongan cycles, which can be compared to our understanding of musical phrases in Western music.
The pieces are miniature musical postcards, as In The Streets of Old Batavia. Today, Batavia, sometimes referred then to as the tropical counterpart of Amsterdam, is now known as Jakarta. This piece imagines the narrow streets of bazaars and its cosmopolitan vibe of the larger Asian diaspora. Attwood delivers a vibrant bounty of presto con brio energy. Godowsky is a vivid Impressionism composer, with blistering passages of sixteenth notes along with whole tone scales that might represent how a tourist wanders around a newly discovered destination. This performance whets the appetite for a return to international travel, along with the urge to discover the rest of the miniature treasures in Godowsky's suite.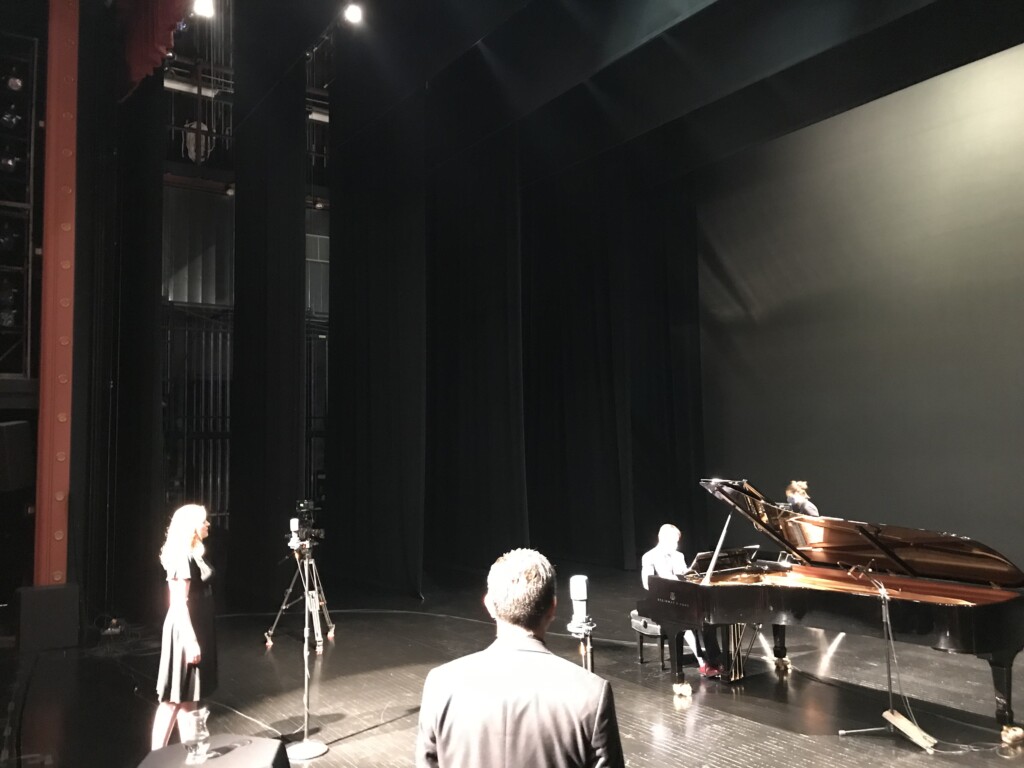 Actor and singer Dee-Dee Darby-Duffin and her daughter Darby Mest, who have stayed in quarantine together, perform the song they composed, Isolation Lullaby, representing Plan-B Theatre. With Attwood accompanying, the two singers deliver big on an exquisitely understated lyrical statement that entwines two of the year's most dominant stories: the pandemic and the rapid blossoming for social justice awareness as led by the Black Lives Matter movement. Plan-B always strikes the right tone with its work for social consciousness that is particularly relevant for the moment. There is a profound impact in every word. Mest sings, for example, "Calendar zoom/Staring at the moon/Distant with the ones I love/," to which her mother replies, "Feeling wanderlust/Kicking up dust/Becoming friends with loneliness."
In the next verse, Darby-Duffin sings, "We will rise, march and educate/Forces of hate and all things systemic," to which her daughter replies, "We will face all these storms together/Thru rain or snow and global pandemic."
The compact elegance produces profound impact in a wisely framed offering for this unique Rose Exposed concert.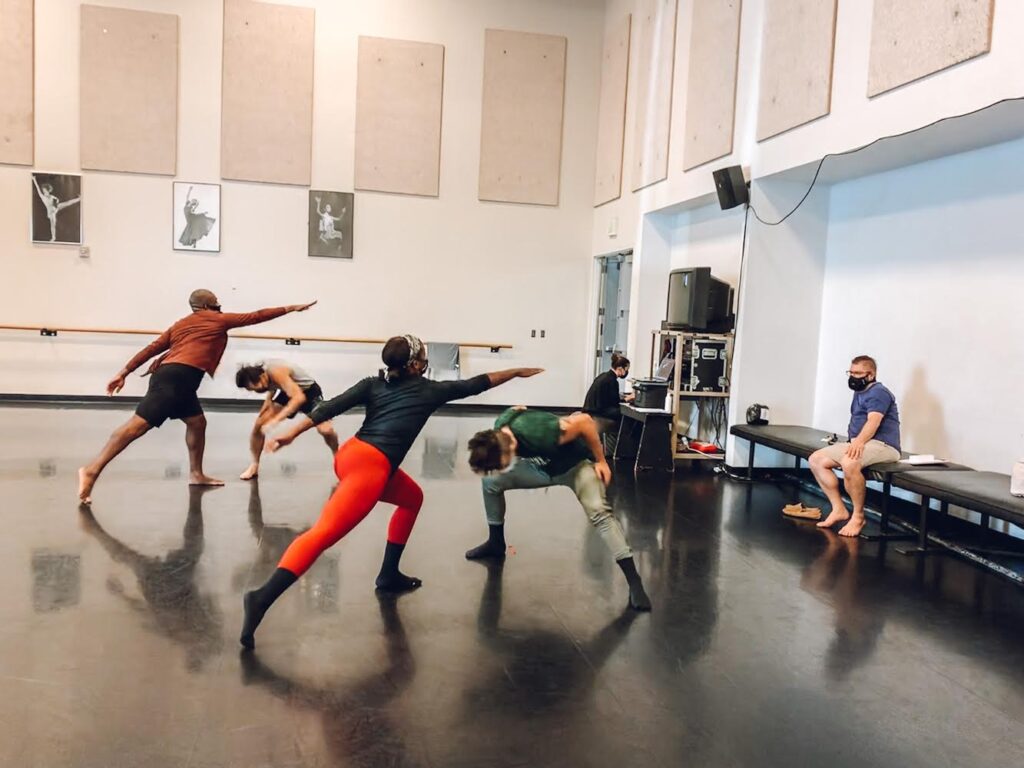 Ririe-Woodbury Dance Company's offering exemplifies how social distancing has affected the positive and negative space dynamics for dance artists who also are committed to following socially responsible physical distancing requirements. The six dancers – including the company's two newest artists, Corinne Lohner and Fausto Rivera – showcase the problem-solving elements of movement. The dancers initially seem restless, even frustrated, but their movement blossoms with florid, wistful tones as they serenely accept the dynamics at hand. Meanwhile, Attwood plays Ottorino Respighi's Notturno, one of the composer's most recognized solo piano selections. The dance artists beautifully augment the music's Impressionistic harmonic hues with its Romantic rhythmic pulses.
Repertory Dance Theatre (RDT) has been known for silly but effective irreverence in its previous Rose Exposed offerings and this year's selection, choreographed by artistic associate Nicholas Cendese, fits nicely against the lush, sensual strains of its solo piano accompaniment–Impromptu, Op. 24, #3 Eros, composed nearly a century ago by Sergei Bortkiewicz.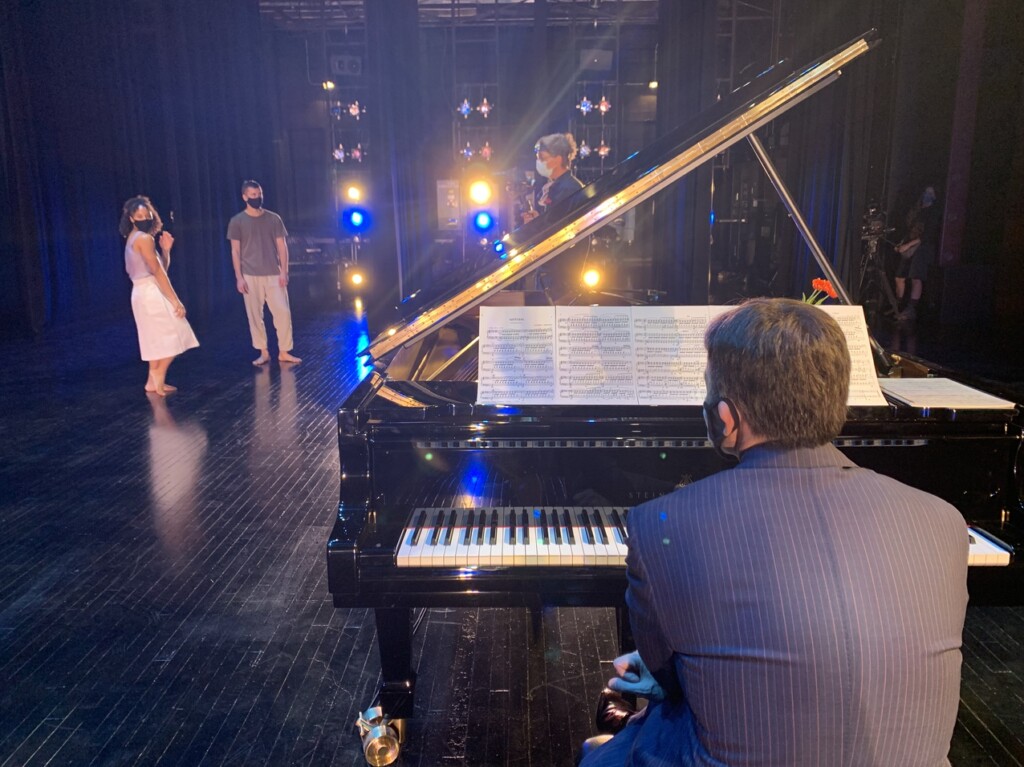 The music is almost too over the top in its ultra-romantic, ravishing seduction and the eight dancers – including the company's newest artist Kareem Lewis – leverage the effect with marvelous results as they explore romance COVID-19 style. At the start, four dancers are on stage with wrapped gifts, anxiously awaiting to open them while a voiceover starts a short text with, "It was March…" Each of the four packages reveal PPE that define the pandemic, including face masks and gloves, military-style respirator masks, and, the best for comedic effect, personal transparent plastic bubble pods. These gifts become props in a series of four duets. Taking a piece of music that was practically forgotten in the performing halls, RDT has created a piece with the right comedic zeitgeist for our current frustrations and our yearnings.
SB Dance provides the most direct response to the Rose Exposed theme with two singers and two dancers in a uniquely styled performance of the duet Là ci darem la mano, from Mozart's Don Giovanni. The duet's title translates to, "There we will give each other our hands."
The piece is sung by soprano Rhea Miller and baritone Daniel Tuutau on stage, while dancers Stephen Brown and Annie Kent in the audience parallel the emotional drama that comes from the music. In the opera's first act, Don Giovanni and Zerlina perform the duet. Don Giovanni, a notorious womanizer, is immediately drawn to Zerlina, who is accompanied by her fiancée. Zerlina's wedding is set to occur within days and Don Giovanni orchestrates his maneuvers to seduce her, who initially hesitates, but then cannot resist Don Giovanni's offer: "There I'll give you my hand/There you'll say yes:/See, it is not far, my love, let's leave from here." Brown and Kent literally recreate the scene in their movements, as audience members. SB Dance's piece reminds us just how powerfully touched we are by live performances – the ubiquitous impact of art in our emotional connections and well-being.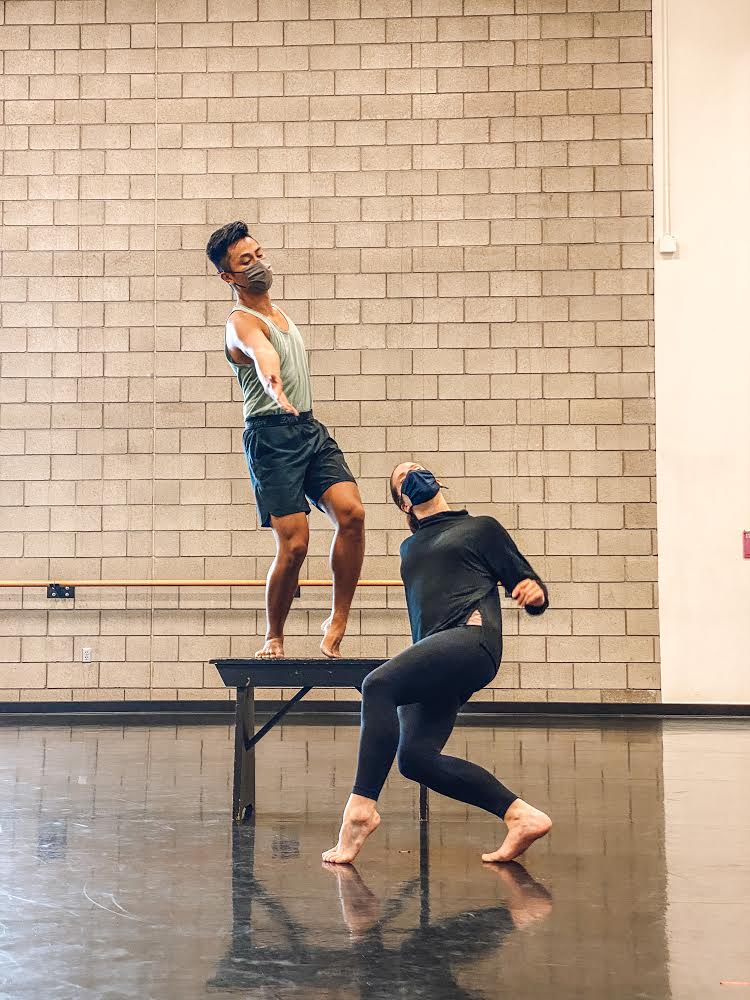 Similarly, truth hits right at home in PYGmalion Theatre Company's piece with actor Tamara Johnson-Howell, who also happens to be a junior high teacher for the arts. With frequent costume changes and a large box of props in a series of very short scenes, Howell catalogs the litany of adjustments teachers patiently have made to accommodate their students during the pandemic.
There is just the right touch of sardonic humor, as she runs through the experiences of having and wearing PPE, making sure homework is safe to grade, familiarizing students with terms and concepts associated with the pandemic, figuring out the real motives of school administrators and, frankly surviving enough to focus on giving students the education they expect and desire. Nevertheless, she does not let this lament have the last word. There still is hope in wearing the mask and managing a smile even if it is not visible, as she takes a cue from the classic Smile song of Charlie Chaplin. The scenes also are marked by phrases of music from Franz Liszt's Les jeux d'eaux á la Villa d'Este.
This year's Rose Exposed strikes a hopeful tone for the six companies who are preparing ambitious seasons that also are being tailored for uniquely challenging circumstances. These six performances will remind why these independent performing arts institutions are indispensable in caring for and inspiring our community conscience, individually and collectively.